An audiobook is a voice recording for the text of a book that you listen to rather than read. It can be an abridged version or exact word-for-word version.
Audiobooks are a great creation for book lovers, especially for those who don't get much time to read. People can use audiobooks at home, on moving or evening commute, in the car, or even while on vacations.
Some studies suggest that reading and listening at the same time can keep you from getting distracted. It also improves reading speed, vocabulary, and fluency.
This is the reason audiobook apps are getting more and more popular these days. They can be accessed on all kinds of platforms, including Android, iOS, and Amazon devices.
Since most audiobooks are nothing more than a large audio file, you can easily run them on a conventional music player. However, a dedicated app lets you organize your books logically and has variable playback speed.
Below, we have listed some of the best audiobook apps that are free to use on various devices. It is important to note that not all apps are completely free: some of them offer subscription-based services, while some charge for individual books.
12. Scribd
Platform: iOS | Android | Kindle Fire | Web-based
Price: Free | $8.99 per month
Plus Point: Has a pleasing design that is easy enough for anyone to use.
Scribd is often referred to as 'the Netflix for books'. It has a huge collection of audiobooks, ebooks, magazine articles, and sheet music selections. You will find more than 60 million documents on its open publishing platform.
While listening to an audiobook, you can customize the narration speed, set a sleep timer, and download the entire book to listen offline. If you read one or two books in a month, the Scribd account would be a good choice. The first 30 days are free. However, if you are an avid reader, you are in for a letdown.
11. Amazon Kindle
Platform: iOS | Android | Web-based
Price: Free | $9.99 per month
Plus Point: Offers various visual customization options and a built-in dictionary.
Amazon Kindle allows you to browse, read, buy and download documents, newspapers, magazines, and other digital media from the Kindle Store. The store has more than 6 million e-books available in the United States.
Kindle books you have bought on Amazon will automatically appear in the app. Since Amazon also owns Audible (the most popular premium audiobook app in the market), most of Kindle's audiobook experience ties in with Audible. For Amazon Prime members, over 1,000 books, comics, and magazines are available for free.
There is a built-in dictionary, instant translation, and Wikipedia lookup to enhance your reading experience. When you can't read, switch seamlessly from reading to listening mode. The app also tracks your progress and displays the percent of the book you've completed.
10. Google Play Books
Platform: iOS | Android | Web-based
Price: Free | Varies as per the book
Plus Point: Comes with integrated Google Translate, Maps, and Wikipedia.
Google Play Books offer more than five million titles, which include ebooks, audiobooks, and comics. You don't need to subscribe it; just pay for what you read or listen to.
The interface is unquestionably clean and easy to navigate. You can listen to great audiobooks anywhere, anytime. Navigate chapters with real chapter titles, and pick up exactly where you left off on all your devices.
9. Lit2Go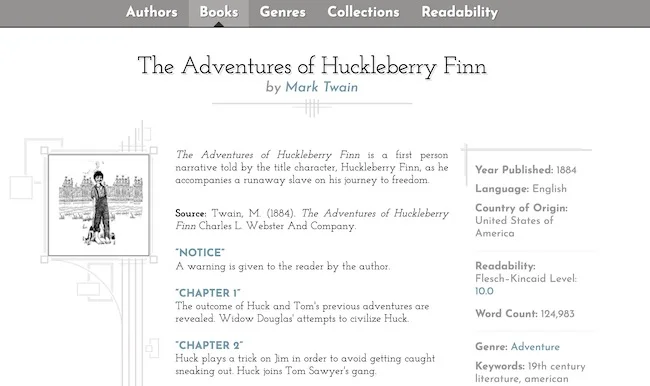 Platform: Web-based
Price: Free
Plus Point: Books are arranged by genre and readability.
Lit2GO is an online collection of poems and stories in MP3 format. This collection of children's literature is maintained by the Educational Technology Clearinghouse and is funded by several grants. 
Each audiobook comes with citation information, playtime, and word count. Users can download each reading passage as a PDF and print for use as a read-along or as supplemental reading material for the classroom.
8. BookPlayer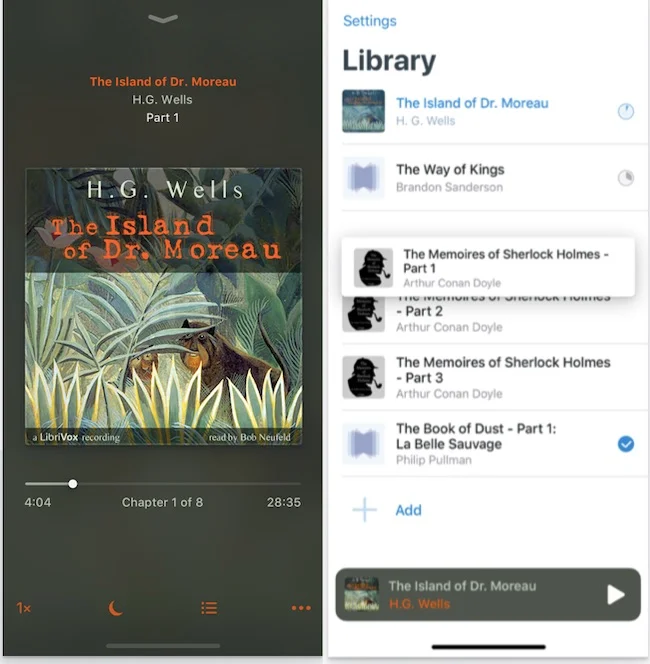 Platform: iOS
Price: Free
Plus Point: No annoying ads or pop-ups.
BookPlayer is a wonderful app for listening to MP3/M4A/M4B based audiobooks. You need to import audio file(s) to your device, which can be done by using AirDrop or via File Sharing in iTunes. Zip archives are converted into playlists automatically.
The app allows you to control audio playback from the lock screen, navigate books with chapters, change playback speed, and adjust sleep timer duration. It supports CarPlay, remote events from headset buttons, and dark mode for night owls.
7. Smart AudioBook Player
Platform: Android
Price: Free
Plus Point: Completely customizable, auto-find cover art for local books.
As the name suggests, the app is specially designed for playing audiobooks. There are dozens of customization features, such as playback position format, playback speed, skip length, sleep length, equalizer, headset button actions, and much more.
If your audiobook doesn't have cover art, the app will automatically search for it and display it on the background when you are listening to that book. There is also an automatic pause feature in case you fall asleep. To continue playback, just shake your device.
Overall, it is hands down the best audiobook player in terms of design, ease of use, and features.
6. OverDrive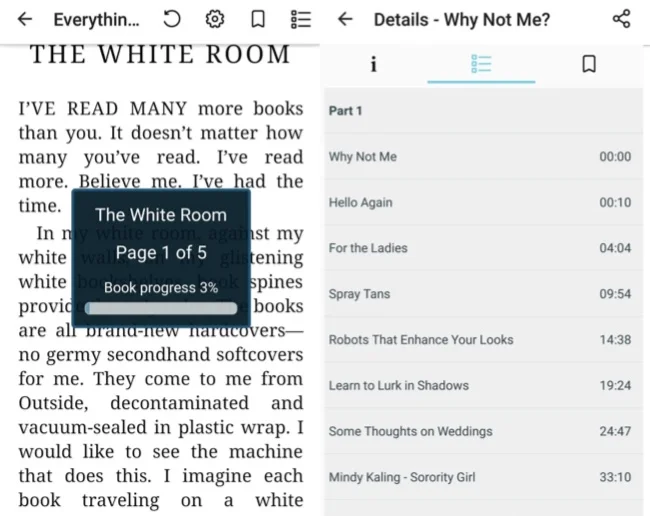 Platform: iOS | Android | Web-based
Price: Free
Plus Point: No late fees, titles are automatically returned.
OverDrive is an American digital distributor of audiobooks, eBooks, music, and video titles. It provides digital rights management services for retailers, schools, libraries, and publishers.
The company's catalog includes more than 2 million digital titles, which are provided through over 45,000 public libraries, schools, and universities. The Overdrive App lets you easily borrow eBooks and audiobooks from libraries and schools, and provides accessibility options for visually impaired readers.
5. Internet Archive
Platform: Web-based
Price: Free
Plus Point: Books can be downloaded in bulk or by individual chapters.
The Internet Archive contains thousands of free audiobooks and poetry in multiple formats. You can search them by year, media type, subject, creator, and language.
This library features a wide range of digital recordings from the Naropa Poetics Audio Archive, Maria Lectrix, Project Gutenberg, LibriVox, and Internet Archive users.
4. BorrowBox Library
Platform: iOS | Android
Price: Free
Plus Point: No overdue fee, automatic deletion of expired loans.
BorrowBox transforms the way you use your local library by providing the best range of digital content and intuitive features. It makes it easy to browse, borrow, read and listen to your library's eBooks and Audiobooks anywhere, anytime.
All you need to do is join your local public library, install the BorrowBox app, select your library service, activate membership, and start borrowing free audiobooks and eBooks.
The app has an easy-to-use interface: you can browse by genre, title, author, or narrator, and quickly find new releases and similar titles. There is an option for offline reading and listening, and your current position in the eBook and audiobook is automatically saved.
Read: 18 Best Investing Books You Should Read
3. Loyal Books
Platform: iOS | Android | Web-based
Price: Free
Plus Point: Ample selection of texts, especially classic novels.
Loyal Books contains thousands of free public domain audiobooks, which can be listened to from RSS feed reader, streamed from the website, or downloaded in a zipped MP3 file to iTunes.
It features over 35,000 eBooks in different languages. Although you can find children's books, mysteries, and fiction, classic literature is what seems to be the app's specialty.
Loyal Books has long been a great resource for struggling readers and students with dyslexia. It has helped students acquire critical-listening skills and access texts that may be above their current reading level.
2. LibriVox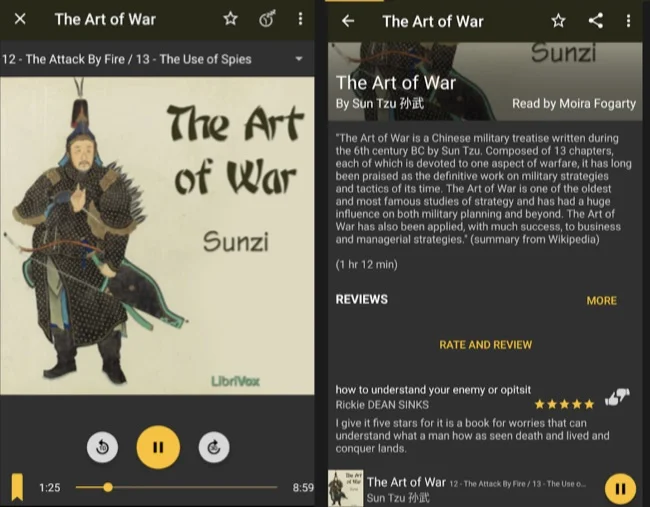 Platform: iOS | Android | Web-based
Price: Free
Plus Point: New releases are prepared daily.
LibriVox aims to make all books in the public domain available in audio format on the Internet. It offers unlimited access to more than 50,000 free audiobooks. The entire catalog spans the breadth of world literature, including poetry, short stories, history, and biography.
LibriVox app is simple and easy-to-use. Users can browse by title, genre, author, or search by keywords. They can put unlimited bookmarks on each book and save and listen to as many books as they like.
For United States users, an additional 75,000 professional audiobooks (best sellers and new releases) are available at a reasonable cost.
Read: 17 Of The Interesting Science Books To Read
1. Hoopla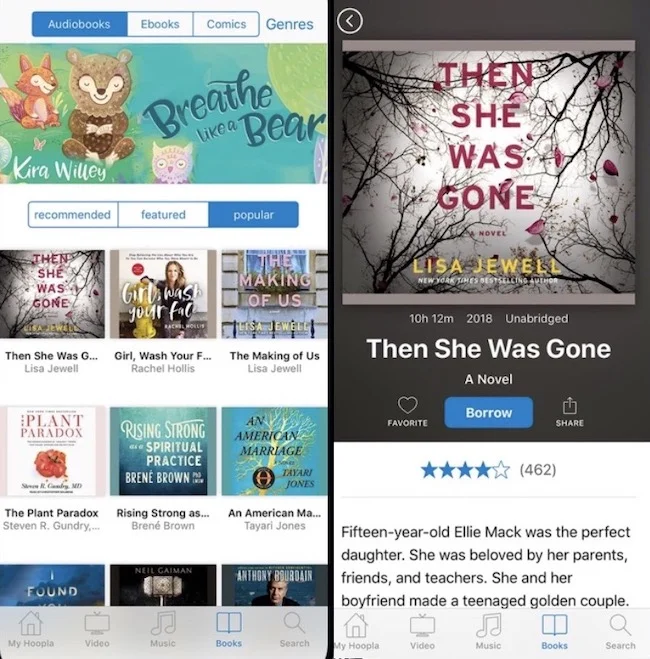 Platform: iOS | Android | Web-based
Price: Free
Plus Point: All titles are always available — no waiting.
Hoopla is an all-in-one digital library app with more than 800,000 titles, ranging from best-selling novels to hard-to-find content. It also has thousands of movies and TV series that can be streamed on big screens. 
Read: 15 Largest Libraries In The World
If you are in the US or Canada, you can access the entire catalog of Hoople for free using your library card ID. Items can be downloaded instantly for offline reading and listening. The service is available 24/7, and there isn't any late fee involved. Once you are validated and logged in, your account activity will be synced across your devices.