Gone are the days when people needed to book studios to record their ideas. Creating your own music is now easier than ever, thanks to the digital era.
Today, anyone can learn basics, experiment, and make a song within an hour. In the past few years, several artists have established themselves with the DIY ethos.
Using modern software and instruments, people can create practically all types of music, from old-school Hip-hop and Jazz to Rhythm and blues. Since more and more people are entering the music industry, the demand for beatmakers is touching the sky.
If you are also among the beginners and don't want to spend money to create your own home recording studio, then this article is definitely for you.
Below, you will find some of the best beat making software available free of cost. With these tools, you can alter and mix multiple recordings and tracks into a final produced piece in no time.
11. LMMS
Platform: macOS | Windows | Linux
Price: Free
Plus Point: Many powerful instrument and effect-plugins out of the box
LMMS is an open-source, cross-platform alternative to commercial applications like FL Studio. Using this digital audio workstation, you can create melodies and beats, synthesize and mix sounds, and arrange samples to produce music.
Initially, the software can appear a bit daunting: it loads with many floating windows that can seem overwhelming. However, after spending a few minutes and a quick browse of the manual, everything becomes clear. It turns out the interface is quite simple and intuitive to use.
There are plenty of audio samples, effect units, and built-in virtual instruments that emulate classic sounds from the electronic music canon. Once installed, you can dive straight into creating tracks.
LMMS also features Beat+Bassline editor, user-defined track-based automation, and the computer-controlled automation process. Built-in graphic and parametric equalizer and visualization/spectrum analyzer make this tool even more attractive.
10. Rosegarden
Platform: Linux | BSD
Price: Free
Plus Point: Graphical user interface is available in more than 20 languages
Developed for Linux operating system, Rosegarden is ideal for music students, composers, and small studio or home recording environments. It is designed to be attractive, familiar, and easy to use.
Rosegarden is a music composition and editing environment based around a MIDI sequencer, which features a rich understanding of music notation along with basic support for digital audio. It comes with
Piano-roll, score, event list, and track overview editors
Extensive data of real-world instruments to aid composers
Support for DSSI synth plugins
Support for over 100 MIDI playback devices
With this tool, you can easily learn new tricks. The more you use it, the more familiar its interface and the better and faster you become.
9. Soundation
Platform: Chrome browser
Price: Free | Premium version costs $6.99 per month
Plus Point: Online community; Lessons for beginners; Use it without installing any software
Soundation Studio is a simple tool for producing music online. Its sequencer contains various features otherwise available in expensive desktop applications.
The main purpose of Soundation is to provide you with the ability to create music anywhere, anytime through a powerful yet easy to use interface. Its online Studio features various virtual instruments and more than 700 loops and samples. 
You can add effects in real-time, such as degrader, Butterworth filter, delay, local tuner, and reverb. It also gives you an option to share your work in the community and get helpful feedback.
If you like to explore more, go for the premium version, which contains over 12,000 loops and samples and 8 band equalizers that helps you sculpt your sound like a pro.
8. Groovepad – Music & Beat Maker
Platform: iPadOS | iOS | Android
Price: Free | Premium version costs $9.99 per month
Plus Point: Very easy to use; new sounds are added weekly
Groovepad is a beat-making app that helps you improve your song producing skills. It features impressive FX effects including flanger, reverb, filter, and delay.
The app is packed with a large library of unique and eccentric soundtracks, so you don't have to start from scratch. Popular genres include house, trap, electronics, dubstep, drum and bass, hip-hop, house, and EDM. Just choose your favorite genre and tap on the pads to create your own beats.
With a premium subscription, you will be able to unlock all sounds and features and remove ads.
7. Qtractor
Platform: Linux | BSD
Price: Free
Plus Point: Has full automation for basic mixing tasks; supports unlimited plugins per track
Qtractor is an open-source Audio/MIDI multi-track sequencer application written in C++ with the Qt framework. It is simple enough for the average home user, and yet powerful enough for professional artists.
The application supports all sample rates, multiple audio file formats, both compressed and uncompressed, including older formats such as iff and 8SVX.
There are a multi-track tape recorder control paradigm, non-destruction and non-linear audio editing function, and support for an unlimited number of overlapping clips and audio effects per track or bus.
It also supports drag-drop interaction, audio clip time-stretching, loop-recording functionality, unlimited undo-redo functionality, and unlimited time-signature and tempo maps. However, many features, including audio effects processing and dynamic control, rely on plugins.
6. Studio One Prime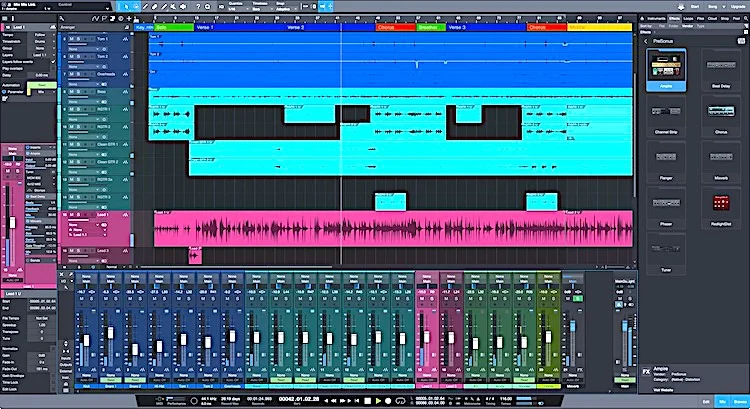 Platform: macOS | Windows
Price: Free
Plus Point: Advanced audio editing; Acoustic drum kits and loops; Analog and beat delay
Studio One Prime lets you create, record, mix and master music without any boundaries — all from an intuitive single-window work environment. It provides all the fundamental features that are common across most digital audio workstation applications.
In addition to audio mixing consoles and multi-track recorders, Studio One Prime provides a powerful complement of virtual instruments and native effects that sound just as good.
You can produce echoes with changing delay and pitch, retro flanging, and chorus effects (ideal for adding vintage character to your music). Using Beat Delay functionality, create pulsating patterns, complex polyrhythms, spatial doubling, and slap-back effects to change the feel of rhythmic parts.
It is also one of the highest resolution audio production and mastering tools, offering the maximum recording and processing precision of 64-bit/384 kHz.
Fans of hip-hop and EDM will love the Editor, which makes it easy to create intuitive drum and melody composition. Guitarists will appreciate its realistic amp and cabinet simulations.
5. Drum Pad Machine – Beat Maker
Platform: iPadOS | iOS | Android
Price: Free | Pro version costs $14.99 per month
Plus Point: Get access to professional-quality music samples made by professional musicians and DJs
Drum Pad Machine helps you make your own melodies with super pads on the launchpad. The app displays a colorful field with several buttons. Each new launchpad portion is a new sound for producing music. Buttons with similar colors play similar sounds.
Use tons of sound packs to create your own music beats. In order to make it easy and exciting for beginners, the app provides samples developed by professional musicians.
You can also record sound and share music with your friends. The premium subscription is ad-free and gives you access to all sound packs and music styles, including EDM, hip-hop, electro, house, future bass, and dubstep.
4. MuseScore
Platform: macOS | Windows | Linux | iOS | iPadOS | Android
Price: Free | Pro version costs $49 per year
Plus Point: Contains one of the largest catalogs of sheet music; Polished GUI

MuseScore is an open-source music notation program, supporting a wide range of input methods and file formats. Its main purpose is to create high-quality engraved musical scores in a WYSIWYG (What You See Is What You Get) environment.
The software allows you to create music for piano, orchestra, guitar, violin, flute, and much more. To help you get started, there are over 1 million pieces of free sheet music.
View play sheet music, set the tempo and transpose, and set the volume and visibility of individual instruments in every score with the Mixer tool. You can export (to PDF) or share your favorite sheet music with the world.
The software supports percussion notation, automatic transposition, cross-staff beaming, fretboard diagrams, lyrics (multiple verses), and everything commonly used in sheet music. The free version offers 99% of what all users need to create music easily.
3. Tracktion Waveform
Micro Drum Sampler
Platform: macOS | Windows | Linux
Price: Free | Pro version costs $69
Plus Point: Has excellent pattern generator; Supports Raspberry Pi
Tracktion Waveform is a rapidly evolving tool specifically developed to fulfill the needs of modern music producers. It is designed to be as intuitive and transparent to the user as possible.
Track object controls and parameters are context-sensitive. You can add MIDI instruments, effects, and other items to tracks or directly apply them to individual clips and audios using drag-&-drop.
Tracktion is known for its three key features:
4OSC:

A powerful subtractive synthesizer with four oscillators, flexible modulation, and various onboard filters and FX.

Micro Drum Sampler:

Provides an effective way to create your own drum kits and start programming. It has tons of useful functions commonly used for drum production.

Plugin Sandboxing:

Protects your work environment by keeping third-party plugin crashes contained. When something goes wrong, it deactivates the plugin(s) instead of closing the whole software.
Overall, it's an amazing digital audio workstation with a clean user interface and small CPU footprints, and it needs to be on every producer's radar.
2. BandLab – Music Making Studio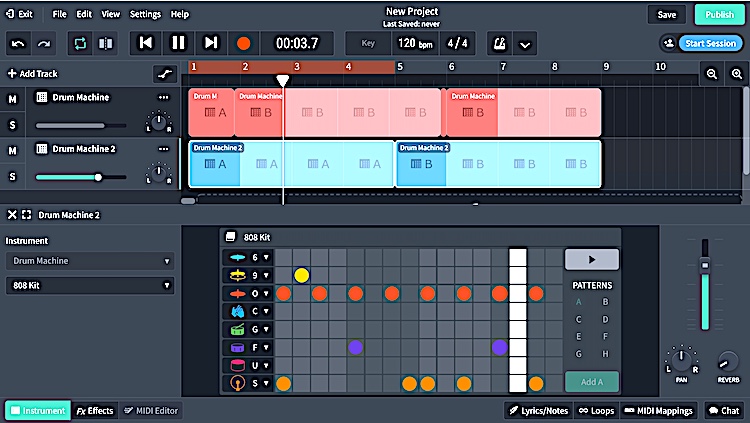 Platform: iPadOS | iOS | Android | Browser-based
Price: Free
Plus Point: Proprietary algorithm for real-time automatic pitch-correction; Stores all your revisions
BandLab allows you to create music and share the creative process with musicians and fans. The platform combines music-making applications like digital audio workstations with social features like video sharing.
With its easy-to-use multi-track editor, you can record, edit, and remix any tune to perfection. Add creative effects, loops, vocals, and beats from a vast library. Compose music from more than 200 virtual MIDI instruments, including acoustic guitars, keyboard, pianos, and various drums — all within a single application.
BandLab provides another famous tool named Cakewalk Sonar for Windows. It has an advanced 64-bit mix engine to deliver clean, dynamic, accurate mixes every time.
Cakewalk automates the process of mixing audio and helps you achieve pristine pro-studio sounds. It can also accurately emulate layouts of various analog consoles. Whether you are a songwriter, composer, or producer, it has the virtual instruments you need to create your production from scratch.
Read: 15 Best Music Identifier Apps To Find Unknown Track
1. Garageband
Platform: Mac | iPadOS | iOS
Price: Free
Plus Point: Apple's built-in sound and loop library keep getting better and bigger
Garageband comes with a comprehensive sound library that includes instruments, presets for voice and guitar, and a large set of session drummers and percussionists.
It has a podcast and music creation function that allows you to make multiple tracks with pre-made MIDI keyboards and pre-made loops. If you prefer, you can plug in your mic or guitar and choose from a wide range of realistic amps and effects.
A plethora of editing features, helpful recording, and intuitive interface make Garageband powerful and easy to use. You can edit your work down to the decibel and note, adjust your sound with audio effect plug-ins, and fix rhythm issues with a click/touch.
Read: 10 Best Song Lyrics Finder Tools
It is also packed with lessons for guitar and piano, and a few tracks recorded by actual artists. In order to help you sharpen your skills, the software provides instant feedback on your playing.