Computer-aided design (CAD) software is used by engineers and architects to create, modify, analyze, and optimize the design. It helps them improve the quality of design, increase productivity, and better communicate through documentation.
Also referred to as CADD (computer-aided design and drafting) tool, it is mostly used to design curves, figures, and solids in 2D and 3D space. In fact, it has become an essential tool for prosthetics, aerospace, automotive, and shipbuilding industries.
Because of its vast economic importance, CAD has been a significant driving force research in computer graphics (both software and hardware), discrete differential geometry, and computational geometry.
These tools usually cost a lot of money. And if you are a beginner who has just started dipping toes into CAD software, this will definitely be an issue. Fortunately, there are plenty of free tools in the market that allow you to build, inspect, and manage complex projects with ease.
We have listed the best free CAD software that has already been proven useful. You can select any of them depending on the nature of the business or your project's specific needs.
12. LibreCAD
Platform: Windows | Mac | Linux
Plus Point: Has an impressive set of tools and a highly customizable appearance.
LibreCAD is an open-source CAD application for 2D design. It features advanced snapping system, blocks, hatches, layers, templates, and various tool categories, such as line, spline, polyline, text, dimension, and much more.
It allows users to create complex models, edit previous models, and add multiple layers within minutes. The interface is available in 30 different languages.
And the best thing is users are free to download, deploy, or distribute the tool without worrying about copyright breaches.
11. QCAD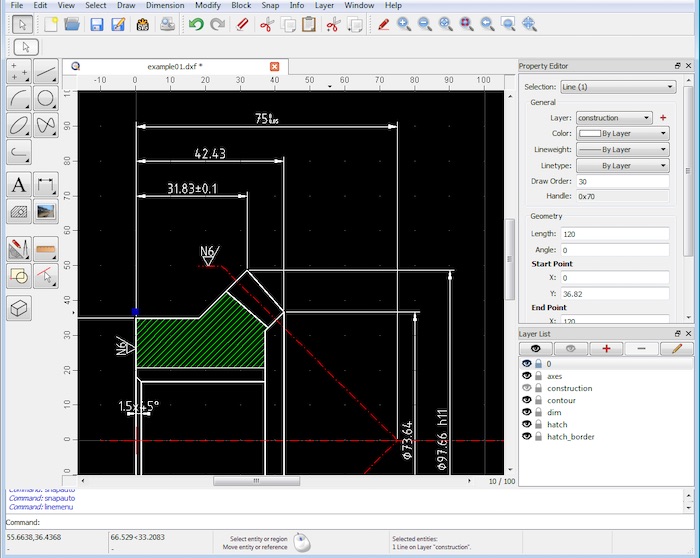 Platform: Windows | Mac | Linux
Plus Point: Produces vivid, highly detailed technical drawings.
QCAD is an open-source CAD application for designing objects in 2D. You can create technical drawings such as plans for interiors, mechanical components, schematics, and diagrams.
The software is designed with extensibility, modularity, and portability in mind. Its intuitive interface makes it easy to construct and modify lines, arcs, circles, ellipses, texts, dimensions, splines, polylines hatches, fills, and raster images.
Although you can open several tabs at the same time with different projects, the software sometimes freezes under heavy workloads.
10. Bentley View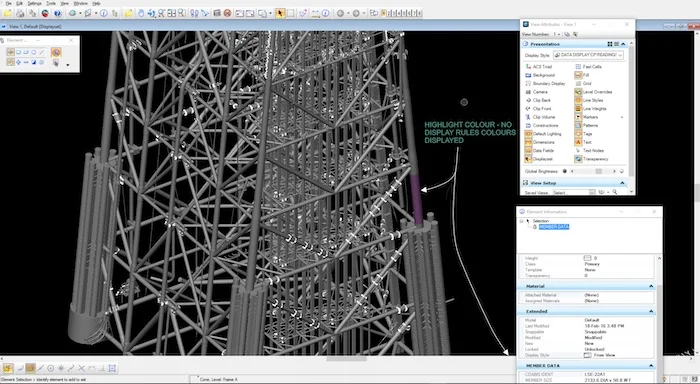 Platform: Windows
Plus Point: View and analyze over 50 file formats, including CAD and raster images.
Bentley View can be used as a CAD Viewer or AutoCAD reader. It allows you to search for objects, measure distances and areas precisely, and print drawings to scale with full fidelity.
Considered as the industry's most powerful viewer, Bentley View can open DXF and DWG designs with the same fidelity as the authoring software.
It supports more than 50 file formats and offers advanced viewing features. For instance, you can navigate, dynamically explore, and analyze models by changing their display attributes such as height, slope, and aspect angle.
9. Tinkercad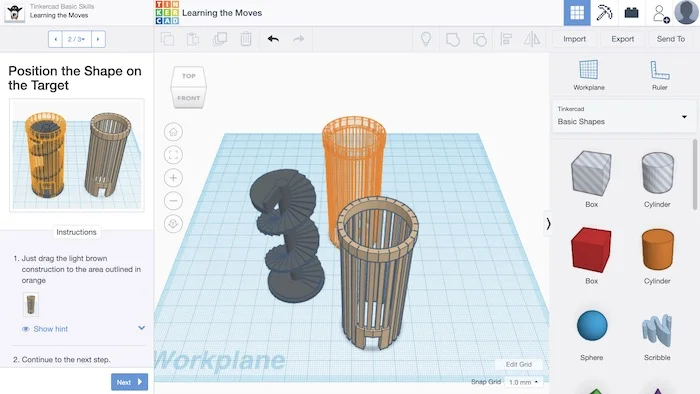 Platform: Web-based
Plus Point: Fun way of 3D designing; extremely easy to use.
Tinkercad is a simple 3D design tool specifically designed for kids. It can be used to make home decors, toys, jewelry, prototypes, and many more things.
It works as an online application: once you register and sign in, you will be presented with an intuitive interface to create amazing pieces and export them for 3D printing. There are numerous models and examples (shared by other users) available for download.
Tinkercard also allows you to design structures using Lego tricks and export 3D models to Minecraft Java Edition.
8. nanoCAD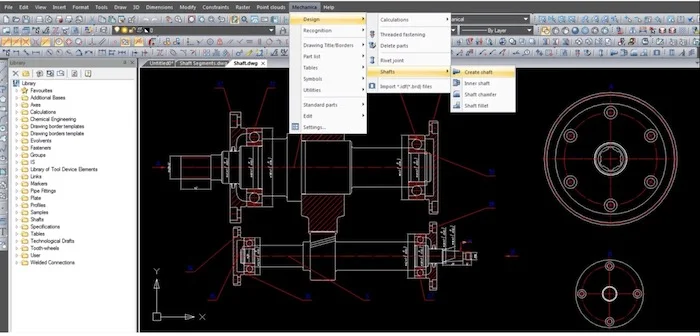 Platform: Windows
Plus Point: Can produce professional designs and drafts in various formats.
nanoCAD is a lightweight application with a simple interface, powerful drafting, design tools, native DWG compatibility, and open API.
The software has been built to deliver design and project documentation for all industries. You can draw multiple technical drawings for various proposes, from engineering diagrams to vector-based art purposes.
It also features object editing commands that enable you to modify drawings with minimal mouse clicks. Advanced dimensioning options, reusable blocks, and references to external drawings will definitely speed up your drawing process.
7. OpenSCAD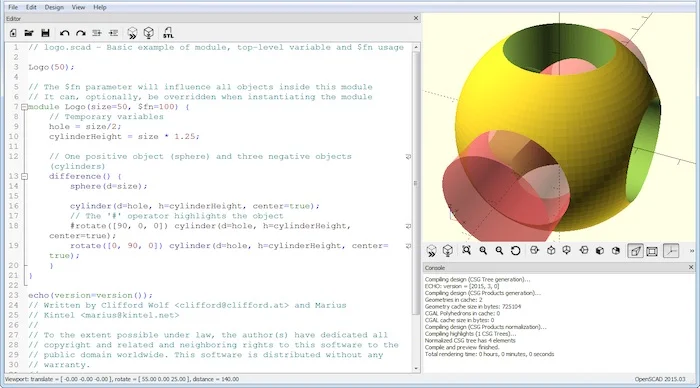 Platform: Windows | Mac | Linux | Unix-like
Plus Point: Extrusion of 2D primitives into 3D space; a gallery of previously made objects.
OpenSCAD is a script-only based modular that allows you to create 3D CAD objects. It reads a script file (that contains the description of the object) and renders the 3D model from that file. 
This gives developers complete control over the modeling process and lets them easily modify any step in the process or make designs defined by configurable parameters. The software is mostly used to create 3D printed parts, which are exported in STL format.
Although OpenScad a powerful tool, its level of complexity requires some programming skills. It has been recommended as entry-level CAD software for designing open-source scientific tools for research and education.
6. BRL-CAD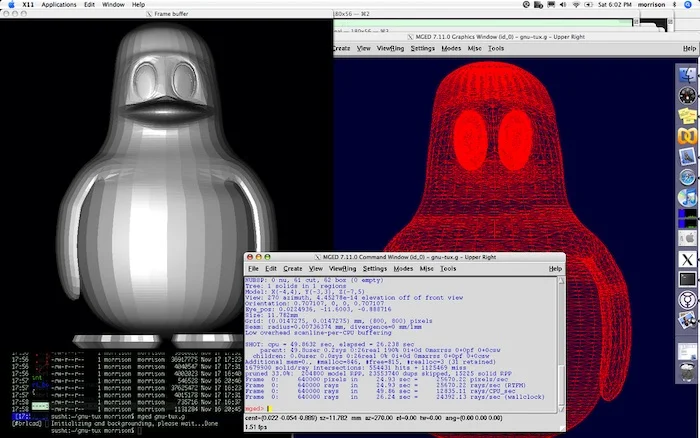 Non-textured ray-trace and wireframe screenshot
Platform: Windows | Mac | Linux | Solaris | BSD
Plus Point: Uses constructive solid geometry (CSG) instead of boundary representation.
BRL-CAD is packed with an interactive geometry editor, image processing, and signal processing tools. It has a computer network distributed framebuffer support and ray tracing support for geometric analysis and graphics rendering.
While the software can be used for a broad range of graphics and engineering applications, it performs exceptionally well in ballistic and electromagnetic analyses. And since it uses CSG, it can examine physical characteristics such as ballistic penetration and radiative, thermal, and other types of transport.
Furthermore, its extensive documentation and coding provide an in-depth and fascinating insight into the software.
5. Sculptris
Platform: Windows | Mac
Plus Point: Geared toward 'organic' models and character sculpting.
Sculptris makes 3D sculpting and designing very easy and user-friendly. While the software mainly focuses on the concept of modeling clay, you can use it for designing complex structures and creatures like a dragon or Godzilla.
Either start from scratch or import OBJ files. The controls are similar to most of the industry-standard 3D tools, so there is no steep learning curve. You will find dozens of sculpting brushes, control options, and keyboard shortcuts along with handy help tips at the bottom of the screen.
It isn't just a simple sculpting tool, but you can use it to paint directly on the mesh and generate texture. Many professionals use it as a means of fast development without the heavier resource overhead of the costly 3D software.
4. SketchUp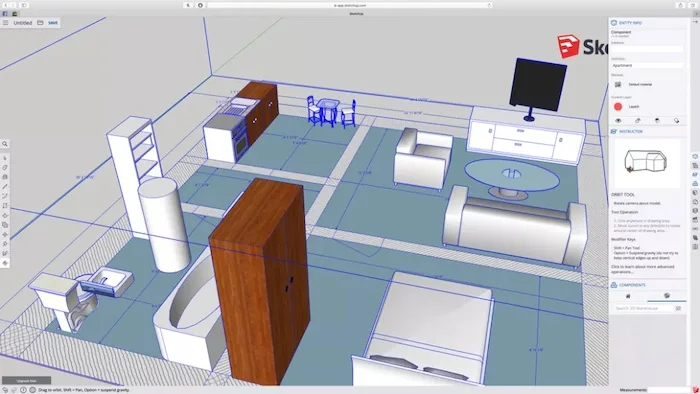 Image credit: Carrie Marshall
Platform: Browser-based (with 10 GB storage)
Plus Point: Packed with several presentation tools that help you create complicated models.
SketchUp is a 3D modeling program for a broad range of drawing applications, including mechanical and civil engineering, landscape architecture, interior design, and movie and video game design.
The free version of SketchUp comes with plenty of useful tools, making it harder for beginners to decide whether or not to go for the Pro right away.
Drawings can be saved locally and to the cloud (as an SKP file), or exported as an STL file for 3D print. All in all, it's a very powerful tool with a stunning interface and navigation options, and once you get the hang of it, you can build incredibly complex models with a minimum of fuss.
3. BricsCAD Shape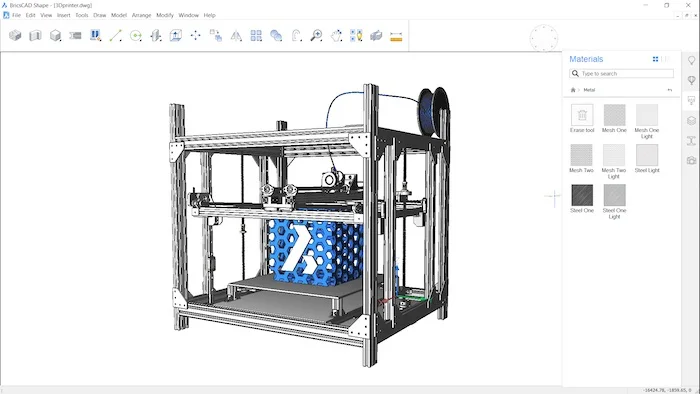 Platform: Windows | Mac | Linux
Plus Point: Minimal interface; solid models are highly accurate.
BricsCAD Shape is a free conceptual modeling tool from Bricsys. It is specifically designed for users who are new to CAD to help them get modeling in 3D straight away.
Its simplified user interface shows only the essential tools, so you don't get overwhelmed or distracted. There is a library of textures, materials, and pre-built 3D components, such as furniture and objects. You can drag, connect, push/pull, and extrude them the way you want.
Unlike other CAD tools, Shape's solid models are highly accurate. Each element you design in this software can be configured deeply, anytime, on the fly.
2. FreeCAD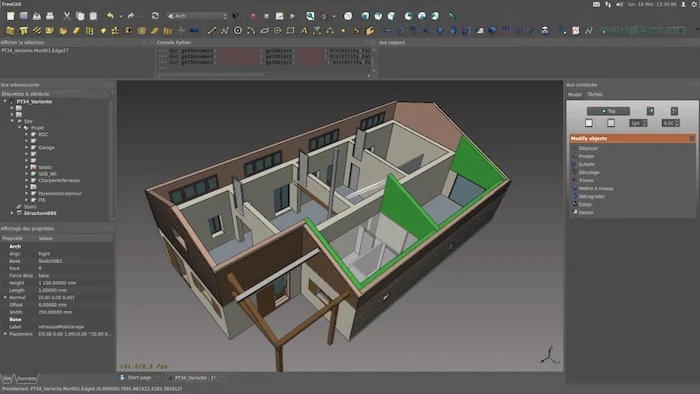 Interior of 3D house designed on FreeCAD
Platform: Windows | Mac | Linux
Plus Point: Fully functional software with lifetime valid licenses; backed by a dedicated group of skilled developers.
FreeCAD is an open-source and extremely modular tool with finite element method (FEM) support. It features the OpenCasCade-based geometry kernel, which allows various operations on complex 3D structures.
There are plenty of components to extract design details from 3D models and create high-quality production-ready drawings. It equips you with all the essential features. You get building information modeling (BIM), computational fluid dynamics, Geodata workbenches, Path workbench, and a robot simulation module to analyze robot movements.
While the software is specifically built for designing mechanical products, it can also be utilized in other sectors, such as architecture, construction, and electrical engineering. Whether you are a programmer, an experienced designer, a hobbyist, or a student, you will feel right at home with FreeCAD.
Read: 18 Best Photoshop Alternatives
1. AutoCAD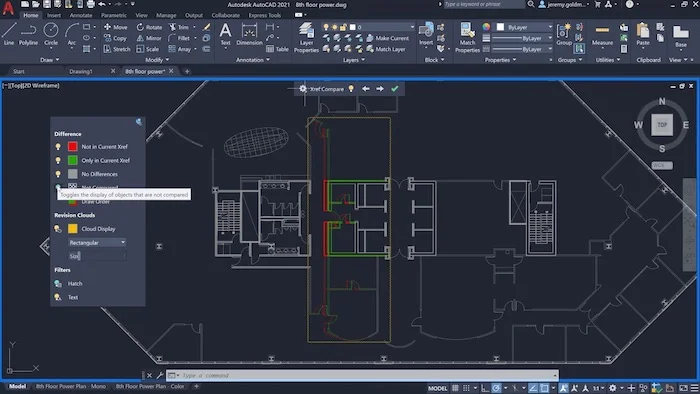 Platform: Windows | Mac | iOS | Android
Plus Point: It's an industry standard; be more productive and collaborate in real-time.
AutoCAD is a drafting application developed and marketed by Autodesk, the leader in 3D design and engineering software. It's a very powerful tool and widely supported by architects, graphic designers, engineers, project managers, city planners, and other professionals.
With AutoCAD, your mind is the limit for what you can design, simulate, and model. To speed up your workflow and increase productivity, it offers specialized features and libraries for mechanical design and 3D mapping.
Read: 15 Tools to Instantly Convert 2d Images to 3d Ones 
For students and teachers, the fully-function version of AutoCAD is available for free. However, there is one downside of this version: you will see a watermark on each plot you create, which implies that the file was generated with a non-professional version.
Frequently Asked Questions
What is CAD and its advantages?
CAD stands for Computer-Aided Design. The terms refers to using machines (such as desktops, laptops, tablets, and smartphones) to create, analyze, modify, and optimize a design.
The software make this task easier: it makes it feasible to design a complex model in an imaginary space, letting your visualize attributes like distance, width, breadh, height, material, and color before the model used in a real-world application.
There are several benefits of CAD software. For example, it allows you
Build and visualize three-dimensional items and make changes with less efforts
Add as much detail as you like and make the object accute up to a certain level
Run simulations to test for defects and imprefections in design.
Improve communications through documentation
Uuse fabrication technlogies and third party tools to convert your digital design into a physical object.
What was the first CAD software?
In 1963, computer scientist Ivan Sutherland developed Sketchpad software as a part of his PhD thesis. It allowed users to draw simple shapes on the computer screen, save them, and recall them later.
Sketchpad pioneered the way for humam-computer interaction and is considered a major milestone in the development of computer graphics. Sutherland received the Turing Award (1988) and Kyoto Prize (2012) for this revolutionary invention.
How many types of CAD software are there?
CAD software programs have improved a lot in the past 5 decades. Every year, we see new features that further improve the accuracy of design and workflow. As of today, all existing CAD tools can be categorized into four groups:
2D CAD
3D CAD
3D Wireframe and Surface Modeling
Solid Modeling
What are the major applications of CAD?
CAD, along with other software, is extensively used in graphic design, product design, architecture, and engineering.
Some of the most common targets include special effects in movies, fashion designing, prosthetics, interior design and facility planning, shipbuilding, automotive, and aerospace industries, and many more.
How much do CAD designers make?
In the United States, the average base salary of a CAD designer is $55,000 per year. That's $26.44 per hour. Those in the lower 10%, such as entry-level jobs, make about $45,000 a year. Meanwhile, the top 10% get an average pay of $81,000 per annum.