We lose our crucial data from desktop by accidentally pressing the Delete key. Often, a virus or a software bug can also corrupt your hard drive. If you don't have any backup or restore point, you need the best data recovery tool to recover all of your important information, which get deleted unintentionally. To help you, we have gathered some of the best recovery software to get your data back without spending a penny.
The listed software could recover data from unallocated, RAW, corrupt or formatted hard drive. Each one of them has its own unique features with different compatibilities and performance. Try multiple options if one doesn't gets the job done. As long as the disk is not physically dead, there is a chance.
23. Undelete 360
Platform: Windows
Undelete 360 is a lightweight application built on fast yet efficient algorithms that allows users to recover deleted files from various devices like smartphones, memory cards, computer hard disks, USB and digital cameras. It has a data-wiping tool and a Hex Viewer along with the ability to preview files before recovery.
22. PC Inspector
Platform: Windows
PC Inspector works well on both NTFS and FAT drives even if the boot sector has been damaged or erased. It's a very simple and basic tool with search dialog to help you locate files by name, and store recovered files to a local drive or network drives. You can scan only specific areas of the disc with the cluster scanner.
21. EaseUS Data Recovery
Platform: Windows | Mac
EaseUS file recovery is useful, lightweight tool for restoring files and rescuing data that was accidentally erased from hard disk, USB flash drives, floppy, CD and SD cards. It supports widely-used file system like FAT 32, NTFS and NTFS5 with encryption and compression. Also, the tool comes with multiple options to improve the quality and optimize the interaction to find desired data easily. The free version lets you recover up to 2GB of data.
20. Puran File Recovery
Platform: Windows
Puran scans almost everything that is detected as a drive by Windows, irrespective of its file system. It a perfect combination of speed, accuracy and simplicity. The "Deep Scan" feature intelligently scans drive byte by byte, and "Full Scan" detects lost partitions and even recover files from formatted drives. In addition, the tool doesn't only look for lost file records but also detect various file format based on data patterns.
19. Undelete Plus
Platform: Windows
Undelete plus is quite an old application, but works on all versions of Windows and incarnations of NTFS and FAT file systems. It assigns a data recovery probability to the files it discovers based on how damaged they actually are. You can sort files by type, size and date modified to avoid sifting through every deleted files on your disk, and keep folder structures intact.
18. Lazesoft Mac Data Recovery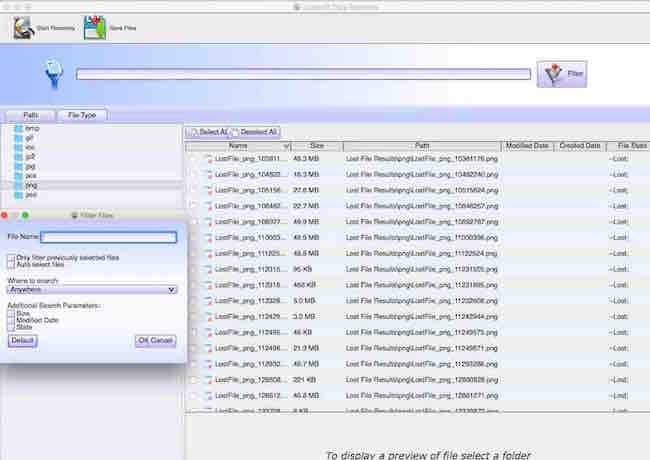 Platform: Mac
Lazesoft is specially developed to recover data from FAT 32, exFAT and NTFS file system from any mountable media like your internal/external hard disk, memory cards, iPod Classic, USB flash disk, etc. It can recover disk data, even when the partitions are formatted/deleted.
17. Glary Undelete
Platform: Windows
Glary Undelete recovers compressed, fragmented and encrypted files on NTFS. It performs an automatic sorting according to size, creation date and name of each file. Once you press the search button, it will show recovered items along with their related information. In the scan result, it displays recovery status as Good, Poor or Overwritten.
16. Paragon Rescue Kit
Platform: Windows
All of the listed recovery tools we have covered so far work only when you are able to boot your system. But what happens when PC won't boot at all? This is where Paragon Rescue Kit comes into play. It helps you recover an entire disk, specific files or separate partitions, and create bootable recovery media. Moreover, it is ideal for creating a backup image of an entire hard drive or system partition.
15. iSkysoft
Platform: Mac
With iSkysoft, you can recover almost any file, including but not limited to audio, picture, video, archive and email files from plenty of storage devices. The tool supports HFSX, HFS+, FAT32, NTFS and exFAT file systems. Furthermore, there is a 'Preview' feature that lets you see files before they are recovered, and help you recover data at your pace and quickly find what you need.
14. UndeleteMyFiles Pro
Platform: Windows
UndeleteMyFiles is a quick and lightweight tool to recover deleted media from digital devices. You can separately search for media or regular files, and if that is not enough, you can add filters to find a specific file. Apart from this, you can use "File Wiper" to delete any file permanently without any further chances of recovery.
13. CD Recovery Toolbox
Platform: Windows
This tool is developed for recovering damaged files from various disk types – Blu-Ray, HD-DVD, DVD and CD. You can use it to get back the lost information as a result of some mechanical damage such as chips, scratches, spots on the surface, etc. Not all files can be recovered – that depends on the location and degree of the damage.
12. Chromebook Recovery Utility
Platform: Windows | Mac | Chromebook
If your Chromebook is showing some serious errors, you need to recover your Chromebook to get it working like new again. This is where Chromebook recovery utility comes into play; it an app to create recovery media. All you need is a USB flash drive that can hold at least 4 GB, and that you don't mind completely formatting.
11. Orion
Platform: Windows
Orion searches for deleted files on your hard disk or drive connected to your computer. It recovers deleted files, audio and photos that are not overwritten. You can either recover or permanently delete the file to prevent future recovery.
10. Restoration
Platform: Windows
Don't mind the looks of this tool, it is way better than any other commercial software in terms of efficiency. It quickly finds and displays all files that get erased. No demand for donation, no ads and it doesn't even use the disk it's installed on when you are processing a recovery job on it. There is an option to wipe the found files beyond simple recovery. It works with NTFS, FAT as well as cameras cards.
9. Advanced Disk Recovery
Platform: Windows
Using this state-of-the-art tool, you can restore every type of file and folder on your PC, from multiple storage devices. It offers two types of scans – Quick scan and Deep scan. The Quick scan uses the Master File Table to search all files, whereas Deep scan uses file signatures to find deleted files. You can easily suspend a scan and save it. When you resume, the tool picks up where you left off, with no wasted time.
8. Wise Data Recovery
Platform: Windows
Wise Data Recovery tool solves your data loss problems whether you've deleted some files unintentionally, formatted a disk or a encountered a system crash and lost some files. It can get back those files from hard disk, external hard drive, memory card, mobile phone, mp3 player, USB drive and other storage media.
The tool doesn't only scan for lost files, but also analyzes the possibility of recovering them. It displays the details and recoverability of the files before you decide to recover them.
7. DMDE
Platform: Windows | Linux
DMDE can recover directory structure and files in a few complicated cases through the use of special algorithms when other tools can't help. It comes with a number of freeware features like simple partition manager, disk editor, RAID constructor and tool to make disk images and clones. Moreover, it supports national file names, large sectors, sector translation and compressed NTFS files.
6. MiniTool Data Recovery
Platform: Windows | Mac | iOS
This is an easy wizard-based interface, specialized in data recovery on an entire partition. Using advanced setting, users can set file system and type before carrying out a scan operation. MiniTool perfectly support mobile devices, like U disk and SD card. The iOS version helps you recover photos, messages, contacts, call history, notes, stored files from the device, iTunes and iCloud backup.
5. PhotoRec
Platform: Windows | Mac | Linux
PhotoRec is designed to recover lost files including documents, videos, archives, and pictures. It works even if your media file system has been severely damaged or reformatted. For safety purpose, it uses read-only mode to handle the drive or memory card you are about to recover lost data from. The tool searches for known file headers; if there is no data fragmentation, it can recover the whole file.
4. Stellar Phoenix
Platform: Windows | Mac
Stellar Phoenix data recovery tool performs safe and accurate recovery of lost images, audio files, videos and documents that have been deleted from FAT, ExFAT, HFS+ and NTFS format based file systems. For Mac volumes, it facilitates RAW recovery from encrypted file systems. In addition, features like SMART and 'Minimum RAM usage' let you know the status of your hard drive and optimize the recovery process.
3. TestDisk
Platform: Windows | Mac | Linux
TestDisk is developed to recover lost partitions and make non-booting disks bootable again. Packed with unique functionalities and a file recovery system that can easily overshadow any other recovery tool, TestDisk has a lot to offer for both novices and experts. It can fix/recover partition table, rebuild FAT32 and NTFS boot sector and locate ext2/ext3/ext4 backup superblock.
Being a command tool, it may not be suitable for some users who don't know how to operate DOS or Terminal.
2. Disk Drill
Platform: Windows | Mac
Disk Drill is the new generation of Pandora Data Recovery and inherits most of its functionalities and tops them up with modern algorithms that increase data recovery efficiency and deliver more concise results. The advanced filtering options make it easy to search the files you were looking for by their partial name, type and extension, modification data file size, etc. The free version recovers up to 1 GB only.
1. Recuva
Platform: Windows
Read: 15 Best 3d Modeling Software for PC | Free
Recuva is able to recover files that have been deleted and marked as free space by the operating system. It can be used to get back deleted files from memory cards, MP3 players and USB flash drives. The tool works for both NTFS and FAT file systems. It can recover lost directory structure and files from Ext2 and Ext3 file systems. However, if the new data has overwritten over a deleted file, it is quite hard to get it back.