Almost everyone needs a powerful and efficient word processor that is capable of handling anything from creative school assignments to extensive office projects. Without a doubt, Microsoft Word has been the ultimate go-to solution for few decades, but that picture may be about to change.
The introduction of Google Docs back in 2006 didn't have a huge impact, but it's sure a big thing now. Google Docs is free, cross platform word processor solution that emphasizes on collaborative work. It doesn't matter if you're a freelancer or working in a big corporate company, you can almost always find what you need on Google Docs.
But there is always something that is missing. To provide users with that extra thing, Google launched the "Add-Ons" features in 2014. Today, the Google Docs' add-ons store features more than three hundred tools that can help you work efficiently. They can help you proofread your documents, seamlessly add images and graphics and, much more.
Below is the list of 18 best Google Add-ons that you should try right away.
How to Use Add-ons on Google Docs
It's easy, after opening Google Docs just click on add-ons from the menu. It will take you to the Add-ons store. Just search whatever add-on you wish to have on your Google Docs and follow the instruction to do the same (giving permissions to the add-on).
Every add-ons have a different working nature, some works silently in the background, while some show in sidebars and popups. In case you are not happy with a particular add-on, you can always remove it via 'manage add-ons' option.
18. DocSecrets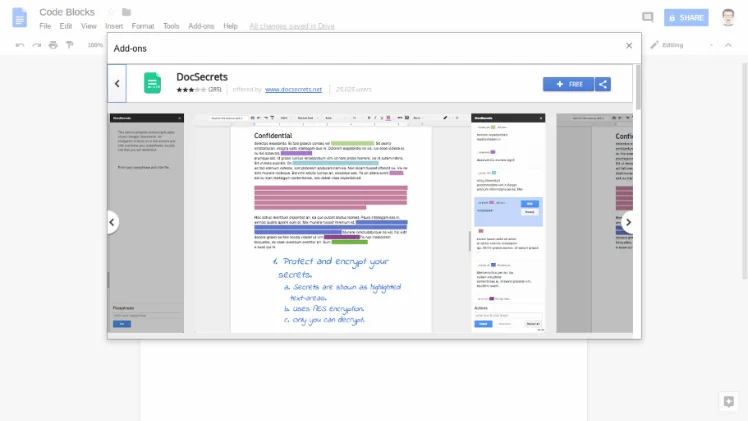 Are you working on a sensitive project and want to hide your work from people you know? If you're, then maybe DocSecrets can help. You can secure your projects with DocSecrets by putting them behind password protection. You can start with setting up a password and then choose which parts of the document should be hidden and which not.
Though it's up to you, we don't advise you to use this add-on for ultra sensitive information like your financial info or critical passwords.
17. Wolfram | Alpha for Docs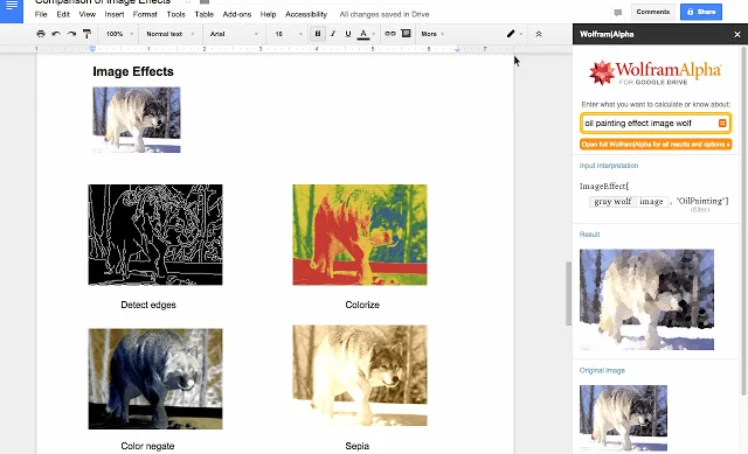 For those who don't know, Wolfram Alpha is a knowledge engine that provides answers to search queries by bringing data on a particular subject in one place rather than providing links to pages that might carry the information. With the add-on, you can get information on almost everything on the same tab without the need to Google it.
Wolfram can also find a solution to your math problems and find images, graphs, working diagrams of complex systems. It is simple to use, just utilize the sidebar search or select whatever phrase you want to look out for then click "Compute Selection"
16. Easybib
The bibliography is a core component of any research paper as it shields you from serious plagiarism accusations. However, it's not easy to compile at all. If you are facing a similar problem and looking for something that can take of this process then you are in luck.
EasyBib is a bibliography citation generator that cites journals, articles and books automatically right in your Doc file. To start, you just have to choose what type of citation format you need and you are good to go.
15. Extensis Fonts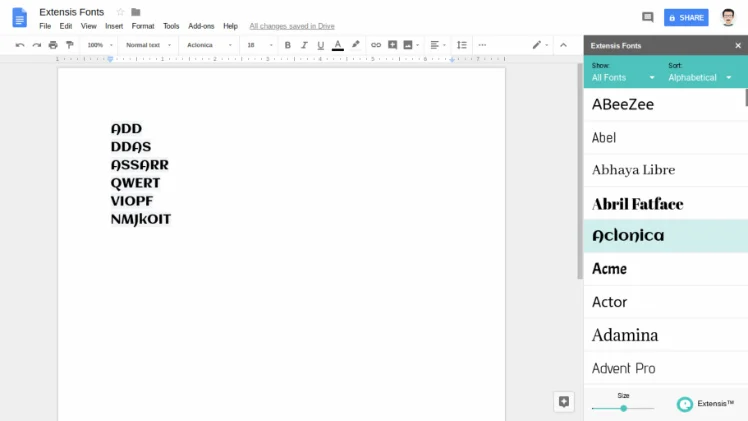 If you depend on Google Docs for all your day-to-day work, then it is possible that every now and then you find yourself in a situation where you have run out of the appropriate font that you want to use in your project to make it stand out. While you can always opt the "More Fonts…" option but what's bad in trying something new?
Extensis Fonts gives you access to more than 1200 different fonts right at your fingertips. You can also narrow down font types according to their popularity and age and name.
14. Avery Label Merge
Avery is perhaps the best way to create labels in Google Docs. While it's not so straight forward as other add-ons, it's totally worth your time. In order to use Avery Label Merge, you need to compile a Google spreadsheet data which you want to label. It should be simple.
Next, go to Google Docs (new document) and select the add-on. Then choose desired options regarding shape and size of the labels or badges. Lastly, merge the spreadsheet data in order to get new labels.
13. WordPress.com For Google Docs
WordPress is undoubtedly the most popular content management system among bloggers around the world. Due to its open source nature, you can integrate almost anything with WordPress, and one such tool is Google Docs. If you run blogging business with Chromebook then you may find this plugin really helpful.
With this add-on, you can not only collaborate with others on various projects, but can publish your hard work directly to your WordPress powered blog. So no copying, no pasting and absolutely no extra formatting. There is also an option to integrate multiple sites.
12. Translate+
First, I want to make it clear that this is more of a fancy inclusion than something of utter need, knowing that Google already offers a built-in translate feature, with which you can translate the entire document in almost any language in the world, more than you ever going to need.
Anyway, Translate+ is one of the easiest and quickest ways to translate your documents into other popular languages around the world. On a different note it seems to only work in Chrome and Safari, and not in Firefox.
11. Lucidchart Diagrams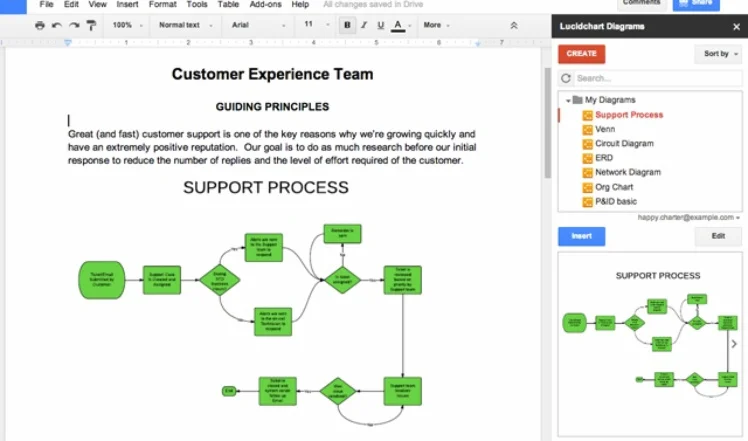 Lucidchart Diagrams is a one stop solution for all our design and visualization related issues. It lets you add flowchart, wireframe, diagrams and many more right into your Google Docs. It doesn't matter whether you are a small team or a big enterprise, Lucidhart has you covered on all grounds.
One of the highlights of this tool is that you can import and export data from almost any graphic design application without any hassle. Furthermore, you can integrate Lucidchart with management software like JIRA, HipChat, etc.
This add-on is however not completely free. You can only use about 60 items without any cost but you have to pay in order to use all of their features.
Read: 20+ Useful Online Tools to Create Charts and Graphs
10. Speakd
"Give Voice to your writings". Speakd is a third party alternative to Google Docs' built-in voice typing tool that recite documents (English) at your command. Speakd is a good tool for proofreading or should I say proof-listening. Just select the lines you want to hear, click Play, and you have a voice read it back to you.
It works much like any other voice-over tools available for your desktop and makes your Google Docs more accessible. However, it lacks important features like speech time adjustment and few other basic functions.
9. Highlight Tool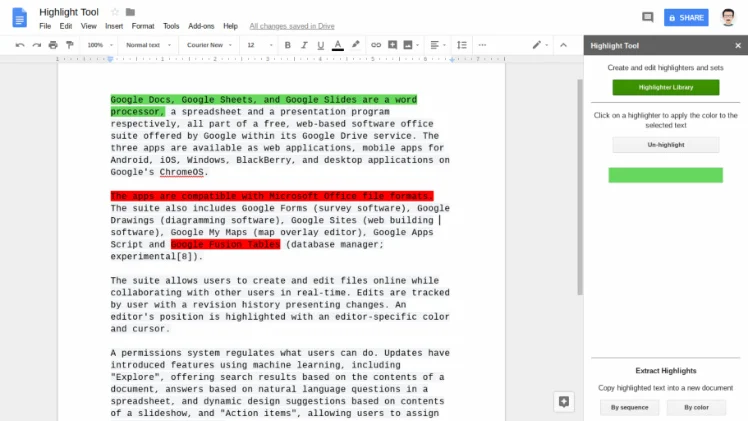 Do you need a highlighting tool for your Google Docs that does its job efficiently and is actually free? I will take the answer as yes and if that's the case, the Highlight Tool is just what you have been looking for.
With this you can highlight and isolate the most important parts of the text. You can even organize those parts by assigning them different color and extract the highlighted lines into a whole new document. It's also available on Github.
8. Easy Accents
Did you just start learning a new foreign language and facing difficulties with accents? Well, its common and there is a perfect application that can help you. Easy Accents allows users to pick different accents from multiple languages pretty seamlessly.
It can help you with your school projects on accents. You can easily insert accents form language of your interest from the sidebar in your Doc. It's also updated regularly so that you can have exactly what you want.
7. Code Blocks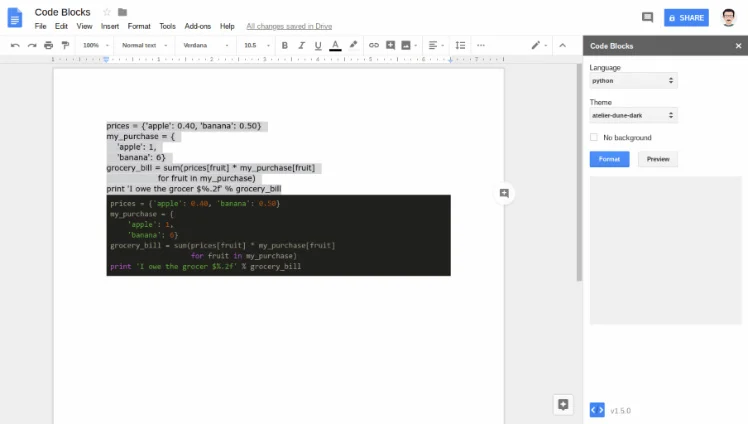 If you are a passionate programmer, who wants to use Google Docs for code documentation or simply as a platform where you can share your code and get them reviewed by your friends and co-workers then Code Blocks is just what you need.
To get started, you first have to choose the language and theme options (after starting the add-on), add your code and then click format. Code Blocks can detect language automatically, in case you hadn't done it manually. You also have an option to allow or disable background effect, which might help other readers to read your code much better.
Other features include one-click syntax highlighting and an option to preview your code before updating.
6. Image Extractor
If you are a regular Google Doc user, then there is a good chance that you already know the easiest way to extract images from any document is by downloading the entire copy in HTML and then look for the image in the downloaded ZIP file. But what if I tell you that there is an easier way than that.
The Image Extractor add-on lets you download any image from Google Docs independently with only a couple of clicks. Just open the document, load the add-on, run it, select the image and then click to download it on your hard drive. It can come handy in keeping a backup of your images.
5. Table Formatter
One of the things that gives MS Word a clear cut advantage over Google Docs are table templates that can easily be customized, but now you can have the same functionality in Google Docs too. Table Formatter allows you to use more than 60 pre-designed tables, along with custom colors for rows and column designs.
4. SAS WritingReviser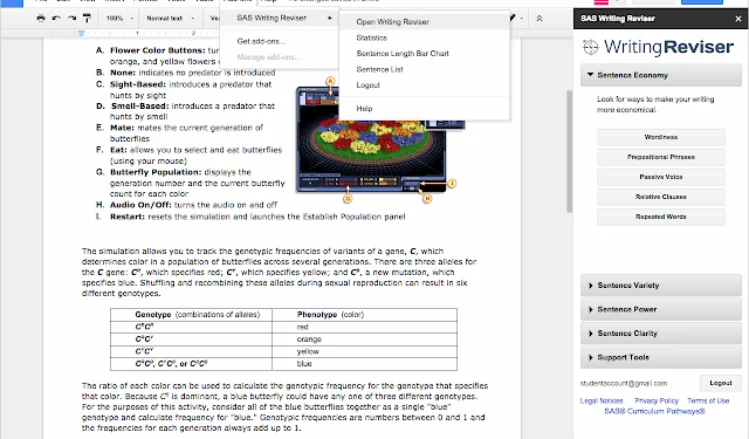 If you are looking for something that can help you proofread your document and improve your writing abilities at the same time then you should try SAS WritingReviser. It helps you find words and phrases that you could use in your writings to make them better.
It can easily identify words that can be changed or completely ruled out like weak verbs, repeated or unnecessary words and suggest those words that can be added instead. WritingReviser also features a reporting that gives you insights on how well the document is written.
Read: 25 Small Business Collaboration Tools to Streamline TeamWork
3. Footnote Style
Google Docs doesn't have the built-in styling option for your footnotes. That means you cannot assign styles to different elements of the footnotes you prepare on Google Docs. But Footnote Style makes this little problem go away.
The add-on lets you choose the best possible style for footnotes. You can easily customize all the footnotes in a document by editing only one of them and saving the preferences so that it can automatically apply to the entire document.
2. Mail Merge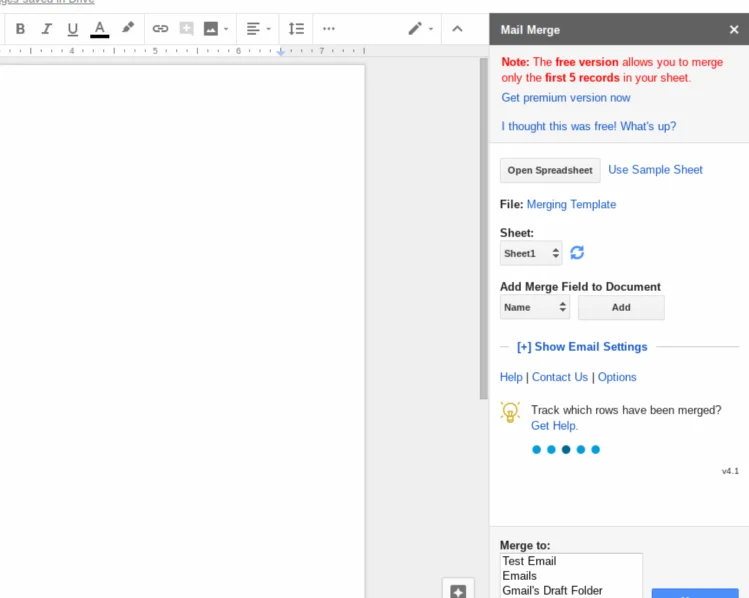 Mail merge is a great add-on that allows you to create personalized emails by merging data from sheets to Google Docs. Use it to take care many of your business operations like invoicing, notifications and customer care, etc. You can also schedule merges according to your need. It is easy to use and free for the first five merges. In order to do more you have to pay a subscription fee of $30/year or $70 for lifetime.
1. Table of Contents
Table of Contents is perhaps one of the most popular add-ons out there. It efficiently probes your entire document for headings, subheadings and index them in a compact list just like a table of index of a book, but the only difference here is that you can easily navigate whatever part you want simply by clicking it.
Read: 15 Best Test Data Generation Tools
For those who have already used it and want to try something new and different can consider Document Navigator or Google Docs built-in indexing tool Document Outline. You can start using Document Outline by simply clicking the Insert option and then choosing the format you want under Table of Content.