The healthcare industry is rapidly evolving with technological advancements and research constantly redefining its limits. Hospitals, which are at the forefront of this industry, must adapt quickly to these changes in order to stay relevant and provide comprehensive medical services.
Here at RankRed, we regularly cover recent advancements in medicine and related technology. Now we have compiled a list of the best hospitals in the world as part of that commitment. These hospitals provide the best medical care and have unrivaled research facilities and infrastructure. They are surely shaping the future of medicine and healthcare.
14. West China Hospital – China
West China School of Medicine
Established In: 1914
Location: Chengdu, Sichuan, China
West China Hospital is one of the four affiliated hospitals under the West China Medical Center of Sichuan University and is currently the second-largest hospital in China. It has consistently ranked one of the top four medical institutions in the country for the last five years or so.
The hospital has about 25 advanced laboratories and 44 clinical departments that employ as many as 6100 medical workforces, including professors and other teaching staff. It also offers more than 30 different study programs.
The hospital excels in advanced areas such as cardiac intervention, living donor liver transplantation, nuclear medicine, treatment of severe pancreatitis, etc.
13. University Hospital Heidelberg – Germany
Heidelberg Children's Hospital | Image Courtesy: Wikimedia Commons
Established In: 1388
Location: Bergheim, Germany
The University Hospital of Heidelberg is the third largest healthcare center in Germany. The entire university hospital comprises more than a dozen specialty clinics and research institutes spread over a large area.
The hospital has one of the world's best oncology departments fueled by relentless innovation. The University Hospital of Heidelberg is among the very few medical institutions in the world that treats cancer patients with heavy ion therapy or HIT. HIT is thought to be more effective in treating some cancers than the typical photon beam radiation therapy.
German Nobel Laureates Bert Sakmann (1997) and Harald Zur Hausen (2008) have served this hospital in the past.
12. Michigan Medicine University Hospitals – The United States
Established In: 1869
Location: Ann Arbor, Michigan, U.S.
Prominent Department: Otorhinolaryngology (ENT), Gynecology
Ann Arbor situated, Michigan Medicine is made up of U-M medical school, several research laboratories, and various university hospitals. The origin of Michigan Medicine goes way back to 1869, when the University of Michigan established the first hospital facility on its grounds.
According to the official sources, Michigan Medicine has about 3,900 faculty members, 1,257 residents, and over 700 medical students. It is a high-volume surgical center. In 2021, the hospital performed about 67,514 surgeries facilitated by 82 operating rooms. About 18 of those operating rooms are located at the Children and Women's Hospital and a specialized eye center.
According to the U.S. News and World Report of best hospitals in the United States in 2018, the University of Michigan Hospitals-Michigan Medicine ranks the second-best in Gynecology, fifth-best in Pulmonology (lungs related), and Urology in the country.
11. Sheba Medical Center – Israel
Padeh Geriatric Rehabilitation Center, Sheba Medical Center | Image Courtesy: David Shay/Creative Commons
Established In: 1948
Location: Ramat Gan, Tel Aviv District, Israel
Prominent departments/centers: Safra Children's Hospital, Center for Medical Simulation (MSR)
Chaim Sheba Medical Center, also known as Tel HaShomer Hospital, became the first military hospital in independent Israel in 1948. It was converted to a civilian hospital later in 1953. It is currently the largest hospital in Israel.
Today, the medical center is composed of five divisions, which include over 120 departments. It operates five specialty hospitals, including a rehabilitation hospital and a children's hospital (The Edmond and Lily Safra Children's Hospital), with specialized departments for pediatric surgery, cardiology, and rare diseases. In 2020, Sheba conducted 3,300 clinical trials and performed over 50,000 surgeries.
Over the years, the Sheba Medical Center has carried out numerous advanced research in health and medical science. One of those research is a study showing that an alginate-based biomaterial may cease further heart-cell deterioration in heart attack victims.
10. Singapore General Hospital – Singapore
The entrance of the Singapore General Hospital
Established In: 1821
Location: Singapore
Prominent department/center: Eye center, Transplantation
Singapore's healthcare system is one of the most successful globally, and Singapore General Hospital is definitely its crowned jewel. The hospital is known for providing affordable healthcare without compromising on the quality of the service.
Singapore General Hospital (SGH) was relocated and rebuilt more than one time throughout its history. The current complex was built in 1981 and now includes a medical institute and advanced research labs.
In the late 1990s, as part of major reform in the medical sector, the Hospital was placed under the management of Singapore Health Services or SingHealth, a government-owned organization.
In 2001, the hospital surgeons successfully separated conjoined twins (cranial/brain) following straight 97 hours of surgery. The following year, significant advancement was made at SGH regarding the treatment of obstructive sleep apnea in Asians.
9. Lausanne University Hospital – Switzerland
Location: Lausanne, Switzerland
Prominent departments: Obstetrics department, Medicine
Lausanne University Hospital, or CHUV [Centre hospitalier universitaire vaudois in French], is the best hospital in Switzerland and among the most reputed in Europe. It is located in Lausanne in the Swiss canton of Vaud. There are a few laboratories and a psychiatric hospital under Lausanne University Hospital that are located outside the main campus.
With its 14 clinical departments, including a department of Emergency Medicine, the CHUV serves as a general hospital for the population living in Lausanne and its surrounding areas, as well as, a specialist care hospital for much of western Switzerland. Lausanne University Hospital is also renowned for its medical teaching and research.
In 2020, the Lausanne Hospital treated over 75,400 emergency patients, and more than 3,000 babies were born in the obstetrics department. The CHUV is closely associated with the Faculty of Biology and Medicine of the University of Lausanne.
8. Ronald Reagan UCLA Medical Center
Location: Los Angeles, California, United States
Established in: 1955
Prominent Department (s): Surgery, Cancer treatment
Ronald Regan UCLA Medical Center, or simply UCLA Medical Center in Westwood, Los Angeles, is among the world's most prestigious and highly-reputed teaching hospitals. It is a component of UCLA Health, a group of medical institutes and research hospitals that serves the Los Angeles region. UCLA Health is one of the most advanced healthcare networks in the U.S.
The hospital has almost every major medical specialty that are ranked in the top ten in the country. Its emergency department is designated as a Level I trauma center, where the highest amount of care is provided to trauma patients. UCLA Medical Center is also renowned for its nursing department. In 2020, the American Nurses Credentialing Center designated the hospital a "Magnet" organization.
7. Karolinska University Hospital – Sweden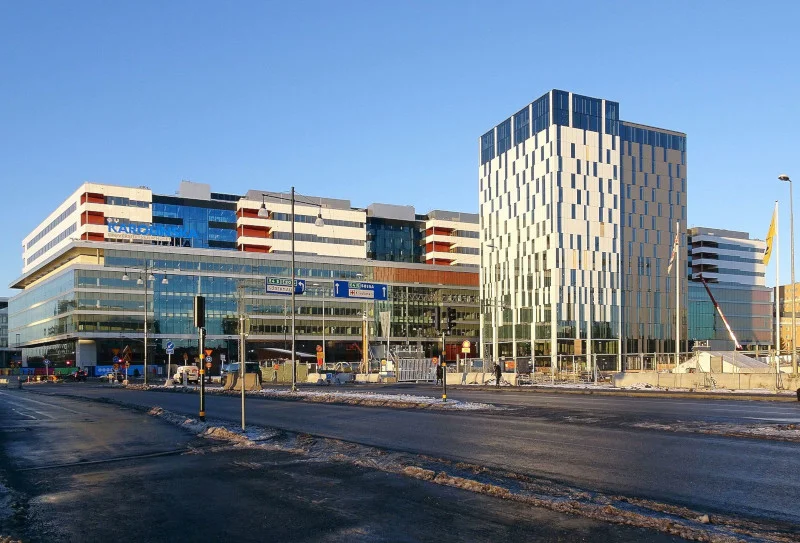 New Karolinska Solna University Hospital | Image Courtesy: Holger Ellgaard/Wikimedia
Established In: 2004 (following a merger)
Location: Solna and Huddinge Municipalities, Stockholm, Sweden
Prominent Department: Medicine
The Karolinska University Hospital is the best medical institution in Sweden. It is also the second biggest hospital network in the country, with two large facilities located in Solna and Huddinge municipalities in Stockholm. The hospital was established in 2004 following a merger between Karolinska Hospital (in Solna) and Huddinge University Hospital (in Huddinge).
Karolinska is a leading member of the European Reference Networks (ERNs), a set of 24 virtual networks that connect top healthcare professionals and institutions across the E.U. to discuss rare diseases in different medical specialties. Furthermore, it is also a component of the European University Hospital Alliance, or EUHA, a group of nine prominent European university hospitals that closely collaborate to improve their healthcare services.
According to the official sources, the hospital provides medical services to about 1.4 patients every year. In 2021, it had more than 15 thousand employees.
6. Charité (Charity-University Medicine Berlin) – Germany
One of the four Charité campuses (Virchow Klinikum) in Berlin | Image Courtesy: A. Savin
Established In: 1710
Location: Berlin, Germany
Prominent Department: Research
Germany's Charité – Universitätsmedizin Berlin is perhaps the most advanced and research-intensive university hospital in Europe. Charité has campuses in four different locations in Berlin and has over a hundred clinics, 17 medical departments or centers, and research institutes.
Since 2003, the medical schools of Humboldt University and Free University of Berlin are closely affiliated with Charité. Humboldt University and Charité have two of the most competitive medical schools in Germany. In the 2019-20 academic year, the acceptance rate of the combined medical school was 3.9 percent.
Many German Nobel Prize winners in Physiology or Medicine, including Robert Koch (bacteriology) and Otto Heinrich Warburg (physiologist), have worked at this prestigious hospital at one point of time in their careers.
Read: 15 Biggest Nuclear Power Plants In The World
5. Toronto General Hospital – Canada
Toronto General Hospital
Established In: 1812
Location: Toronto, Ontario, Canada
Toronto General Hospital (TGH) is one of the most respected medical research and teaching institutions in Canada which serves the University of Toronto Faculty of Medicine. The hospital began its operation in 1812 as a small military hospital for the British Army and was initially named the York General Hospital.
Today, TGH is the largest organ transplant center in North America and also has a widely celebrated cardiology department. The world's first ever double lung transplant was done in this very hospital in 1986. Coincidentally, the first-ever single lung transplant was also performed here. In 2015, TGH surgeons successfully transplanted multiple organs (liver, lungs, and pancreas) in a teenager named Reid Wylie.
Whether it's the development and the first use of insulin in 1922, Heparin in 1935, or external pacemaker in 1950, the TGH has always been in the forefront of medical innovation.
4. Cleveland Clinic – The United States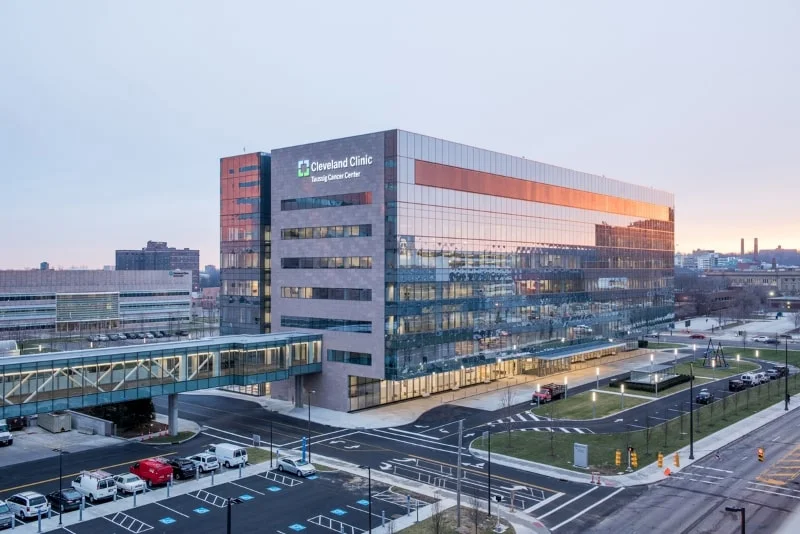 Cleveland Clinic's Taussig Cancer Center | Image Courtesy: Cleveland Clinic
Established In: 1921
Location: Cleveland, Ohio, United States
The Cleveland Clinic is owned and managed by the Cleveland Clinic Foundation, an Ohio-based nonprofit organization that manages about a dozen other hospitals in the United States and one in Abu Dhabi. Cleveland Clinic is perhaps one of the largest and most reputed medical institutions in the world.
In the U.S. News & World Report of 2018-19, the Cleveland Clinic was ranked as the second-best hospital (overall) in the United States, only behind the Mayo Clinic. Furthermore, it was ranked #1 in the country for heart surgery and treating cardiac diseases. Cleveland Clinic has maintained this position for the better part of the 21st century.
In the early 1970s, Cleveland Clinic carried out a large-scale modernization program during which new research buildings and wards were built. The hospital, as of 2018, employs about 52,000 workers, including nurses, scientists, and physicians.
3. Johns Hopkins Hospital – The United States
Johns Hopkins Medicine campus in Brooklandville, Maryland | Image Courtesy: James G. Howes
Established In: 1889
Location: Baltimore, Maryland
The century-old Johns Hopkins Hospital (JHH) is considered one of the most important medical institutions in modern America. Many medical norms and practices such as house staff and residency have originated from this very hospital. It shares a campus with the Johns Hopkins School of Medicine, which was established in 1893.
In 1966, the Hopkins Gender Identity Clinic conducted the first-ever male-to-female sex reassignment surgery in the United States. Apart from conducting biomedical research, the hospital also provides some of the world's most advanced health care options to its patients.
2. Massachusetts General Hospital – The United States
Barack Obama at the Massachusetts General Hospital on 18 April 2013 | Image Courtesy: Pete Souza/White House
Established In: 1811
Location: Boston, Massachusetts
Massachusetts General Hospital (MGH), also known as Mass General, is the fourth oldest hospital in the United States. It is also the largest (and oldest) teaching hospital under the Harvard Medical School.
In 2014, according to its official reports, the Mass General had an annual research budget of about $900 million. The report also mentioned that the hospital administers the largest hospital-based medical research program in the United States.
It was at the MGH, where one of the earliest ever recorded use of anesthesia was done by surgeon Henry Jacob Bigelow in October 1846. Then in 1962, a team of MGH surgeons replanted a completely severed limb for the first time in history.
As many as 13 former Nobel Laureates have either trained or worked at Massachusetts General Hospital at some point of time in their career.
1. Mayo Clinic – The United States
Established In: 1864
Location: Rochester, Minnesota, USA
Prominent Department: Research
Based in Rochester, Minnesota, the Mayo Clinic basically defines the term 'comprehensive medical care', which it has been providing to its patients for the last 150 years. Apart from the flagship facility in Rochester, the Mayo Clinic now has campuses in the U.S. states of Florida and Arizona.
The entire Mayo Clinic health care system employs close to 60 thousand administrative staff and serves more than 1.3 million people a year. What sets the organization apart from other popular hospitals is its unrivaled research arm, Mayo Clinic Alix School of Medicine.
Read: 15 Best Science And Technology Research Labs In The World
Cortisone, a steroid hormone, which is used to treat various inflammatory and autoimmune diseases was discovered by two Mayo Clinic physicians for which they received the Nobel Prize in 1950.
Frequently Asked Question
Which country has the best Hospital?
The United States. About 5 of the top 10 hospitals in the world, including Mayo Clinic, are located in the United States.
Which are the healthiest countries in the world?
There are a variety of factors that contribute to the health of a country's population, such as malnutrition, availability of clean water, and pollution. Overall, it usually comes down to the quality of life.
The citizens of developed nations with access to quality healthcare, nutritious food, better infrastructure, and lower pollution levels tend to be healthier than as compared to the developing and least developed nations. The least-developed nations often have serious environmental issues and are unable to provide appropriate medical facilities to most of their citizens, which leads to illness and a lower life expectancy.
According to the Global Health Security Index, which ranks countries based on their preparedness for pandemics and epidemics, the United States of America (Score: 75.9) is the healthiest nation in the world, followed by Australia (71.1), Finland (70.9), Canada (69.8), and Thailand (68.2).
The Bloomberg Global Health Index is another widely used metric to identify the healthiest countries in the world. It considers factors such as the availability of clean water and nutritious food, health risks, and average life expectancy. The top 9 healthiest countries (with scores) by Bloomberg Global Health Index are –
Spain (92.75), Italy (91.59), Iceland (91.44), Japan (91.38), Switzerland (90.93), Sweden (90.24), Australia (89,75), Singapore (89.29), and Norway (89.09).