The term HVAC stands for Heating, Ventilation, and Air Conditioning. HVAC system represents different types of equipment, machinery, and technologies that are employed to control the indoor weather conditions in homes, offices, vehicles, and other places where maintaining temperature and humidity is important.
HVAC systems are nowadays widely used in residential, commercial, and industrial environments. However, buying and maintaining HVAC systems could be a confusing and cumbersome process, especially if you have just purchased or remodeled the house.
To make this process a little bit easier for you, we have compiled a list of the best HVAC manufacturing and servicing companies. The list is based on various factors such as efficiency, durability, customer rating, warranty, and replacement part covered.
9. Carrier
Unit Cost Range: $3400 – $8000
Customer Satisfaction: Good
Carrier is one of the largest manufacturers of residential and commercial HVAC systems. It operates 51 factories and serves customers in over 180 countries. In fact, it was the first company to license the USGBC's Leadership in Energy and Environmental Design (LEED).
The company offers a wide range of quality solutions, including air conditioners, humidifiers, air filters, and ultraviolet lamps. Their AC units are designed to reduce various allergens and harmful air pollutants, from dust and pet dander to mold and chemical fumes.
Pros 
All products are highly energy efficient
Service records show fewer repair issues
Offers a 10-year warranty on most units
Cons
Less online presence
Machines are larger/heavier than competitors
Carrier sells equipment through authorized dealers. Their experts will help you implement exactly the system you need to maintain a comfortable, healthy environment at home. Units and independent contractors are available in most regions in the United States.
8. RUUD
Unit Cost Range: $2400 – $7800
Customer Satisfaction: Good
Since the 1950s, RUUD has grown into one of North America's largest manufacturers of HVAC systems for residential and light commercial use. Today, it operates various manufacturing facilities and distribution centers, employing highly trained workers and state-of-the-art machinery.
RUUD cooling, heating, and water heating accessories and replacement parts are strategically stocked across the United States, Mexico, and Canada for fast delivery. The export and international distributors reach other western countries as well.
RUUD is a partner with ENERGY STAR, which is developed by the US Department of Energy and the US Environmental Protection Agency to decrease energy use and air pollution by labeling products used in offices and homes.
Pros 
More affordable
Easy to get replacement parts
Broad range of SEER ratings
Cons
The company offers a few applications that help you control home comfort systems and save significant energy. The Ruud App, for example, displays product information, warranty, and replacement options. With RealSupport App, you can get real-time assistance with visual and on-screen annotations.
7. Rheem
Unit Cost Range: $5000 – $9600
Customer Satisfaction: Very Good
With more than 300 patents and over 100 years of experience, Rheem is a pioneer in developing some of the most innovative advancements in HVAC systems.
Rheem and Ruud are sister brands owned by Paloma Industries. Both deliver good quality, performance, performance, and efficiency. However, Rheem has a quite large network and its service record is even better.
Pros 
Delivers good quality and performance
Finding a service technician is easy
Units come with advanced onboard diagnostics
Cons
Limited models to choose from
Any cooling and heating company can be a Rheem dealer. No specific certification, other than the basic HVAC license, is required. If the dealer has North American Technician Excellence certification (NATE), he can install your unit. Your other option is to go for Rheem Pro Partner. They are elite contractors trained on Rheem equipment.
6. Trane
Unit Cost Range: $3400 – $14000
Customer Satisfaction: Very Good
With over 900 US patents, Trane is a leader in manufacturing energy-efficient HVAC systems. It provides innovative solutions that optimize indoor environments through a broad portfolio of air conditioning, heating, ventilating systems, contracting and energy services, and advanced controls for home and office buildings.
In addition to developing HVAC systems, the company is involved in various energy conservation and renewable energy projects.
Pros 
High-quality units are available through a powerful distribution network
10-year parts/labor warranty on some units
Good online presence
Cons
Units more expensive than their competitors
Trane dealers provide fast service, expert repair for heat pumps, furnaces, air conditioners, and custom HVAC installation. When it's time to replace a unit or buy a new one, their experts will conduct a thorough evaluation of the area and recommend the system that's ideal for your home and budget.
5. Goodman
Unit Cost Range: $1600 – $7100
Customer Satisfaction: Very Good
In 2012, Goodman Manufacturing was acquired by Japan's Daikin Industries Ltd. Since then, the company has significantly improved its technology and product quality.
Goodman's central air conditioners and heat pumps are now integrated with a SmartCoil 5mm copper tube condensing coil, which allows for fewer amounts of refrigerant to be used in each system. Due to the smaller tubing size, Goodman SmartCoil products are less bulkier than 3/8″ tubing systems.
Pros 
Quality is good and the cost is even better
Low noise
Installers and repair parts are readily available
Cons
Labor is not covered under most warranty claims
The brand maintains a Better Business Bureau A rating. This rating is based on 16 performance parameters that reflect Goodman's ability to work with dealers and homeowners to quickly resolve any complaints that may arise.
4. Coleman Heating and Air Conditioning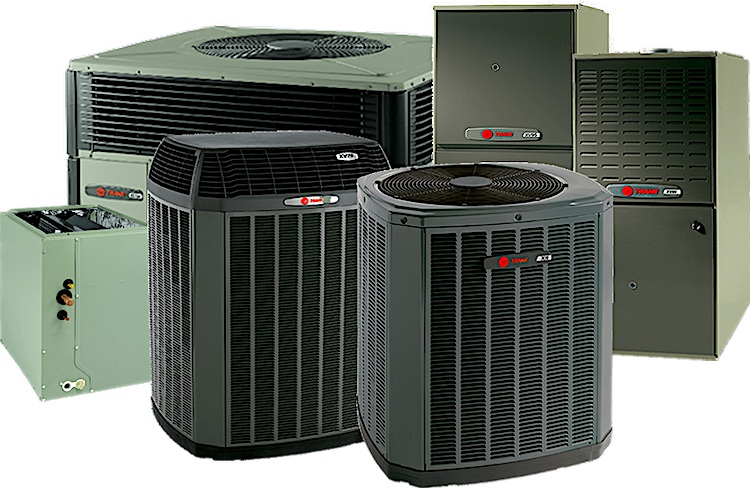 Unit Cost Range: $1000 – $5000
Customer Satisfaction: Excellent
Coleman HVAC systems are designed to meet quality requirements and subjected to rigorous testing to ensure they are the best. They deliver impressive performance, efficiency, and reliability you can trust.
The brand is owned by Unitary Products Group which is a division of York, a Johnson Controls Company. It offers various models ranging from the 13 SEER single-stage energy star to the 20 SEER two-stage energy star. The size and weight of the system depend on its capacity (that ranges between 3 and 5 tons).
The higher models consist of a swept-wing fan, a quieter ECM motor, and a sound enclosure to keep the noise from reverberating too much. Plus, the integrated WhispherDrive technology keeps the noise less than 69 dB.
Pros 
Stylish models
Low noise
Premium models have lifetime warranties on the compressors
Cons
Earlier models are bulky and less energy-efficient
For more than a decade, Coleman has maintained an A+ rating with the Better Business Bureau. It has also won various awards, including the Lennox Circle of Excellence Award and the Dave Lennox Outstanding Achievement Award.
3. Johnson Controls
Unit Cost: Depends on the size of the facility
Customer Satisfaction: Very Good
Johnson Controls offers a broad portfolio of HVAC equipment. You can find their equipment in offices, apartment buildings, hotels, hospitals, factories, and warehouses.
If you want to install an HVAC system on the entire floor, you can contact Johnson Controls. The company will provide you unique solution to reduce installation, maintenance, and commissioning costs. Their machines are engineered to minimize energy costs and maximize room/occupant comfort.
Pros 
More energy savings and lowers cost of ownership
A range of efficiency choices
Options to address footprint, acoustic, and thermal performance requirements
Cons
Not suitable for small rooms/homes
The company also offers HVAC dampers and louvers designed to fit unique applications and requirements in various sizes, shapes, and materials. Overall, they can improve every aspect of your operation by bringing systems together and optimizing them.
2. York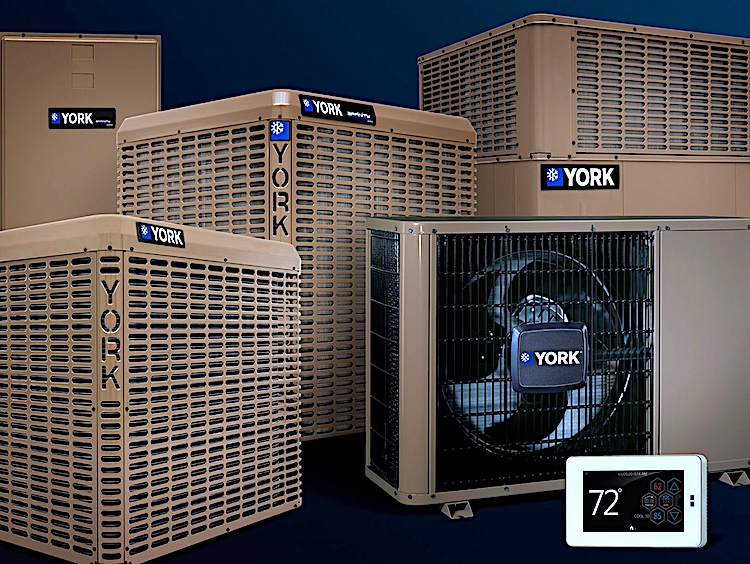 Unit Cost Range: $2800 – $7000
Customer Satisfaction: Excellent
York is one of a family of brands owned by Johnson Controls. It delivers high-performance HVAC systems that dynamically adjust to match your needs.
YORK Affinity air conditioning units are smarter, more efficient, more reliable, and more connected than other brands. YORK's proprietary ClimaTrak technology helps installers configure the blow operation according to the surrounding environment (dry, temperate, or humid climate).
Pros 
Precise, consistent temperatures
Multiple SEER options from 13 up to 22
Super-efficient compressors
Cons
Cheaper units can cost more to run
In addition to a 10-year parts warranty, the company provides a 5-year limited warranty on the thermostat. What's even more special is it covers 1-year labor costs. You can also opt for an exclusive warranty option that gives a decade of total system protection — you don't have to worry about any type of system failure.
1. Lennox Commerical
Unit Cost Range: $3100 – $7300
Customer Satisfaction: Very Good
Lennox Commercial has more than 125 experience in the HVAC industry. It has three operating segments: residential heating and cooling, commercial heating and cooling, and refrigeration.
From air conditioners to high-quality air handlers and indoor coils, Lennox products deliver a broad range of configurations for ideal comfort. Plus, all products are simple to install and easy to maintain. They can be customized to meet each of the specific needs of each home.
Pros 
Units have energy-saving efficiency ratings of up to 23.5 SEER
Affordable financing options
Extended warranty programs
Cons
No limited replacement warranties
The rooftop units (designed for large buildings) are integrated with Lennox CORE Control System and advanced variable-speed technology maximizes energy savings. The company also provides a smartphone application to help you optimize unit operation.
With more than 6,100 independent dealers and installers, you will be sure to have your pick of cooling and heating systems.
Read: 13 Best Metal Detectors [Value For Money]
Frequently Asked Questions
What to consider before buying an HVAC unit?
Following are the main factors you should consider before buying an HVAC unit:
Tonnage: It defines heating or cooling capacity. The performance and energy-saving will suffer if you buy a system that's too large or too small.
Condenser: Go for copper condensers. They are a bit costlier than Aluminum condensers but have more life expectancy.
Energy efficiency: EER tells about how much energy your unit is going to use. Always consider systems that have 3 or more green ticks provided by NEA.
Noise: Since split system air conditioners have two parts (indoor unit and outdoor compressor units), there is minimum noise inside.
Climate: Do you need a heat pump or furnace? Is a reverse-cycle air conditioner right? You can always take the help of a local dealer to decide what system works best for your area.
How many types of HVAC systems are there?
There are four basic types of HVAC systems:
1. Heating and Cooling Split System: This is the most common type of HVAC system. It consists of two units: the indoor unit (that contains the evaporator coil, electrical components, and an expansion valve) and the outdoor unit (that houses the condenser coil, compressor, and fan).
2. Hybrid Split System: reduces energy costs through their electric hybrid heating system. It allows you to switch between gas power, which is quicker and more complete, to electric, which is efficient and quieter.
3. Ductless Mini-Split system: offers a great solution for areas where traditional ducted systems are not suitable. Since it offers better independent control, it is mostly installed in hotels and small houses to allow tenants to control the individual temperature.
4. Packaged Heating and Cooling System: contains everything including condenser, evaporator, and compressor in a single unit, which is installed near the foundation or the roof. It is more efficient and easy to maintain than other HVAC types.
How many HVAC contractors are in the United States?
There are more than 110,000 HVAC contractors businesses in the US. The figure is expected to grow at a CAGR (compounded annual growth rate) of 2% from 2021 to 2026.
What's the future of HVAC systems?
According to Grand View Research, the global HVAC systems market size will reach $200 billion by 2028, growing at a CAGR of 5.9% from 2021 to 2028. The demand is primarily driven by the advances in recent products, which are more energy-efficient and environment-friendly.
Can you finance an HVAC system?
Yes. But you need to have a minimum credit score of 650 for easy approval.
According to the U.S. Census Bureau's American Housing Survey, people spent nearly $5,000 on average installing and repairing HVAC systems in 2019. Most companies provide a personal loan to finance an HVAC system. These loans are funded within two days of approval.
Read: 13 Best Flatbed Trucking Companies In The World 
How much do commercial HVAC companies charge per hour for their service?
Based on your location, an HVAC technician can charge an average of $90 to $150 per hour. The standard maintenance visits take 1 or 2 hours. Many contractors charge a flat fee for their service visits, such as $140 to repair the blower motor or $100 to repair the heat exchanger.