Repairing air conditioners and heating systems is not an easy job. From commercial buildings with fidgety employees to homes with elderly people, HVAC businesses need to offer quick and top-notch services to avoid disappointing customers.
As the business grows, it becomes challenging to manage technicians and customers — especially when you have more than 30 regular customers or when your team has more than 20 jobs per week.
That's where HVAC software systems come in handy. They help your business operate more efficiently and profitably.
These systems include tools to track customer calls, dispatch instruments, coordinate job scheduling, and generate invoices. Advanced systems also simplify financing, marketing, bidding, and customer services.
Below, we have presented some of the best HVAC software designed for small businesses. They will help you streamline all crucial business functions and monitor performance in real-time.
9. P3 HVAC Software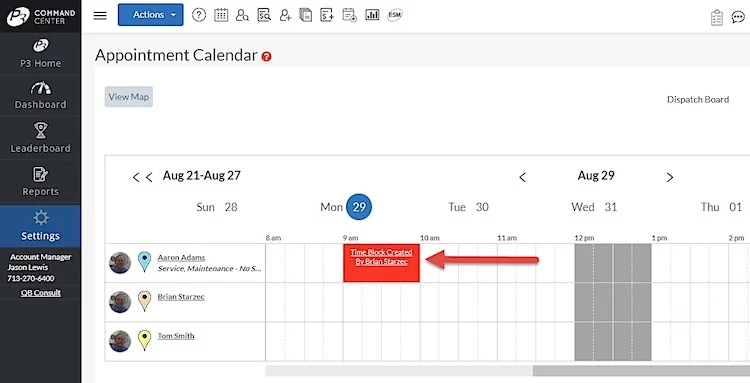 Price: Starts at $199 per month | Free demo available
Rating: 4.5/5 from 100+ customers
P3 focuses on the everyday needs of HVAC contractors. Whether it is drafting service proposals, managing clients, estimating costs, increasing sales, or performing other tasks, P3 HVAC has got you covered.
This all-in-one platform allows you to manage everything from a web-based interface. Dispatchers can assign services to technicians in the field; technicians can receive customers' calls on their smartphones; technicians can show diagnostic details and make recommendations to customers. Once the job is complete, technicians can generate invoices and receive payments — all through a single platform.
For customers, HVAC software offers an easy way to schedule appointments for all required services. The scheduling system can efficiently handle seasonal and unexpected hikes in demand.
The company offers three plans:
Starter ($199 per month): suitable for businesses having only one technician
Business ($319 per month): can handle up to 5 technicians
Business Plus ($479 per month): can handle up to 10 technicians
Adding an additional technician would cost you $50 a month.
Key Features 
Improves internal communication
Customize pricing descriptions, recommendations, and equipment descriptions at any time
Add your own repairs, parts, or service offerings
Manage technicians' timesheets
Includes 16 core, configurable reports
So whether you are looking to digitize your business or grow sales, P3 is a perfect platform that delivers results.
8. Field Point

Price: Starts at $70 per month | Free demo available
Rating: 4.2/5 from 100+ customers
Field Point has more than 26 years of experience in delivering reliable field service management solutions. Its integrated software system gives businesses a suite with the right functionality for particular requirements.
HVAC software is one of the parts of the Field Point integrated system. It allows business owners to retrofit homes and commercial buildings with modern energy-efficient solutions, deliver exceptional service, and plan new automated building solutions.
The platform makes it easier to streamline business management functions, so you can save time and money in the long run. It does this by automating field service management and optimizing dispatch and routing.
Field technicians get access to all essential data that they require to complete tasks on time and within budget.
Key Features
Automate work orders for all services
Route planning and optimization
Offer customers detailed quotes with multiple spending plans
Business intelligence reporting
Integrates with Microsoft Business Central, QuickBooks, and NetSuite
Unlike most other platforms, Field Point HVAC can accurately estimate your profit margin on each job, total revenue, timelines, as well as the equipment you may need for the upcoming job. All in all, it can plan the entire installation procedure or repair service from start to end.
7. Workwave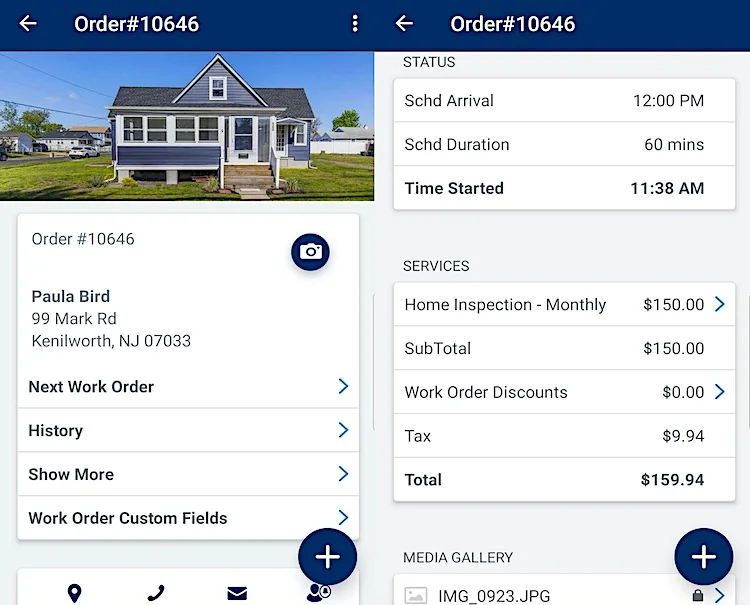 Workwave mobile app
Price: Starts at $79 per month | Free demo available
Rating: 4.7/5 from 1,800+ customers
Workwave's all-in-one solution allows you to handle residential and commercial HVAC projects while also taking care of clients' unique needs. It features drag-drop scheduling, a customer relationship management system, invoicing, and billing.
They have developed a smartphone app (for both Android and iOS), which enables crews and technicians to connect seamlessly with the office and manage their schedules via an easy-to-understand interface.
With your permission, technicians can get full access to their work order history and customer information. They can even call the customer with one tap, view service location pictures, and get directions to their next appointment. The app also gives options to record timesheet events and capture new leads in the field.
Key Features 
Customizable to your specific business requirements
Gather signature and collect payment
Service and productivity report
Mobile Tracking & Alerts
Receive Service Reviews
Overall, Workwave is a perfect platform for businesses looking to optimize their service delivery and track crews from a single place. According to the company, it can increase business revenues by over 20%.
6. Service Fusion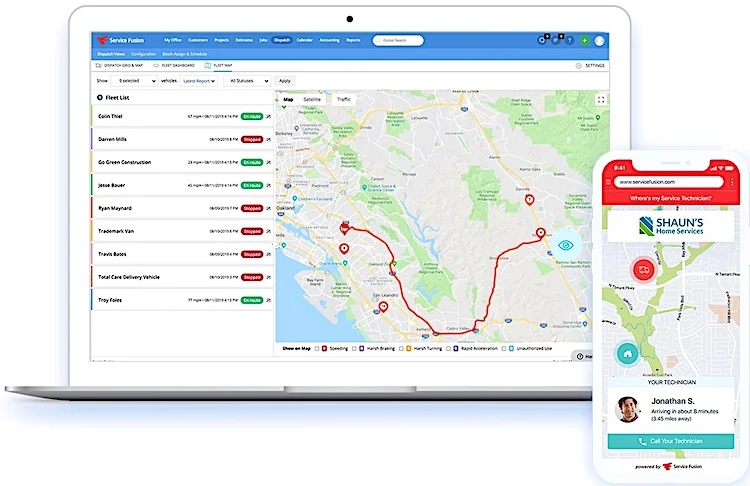 Price: Starts at $126 per month | Free demo available
Rating: 4.6/5 from 1,500+ customers
Service Fusion gives you enterprise-level features to run your HVAC business from anywhere. It has back-office and customer-facing solutions, so you can focus on increasing revenue as well as satisfying customers.
With better scheduling visibility, the platform eliminates over or under-booking scenarios and makes it easy to shift dates and times to avoid scheduling overlaps.
The company has developed an easy-to-use app for technicians. It allows them to view their everyday schedule, create new ones, update job status, view customer information and service agreement terms, and more. Plus, they can take pictures, log notes, capture pre-work and post-work signatures, and generate invoices for completed work.
Fusion Service's inbuilt online payment tool (named FusionPay) speeds up payment collection. Plus, you have full access to customer history, which could be useful for providing follow-up services and winning repeat customers.
Key Features 
Scheduling and dispatching
Auto-route calls to technicians
Record and transcribe calls
Intuitive customer web booking portal
Quickbooks integration
Progressive billing and recurring invoicing
As for pricing, you can choose from three plans: Starter ($126 a month), Plus ($186 a month), and Pro ($339 a month). All plans come with zero setup fees, personalized onboarding, and support through live chat, phone, or email.
5. mHelpDesk

Price: Starts at $169 per month | Free trial available
Rating: 4.6/5 from 2,800+ customers
Developed specifically for field service professionals, mHelpDesk packs several service management tools into a single platform. It includes scheduling, dispatch, inventory management, billing payment, and everything you need to grow your HVAC business.
Your clients can book appointments via a web portal, where they can choose services and check available dates for those particular services. The portal is fully customizable — add logos, estimated costs, and terms and conditions.
The platform also handles billing and invoicing very well. Technicians can use the smartphone app to record equipment and time, and the system will automatically convert them into an invoice. It gives you the option to make final changes, synchronize invoices with QuickBooks, and email a copy to the client.
mHelpDesk charges 2.89% + 0.30 cents for every payment. The rates are completely transparent, with no hidden fees involved.
Key Features 
Workflow and job management
Inventory tracking
Customer Portal
Staff productivity reporting
QuickBooks, Google Calendar, and HomeAdvisor integration
The company has more than 15 years of experience building enterprise applications for large clients (including Army Marines and the Department of Defense) and managing mission-critical software. So far, more than $2.17 billion worth of jobs has been completed through mHelpDesk.
4. FieldEdge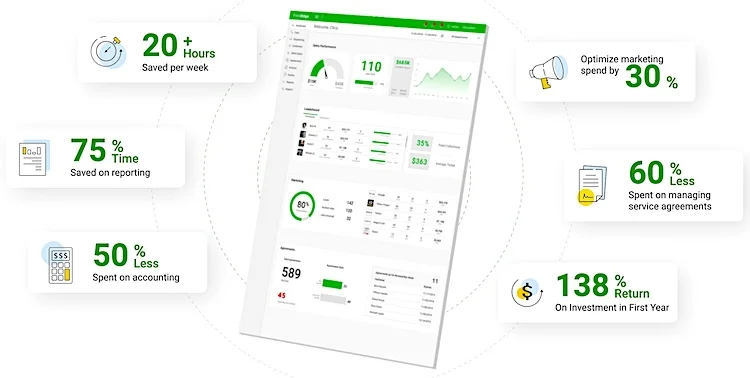 Price: Starts at $125 per month | Free demo available
Rating: 4.1/5 from 200+ customers
FieldEdge has been developing HVAC software for more than four decades. Today, they serve over 40,000 users in various industries.
They build software from scratch, making it easier for service businesses to streamline their operations. More specifically, FieldEdge software allows you to take on hundreds or even thousands of customers.
You can easily assign technicians to suitable jobs based on their skills and job location. All you need to do is drag-and-drop unassigned work orders to a technician's schedule and add relevant information. Once the job is done, technicians can collect the payment via the FieldEdge mobile app.
The platform is also packed with a customer management tool, which enables you to see complete work order histories, quotes, equipment, invoices, and service agreements. Since everything is available in a single place, you can better serve every client and organize their data. 
Key Features 
Integrated payment system
Seamlessly sync to QuickBooks in real-time
Full equipment tracking history
Performance dashboard shows a snapshot of your business
Overall, FieldEdge is a user-friendly solution that gets the job done. It automates a lot of work for you, saving you more than 20 hours every week.
3. Jobber
Price: Starts at $39 per month | 14-day free trial available
Rating: 4.6/5 from 700+ customers
With Jobber's HVAC software, you can keep track of customers and properties, dispatch multiple technicians, and manage billing details more efficiently. It comes with all the essential tools you need to organize your team, communicate with customers, and gain more clients and revenue.
The software serves as a customer management tool. Your clients can book appointments, log location information, and contact you in case of query — all from a single place. Technicians, on the other hand, can view clients' history service agreements and track job history.
Since everything is logged digitally, crews don't have to carry or maintain paper records. Plus, you can assign work and important job information, ensuring that technicians have everything they need to get the job done.
As for payment, you can view, send, and track invoices within a couple of clicks. Jobber also gives you the option to create professional invoices with templates and integrate invoicing with QuickBooks Online.
Key Features 
Intuitive dashboard and activity feed
Job scheduling system eliminates overbooking and underbooking
Invoicing an online payment system
Consumer financing option
20+ built-in reports
Jobber offers three pricing plans: Core ($49 per month for one user), Connect ($149 per month for up to 7 users), and Grow ($299 per month for up to 30 users). You can choose the annual subscription to save 20% on monthly rates.
2. ServiceTitan
Price: Starts at $125 per month | Free demo available
Rating: 4.7/5 from 1,300+ customers
ServiceTitan develops a cloud-based HVAC software platform for small and medium-sized businesses. It incorporates industry best practices to help businesses streamline workflow, increase revenue, and deliver a better customer experience.
The platform is currently used by more than 100,000 professionals.
It is integrated with several top-notch tools. The dispatching software, for example, gives you complete visibility over routing and technicians' job progress. The service agreement software lets you easily schedule recurring work orders, receive automated payments, as well as modify pricing structures to increase sales of new contracts.
Moreover, its financing tool makes it easier for you to offer your clients an easy way to apply for suitable EMI plans. Another great feature called Marketing Pro allows you to automate campaigns and target marketing to current clients. It shows you which campaigns lead to jobs, where new bookings come from, as well as real-time return on investments.
Key Features 
Quickly create and customize time-sensitive quotes
View individual job progress
Track revenue, team performance, and marketing ROI
Includes financing tool
Unlike most other HVAC platforms that utilize tons of third-party tools, ServiceTitan relies on relatively fewer integrations. Most functions are built natively into the platform. The company claims that you can achieve 25% more revenue, about 10% increase in call booking rate, and up to 50% better than competitors.
1. Housecall Pro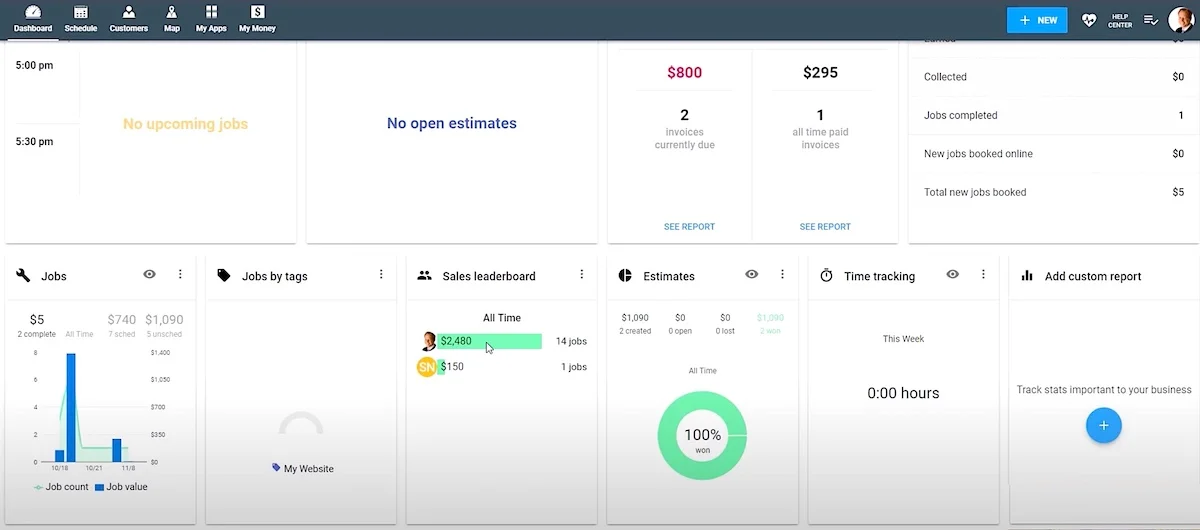 Price: Starts at $65 per month | 14-day free trial available
Rating: 4.6/5 from 10,000+ customers
With Housecall Pro, you can manage scheduling, dispatching, invoices, and payments while delivering an excellent customer experience.
The platform is specifically designed to strengthen employee relationships and increase customer loyalty with recurring service agreements. Its easy-to-understand interface lets you set up new and recurring jobs and notify and dispatch technicians within a few clicks.
The Invoice and Estimate tool helps you monitor every work order and convert estimates into jobs or recurring services. You can quickly generate estimates to show your customers photos and descriptions of what you are selling. This way, you will end with more deals rather than waiting for follow-ups.
Housecall Pro also comes with Payment software, which means you can offer various payment options to your clients. Besides accepting ACH and credit cards, the software allows you to offer competitive consumer financing.
Key Features 
Update technicians with automatic phone notifications
Customize line items & add services during the job
Mobile payment processing & tracking
Send automatic reminder & thank-you emails
Integrates with QuickBooks and Zapier
As for pricing, Housecall Pro has three plans: Basic ($65 per month for one user), Essential ($169 per month for up to 5 users), and Max (for up to 100 users). You can save up to $480 with annual pricing. All plans include drag-drop scheduling, real-time dispatching, in-app employee chat, and instant credit card payouts.
Other Equally Good HVAC Software Services
10. Freshdesk
Price: Starts at $18 per agent per month | Free version (for up to 10 agents) is available
Freshdesk develops field service management systems, empowering technicians and service managers with the right tools to enhance their productivity and business efficiency.
Its HVAC software, in particular, allows you to schedule and prioritize jobs with simple drag-and-drop controls. Assign jobs to suitable technicians based on their skills, workload, or location.
Technicians can use the Freshdesk app to locate jobs on maps, view service details, access customer information, and navigate directly to the job site.
The best thing about this platform is it enables you to maintain a single database for all jobs from multiple channels, including support portal, social media, and email. It also comes with powerful analytics to track the service team's performance, generate customizable reports, and find valuable insights to further optimize your business operations.
11. Thryv
Price: Starts at $199 per month | Free demo available
Thryv is a publicly-traded SaaS company that helps you automate a wide range of tasks and put customers at the center of your business. Give your customers a dedicated client portal to log in, schedule appointments, share documents, and send messages.
You may respond to these messages on the spot or send automatic reminders. Send estimates within minutes and let customers approve them electronically. You can communicate through the portal in case they have any doubts.
The platform is packed with all the essential business functions like text and email marketing, social media management, and payment processing. It also features automated recurring payments, next-day funding, and QuickBook integration.
What's more? With Thryv, you can easily manage your online reputation and keep up with the latest ratings and reviews. You will always know where your HVAC business stands and how far you can take it.
12. BuildOps
Price: Based on your specific business requirements | Free demo available
BuildOps is a cloud-based operation platform designed for commercial contractors. It seamlessly integrates with several accounting solutions, including Spectrum, Saga, Vista, and Quickbooks.
The platform shows you the entire team's schedules so you can plan weeks or months in advance. Assign work orders to suitable technicians with a drag-and-drop, manage jobs and equipment across multiple sites, create new teams, and reassign jobs within minutes.
The automated real-time data reporting makes it easier for you to identify trends, track technicians' progress, and find potential opportunities to generate more revenue.
As for pricing, BuildOps is rated 4 on a scale between 1 to 10 (10 being the most expensive system to implement).
13. FieldInsight
Price: Starts at $79 per month | Free demo available
FieldInsight offers end-to-end job management software solutions to save you time and money. It automates most of your business operations — from organizing the office to running the field — and helps you figure out the best ways to run your HVAC services company.
The platform provides you with flexible schedule templates so you can easily assign jobs and manage the availability of any staff member. The automatic quote and invoicing system lets you close more deals, while the route optimization tool improves your team's productivity.
There is also an option to create rich asset test reports in minutes (instead of hours). Put all crucial data (service test reports, pictures, checklists, etc.) in a neat, easy-to-understand format. Create different tests for different types of assets, with instructional photos, dates, checkboxes, and more.
Overall, you can spend more time analyzing the team's performance and finding effective ways to reduce expenses and gain more customers.
More to Know
Things to consider before purchasing HVAC software
Since there are a plethora of options available in the market, finding the perfect HVAC software could be a little tricky. While no single tool can be expected to be a silver bullet, you should take the following factors into account before investing your time and money:
Can you manage scheduling, dispatching, routing, invoicing, and payment from a single place?
Is the platform scalable? Can it handle everything when your business expands?
Does it offer make-quick-appointment, communication, and financing options to customers?
Will you need customer support for implementation? Complex tools can negatively affect adoption rates.
How often the company pushes updates?
How much does a decent HVAC service platform costs?
A decent cloud-based HVAC service software with all essential features would cost you $60 per month. If you want advanced features like remote timesheet management with facial biometrics and geo-rules, the prices could go as high as $300 per month.
Global HVAC systems market size
According to the Grand View Research report, the global HVAC systems market size will exceed $234 billion by 2030, growing at a CAGR of 6.3% from 2022 to 2030. In recent times, energy efficiency and smart features have been important purchase criteria for most customers, and the trend is more likely to continue over the next decade.
Why you can trust us?
We have thoroughly analyzed 26 HVAC software services and read all professional reviews and consumer ratings. It took more than 20 hours to do the full research. Finally, we shortlisted the top 13 based on features, pricing, support, and customers' reviews.
Every piece of information is taken from the company's official website and trusted sources.
We DO NOT earn commission from any of the featured services. Moreover, we have two separate editors who have no influence over our listing criteria or recommendations.
Read more
9 Best HVAC Companies [Reliable & Inexpensive]
8 Best Banks For Small Businesses and Startups