Intermittent fasting is an eating pattern where people cycle between periods of fasting and eating. It is not directly related to dieting — it does not change what you eat; it changes when you eat.
There are many different variations of intermittent fasting. The most popular ones are:
The 16:8 Method: involves fasting every day for 16 hours and restricting your daily eating window to 8 hours.
The 5:2 Method: involves eating normally for five days and then restricting your calorie intake to 500-600 calories on the other two days.
One Meal A Day (OMAD): is an extreme fasting method where you fast for 23 hours a day and eat whatever you like for one meal.
If you do choose to try one of these variations, make sure that the food you eat contains all the proper nutrients your body needs.
Several studies suggest that intermittent fasting can effectively prevent weight gain and promote weight loss. In fact, this type of short-term fasting can increase your metabolic rate by 4-14%, helping you burn even more calories. According to an in-depth review paper published in ScienceDirect, intermittent fasting can result in 3-8% weight loss over 3-24 weeks.
Overall, it can be an incredibly powerful method for weight loss. If you want some good resources to help you adapt this method, we have gathered some of the most useful, feature-rich intermittent fasting apps.
13. Simple: Intermittent fasting and meal tracking
Platform: Android | iOS
Price: Free | Premium version starts at $14.99
Plus Point: Easy-to-use meal journal for mindful eating
Simple fasting and meal tracker app is ideal for keeping yourself in good shape. It keeps track of your eating habits and provides you with personalized insights about your health, making your daily fasting routine more efficient.
The platform has various educational and motivational content on staying mindful about your eating habits. You can even subscribe to daily support, customized guidance, true motivation, expert guidance, and easy life hacks that will help you get the most out of intermittent fasting.
Depending on your fasting stage, it shows you what's happening inside your body, from ketosis to immune cell regeneration. You can share your progress with friends anytime and motivate them to join you in your journey towards a new healthy lifestyle.
12. Intermittent Fasting By 5W Verlag GmbH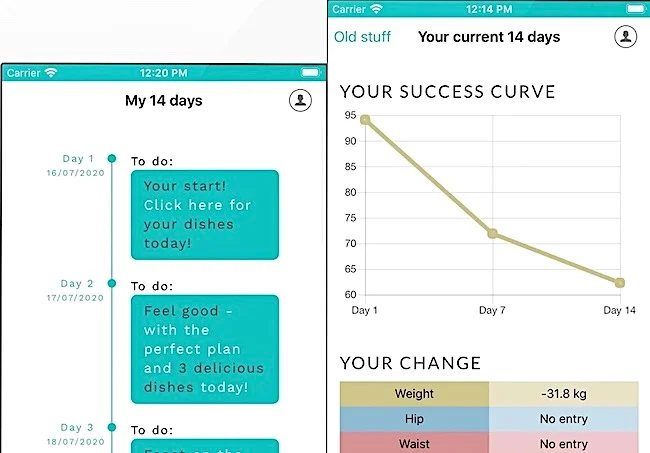 Platform: Android | iOS
Price: Free | Premium version starts at $3.99 per month
Plus Point: Diverse background knowledge on Intermittent Fasting with scientific evidence
The app makes fasting easier by providing an exact 14-day meal plan with delicious and nutritious dishes that allow you to survive lent without hunger.
It counts hours (not calories) and tells you when to eat and when to fast. You can change the time (fasting interval) as per your needs. It will remind and train you every day so that you can easily manage your 14-day intermittent fasting.
The app is equipped with an intuitive dashboard, where you can track your weight loss and success. The premium version offers support at the personal level. They have experts to answer your questions in detail.
11. Clear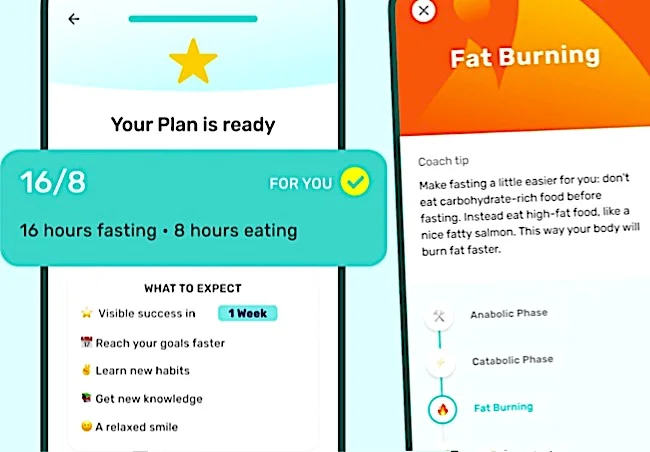 Platform: Android | iOS
Price: Free | Premium version starts at $2.99 per month
Plus Point: Regularly new recipes for healthy eating
Clear is more than just a fasting timer app. It's your friendly companion for intermittent fasting with popular fasting plans, including
Beginners

: 15/9, 14/10, 13/11, 12/12

Intermediates

: 19/5, 18/6, 17/7, 16/8

Experienced

: 23/1, 22/2, 21/3, 20/4
The app reminds you when it is time to eat or take a break. It shows how long you have been on the road to success and stay calm.
Developers regularly publish new programs and plans for more mindfulness, serenity, and well-being. Whether it's fitness, health, weight loss, or mindfulness; Clear will support you and suggest your ideal intermittent fasting plan.
10. Zero Calories Fasting Tracker & Intermittent Fast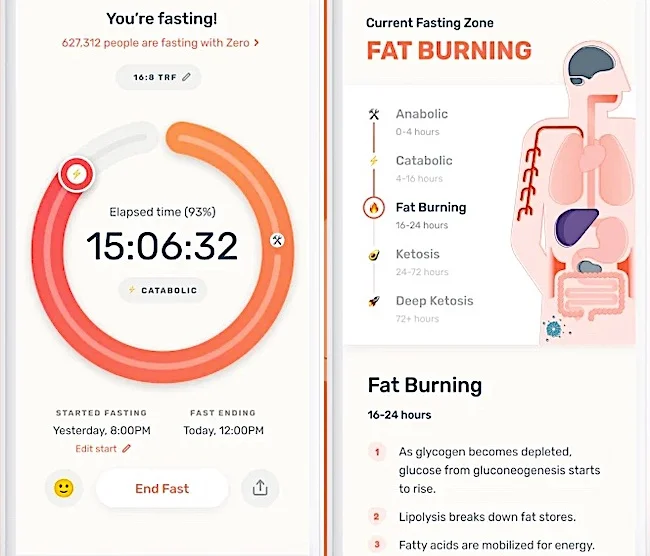 Platform: Android | iOS
Price: Free | Premium version starts at $1.99
Plus Point: Track fast time and body measures
This app includes more than 10 different fasting plans to follow; each is designed to bring the best outcomes for both beginners and experienced fasters. Unlike other applications, it tells your current body state (along with a nice diagram and description) depending on how long you have been fasting.
There are options to customize your own fasting intervals. Not only can you track fast time and water intake, but also body measures (arms, waist, hips, and more) and BMI (body mass index) to get great insights of your health score.
To make fasting easy and fun, the app allows you to join public groups, chat with other fasters, and share your progress. And the best thing is you don't need to subscribe to get these features.
9. Fasting By Fit Tech
Platform: Android
Price: Free | In-app purchases
Plus Point: Shows cumulative hours and the duration of your longest fast
This is a simple, easy-to-use app that keeps you on track with your fasts and helps you lose weight in less time. It offers three intermittent fasting variations: 16/8, 18/6, and 20/4. If you want a shorter feeding window, you can create your own fasting plan.
The interface is clean and interactive, with no unnecessary screens or data. It just displays when you started your fast, the remaining time, and some tips to help you finish your fast easily.
The app tracks your progress and shows some interesting statistics such as cumulative hours and the duration of your longest fast. Overall, if you a beginner, it will make you feel healthier and more active.
8. Rhythm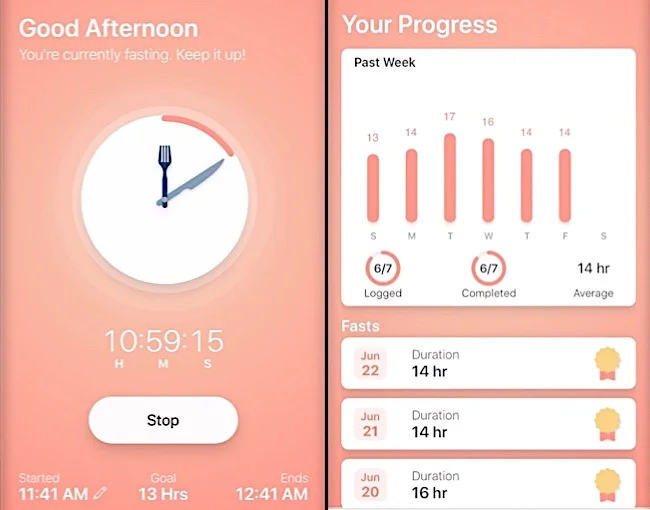 Platform: iOS
Price: Free
Plus Point: Lightweight app to maintain your daily routines for fasting
If you want a simple, fast app to keep track of your intermittent fasting routines, this is it. Rhythm is specially designed for iPhone users to set up and save their daily fasting goals.
The app gives you the flexibility to accommodate any fasting schedule, with a minimum of 7 hours and a maximum of 24 hours. Whatever window you choose, Rhythm can grow with your level of commitment.
You can set up daily fasting goals and check your progress from the day you started. Unlike other apps, it stops when your goal is achieved (it won't send you unnecessary notifications).
7. LIFE Fasting Tracker
Platform: Android | iOS
Price: Free | In-app purchases
Plus Point: Automatically sync with wearables and devices
With LIFE, you can track all variations of intermittent fasting, from time-restricted to alternate-day fasting. Just log your progress with waist circumference, weight, ketones, and blood glucose, and it will show you everything in an easy-to-understand format.
LIFE can automatically import data from Garmin, Fitbit, Biosense breath ketone meter, Oura Ring, and other devices. It also integrates with HealthKit to import ketones, weight, and other crucial data from the Health app.
The app comes with a built-in learning library with research-based articles and tips for beginner and experienced fasters. All science-backed information is reviewed at least quarterly by a team of scientists. What's more impressive is you don't need to buy a premium version of the app to access this library.
Besides tracking your fasts and sharing your progress with friends, you can join Fasting Circles to challenge, encourage and hold each other accountable.
6. Fasting App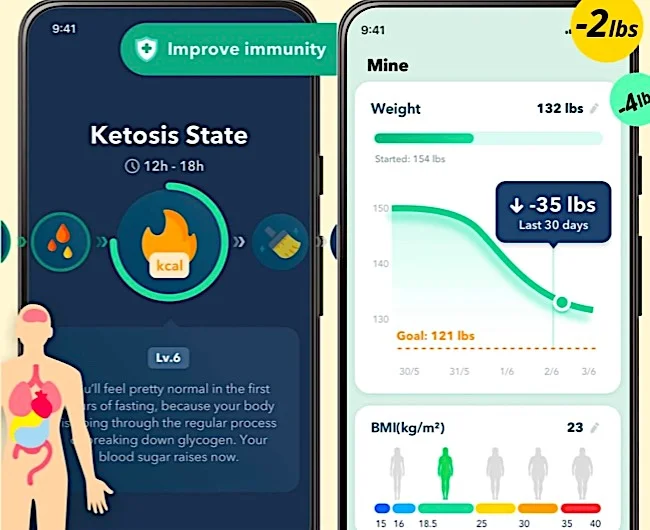 Platform: Android
Price: Free | In-app purchases
Plus Point: Science-based tips and articles about fasting
Fasting Tracker guides you to a new lifestyle with healthy habits. It will help you lose weight effectively and feel more active.
The app is suitable for beginners and experienced men and women. It includes dozens of fasting plans to follow. There is absolutely no need to change your diet; you can easily stick to it.
With a simple and clean dashboard, you can easily customize fasting plans, adjust your eating period, and set notifications for fasting. You can also track your weight, check the fasting status, and sync data with Google Fit in one tap.
5. Fastien‪t‬
Platform: Android | iOS
Price: Free | Premium costs $11.99 or $4.99 per year
Plus Point: Access Fastient from any device, on any platform
Fastient elegantly shows your progress before, during, and after a fast. Its simple home screen quickly shows your current stats, entries, and weight loss as a graph.
The app works with all popular types of fasts, including 16:8, 20:4, 5/2, OMAD, alternate-day fasting, and extended fasting. You can also customize your fast the way you want: edit the start time, add an end goal, or cancel your current fast if you are not feeling well. Canceled fasts will not be added to your stats.
Fastient gives you an option to import previous fasts from other applications via a .csv file. Furthermore, the premium version comes with a dark mode and allows you to add progress pictures and emojis in entries.
4. Fastic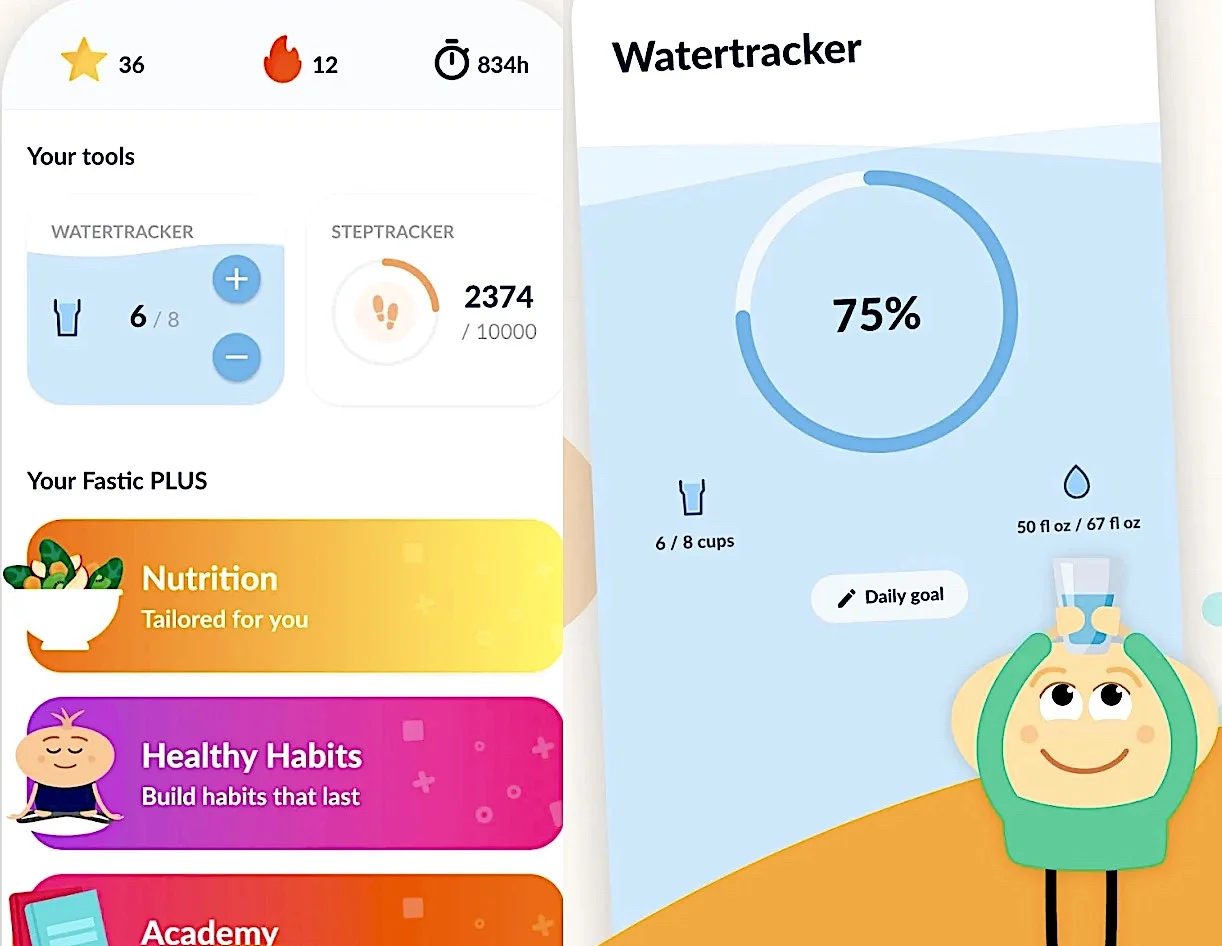 Platform: Android | iOS
Price: Free | One-month membership costs $11.99
Plus Point: Fastic-Plus Community helps you reach your goal even faster
Fastic covers everything you need on your way to a healthier life, from fasting timer, step counter, water tracker to healthy recipes and daily tips. It includes various fasting plans for men and women, including the 16:8 window and the Keto diet.
The app educates you on intermittent fasting and helps you combine it with diets (like Keto or low-carb) for quick results. It is suitable for both beginners and experienced faster.
You can take daily or weekly challenges, which offer a variety of fun tasks to build healthy habits. In order to inspire you and keep you in the loop, Fastic allows you to share your progress on social media channels.
3. DoFasting
Platform: Android | iOS
Price: Free | Premium version starts at $32.99 per quarter
Plus Point: More options for difficult fasts, more flexibility to fast
DoFasting offers a 3-in-1 solution for weight loss. Select a fasting method that best suits your needs, learn to prepare healthy meals, and implement simple workouts into your busy schedule.
Instead of exhausting fitness practices, the app gives you workouts that you can complete daily. Instead of strict dieting, it offers healthy food that tastes incredible. You can join 7, 14, or 28-day challenge that includes specific fasting hours and plenty of useful advice on healthy nutrition, exercise, and habit formation.
DoFasting tracks your weight loss progress from the very first day of fasting. It shows your progress and current status in detail to keep you motivated. You can also access the latest published articles and scientific research, which help you practice intermittent fasting the educated way.
2. BodyFast
Platform: Android | iOS
Price: Free | Coach Subscription starts at $16.99 per month
Plus Point: No advertisements, optimal personal fasting plan every week
With more than 20 million downloads, BodyFast is one of the most popular intermittent fasting apps. It is packed with over 10 fasting plans, including the 16:8 and 5/2 method.
The timer and fasting tracker guides you throughout your journey. The dashboard displays your weight and body measurements in interactive graphs. There is even a water tracker that reminds you of drinking enough.
The premium (coach) version provides personal plans based on your preconditions and progress. You will get new plans, health and fitness challenges every week. According to the app developers, Coach users lose weight 30% faster than standard users.
Read: 13 Best Food Delivery Apps
1. Zero: Fasting & Health Tracker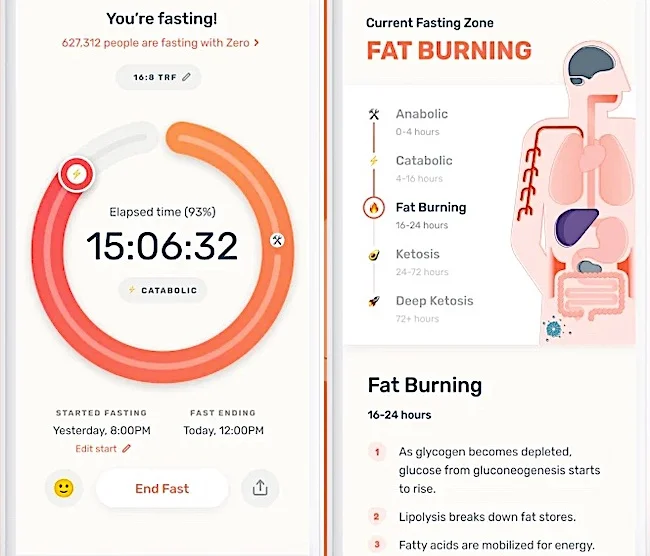 Platform: Android | iOS
Price: Free | Zero Plus Subscription starts at $9.99
Plus Point: Join challenges to keep yourself accountable
Zero offers personalized protocols and adaptive recommendations to help everyone, from beginners to advanced practitioners. You can adapt a sustainable approach by adjusting how long and how often you fast.
The app shows you how your fasting strategy correlates with health markers (such as weight, sleep, blood glucose, and heart rate) so you can easily sport trends and change behaviors to stay on target.
Read: 20 Best Fitness Apps For Both Android and iOS
Zero provides expert guidance and tons of useful content. Its advisory team includes some of the world's leading doctors and researchers who create and curate resources to help you advance your awareness alongside your fasting practice.