For centuries, stock market investments have remained one of the most effective ways to built wealth. Other forms of investments like 401k (pension funds), ETFs, and mutual funds have also been around for some time. Then there is a cryptocurrency market that has already turned many people into multi-millionaires.
Stock market investments have evolved over time under different circumstances, and now modern technology is changing how people invest and plan for their future.
With smartphones and dedicated apps, you can now save or invest whatever amount you can spare whenever you want. Investment/saving apps are undoubtedly becoming popular among new investors, especially millennials who are finding it a much easier way to get involved in the stock market. A growing number of seasoned investors are also getting attracted to these apps due to their lucrative strategies.
You can now just pick up your smartphone, install an app, and invest the way you like without having to pay high commissions or other fees. New technology, however, creates new risks.
Apart from market-risks, there is always a prospect of losing money due to a security breach. Below, we have compiled a list of the best investment apps that you should try if you are looking to invest in stocks, ETFs, and cryptocurrencies.
12. Ally Invest
Platform: Android, iOS
Best for: Everyday banking and monitoring investments
Ally Invest appeals to both beginners and experienced stock traders with zero trading costs on eligible US securities and a huge selection of zero transaction-fee mutual funds and low-cost options trading.
The mobile app makes it easier to move cash between accounts, pay bills, see scheduled payments, and review payment history. It also allows you to set up and manage your Ally Bank debit card preference and control where, when, and how your card is used with Card Controls.
Investors can select one of four available portfolio strategies to automate their investments. They can monitor their account performance and use a goal tracker to see how well the account is doing.
The app is fast, secure, and free. You can access your account quickly using Face ID or Touch ID.
11. Betterment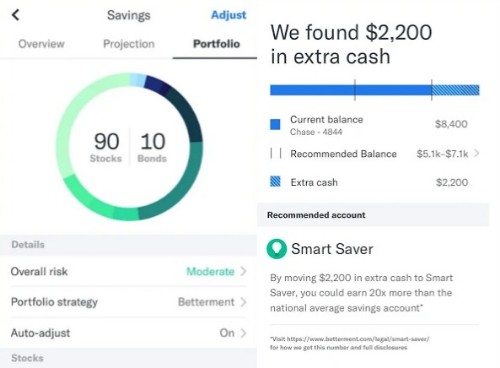 Launched back in 2008, Betterment is one of the pioneers of the automated portfolio-management service. It's a well-designed mobile app with which you can easily invest in a diversified portfolio of low-cost ETFs (exchange-traded funds).
After signing up, you will be asked a set of investment-related questions regarding your financial goals (retirement plans, payments on a home, etc.). You can include additional targets (financial) at any time.
Based on this, Betterment will give you a gist of what your ideal investment should be to reach that goal and provide you with a well-diversified portfolio hand-crafted only for you. The allocated assets within a portfolio are generally of low risk.
The app allows users to get advice directly from financial experts. It, however, doesn't provide any charting, technical analysis, streaming real-time quotes, etc.
10. Stockpile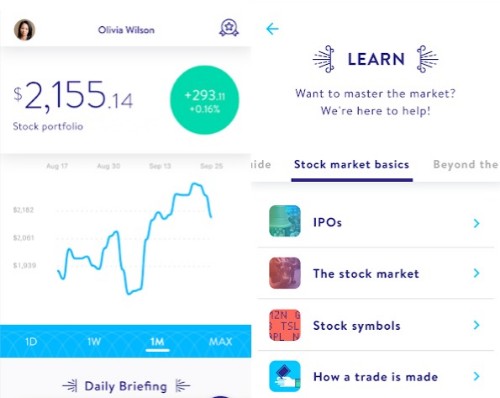 Platform: Android, iOS
Best for fractional investing & stock gifting
With stockpile, you can buy fractional shares (fraction of a full share) of more than a thousand U.S based companies. The app lets you invest $5, $10, $20, or $50, but instead of paying a monthly or yearly fee, you have to pay 99 cents per trade.
The app provides an effective way to learn about investment and stay updated on global economic and financial news with access to CNBC, The Wall Street Journal, and other news channels. Stockpile also features a fancy stock gift card, which you can give to anyone from kids to adults.
9. Stash
Platform: Android, iOS
Best for investment learning
Stash is another cost-effective way to invest in the stock market. It allows users to start investing with just $5 (excluding fees), which can be used to buy fractional shares (and ETF's) of more than 200 individual companies across different sectors.
Here, you can either create your own portfolio or choose from one of the many available custom portfolios to invest in. There is an 'auto-stash' feature that you can use to automate the investment cycles so that your portfolio continues to grow gradually over time.
It also provides custodial (investment account of a minor) and retirement services. Unlike most of the other investment apps here, Stash allows new investors to learn about the basics of investments, finance, debt management, and retirement plans.
The platform even publishes various news related to financial markets and politics. It, however, doesn't provide in-depth insights into companies.
8. M1 Finance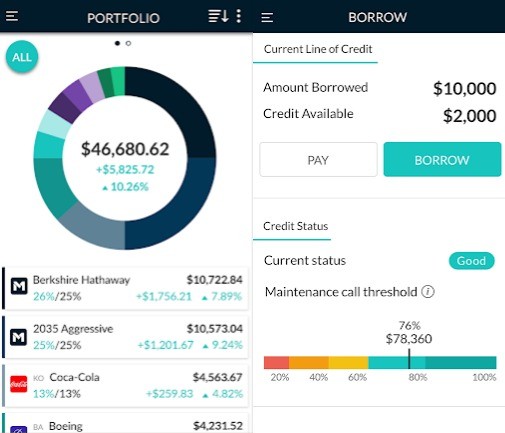 Platform: Android, iOS
Best for automated investment
M1 Finance is a perfect investment app for beginners. You can start either by building a custom portfolio with stocks and ETF's of your choosing or select one from nearly 80 already created portfolios. The rest is on the app.
The money you put in is automatically distributed in the portfolio of your choice. M1 also manages your stock positions (portfolio) during market corrections using the dynamic re-balancing approach.
The app allows you to buy fractional shares, IRAs (individual retirement account), and 401Ks. It also provides loans on investments. There are no trading fees or commissions.
7. Acorns
Platform: Android, iOS
Best for automated investing
Acorns is for those investors who neither want to dedicate funds regularly nor do they wish to spend more time thinking about their investments. It's one of the most popular investing apps.
To start, all you need to do is create an Acorn account and link a credit or debit card to it. When you make an online payment, the app will round off the total payable amount to the next dollar and keep the spare change. When the total amount adds up to at least $5, Acorns will automatically invest it in your preferred ETF portfolio.
You can always make a large, one-time deposit to raise your investment value. All portfolios are effectively diversified, which automatically re-balances during market fluctuations. Acorns charge $1/month for its basic or core service. Acorns Later (for retirement planning) and Acorns Spend cost more.
6. Wealthfront
Wealthfront is a great way to invest passively without worrying much about fees and taxes. Once you finish signing up with the platform, you will receive a well-diversified portfolio comprised of global low-cost index funds. The aim is to keep you in a "risk comfort zone" while vying for maximum returns.
It executes tested investment strategies developed by a team of professional investment strategists to enhance your overall portfolio's performance. These strategies are also designed to help investors with tax deductions, which can be reinvested.
An option for a loan against investments is there for users with at least $100,000 in their investment accounts on low-interest rates. While there are no trading commissions, you have to pay 0.25% of your total investment annually.
Read: 16 Most Expensive Stocks (Per Share) In The World
5. TD Ameritrade Trader
Platform: Android
Best for overall trading
TD Ameritrade is one of the largest and oldest brokerage firms in the world. At the moment, the company offers two separate mobile apps; TD Ameritrade Mobile and TD Ameritrade Trader.
The latter will allow you to trade in stocks, forex, futures, and multi-leg options and facilitate key insights and in-depth analysis of companies. It also provides a platform to test your own trading strategies with real market data in a risk-free environment.
Furthermore, you will have access to TD Ameritrade Network (over the top broadcast channel), CNBC, and hundreds of investment-related educational videos. Hundreds of technical charts and other tools are also available.
Read: 20 Most Successful Investors In The World
There is no minimum deposit rule, meaning you can open an account and start trading with just any amount. However, there is a relatively higher fee per trade of $6.95.
4. Fidelity Investments
Platform: Android, iOS
For those who don't know, Fidelity Investments is a global financial services industry behemoth that manages a large number of mutual funds, provides life insurance, retirement, wealth management services, and operates one of the largest brokerage firms in the world.
Fidelity's brokerage and most of the market research tools are readily accessible through its mobile app, which works in a closely integrated environment with its principle desktop version. The app lets you invest in stocks, commission-free ETFs, mutual funds, and bonds (no futures and Forex trading, though).
Fidelity's powerful research utility is one of the reasons why investors around the world trust this platform. It provides everything from basic stock research to reports on insider transactions, SEC filing, and detailed social sentiment reports.
3. Investing.com
Platform: Android, iOS
Best for: tracking
To have a successful investment portfolio, one must be well informed on relevant political, economic, and financial events that are currently taking place. That's the reason why financial data services are so important for an investor.
Investing.com is one such service with which you can efficiently manage your investments. Initially launched in 2007, the platform is currently available in 25 international languages. It offers a wide range of financial tools/instruments, live stock quotes, and regularly updated market data on about 70 global exchanges.
The app features a real-time Economic Calendar, which makes tracking important, market-moving news much easier. From major indices around the world to stocks, bonds, Forex, F&O, and bonds, you can track almost anything on-the-go. The free version of the app is ad-supported.
2. E*TRADE
E*TRADE is a popular trading app that's trying to make the investment process almost effortless. The platform allows you to gradually build your own portfolio and manage it with the help of various research and investment tools.
You can also, however, choose to invest in one of their pre-built portfolios, which are handpicked by experienced individuals. Almost everything, from stocks and ETFs to options and mutual funds, can be traded here.
The app users have access to Bloomberg Video service and tons of investment-related educational content. Like few other big names on this list, the E*TRADE app facilitates certain banking services too.
One of its specialties is a high-performance risk tool that helps investors predict any future risk related to their current portfolio. There is also provision for advanced options trading strategy such as iron condors, etc. In February 2020, the U.S based investment bank Morgan Stanley bought E*TRADE for $13 billion.
1. Robinhood
Robinhood, one of the most popular investing apps at the moment, has a highly ambitious goal; to allow investors to make profits in the stock market without having to spend anything in commissions.
It enables users to trade in U.S stocks, ETF funds, derivatives, and multiple cryptocurrencies all without charging commission fees. Simply download the app, link your account to fund the investments, and you're good to go.
The app features a good collection of graphs, stars, and other tools to help you with the investments. Experienced stock traders can upgrade their accounts to Robinhood gold (for a fee) in order to take advantage of their margin trading facility.
Read: 18 Best Investing Books You Should Read
Robinhood makes additional money by keeping the interest gained on the users' cash balances. However, a Bloomberg report in October 2018 claimed that the platform derives about half of its revenue from a controversial revenue practice which was later confirmed by the company.