For many smartphone users, the standard built-in keyboards are just not enough. While the pre-installed apps are mostly workable, they lack certain features that are sometimes necessary to do things efficiently. Fortunately, there are several good alternatives available out there with all the fun customizations, proper language support, and other features.
But before moving on with the list, I feel it's my moral duty to remind you about the possible security and privacy risk associated with third-party applications like keystroke logging and other sorts of hazardous malware. So it's vital to stick with Google Play Store when it comes to Android apps.
Below we have compiled 12 best keyboard apps for Android that you can try this year. Let's get started.
12. Grammarly Keyboard
Price: Free
If you are a professional writer or currently in the content writing industry, then you're more likely to know about Grammarly, a cloud-based platform that allows users to enhance their overall writing style. Grammarly initially started as a browser extension, and now Grammarly Keyboard tends to do the same for Android users.
The app enables users to type with significantly fewer mistakes on their smartphone irrespective of the app with which they use it. From sophisticated grammar checking, punctuation correction to vocabulary assistance, everything is here to boost your writing skills. It also explains or helps you understand your mistakes.
The app is currently lacking some advanced features such as swiping (gesture typing) and customization options, which are usually available on popular keyboard apps. But since the app is relatively new, there might be few updates on the way that could make it more useful.
11. Minuum Keyboard
Price: Free Trial/ $3.99
Minuum Keyboard is a smart and rather unorthodox way to type on your Android device. It comes with a fair amount of powerful features, including gesture shortcuts, voice typing, and multi-tasking support. You can also choose between multiple keyboard layouts (A-Z, QWERTZ, and AZERTY).
But perhaps its most remarkable feature is the smart word prediction engine and auto-correction ability, which allow users to type faster without worrying much about accuracy. The keyboard's layout is simple, nothing fancy, but it does come with few customization options.
The app also provides the ability to switch between mini and full-sized keyboard modes and magnify keys, which can be useful in certain conditions.
10. Multiling O Keyboard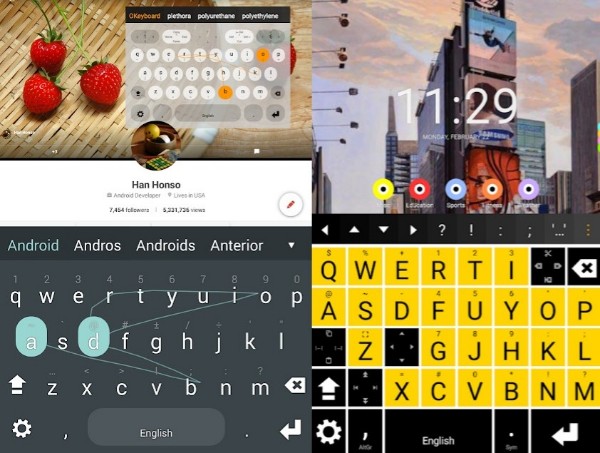 Price: Free
Multiling O Keyboard is a lightweight, yet feature-rich keyboard app that can make typing a fun activity. Here you can choose from multiple predetermined keyboard layouts such as QWERTZ, AZERTY, DVORAK, and QWERTY, or you can design your own custom layout. You will also have the ability to resize the board with 5-row or 4-row layouts.
Then there is support for voice typing, one-touch writing, emojis, stickers, auto-correct, predictive text, glide typing (gesture). The app can be used in almost all known popular languages/dialects around the world.
9. Hacker's Keyboard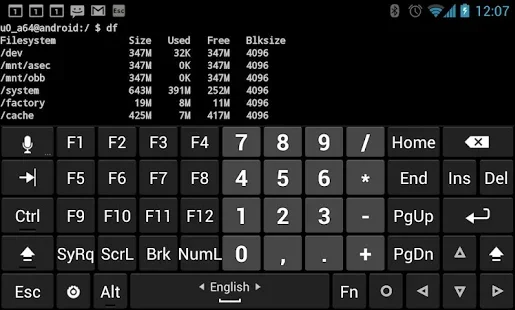 Price: Free
Are you a Linux user and usually access your system or terminal remotely through your Android smartphone (ConnectBot)? If yes, then you most probably know how hard it is to enter certain key combinations and commands. Well, Hacker's Keyboard solves this problem.
In contrary to its rather ominous name, Hacker's Keyboard provides any user with a more natural way to navigate and enter tricky commands right from their smartphone. The app makes it possible by mirroring PC styled keyboard layout with localizing Tab/Ctrl/Esc keys, and the arrow keys.
The application supports more than thirty different languages.
8. Smart Keyboard Pro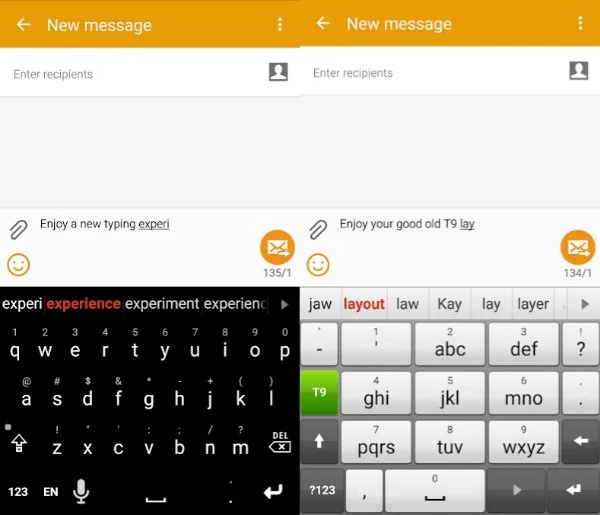 Price: Free trial/ $2.99
Smart Keyboard Pro is a simple yet highly capable keyboard which can make typing on your smartphone more fun and error-free. Here, you get a powerful auto-correct and prediction engine with a self-learning dictionary.
You can customize the keyboard with many downloadable themes or skins. Other features include Emoji keyboard, gesture and voice support, and custom text shortcuts.
A trial version of the app is also available with limited functionality.
7. TouchPal
Price: Free
TouchPal is another keyboard app that you can use to enhance your typing. It is powerful and flexible enough to not only solve your typing problem but make you enjoy it as well.
From GIF support, voice typing, glide typing, emoticons & emojis to gesture typing, the app has everything that you need to write faster and error-free. Other features include T+ & T9 keypad, autocorrect, predictive text, number row, multilingual support, voice recognition, stickers, one-touch writing.
6. Typany Keyboard
Price: Free
Typany is a relatively new virtual keyboard application for Android devices. While it may not be as powerful as some other apps on this list, it does have lots of room for creativity and customization.
It comes with features like Doodle board, with which you can make line-sketches, Emoji maker, DIY themes. It also provides options to customize font and sound style.
Other notable features include smart auto-correction and word prediction ability, and an AI assistant. Overall, Typany is a pretty decent keyboard alternative for android, but I do feel some of its features are unnecessary and could have been avoided. It supports more than a hundred languages.
5. GO Keyboard
Price: Free
Go Keyboard is a simple, easy-to-use application that can surely improve your typing experience on Android devices. The app comes with heavy customization options, including a variety of themes and fonts to choose from. A large number of emoji, emoticons, and stickers are also available and are compatible with almost every popular app.
Of course, it supports multiple languages, 60 in total. It also carries an integrated dictionary that can assist you with word meanings in any one of those languages. Furthermore, there is a swipe-unlock and charge mode feature, which makes it kind of an all-rounder app. Go Keyboard is free, but it does include in-app purchase options.
4. Chrooma keyboard
Price: Free
Chrooma is a fast, lightweight, and AI-powered keyboard app that has almost every tool necessary to enhance your typing. Its intelligent engine provides you with superior contextual prediction. It also helps you find the appropriate emoji and punctuations whenever you need them.
It provides more customizable options than most of the apps here. Along with some essential features like keyboard resizing, predictive typing, swiping, and autocorrect, the app also carry additional features like the ability to add/remove an extra number row, additional Emoji support, a search engine for GIF and one-hand mode.
There is also a Night mode feature which, if enabled, can change the color tone of the keyboard when low light is detected. An in-built timer can also be used to trigger this mode.
3. Fleksy Keyboard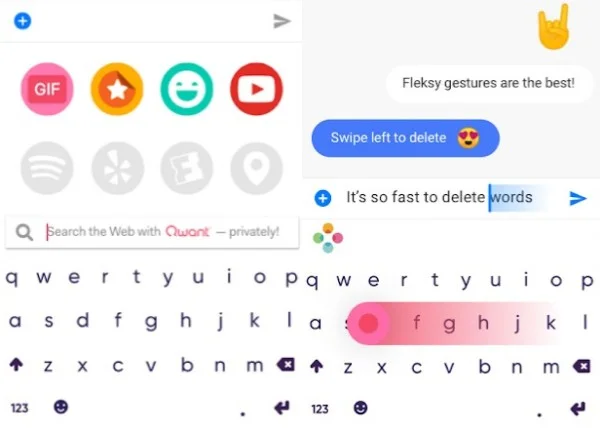 Price: Free
Fleksy is, without a doubt, one of the most popular keyboard app available out there. The app boasts on its strict privacy policy and auto-correction ability that allows users to type with both speed and accuracy. Fleksy Keyboard was used to break the world record for the fastest typing on a smartphone twice.
The app includes a smart gesture control feature with which you can easily add/delete words and punctuation. It can also be modified according to your taste with more than 50 themes and three different keyboard sizes. There is support for more than 30 international languages.
Read: 15 Best Android File Manager And File Browser Apps
2. SwiftKey
Price: Free
SwiftKey is undoubtedly one of the most powerful and popular virtual keyboard apps available for Android devices. Enabled by artificial intelligence, SwiftKey quickly learns about your writing style, which emojis you prefer the most and other typing related details so it can adjust its prediction/auto-correct function for a smooth experience.
The app features an alternative text input method (Swiftkey Flow) with which you can enter text just by sliding your finger from letter to letter. There is also plenty of room for customization with different themes, designs, and color combinations to choose from. Moreover, the auto-correct function is supported in over 300 different languages.
1. Gboard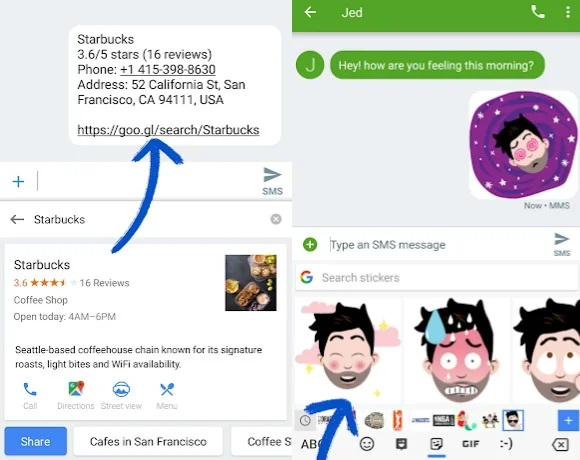 Price: Free
Gboard has almost everything that smart users want in their smartphone's virtual keyboard; speed, security, and plenty of features. The app features multiple text input methods, glide typing, in which you can insert text by merely rolling your fingers from character to character, voice typing, and handwriting method, where you can feed text via voice command and handwriting, respectively.
A built-in emoji library, support for more than sixty international languages/dialects, and of course, easy access to Google search are all included. It also has plenty of room for customization. You can choose between multiple themes and keyboard styles like key borders or adding a new number row.
Read: 15+ Super Stylish PC Keyboards with Amazing Design
Recently, Gboard made it possible to create a 'mini' version of yourself through selfies. Furthermore, Google has been planning to add Morse code input option into the app. However, you should keep in mind that the app is not completely free of issues. Depending on your smartphone, it could already be your default keyboard.