Learning a new language is not an easy task. If you put in 10 hours a day to learn a simple language, then basic fluency would take about two months. And if your goal is to learn a difficult language, such as Mandarin Chinese, it will take nearly twice as long.
Studies suggest that acquiring a second language enables us to develop various mental abilities. It improves our memory, enhances the ability to multi-task, keeps our mind sharper for a longer period, and increases networking skills.
While a human instructor is irreplaceable, smartphone applications have the tendency to revolutionize numerous things, and it has certainly made language learning much easier. Unlike traditional webpages, learning apps offer a more personalized and interactive experience.
However, with the proliferation of these apps, it has become really difficult to choose the right one. We have rounded up twelve of the best language learning apps for both Android and iPhones so that you can achieve your goals without leaving the comfort of your couch.
12. Pimsleur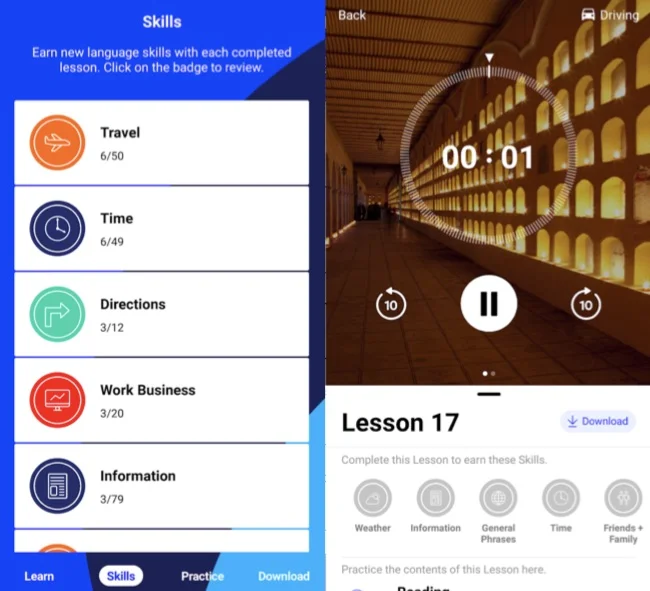 Platform: iOS | Android
Price: Free | Premium subscription starts at $19.99 per language
Plus Point: There are no ads so you can learn without interruptions.
Pimsleur develops and publishes courses based on the Pimsleur method, which is uniquely focused on conversational skills. The courses are available in more than 50 languages, including Japanese, Chinese Mandarin, Urdu, Hebrew, Korean, Russian, Spanish, French, and English.
Unlike other apps, Pimsleur fits into your downtime and works in offline mode. Its inbuilt hand-free mode makes it easy to learn a new language anytime, anywhere —  an incredibly useful feature for those who want to learn while driving or exercising.
Select the language you want to learn and start a 30-minute auditory lesson (downloadable and compatible with Alexa). There are reading lessons to increase your understanding of the language, digital flashcards to practice vocabulary, and speed round games to test your conversational knowledge in a fun way.
11. Beelinguapp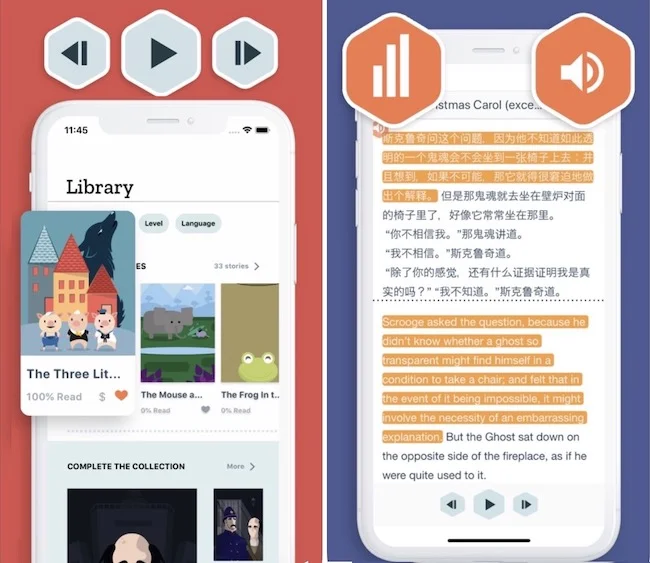 Platform: iOS | Android
Price: Free | Premium version costs $13.99
Plus Point: No flashcards, no memorization – just simple read-along learning.
Beelinguapp uses two concepts to make learning languages simple and fun: Side by Side Reading and Karaoke Reading.
The first one involves showing a text in two languages simultaneously, allowing learners to use their native languages as a reference. The second one involves playing the audio while the user is reading and showing karaoke-style animation in both the learning and reference languages.
You can select from more than a dozen languages and learn at your own pace by reading your favorite stories side by side. There are a variety of texts, ranging from science books and novels to fairy tales and short stories.
10. Drops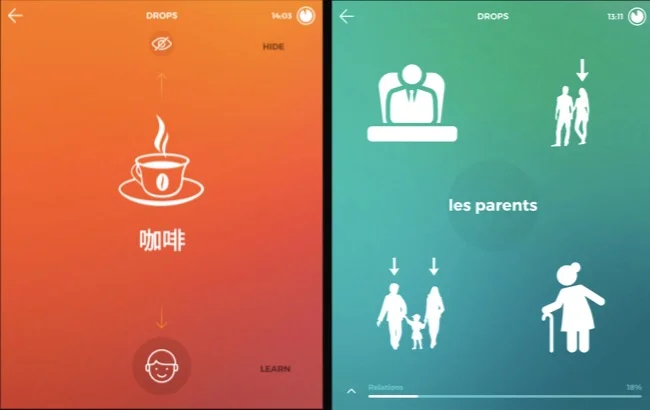 Platform: iOS | Android
Price: Free for 5 minutes daily | $17.99 gets you daily 10 minutes bonus | $47.99 for unlimited time
Plus Point: It uses word puzzles and mnemonic associations to make learning easy.
The app helps you learn a language through fun, fast-paced games and simple mnemonic pictures. You can choose from more than 35 languages and build the endurance you need to reach the shores of fluency. Drop by drop.
It contains professionally curated wordlists with more than 2,600 words that cover most of the daily word usage. There is also crystal-clear audio for every single word. With the inbuilt character learning method, you can pick up any new alphabet or writing system quickly.
Drops also features advanced statistics. After every session, you will see a detailed report of your progress. We would suggest starting with a free version to see if you like the basic format and then move to the premium for more intense learning.
9. Innovative 101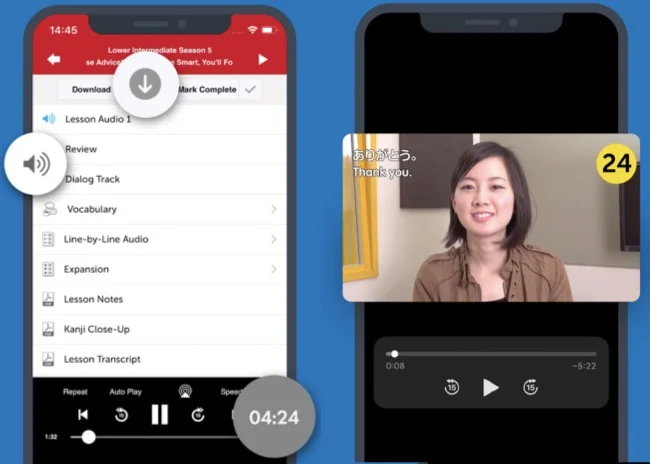 Platform: iOS | Android
Price: Free | Premium version starts at $7.99 per month per language
Plus Point: New audio and video lessons are added every week.
The app offers hundreds of short audio/video lessons (3 to 15 minutes long) to teach you languages in an easy and fun way. All of them are recorded by real teachers with years of experience.
A total of 34 languages are available with in-depth lesson notes and line-by-line audio (for premium users). You can use multiple playback options, such as stream from the lock-screen, skip ahead, and control the speed of your lessons.
Switch between all of your devices without losing progress. There is a reporting system that helps track your learning progress. What's more: you can opt to receive daily vocal lessons directly in your email.
8. Busuu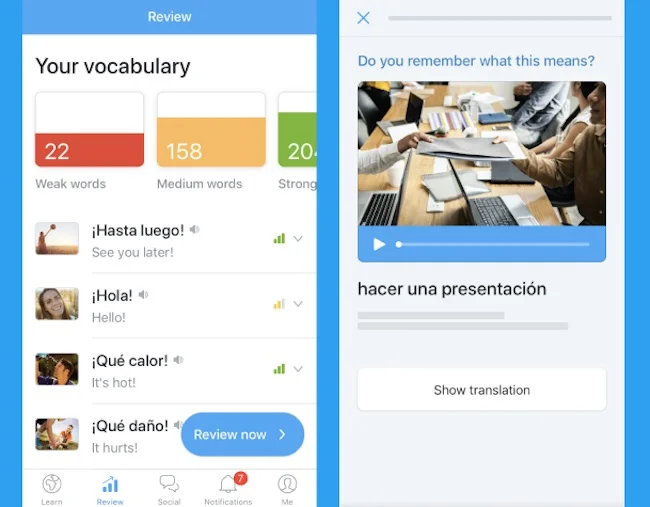 Platform: iOS | Android
Price: Free | Premium membership starts at $5.99
Plus Point: Provides official McGraw-Hill Education language certificates.
Busuu makes mastering languages easier, more fun, and effective for all. Whether you are learning for your next travel experience or for a career boost, Busuu has got your back.
The app is based on an AI-powered language learning platform that enables users to interact with native speakers across the world. It currently supports 12 languages, and all courses are available in 15 interface languages.
Lessons include studying grammar and vocabulary. At the end of every lesson, users can practice with native speakers in written or spoken conservation.
What's more impressive is the app gives you access to a decent chunk of content at no cost — the free stuff includes reading comprehension exercises and vocabulary lessons, complete with word banks and question-answer sessions.
7. Babbel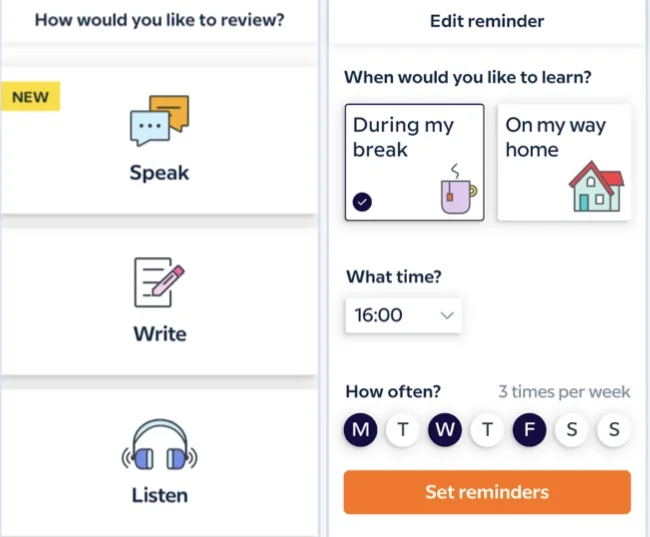 Platform: iOS | Android
Price: Free | Subscription starts at $15.99 per language per month
Plus Point: Learning content is created by over 100 educators and linguists.
Babble is a Berlin-based e-learning platform and language learning app that currently offers more than a dozen languages, including Danish, Dutch, Italian, Russian, Spanish, Swedish, Turkish, French, German, and English.
The app contains small,  interactive lessons (each takes only 10-15 minutes to complete) with in-depth content. There are vocabulary lessons, grammar courses, and courses with idioms, tongue-twisters, and sayings. All lessons can be downloaded for offline viewing.
The app emphasizes the ability to carry out real-world conversations, which is further facilitated by in-built speech recognition software. All in all, it is reasonably priced and well-structured.
6. Mondly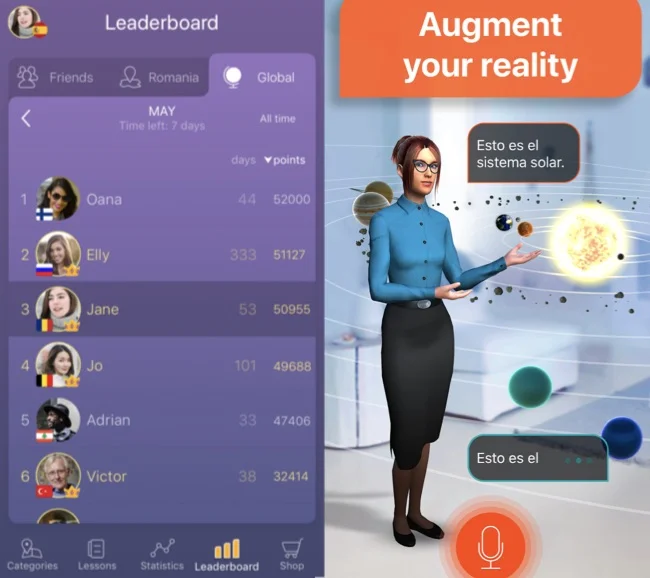 Platform: iOS | Android
Price: Free | Pro membership starts at $9.99 per month
Plus Point: Lessons are available in virtual and augmented reality.
Mondly is an EdTech company that provides free and paid courses for more than 30 languages at three different levels: beginner, intermediate, and advanced.
With this app, you can quickly start learning core words, form sentences, memorize phrases, and take part in conversations. There are several lessons to enhance your grammar, vocabulary, and pronunciation. Verb conjugations, for example, is faster and better than a directory: just tap the verbs and get the full congestion as well as translation.
Mondly is also packed with state-of-the-art speech recognition software that listens to your words and phrases and provides positive feedback if you speak correctly and clearly. The advanced statistics uses intelligent reporting so you can track your progress and become better.
5. LingoDeer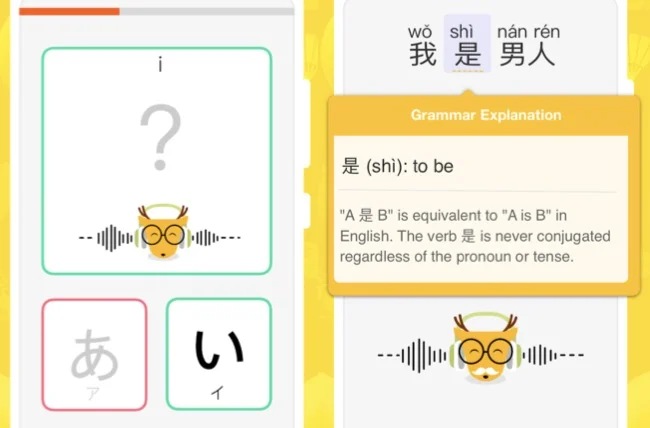 Platform: iOS | Android
Price: Free | Monthly subscription starts at $11.99
Plus Point: Comes with detailed grammar notes and study reminders.
While LingoDeer supports over 10 languages, it is probably the best app for learning  Japanese, Chinese, Korean, Vietnamese, and Russian. It is designed by a team of professional language teachers.
The app has three key features: grammar-based curriculum, detailed explanation of each element, and HD audio voiced by native speakers. It gives you an option to build a routine and environment that works for you: customize anything you want, including a background color, type of script, or the narrator's voice.
There are tons of quizzes and tests to challenge yourself. Practice questions you got wrong in other sessions, pick a focus (grammar or vocabulary) and get better immediately.
4. HelloTalk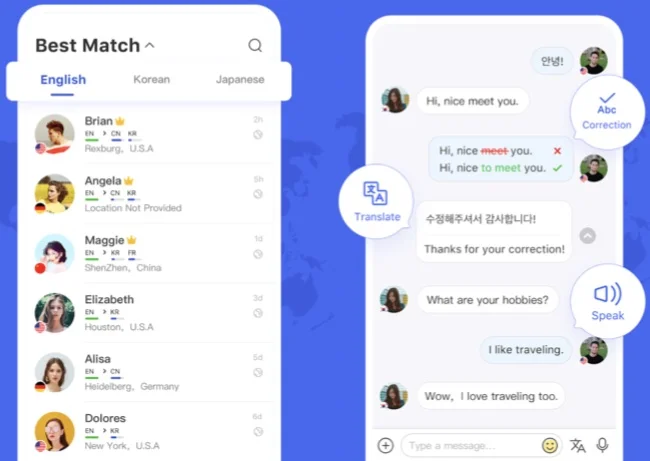 Platform: iOS | Android
Price: Free | Pro membership starts at $1.99 per month
Plus Point: Learn a language by chatting with native speakers around the world.
The success of HelloTalk is base on the culture exchange community. It connects you with native speakers of other languages. For example, if you are a native English speaker studying Spanish, you can find Spanish users who are learning English. This way, both users can benefit from each other.
Millions of members are utilizing this powerful concept to practice over 100 languages. You can ask questions and share anything about language and culture, and get feedback from native speakers.
The app provides a WhatsApp-like chat interface so you can chat with individual users, or join group chat for a collaborative learning experience. There is an option to search for partners by native language, city, distance from you, and more.
Read: 18 Best Travel Apps Of This Year
3. Rosetta Stone: Learn Languages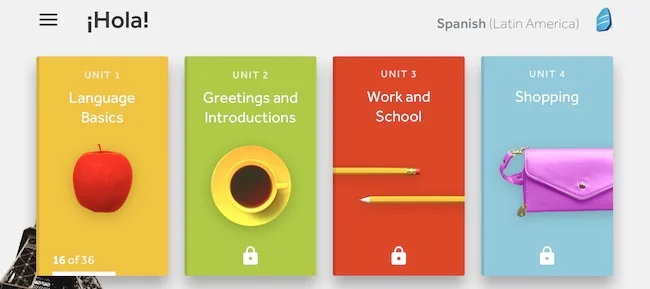 Platform: iOS | Android
Price: Starts at $11.99 per month | Free 3-month subscription for students
Plus Point: Offers personalized learning plans based on your motivation.
Rosetta Stone Inc. is an education technology software company that creates literacy, language, and brain-fitness software. The company offers its trademark language courses in 24 languages, including Spanish, Swedish, French Filipino, German, Chinese and Arabic.
One of its popular products is Language Learning: a proprietary computer-assisted language learning program. It uses text, pictures, and audio to teach words and grammar by spaced repetition (an evidence-based learning technique).
The app features a TruAccent speech-recognition engine that helps you start fine-tuning pronunciation from the very first lesson. It also has fun lessons to encourage learners to use deductive reasoning, so they remember more, stay engaged, and make progress quickly.
2. Memrise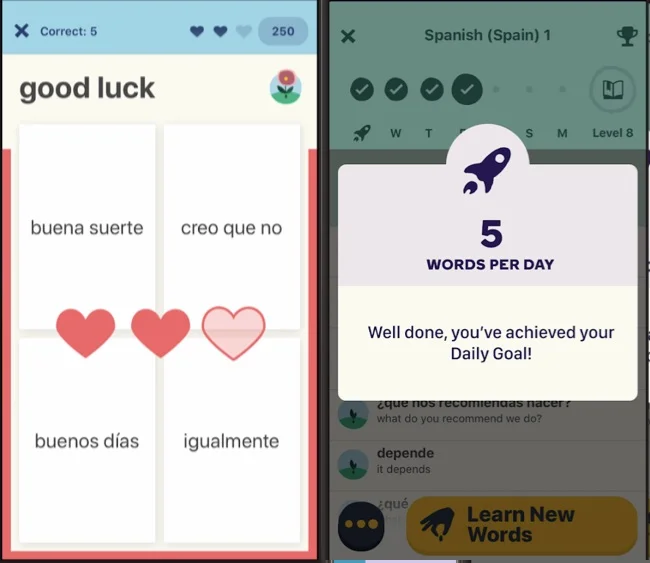 Platform: iOS | Android
Price: Free | Premium version starts at $8.99 per month
Plus Point: Contains video clips from real native speakers.
Memrise is a London-based language platform that uses spaced repetition of flashcards to improve the rate of learning. It offers several courses in more 16 languages along with user-generated content on a wide range of subjects.
The app helps you develop real-life language skills through 30,000+ native speaker video clips and a variety of easy-to-play games. This way, you can improve your pronunciation; you can even record yourself, and the app will tell you if you got it right or need to try again.
The inbuilt games (Classic Review, Difficult Words, Listening Skills, and Speed Review) do one-to-one coaching with your mind. Learn as little or as much as you want. As per the app developers, you only need 5 minutes a day to improve.
Read: 8 Best Grammar Checker Tools
1. Duolingo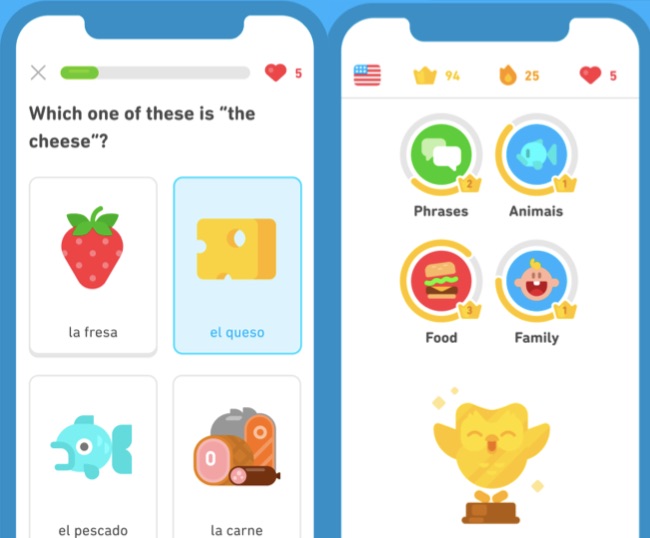 Platform: iOS | Android
Price: Free | Premium version starts at $4.99
Plus Point: Features a unique skill-based practice session that focuses on errors users have made.
With more than 300 million registered users across the world, Duolingo is the most popular language-learning platform. It offers hundreds of quick, bite-sized lessons to learn 35+ languages.
The app mimics the strategy of video games in many ways to engage its users. It has a reward system where users acquire in-game currency (called lingots) that can be used for bonus levels or character customizations.
Read: The 14 Best Translation Apps
With Duolingo, users can read sentences, listen to the pronunciation, talk with language bots, match pictures to words, form phrases by ordering words, and perform many more exciting activities to learn a new language.