The first major computer worm or malware outbreak occurred in the year 1988 when a Cornell University student Robert Morris launched the 'Morris Worm' from MIT systems. This was the beginning of an era of new and more powerful malicious software. The first documented computer virus, however, was 'Creeper Worm' which came out in 1971.
Things have changed drastically since then. The modern era malware are smart, far more advanced and brutal. They are also constantly evolving as hackers/attackers are looking for different ways to compromise the security mechanism of computers. Thus, it is extremely important for you to choose the right antivirus software, after all, they are the only one standing between potential hackers and your sensitive data of computer hard-drive.
Below, we have compiled a list of 12 best malware removal tools that should help you decide which antivirus application is better you and which is not.
12. SUPERAntiSpyware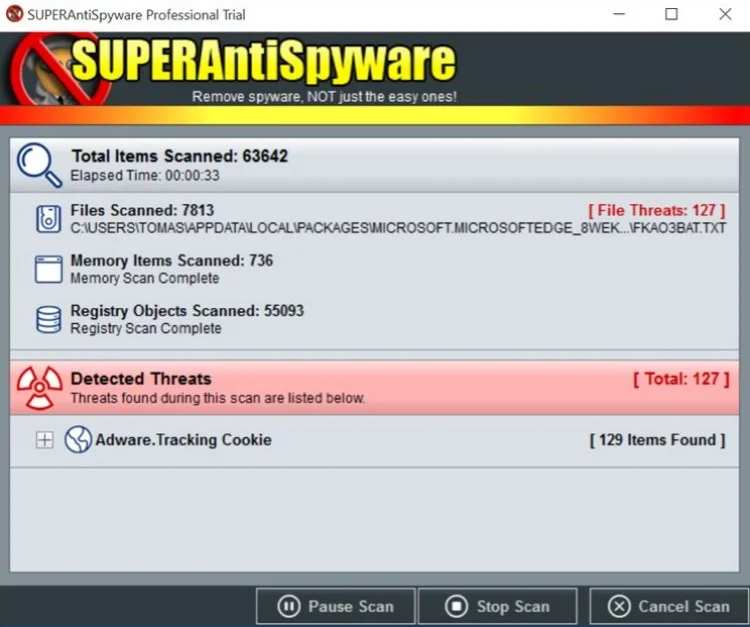 Platform: Windows
Pros: Fast scanning
Cons: Substandard malware protection
SUPERAntiSpyware is a freeware which you can use as a supplemental program to protect your computer from malicious software, worms, rootkits, spyware, adware, trojan, and other similar programs. It's strongly advised that you don't use this application as a solitary antivirus solution.
The application allows users to define certain important parameters including what types of files should be scanned, should it examine ZIP files, and whether it should take shortcuts if such situation arises. These things can come handy anytime. Its commercial version includes few additional features such as real-time protection, automatic updates, and scheduled scans.
In 2011, U.S based tech company Support.com acquired SUPERAntiSpyware for a reported fee of $8.5 million.
11. HitmanPro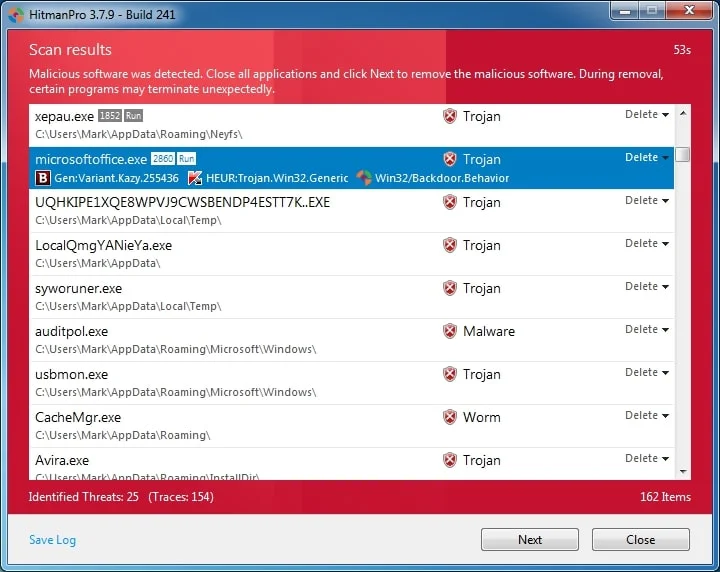 Platform: Windows
Pros: Good overall malware protection
Cons: No real-time protection
You can have any capable antivirus software in place to prevent malware attacks that may occur in the future but what if the persisting malware infestation is interfering and blocking antivirus installation? Well, this situation is perfect for HitmanPro.
It's a portable anti-malware tool designed specifically to detect and remove rootkits, trojans, worms, virus, spyware and other sorts of malicious files from infected systems. HitmanPro also features a Kickstart module that bypasses ransomware which doesn't allow Windows to boot normally.
The best part of this software is that you can run unlimited scans without having to pay a nickel. However, in order to remove a discovered malware, you need to either pay for a commercial license or sign in for 30-days trial.
10. AVG Antivirus Free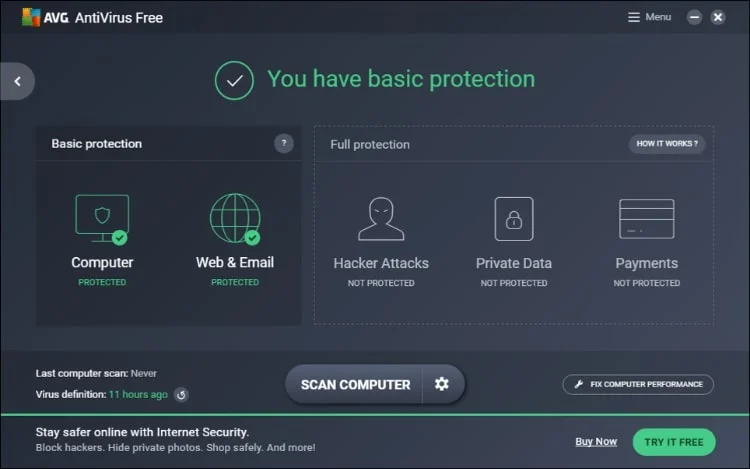 Platform: Windows, Mac
Pros: Lightweight
Cons: Privacy issues (possible)
If you're looking for a free and lightweight malware protection application that doesn't suck the life out of your computer than AVG Antivirus free is one possible option for you. It provides almost all the features a proper anti-virus application should have including email security, a quarantine vault, and periodic scans. It also comes with a file shredder.
However, keep in mind that AVG doesn't have a powerful protection mechanism against malware attacks in place and is not at par with other popular software. The applications work just fine under normal circumstances against known malware, but seriously underperforms against zero-day malware and targeted attacks.
The company was acquired by Avast back in 2016 for a disclosed fee of $1.3 billion.
9. Avast Antivirus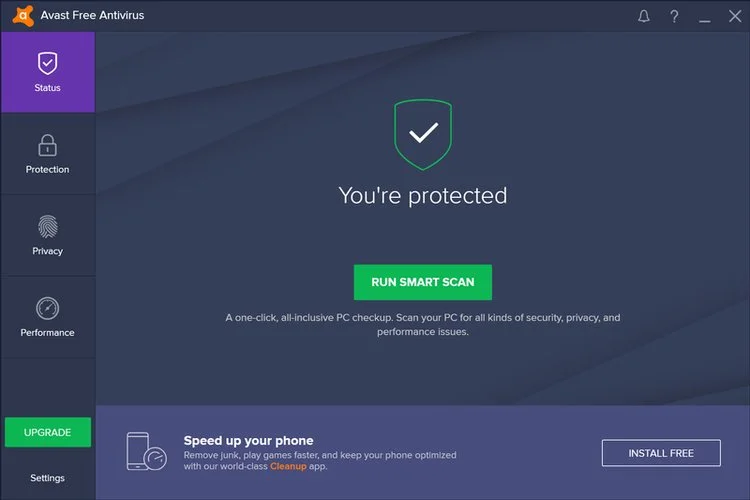 Platform: Windows, macOS, Android, iOS
Pros: Customizable, gaming mode
Cons: Resource consuming, privacy concerns
Avast's free antivirus is powerful and features rich application that does its job quite well. The features include password manager, browser extension, Wi-Fi scanner and a game mode that serves you by taking care of annoying notifications while you're are enjoying a game. Windows users can also customize the software suite in various ways as per their needs. Avast can also help you clean uninstalled documents, application data, and all other needless entries.
But on the other hand, its defenses against malware are just not strong enough. Tricky user interface and longer than usual scan periods also adds up to its rather mediocre performance ratings. There are also concerns about user privacy since Avast is known to provide personal data to third parties to some extent. Momentary ads are also common.
The installation can be little time consuming as you have to choose your preferred language (48 available including Pirate Talk), whether or not SafeZone the browser and other sorts of things. Like many antivirus solutions, Avast also doesn't provide support, users have to rely on dedicated forums and knowledge base to troubleshoot any problems they may encounter.
8. Avira Antivirus
Platform: Windows, Mac, Android
Pros: Add-on options, firewall manager
Avira was once the best free antivirus application out there. Though that's not the case anymore, it still remains a viable option for anyone who is looking for a good anti-malware software. Avira comes with firewall manager, which allow users to adjust system's firewall according to their comfort. Other features such as password manager and VPN service, etc are available with the paid version.
Avira's one of the biggest drawbacks is that it consumes computer resources at extremely high rates especially during the full system scans. Then there are issues with its malware scanner itself which sometimes work extremely well, but it's pretty average during other times.
Back in 2013, Avira was hit by a zero-day attack which gave hackers/attackers access to customer's system. Two more potentially dangerous attacks occurred prior to that.
7. Emsisoft Emergency Kit
Platform: Windows
Emsisoft Emergency Kit is another portable malware removal tool that detects spyware, adware, worms, trojans, keyloggers, rootkits, dialer malware, and viruses. The tool is perfect for swiping affected computers and systems. If you're scanning specifically for rootkits then you have to enable the Direct Disk Access mode.
The application is available in 32 and 64-bit versions and is fairly lightweight and the scanner reportedly uses only 200MB of RAM. Though Emsisoft Emergency Kit is a portable application, it presents itself more like any other desktop software.
As soon as you boot it, you will have a few options in front of you. There is no need to tweak any of the settings, since its already set to the optimal settings. You will also be prompted to install the latest updates. Just like other anti-malware applications, it also has a massive virus database.
6. ESET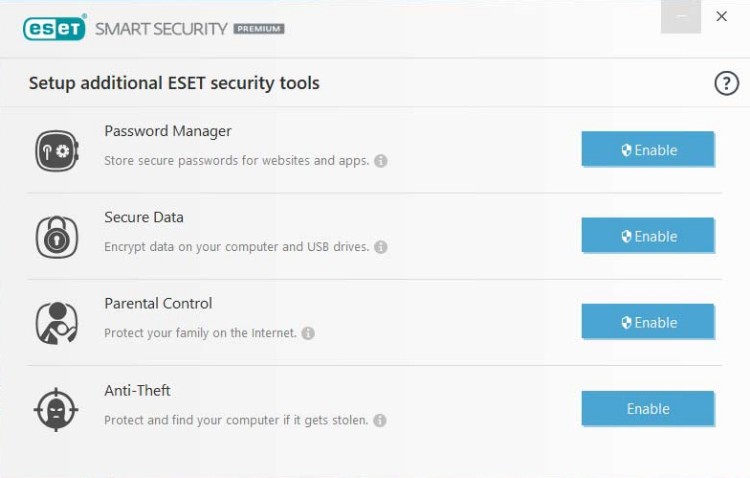 Platform: Windows
Pros: Good overall protection
ESET is a decent, if not great anti-virus application that provides protection from malware. For those who don't know, ESET is one of the most recognized names in cybersecurity space and is headquartered in Slovakia. Along with malware detection, the application also provides protection for your computer's firmware.
Its malware detection engine has three levels of security. At first, it cross-checks scanned files for any known viral signatures, then with the help of heuristic analysis, it examines suspicious behavior and codes for new malware attacks. At last, if the file or folder turns out to be potentially dangerous, ESET will remove it and add its signature to the database for future reference.
What's more is that with the paid version, you can have access to a password manager and file encryption. However, it's malware detection ability is not fairly consistent unlike Malwarebytes and other high-end application.
Read: 15 Worst Computer Viruses of all time
5. Trend Micro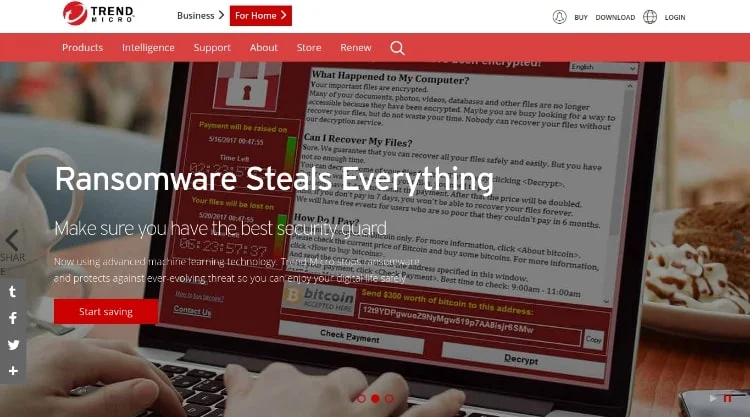 Pros: Effective malware protection, firewall booster
Cons: Heavy on the system
Trend Micro is a Japanese software developing company that provides an array of top-notch security solutions to both individuals and business entities. Trend Micro doesn't have a free option, though there are some free standalone tools available which you can download from their website.
All Trend Micro products provide above average protection against Zero-day (previously unknown) threats and consistently produce low error rates during extreme testing. Extra features like a password manager, file encryption, system optimizer, privacy scanner, and data theft shield are available in more expensive plans. The software can be used on a maximum 10 systems.
On the downside, it utilizes a tremendous amount of system's resources, which can cause system lag. There is no doubt that the service provided by Trend Micro is world class, but in order to have some extra features, you have to pay more.
4. Norton Antivirus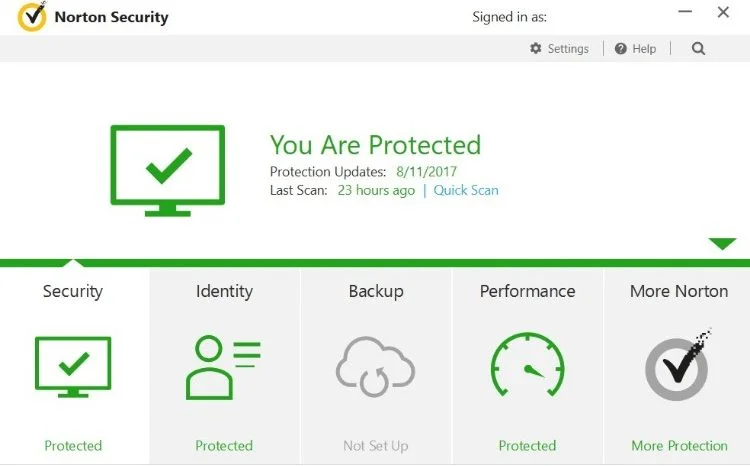 Platform: Windows, macOS
Cons: Slow scans
Norton is another well known, all-paid antivirus application that's lacking a free-to-use product. It comes in four different levels starting with Norton Antivirus Basic, which include anti-phishing and anti-spam feature along with a password manager. Then comes the Standard level security in which you get an additional two-way firewall feature.
The third and fourth level; Deluxe and Premium version have few additional features including web management portal and online storage. Norton Security Premium also provides 25GB of cloud storage. However, the application still lacks a few important features like file shredder, encryption and web browser security.
Norton has once criticized for eating-up a chunk of system's resources and slowing down computers while scanning. That problem is now resolved, however, scans and security checks now take more time than earlier used to.
3. Adaware Antivirus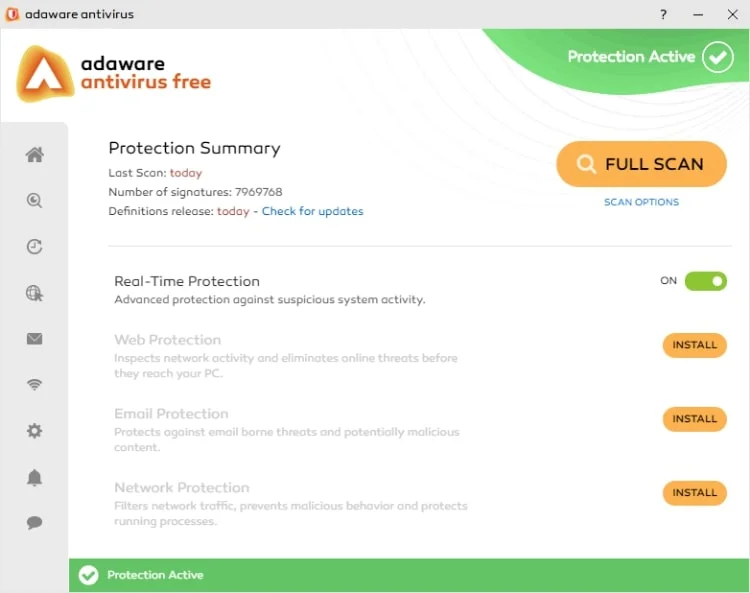 Platform: Windows
Adaware is another popular anti-virus software application which you can choose to be your antivirus/malware setup. The free version of the antivirus is basically the bare-bones of the Adaware products. The features include real-time protection, blocking potentially malicious applications and files. On-demand scanning is also there. These processes are executed quietly in the background and you can suspend any function temporarily.
Next up is the quarantine chamber. In case there is an item that you decide is not dangerous, you can always restore them without losing any data. Or you can permanently delete items from the quarantine area from the History tab. In order to get started with Adaware, you are required to register with the program (handing over an email address and name). This is not that case with other AV applications like Avast and Avira.
Read: 10+ Different Types of Computer Viruses | Explained
In our assessment of the application, we found that Adaware produces best results when used alongside other antivirus applications as the second line of defense against malware attacks.
2. Bitdefender Antivirus Free Edition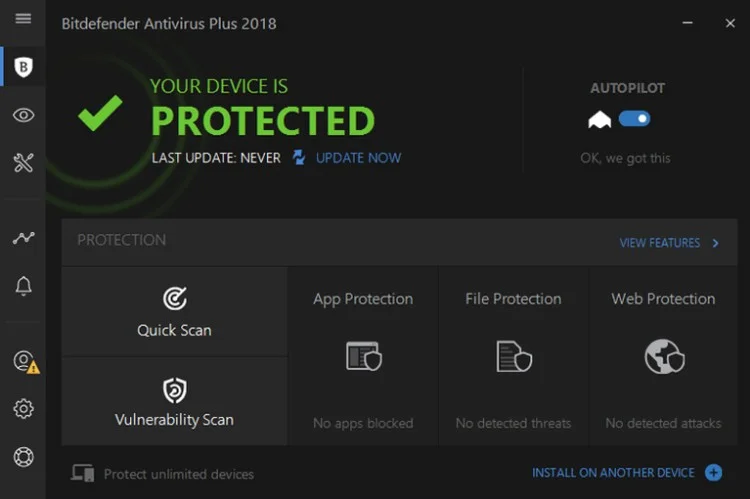 Platform: Windows
Pros: Clean interface, user-friendly
Bitdefender is one of the world's most trusted names in the antivirus industry with a current market share of more than 8% (August 2018). The company is known for providing a full array of virus protection solution both for personal and corporate users. It also provides a handful of free, standalone applications including Bitdefender antivirus, adware, and quick scan tools.
The Bitdefender Antivirus free edition is a fast and reliable application that possess basically all the fundamental security features. It successfully combines aspects of both virus and malware protection.
One thing I like the most about Bitdefender is that you can scan files and folders just by dragging and dropping them into its home screen. This way you can sweep the download folder whenever you find something suspicious going on there. It also offers web filtering services that protect you from any malicious URLs.
1. Malwarebytes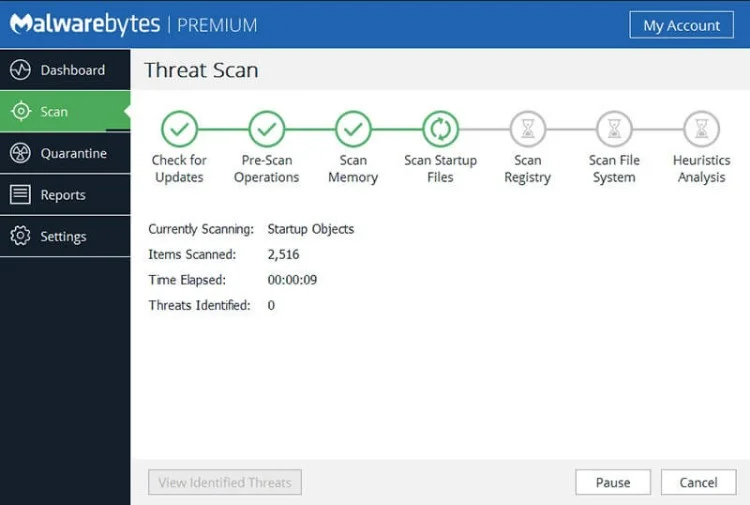 Platform: Windows, macOS, Android
Pros: Easy-to-use, works well with other security apps
Cons: No online protection
Malwarebytes is perhaps the best anti-malware tool available out there. It focuses all its energy to detect and eliminate the most advanced, up-to-date malware threats lurking on the internet and it does that by updating its database almost on daily bases.
It's available in both free and premium versions. A 14-days trial option is also there in case you want to try it out first. The trial version includes real-time scanning and ransomware protection among other basic features. While the free version carries most of its anti-malware capability, it doesn't conduct automated scheduled scans and doesn't provide real-time protection.
Read: 20 Best Free Antivirus and Anti-malware Android Apps
The installation process is fairly easy. First, you need to download the installer from their website, once it's done rest of the process is the same as in other applications. Like most of the other dedicated anti-malware programs, Malwarebytes can affect your system's performance and the degree of it may vary depending on the hardware you are using.
Back in 2016, Malwarebytes announced that they have successfully acquired AdwCleaner in order to provide their users with access to more advanced adware removal technology. Like its parent product, AdwCleaner is also available for free as a standalone product.