Let's be honest, the default media player that comes with Mac and Windows aren't that impressive. A great media player is supposed to handle a wide range of audio and video formats, without forcing you to add some codecs for any new file type that you just discovered online. They should also be able to convert files to a suitable format that you can play on any device or console, striking the best balance between size and quality.
Considering all these key points, we have made a list of the best media player you can get online. They will help you enjoy your favorite music, TV shows and movies like never before. We've kept the list long so you can explore the every best possible option available.
15. MPC HC
Platform: Windows, Android and iOS
Price: Free
MPC-HC (Media Player Classic Home Cinema) is a light-weight, open source media player that supports almost all common audio and video file formats. It also acts as a TV tuner, but you need to have a TV card installed. You will be able to adjust the appearance of video as it's playing.
The player can run HEVC (x.265) files flawlessly, including 4K videos with high bit rates. Moreover, it features Nevcairiel's excellent LAV filters that allow the player to run all videos without any glitches.
14. SMPlayer
Platform: Windows and Linux
Price: Free
SMPlayer is capable of playing almost all known audio and video formats. Apart from being an open source software, it features advanced audio and video filters, equalizer and configurable subtitles.
You can browse YouTube within the software and listen to your favorite radio channel. It is available in more than 30 languages and multiple skins. And yes, it does support EDL files and Chromecast.
13. Media Go
Platform: Windows
Price: Free
Media Go can play, organize and transfer a vast amount of files including pictures, audio, video and podcasts. It automatically creates playlists based on mood and tempo with the help of SensMe technology. Also, you can generate your own views based on advanced search criteria.
Since Media Go is developed by Sony Network Entertainment, it manages content on all Sony smartphones, Walkman, PlayStation and Sony Tablet.
12. GOM Player
Platform: Windows, Android and iOS
Price: Free | Plus version costs $12.50
GOM Player comes with a simple and clean interface. There are some impressive control and tweaking options that you can set according to your convenience to get the best experience. The best thing is it supports 360 degree VR video, which not only allows you to play YouTube videos, but also interactive clips you have shot yourself.
It does support a vast range of media formats, and if you stumble across an unknown file, GOM player will track down the necessary codec needed to play the file. Don't blindly tick all the buttons while installing the player as it will prompt to install a browser extension. Simply unclick this option. The other downside is the free version displays ads, so you will have to learn to ignore the ads that appear within the tool.
11. RealPlayer
Platform: Windows, Mac, iOS and Android
Price: Free | Premium version costs $40
RealPlayer supports multiple container file formats, including Windows media format and QuickTime file format. It features a video download utility, equalizer and video controls, CD ripping, audio recording, a media converter, and graphical animations that appear on the screen when playing audio.
You can share photos and videos on Facebook and Twitter directly from the software. Furthermore, it supports a wide range of plugin (like for audio enhancement, radio tuners and visualizations) so you can extend its functionalities.
10. MPV
Platform: Windows, Mac, Linux and BSD
Price: Free
MPV is an open source software that comes with streamlined CLI options. It supports video scaling with famous high quality algorithms, frame timing, HDR, interpolation and color management to give you the best experience.
The program has a smaller controller, which is triggered by mouse movement. It also leverages the FFmpeg hardware acceleration APIs to support VAAPI, VDA, VDPAU and VideoToolbox decoding acceleration.
9. DivX Player
Platform: Windows, iOS and Android
Price: Free | Pro version costs $20
DivX Player is meant for high quality video playback and cross device steaming. It is optimized for TV shows, movies as well as Internet's video clips. It supports multiple audio formats, so you can switch seamlessly among soundtracks to hear commentary or other languages without interrupting the playback experience.
DivX Media Server allows you stream audio, video and pictures to any DLNA compatible device like Chromecast, PlayStation and Xbox. Along with smooth forward and rewind feature, it supports Chapter points that lets you access different scenes with a simple click.
8. MediaMonkey
Platform: Windows
Price: Free | Gold version costs $25
MediaMonkey takes care of your local as well as network-stored audio and video. Along with basic playback modes, you get a jukebox option and you can push media to DLNA and UPnP devices.
MediaMonkey automatically tags your music and syncs the content to your smartphone or portable media player like iPod and Palm Pre. Moreover, it supports 3rd party plugins integration, so you can extend base functionalities.
7. Splash
Platform: Windows
Price: Free | $20
Splash offers HD technologies (NVIDIA NVENC, AMD APP with hardware accelerated video decoding) in simple and modern user interface. It is developed for High Definition videos smooth playback, especially from HD camcorders.
The player is packed with an advanced post-processing engine that delivers stunning video quality with crisp details and vivid colors. The only downside of this tool is, most of the interesting features come with premium version only.
6. ALLPlayer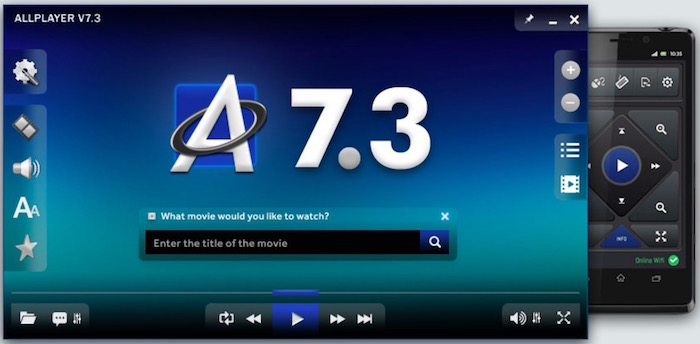 Platform: Windows, iOS and Android
Price: Free | $5
The name speaks for itself – it can play all known and unknown file formats, including MKA, AU, APE, VOB, 3G2, Matroska and M2TS. You can even play unfinished/incomplete files that are still downloading through peer-to-peer network.
The best feature of ALLPlayer is it automatically downloads matching subtitles in all languages. It plays BitTorrent movies and series with suitable subtitles and supports image rotation and color correction for improving the video quality. The player will automatically turn off the computer or monitor after the movie is finished.
5. Potplayer
Platform: Windows
Price: Free
Potplayer is a light weight media player that gives you a huge number of customizations and settings. It comes with a clean interface and several built-in keyboard shortcuts and hotkeys.
The player supports almost all types of 3D glasses, 3d output and codecs that you would need to run the less popular file formats. It utilizes the hardware efficiently so that you get the best media experience. Also, the screenshot feature, scene bookmarking and easy configurable shortcuts are worth noting.
4. 5KPlayer
Platform: Mac and Windows
Price: Free
5KPlayer offers a treasure house where you can generate a personal multimedia library stylishly. It is packed with URL analyzing technology to recognize URLs and download music and videos from online sites.
The player supports AirPlay technology to screen mirroring iPad and iPhone to Mac or PC, and stream music and movies from desktop to Apple TV. It is capable to play all Ultra High Definition videos (4K/5K/8K) with multi subtitle and soundtracks, HD camcorder, Blu-ray, YouTube video and satellite radio.
3. KMPlayer
Platform: Mac, Windows, iOS and Android
Price: Free
KMPlayer is a versatile multi-media player that supports a wide range of music, movie and subtitle formats. It plays any media files without any separate codec. It provides both external and internal filters, decoders, audio and video transform filters that doesn't interfere with DirectShow.
The player allows you to record audio, video and take screenshots. You can perform some unique task like set audio/video effects, select part of a video as favorite, remap the keys of remote interface for HTPC and do multiple A-B repeats. Moreover, it runs 3d video while consuming low CPU memory share and providing stable playback via GPU support.
2. Kodi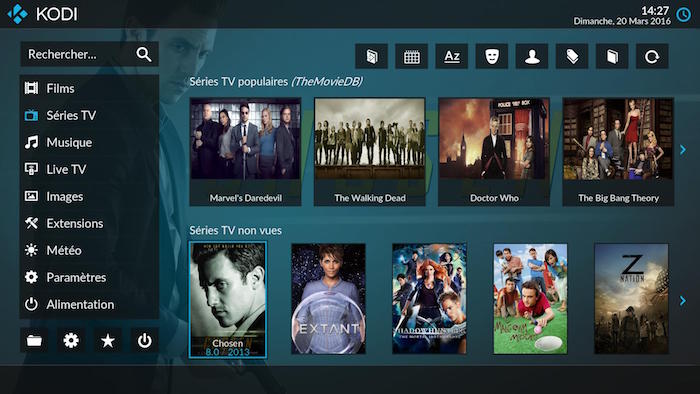 Platform: Mac, Windows, Linux, iOS and Android
Price: Free
Kodi is more of a media hub, featuring a big size (12 inches) user interface so you can use it with televisions and remote controls. It neatly organizes all your media collection and stream it across the home network, which means you can view and play most audio, podcasts, video and other media files from network storage or the Internet.
The vast number of add-ons could be a lot more to take in. It may take you some time to find the best settings to enhance your experience. But once you do, you will probably end up wondering how you never used this tool before.
1. VLC
Platform: Mac, Windows, Linux, iOS and Android
Price: Free
No doubt, VLC is currently the most popular media player that supports almost all file formats – you don't need to integrate any additional codecs. The main reason behind its huge success is, its simple interface. Not only it can optimize video and audio playback, but also supports streaming.
Read: 17 Best Video Editing Software
Since it's an open source software, you can extend its functionality by integrating 3rd party plugins. You can even play Zip without extracting them, and if movie audio is too low, you can manually increase the volume up to 200 percent.