Metal detectors are interesting electronic devices that you can use to find buried treasures, whether you are trekking across a field or strolling along the beach.
They are widely used by treasure hunters and archaeologists to locate valuable items such as coins, jewelry, metallic accessories, and other numerous artifacts buried under the ground.
If you have ever dreamed of being a treasure hunter, you should invest in a quality metal detector. Not only can you use it to locate precious metals, but also find keys and pennies if you happen to drop them in the grass.
After conducting thorough research, we have compiled a list of the best metal detectors available in the market. They all have unique benefits and serves different purposes, so choose as per your needs.
9. Garrett ACE 300
Price: $255
Best for: Beginners and intermediate level hunters
Garrett ACE 300 has all the depth and technology you need to make your treasure hunting adventures and rewarding. It has five detection modes: Zero-Disc, Jewelry, Coin, Relic, and Custom modes.
The zero-pick mode activates the sensor to detect all types of metals and identify good objects that are hidden near trash ones. In custom mode, you can add or eliminate certain types of materials, which increases the chances of finding your target object.
Pros 
Adjustable frequency
Has five detection modes
Target depth Indicator
Control of how much iron discrimination to apply
Cons
Little unstable over saltwater, as it doesn't offer ground balance
The detector features a digital target ID (numerical scale from 0 to 99) that shows the conductivity of the target metal. Higher values indicate large jewelry, gold nuggets, silver, and copper. Lower values represent small jewelry, steel, and iron. All in all, this scale can help you precisely determine what kind of object is buried beneath the surface.
It's a great deal for $250. Along with the detector, you will receive a submersible search coil and a headphone.
8. Bounty Hunter Junior
Price: $70
Best for: kids under the age of 10
If you want your children to stay away from video games for a while, you can buy them a Bounty Hunter Junior Metal Detector. It is a great way to get them outside for some healthy exercise as well as spark their interest in real-life treasure hunting.
The detector has an easy-to-read screen that will let your child know when he/she has found something and how deep it is buried. The 6-inch round search coil can be used in water and wet environments.
Pros 
Lightweight ergonomic design
Graphic target depth indicator
Three-tone target identification
Affordable
Cons
Operating at a frequency of 6.6 kHz, the device does a pretty good job at locating targets. It can detect everything from gold to coin-sized objects. Another great feature of this detector is the discrimination, which allows you to eliminate signals for unwanted items with a simple push of a button.
7. Minelab Vanquish 540
Price: $369
Best for: serious detectorists to precisely locate various targets
With advanced technology not found in some of the most expensive devices, Minelab Vanquish 540 is the ultimate detector for intermediate users and experts. This lightweight machine comes with a waterproof 12-inch search coil for greater depth.
What makes it unique is Minelab's Multi-IQ technology, which enables the machine to operate at three frequencies (high, medium, and low) simultaneously, giving you the best of all worlds whatever you are searching for.
It offers 3 pre-set detecting modes, iron-bias control, 24 discrimination segments, and pinpoint mode to locate targets with extreme precision. You can even save configurations for custom searches. It works equally well in dryland, wet sand, and saltwater. 
Pros 
Operates at several frequencies at the same time
Four search modes + one custom mode
Monochrome LCD with red backlight
Automatic noise canceling
Save settings for custom searches
Cons
Built quality is not that great
The model also includes a headphone, red LED backlight, rain cover, arm strap, and rechargeable batteries, all for under $370.
6. Fisher 22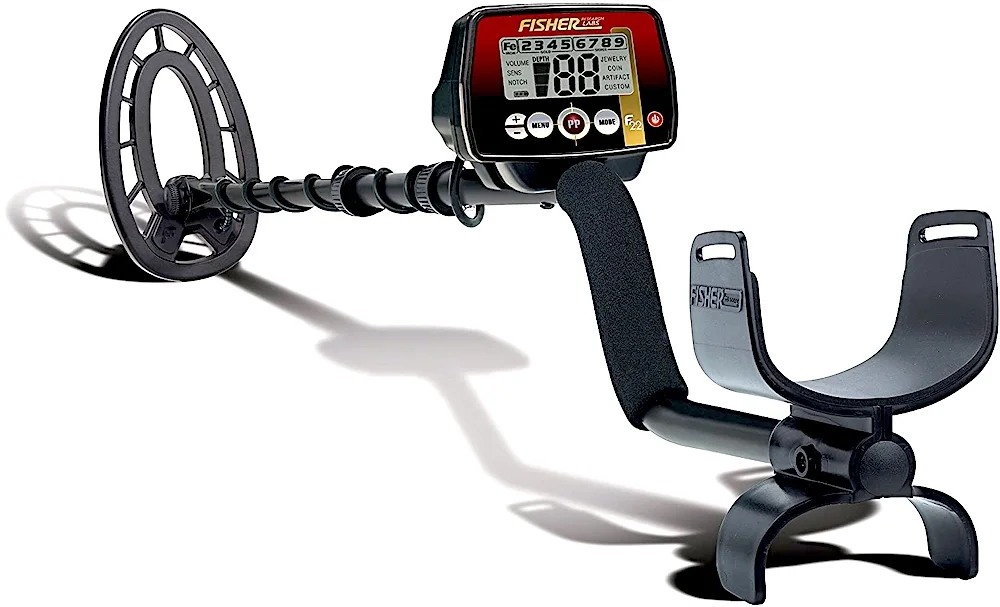 Price: $219
Best for: hunting in rough environments
Fisher 22 is a weatherproof metal detector for hunting in tough conditions. Although it is not built for underwater use, it works great in both dry and wet environments.
The model operates at 7.69 kHz, which is enough to detect small coins, jewelry, and artifacts. It can operate for 15-20 hours on a single charge. The LCD shows all important information, including Numerical Target-ID, depth level, and battery level.
With 9-inch triangulated concentrated search coil, four operation modes, ten levels of sensitivity, twenty levels of adjustable volume, and pinpoint functionality, you can easily identify your buried targets.
Pros 
Weatherproof
Easy-to-read interface
Lightweight and adjustable
Long battery life
Cons
False positives on high sensitivity levels
There is a feature called FeTone that allows you to set the volume of ferrous objects lower than the volume of non-ferrous objects for better clarity on desirable targets.
Simply put, this metal detector has all the essential features you need for successful hunting.
5. National Geographic Pro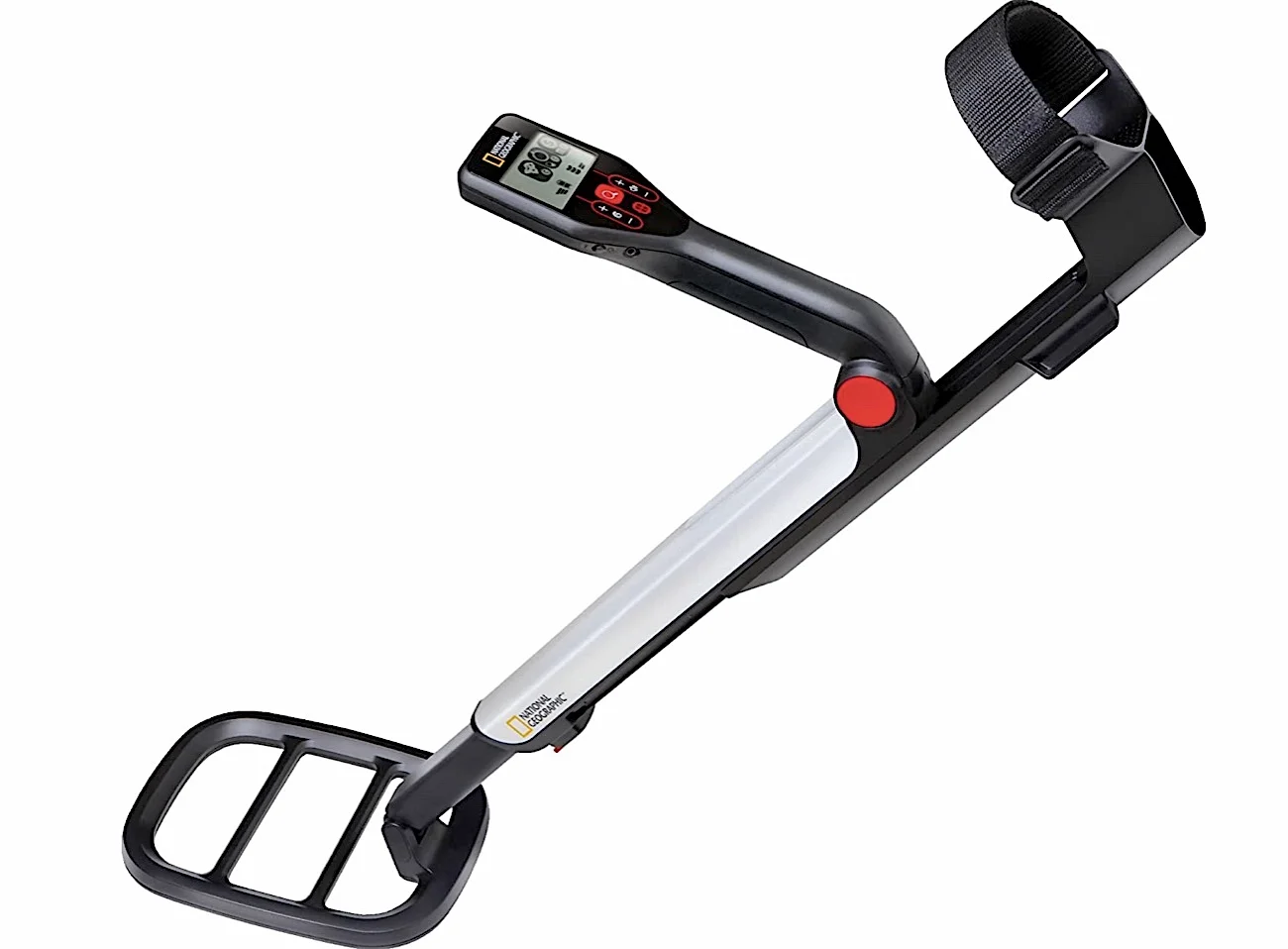 Price: $159
Best for: keen amateur treasure hunters
National Geographic Pro Series metal detector is light enough for kids to operate, and embedded with powerful searching features desired by professionals. The adjustable telescopic arm, padded arm strap, and comfortable grip make it a great fit for people of all sizes.
With this device, you can find small metallic items as deep as 30 centimeters and larger items even deeper. You can configure it to search for a specific type of material or exclude certain metals.
In order to provide excellent coverage and maximize the chances of finding buried items, the device continuously shows a sweeping pattern as you move along. When the object is located, the LCD screen shows the type of material (iron, aluminum, rings, coins) found.
Pros 
No assembly required
3 detection modes to filter out unwanted items
4 sensitivity modes to detect items as deep as 30 cm underground
Audio alert detection
Excellent customer service
Cons
Build quality is not as good as other brands
The complete unit is so light and portable that you can take it anywhere you go. Use it in your yard, bring it to the park, beach, or on a hike.
4. RM Ricomax GC-1028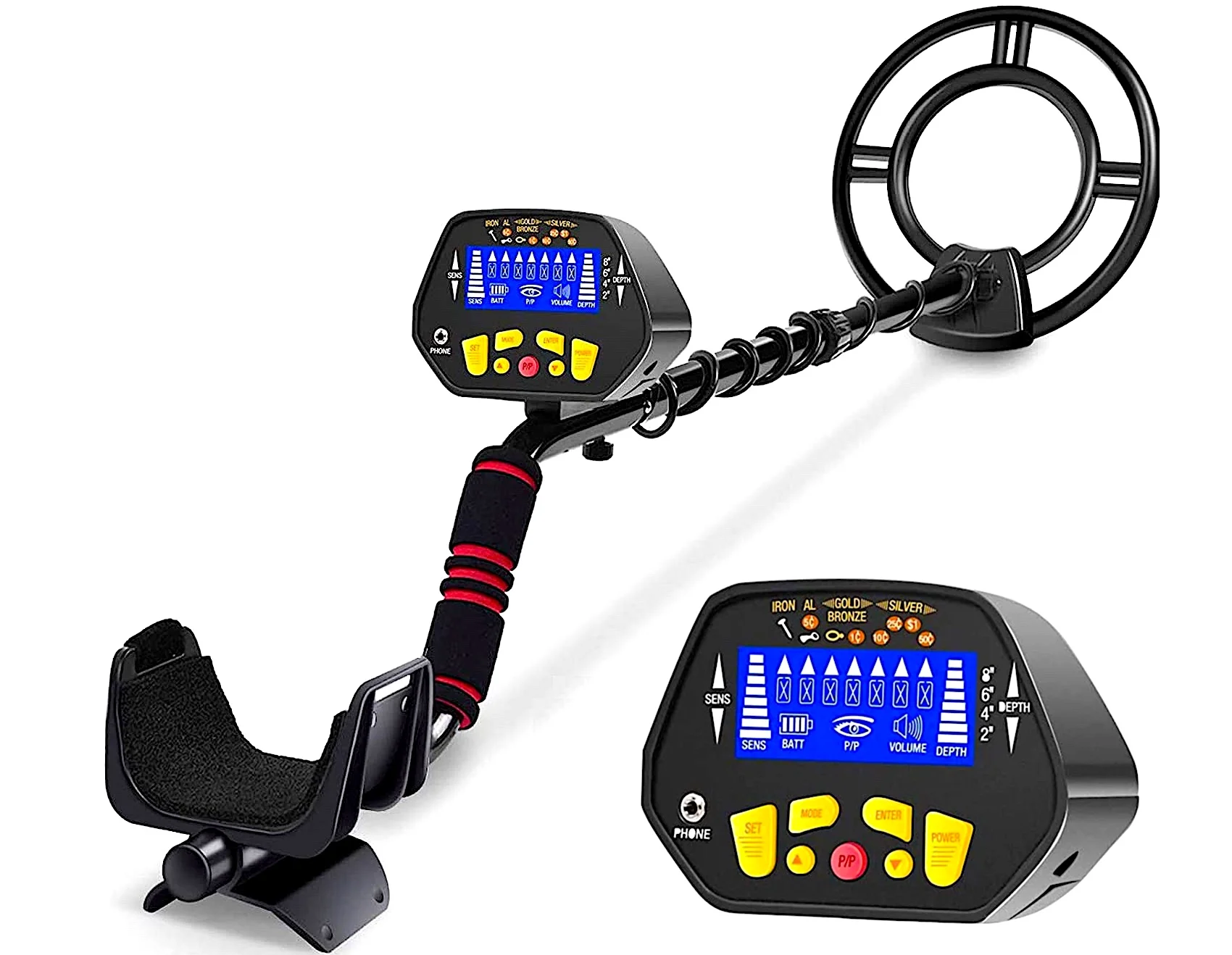 Price: $110
Best for: detecting aluminum, gold, bronze, silver, and iron
The RM Ricomax GC-1028 has a modern, LCD screen and it is easy to assemble directly from the box. You won't even need to read the instructions.
With an adjustable length between 41 and 47 inches, the detector is suitable for teens, young adults, and adults. It features three search modes and one pinpoint mode that allows you to find objects within 8 inches. The LCD panel continuously displays how deep the target is so you will know how far you have to dig.
Unlike most metal detectors, the LCD on this machine is backlit. This is a great feature for those who love to search from dawn to dusk.
Pros 
Sensitive and waterproof searchcoil
Intuitive LCD control box
Distinctive audio tones for different types of metal
Lifetime warranty
Cons
Plastic bolts may need to be replaced over time
The model comes with two accessories: a bag to carry the detector and a small trowel to gently dig up your findings. What's more impressive is the manufacturer offers a lifetime warranty and a free replacement policy (if you purchase via Amazon). You can't go wrong by selecting this detector.
3. Nokta Makro Simplex+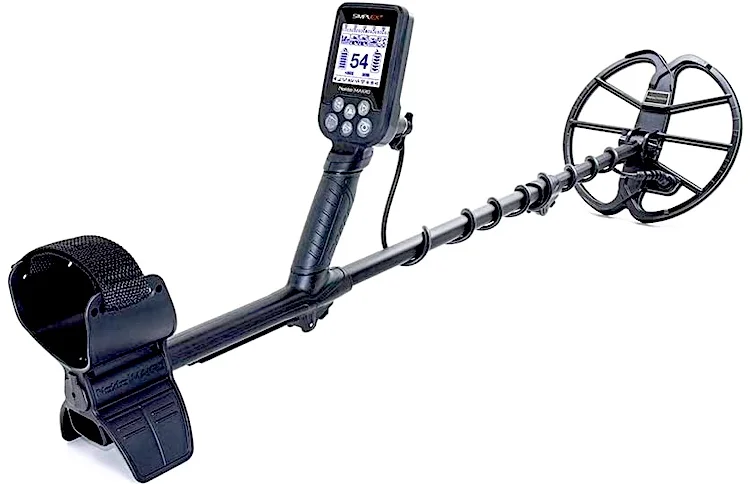 Price: $250
Best for: hearing impaired users
Nokta Makro Simplex+ makes quality metal detecting available and affordable for all users. It is simple enough for beginners yet impressive enough for advanced users.
The device has all the necessary features — auto ground balancing, multiple search modes, easy-to-understand menu design, LED flashlight, keypad backlight, and more.
Operating at a 12 kHz frequency, Simplex+ can detect various types of materials. You can even dial down or up a notch to fine-tune the frequency for electromagnetic interference or other nearby machines operating at similar frequency ranges.
Pros 
Adjustable frequency
Fully submersible up to 3 meters
Vibrates upon detection of target
Charge it with the supplied charger or a USB powerbank
Regular firmware updates
Cons
Not designed for deep seabed hunting
The device vibrates when it detects the target. This is quite a useful feature for detection underwater and for hearing impaired users.
What's more? Nokta Makro offers firmware updates (can be installed via USB) at regular intervals, so you get the most of your detector.
2. Garrett AT Pro
Price: $550
Best for: finding treasures on land, on beaches, and even underwater
Garrett AT Pro is a high-quality machine that can be used on land and in freshwater and saltwater (up to 10 feet). It features configurable notch discrimination so you can set which items are acceptable and which aren't.
While it operates at 15 kHz, you can change the frequency using four slightly different settings. The electronic pinpointer pushbutton makes it easy to find the exact location of a target.
The metal detector is integrated with Garrett's patented High-Resolution Iron Discrimination and Iron Audio technology, which allows you to audibly identify "trash" iron objects like bottle caps and washers.
Pros 
Adjustable frequency
Waterproof and submersible
Comfortable arm grip with strap
40 levels of iron discrimination
3 Standard audio modes
Cons
No back-lit display
False positives in saltwater
If you are a serious enthusiast, this is the perfect machine for you, as it pinpoints within 2 inches of where you will need to dig. However, if you are doing this for fun and cost is a concern, you should go with other brands.
1. Fisher F75
Price: $550
Best for: beach hunting, gold hunting, coin shooting, and gold prospecting
Fisher F75 combines advanced features and technology with an easy-to-use control and display screen. These features make the device more versatile with greater depth, better target separation, and audio functionality.
It is equipped with digital shield technology (DST) that minimizes the issues caused by power lines or cattle fences, enabling you to get closer to the target without the device becoming unstable and sounding off randomly.
Since the detector operates at 13 kHz frequency, it can find a wide range of targets in different ground conditions. You can even shift frequencies to accurately locate specific objects such as coins, gold, silver, and relics. In iron-infested regions, the detector eliminates unwanted targets with ease.
There is a function called FastGrab that activates automatic ground balancing. It measures the magnetic properties of the soil in order to cancel interference from naturally occurring minerals in the ground.
Pros 
Digital Shielding Technology suppresses electromagnetic radiation
Double-filter discrimination mode for hunting in trashy regions
Magnetic mineralization bar graph and readout
Fully adjustable armrest
Up to 40 hours of battery backup
Cons
Steep learning curve
Quite expensive
The LCD screen displays the electrical signature (target ID) of the detected item and provides continuous information on ground mineralization (which affects detection depth).
Read: 20 Rarest And Most Expensive Materials On Earth
Other Greate Metal Detectors
10. OMMO
Price: $200
OMMO metal detector comes with an IP68 waterproof search coil that can detect small coins and metal objects up to a depth of 8 inches, and larger objects up to 36 inches. It has three distinct modes to help you optimize your detecting process. Disc mode, for example, allows you to differentiate a specific type of metal from others.
While it works on dryland, beaches, and underwater, areas with excess metal waste and highly mineralized soil should be avoided.
11. Fisher GoldBug-DP
Price: $600
Fisher GoldBug-DP is specifically designed for finding small gold items. It has a sophisticated ground balancing system, an advanced discrimination control system, and separate control over signal gain and threshold.
Operating at a frequency of 19 kHz, this device can locate very small gold nuggets even in highly mineralized soils. It offers continuous ground condition readouts. Ground Phase value, for example, indicates the type of mineralization, and the Fe3O4 graphic indicates the amount of mineralization.
Read: Is Gold Magnetic? Does It Stick To Anything?
12. SUNPOW OT-MD03
Price: $110
OT-MD03 is an entry-level metal detector that allows searching in multiple terrains. It can accurately detect aluminum, gold, silver, and bronze. You can distinguish the type of material by their unique audio signals and ignore junk objects by configuring the DISC range to enhance the detection efficiency.
The machine comes with a 10-inch search coil, carry bag, folding shovel, and user manual. You will need to purchase 8x AA batteries separately. It is recommended to use alkaline batteries instead of carbon batteries.
13. Garrett Sea Hunter MK-II
Price: $750
Sea Hunter MK-II is an advanced pulse induction metal detector that allows you to explore treasures down to 200 feet. It has 22 frequencies to enable the best detection in harsh environments.
The complete unit is waterproof, and the included headphones are submersible too. This makes it an excellent choice for scuba divers and users who like to hunt sunken treasures. It can be assembled into four configurations: short, long, full length, or hip mount.
Frequently Asked Questions
Who invented metal detectors?
In 1874, French electrical engineer Gustave Trouvé invented a hand-held instrument for pinpointing and extracting metal objects (like bullets) from patients. Inspired by Trouvé, Alexander Graham Bell developed a metal detector through the use of an induction balance.
In 1925, Gerhard Fisher invented a more accurate metal detecting system based on radio direction-finding. These were the first advanced metal detectors to be sold commercially in 1931.
Read: Who Invented Electricity? The Complete Truth
How does a metal detector work?
While different metal detectors work in different ways, their principle mechanism remains the same. The simplest form of a metal detector contains a coil of wire called a transmitter coil. When electricity flows through this coil, it creates a magnetic field all around it.
If you move the detector over an electrically conductive object, the object creates a magnetic field of its own. The magnetic field coming from the metal piece is detected by another coil of wire called the receiver coil.
This secondary coil sends a signal to the receiver circuit, which then makes a speaker buzz, alerting you that you have found something.
How deep a metal detector can detect?
A good quality machine can detect coin-sized objects 6 to 10 inches below the ground. In ideal conditions, it can find larger objects 14 to 16 inches below the ground. Some advanced detectors, operating at multiple frequencies, can go as deep as 60 inches. However, this depends on several factors, such as
The size and shape of the target
Metal composition (silver, copper, brass have higher electrical conductivity)
Soil condition (mineralized soil can cause trouble)
Detector's sensitivity levels
Read: 14 Different Types of Metals | With Examples
What to considers before buying a metal detector?
Following are the questions you should ask yourself before making a purchase:
What is it you want to find?
Where will you use the detector?
How often will you use the detector?
How much experience do you have?
How much money are you comfortable spending?
If you are a beginner, we will recommend you to go with a lightweight device that features automatic ground balancing, digital controls, multiple preset modes, and sensitivity adjustments so you can ignore trash items.