If you have a great idea for your business but don't know where to start, you are landed at the correct destination. You can achieve your goal within time and budget by using mind mapping technique. It is the process of visualizing diagrams and flow charts to describe ideas and list possibilities.
There are tons of tools available to describe complex structures and concepts so your team can understand them in a better way. They can be used in project planning, collecting and organizing ideas, presentations, forecast revenue and brainstorming – all in order to help solve problems, uncover new ideas and figure out the available resources.
We have collected a few useful mind mapping tools to help you summarize and visualize information, with both paid as well as free versions available to suit any requirement and budget.
25. iMindMap
Platform: Windows, Mac, iOS and Android
Cost: Starts at $100 | Free trial available
iMindMap is quite a digital thinking space that has unique free-form brainstorm view, mind-map view, accessible presentation view and responsive fast capture view. Select either buzan-style or professional-style map based on your requirements. Then you can assemble your ideas along with an interactive timeline and turn them into actionable task and plan with precision.
24. XMind
Platform: Mac, Windows and Linux
Cost: Free | $79
XMind increases your work efficiency and improves your mind mapping experience enormously. All mind map structures contain a root in the center, with main branches emitting from it. It offers Tree chart, Logic chart, Org chart – all can be used within one map. The tool comes with many cool features like slide-based presentation, gantt view, share dialog, new clip arts and useful templates, themes and fonts and more than 60,000 pretty icons to create an impressive mind map.
23. MindMup
Platform: Web based tool
Cost: Free | Starts at $2
MindMup is developed to help you focus on your ideas and remove all the distractions while mindmapping. It has a smooth interface and powerful keyboard shortcuts that will help you speed up your work. You can utilize a wide range of connections while building your map, add pictures or references as needed, and make it as complex as you want. When finished, download your work in PowerPoint, PDF and other common formats.
22. WiseMapping
Platform: Web based tool
Cost: Free
With WiseMapping, you can start mind mapping without logging in. It only takes minutes to master and works on all modern browsers as it uses vector graphics and HTML5 to render the diagrams. It comes with easy-to-use drag and drop interface. When done, download and save maps as PDF document, FreeMind file or image.
21. Mindomo
Platform: Mac, Windows and Linux
Cost: Free | $36
Mindomo is easy-to-use standalone software for concept mapping and outlining, especially designed for students and teachers. It helps you brainstorm and organize your events up to the smallest details. Either start from the scratch or switch to an outline view with just one click. With Mindomo, you can build flexible structures having multiple connections between topics. The task maps have easy-to-reorganize task lists, deadline mechanism and hierarchical overview to help you monitor your work.
20. Scrapple
Platform: Mac
Cost: $15
Scrapple is a freeform text editor that lets you make notes anywhere on the page and connect them using arrows. It's exactly like working on piece of paper and drawing lines between related factors. Unlike paper you can move notes around and never run out of space. There is no built-in hierarchy at all; you can connect any branch the way you like.
19. iMindQ
Platform: Windows, Mac, iOS, Android and Web based tool
Cost: Price starts at $39 | Free trial available
With iMindQ, you can organize thoughts, create concepts, generate new innovative notions and guide your brainstorming sessions. It offers great flexibility and freedom for structuring information that exceeds the core mind mapping principle. You can build beautiful concept maps, flowcharts, organizational charts, WBS charts and other types of diagrams. Moreover, share your ideas with anyone by exporting your work as interactive HTML maps.
18. Mind Vector

Platform: Mac, iOS, Android and Web based tool
Cost: Free | $10
Mind Vector is a traditional mapping tool to turn your ideas into slick charts and presentations. It comes with an intuitive, easy-to-use interface and tracking feature to improve your productivity. You can add icons, color, line style, map themes, and export your final work in PDF, CSV and PNG format. The vector cloud option gives you the facility to collaborate with your friends and access your maps from any platform.
17. Stormboard
Platform: Windows, iOS and Android
Cost: Start at $5 per month | Free version available
Stormboard lets you organize, brainstorm, prioritize and act on your thoughts, from anywhere, on a realtime sticky note whiteboard. It models your existing business processes using templates, which can be customized according to your specifications. As a team member you can add your vote to one idea or spread them around and instantly see what ideas your team likes and dive deeper on the best plans.
16. Freeplane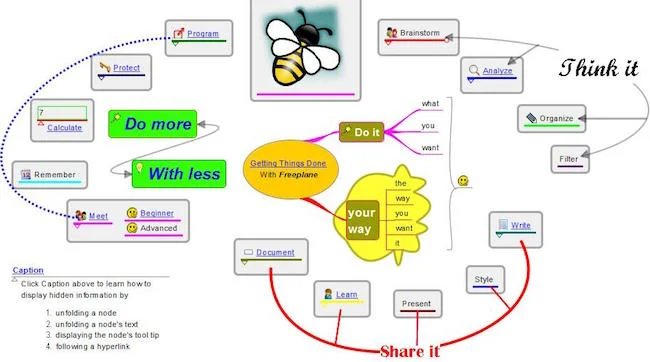 Platform: Windows, Mac and Linux
Cost: Free
Freeplane is an open source application for sharing information and getting things done at work and home. It can be used for mind mapping and analyzing the information contained in mind maps. All topics (nodes) can be formatted and can contain text, pictures, hyperlinks, and can be connected with labelled lines. They can represent hidden information or content can be password protected or connected to a particular time or filter.
15. SimpleMind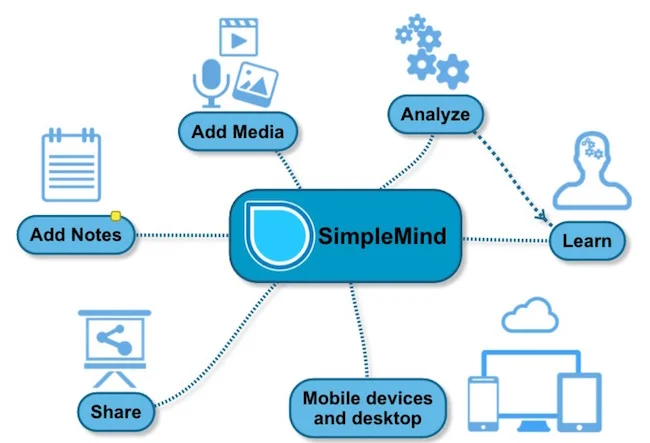 Platform: Windows, Mac, iOS and Android
Cost: Starts at $30 | Free trial available
SimpleMind turns your computer/phone into a brainstorming, idea collection and though structuring device. There are multiple unique free layout to organize your plan exactly how you want it. The tool lets you analyze how the information fits together, grasp the underlying structure and create unexpected connection. Moreover, it comes with a colorful UI, which is quite pleasant to look at, and couple of themes to customize the fell of your mind maps.
14. iThoughts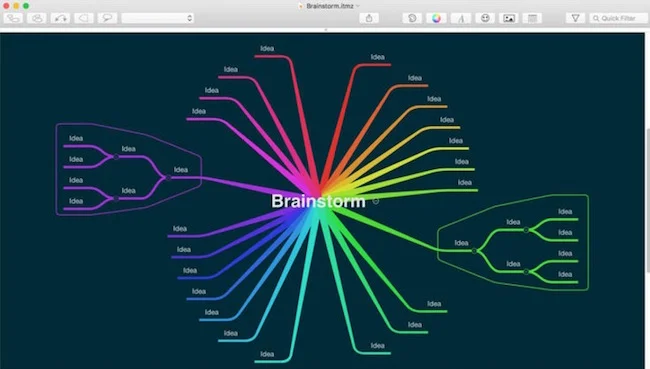 Platform: iOS and Mac
Cost: $12
iThoughts lets you organize your thoughts, ideas and information in a much useful way. It has multiple layouts, link styles, map styles, topic selection, 90 clipart images, more than 100 icons and 35 background canvas patterns. You can assign start or due date, progress, priority and resources to each task. In addition, there is an advanced search and filter option across all maps.
13. MindNode
Platform: Mac and iOS
Cost: $30
MindNode lets you brainstorm, organize and share your ideas in an intuitive way. Its clean interface allows you to concentrate on creating and connecting thoughts. The nodes are foldable, which means you can create a big mind mapping tree without being overwhelmed by the data. Moreover, the software automatically shares your work between all your devices using iCloud Drive.
12. FreeMind
Platform: Windows, Mac and Linux
Cost: Free
FreeMind is open source software that has all features to give a tough competition to paid tools. It allows you to keep track of subtasks, state of subtasks, time recording, source of information and small size notes with links. Features like fast one-click navigation, smart drag-drop, smart copy-paste, built-in icons and support for fancy graphics makes this tool even more interesting. The only negative point is its UI, which looks quite outdated.
11. Bloomfire
Platform: Web based tool that integrates through API
Cost: Starts at $9 per month
Bloomfire is not just a brainstorming and mind-mapping tool – it's a complete suite for knowledge management. If you are part of a large creative team that generates a lot of ideas, then this could be the platform you are looking for. It allows you to create multiple maps and charts to drive decisions, track the content that comes from those ideas, and analyze how successful it is compared to other content.
10. Popplet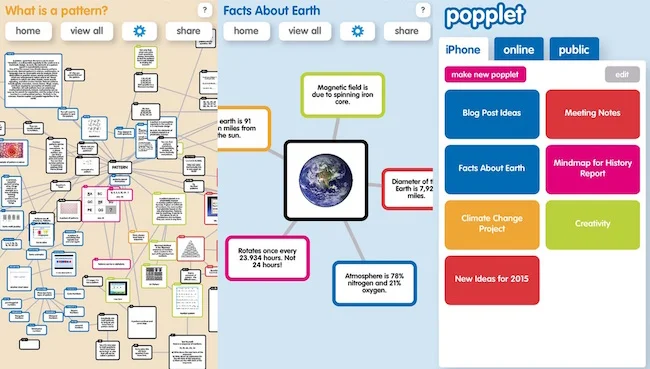 Platform: iOS
Cost: $4.99
The simplest tool to capture and organize your thoughts. With Popplet, you can quick jot down your plans and sort them visually. You can create unlimited local board and capture notes in text and images. There are multiple drawing tools to change colors, design of board and link notes to each other visually. When finished, you can export your file as a PDF and JPEF file.
9. TheBrain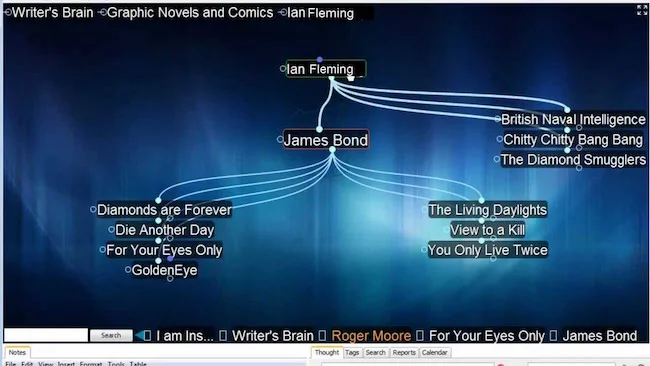 Platform: Windows, Mac, Linux, iOS and Android
Cost: $219 | Free trial available
TheBrain helps you manage particular projects to get the big picture on your ideas and figure out the right information in seconds. It doesn't only bring up the right idea, but lets you shift contexts quickly and get immediate visual details by viewing connected topics. The tool is infinitely scalable and supports hierarchical charts, nonlinear network, dynamic and animated view with over 1 million items.
8. Sketchboard
Platform: Web based tool
Cost: Start at $7 per month | Free version is available
Sketchboard is an infinite online whiteboard that lets you work with your team members and get real-time feedback. All your diagrams and sketches are reusable. The tool allows you to sketch software design, simplify team presentation, sketch UX flows, build roadmaps and spot bugs faster. Also, if you have already completed half of your work in some other tool, you can integrate your work with Sketchboard and then choose from over 400 sketch shapes and note down your thoughts with a clean typeface.
7. Ideaflip
Platform: Windows and Mac
Cost: Starts at $9 per month | Free trial available
Ideaflip is elegant and simple tool for collecting, developing and communicating your thoughts. It's an organic space for ideas to develop and grow, free of any linear, rigid structures. Each note can function as many different objects or as imported ideas from other platforms.
6. GoConqr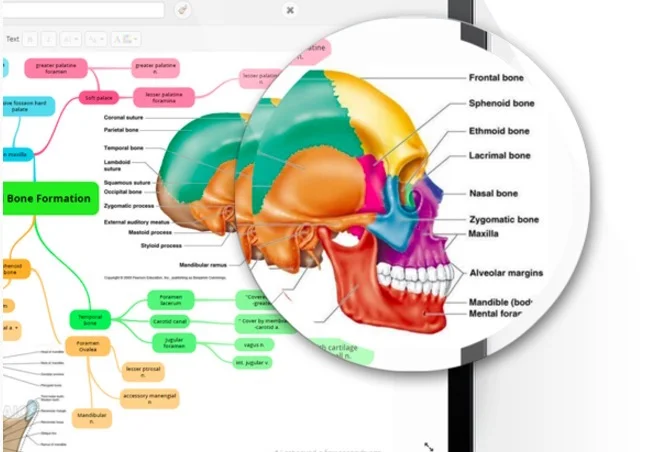 Platform: Web tool
Cost: Starts at $2.5 per month | Free version available
GoConqr not only allows you to create clear learning content, but also delve a little deeper by attaching snippets that you can fill with informative pictures, notes, videos and links to other resources. You have full control over visual elements like fonts, colors and size of elements. With this tool, you can maintain a simple visual overview while easily accessing relevant information with more depth to provide context.
5. MindManager
Platform: Windows and Mac
Cost: Start at $205 | Free trial available
MindManager inspires creativity and conquers complexity via flexible maps and diagrams that promote freeform thinking. With this tool, you can manage your work more effectively and communicate complex topics more clearly. Progress markers, status reviews, visible due dates and resources – you get all in a single application. Although it is quite expensive, the product is excellent when it comes to features.
4. Bubbl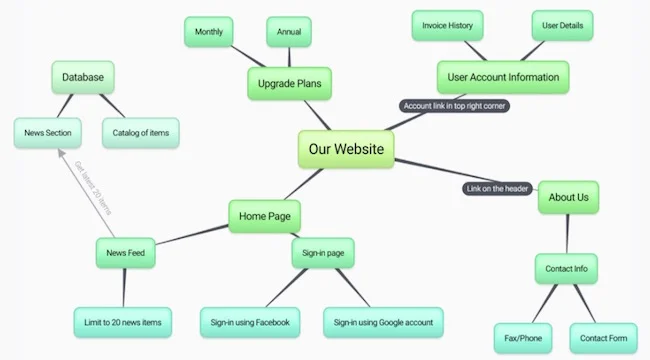 Platform: Web based tool
Cost: Free | Premium version start at $4.91 per month
With Bubbl.us, you can create colorful and engaging information structure to better understand, remember and generate new ideas. Then you turn your mind map into a presentation within a click and download it as an image or HTML format. Premium version supports real time collaboration, revision history, enhanced sharing option and advanced user management.
3. Coggle
Platform: Web based tool
Cost: Free | Premium version start at $5 per month
Coggle create mind maps with colored nodes and branches. All maps are collaborative – either work alone or invite team members. The free version provides you unlimited public diagrams, image uploads and over 1,600 beautiful icons. You can add comments or detailed nodes to auto-arranged-branches. When done, download your work in PDF, image or text format.
Read: 15 Best Test Data Generation Tools
2. Novamind
Platform: Windows and Mac
Cost: Free | Premium version starts at $7 per month
Novamind puts your thoughts and ideas in an interactive visual map. It starts with a central topic and lets you brainstorm and organize all the details of your project while providing a literal big picture along the way. Its layout engine helps you design quickly as the topics are not allowed to overlap on top of each other. Furthermore, it is packed with topic-numbering, full visual control, automatic text coloring, checkboxes, and much more.
1. Creately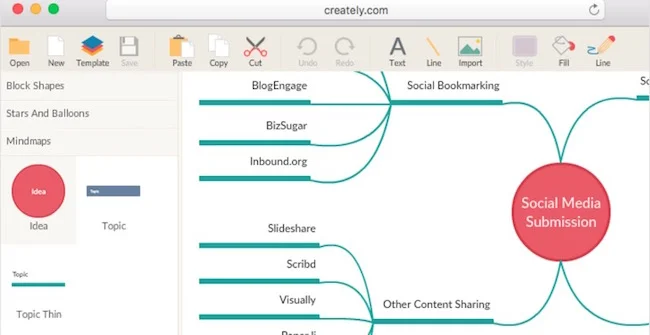 Platform: Windows, Mac, Linux, Android, iOS and Web tool
Cost: Free | $75
Creately comes with one click and connect feature to draw mind maps much faster than traditional tools. It automatically aligns ideas to the right/left of the topic. Smart objects adjust according to the context, the connectors automatically fit to the closest point in the topic, and text adjust itself according to the relative position, saving you countless minutes spent on aligning. Moreover, the real-time collaboration feature helps you organize better as a team and all modifications are saved as revisions so you can revert back to the original state anytime.
Read: 25 Small Business Collaboration Tools to Streamline TeamWork
Remember, it is as much about elimination as it is about selection. Before you pick the right tool, you should consider what kind of project you are undertaking. If your needs are extensive, go for commercial powerhouse like MindManager or TheBrain. If you want something simple, choosing Mindomo or FreeMind will save you a lot of bother.