The Ryzen 7 3700X is one of the most powerful chips developed and manufactured by AMD. With 8 cores, 16 threads, and a boost clock of 4.4 GHz, this processor offers everything a serious PC enthusiast needs to build an all-round computer.
The processor is suitable for all kinds of usage, including video editing, content creation, gaming, and other heavy-duty uses. Although it is not the strongest chip ever created, when you consider the actual performance gain it offers, you are certainly getting a lot of bang for your $310 buck. 
If you do end up with the 3700X, remember that this is a powerful processor that requires a quality motherboard. While there are many motherboards available in the market that support 3700X, not all can deliver a good performance.
In this overview article, we have mentioned some of the best motherboards for the Ryzen 7 3700X that can squeeze the best performance out of the CPU and GPU.
Some motherboards need BIOS updates — you can download the latest compressed BIOS update file from the official website of the product. 
9. ASUS ROG Strix B450-F Gaming II
Price: $155
Form Factor: ATX
With ample power to fuel 3700X's cores, plus comprehensive cooling and connectivity options for various hardware, this motherboard has everything you need to build an affordable, high-performance PC.
The ROG Strix B450-F Gaming II provides a robust power solution — 8+4 discrete MOS with high-quality alloy chokes and durable capacitors. Dual PCIe 3.0 M.2 slots, AMD StoreMI support for fast storage speeds, and enhanced DDR4 memory stability further improve your gaming experience.
Pros 
Overclocks 3700X without issue
Debug panel LEDs
Automated system-wide tuning
Aura Sync RGB lighting
Cons
No Wi-Fi
Consumes relatively more power in idle state
ASUS also offers plenty of customization options and guided performance configurations. You get to adjust overclocking, fan speeds, manage network performance, and fine-tune audio characteristics the way you want. All of this can be done via intuitive ROG software.
8. MSI MAG B550 TOMAHAWK Gaming
Price: $175
Form Factor: ATX
The MAG B550 Tomahawk contains various connectors to satisfy gamers. Several USB connectivity options, advanced LAN networking capabilities, and enhanced audio can turn any gaming experience into an immersive one.
Powered by AMD Ryzen AM4 processors, the motherboard highlights include 13-Phase power delivery, two M.2 slots with heatsinks, large VRM heatsinks, high-speed Ethernet ports, and the latest USB 3.2 Gen Type C standard that allow for a range of peripheral and device compatibility.
Pros 
10+2+1 Duet Rail Power System
Improved M.2 thermal solution
Pre-installed I/O Shielding
Mystic Light Extension supports RGB and RAINBOW LED strip
Cons
Doesn't have integrated WiFi
Other boards have better audio codec
MSI's Dragon Center unifies a set of software utilities into a single centralized app, which allows you to take control of all advanced features and unleash countless possibilities.  Overall, MAG Tomahawk offers the best combo of competitive pricing and a well-balanced features set.
7. ASUS AM4 TUF Gaming X570-Plus
Price: $190
Form Factor: ATX
TUG Gaming X570-Plus combines essential features of AMD platforms with proven durability. It is designed to be easy to set up and configure, even for beginners.
The motherboard utilizes 12+2 Dr. MOS power stages that merge low-side and high-side MOSFETs and drivers into a single package, delivering the performance and efficiency that Ryzen 7 3700X demands.
It is equipped with an active PCH heatsink, M.2 heatsink, hybrid fan headers, and Fan Xpert to provide comprehensive cooling. In fact, the board features multiple PCB layers that shift heat away from critical components, offering more headroom to overclock the processor for an extended period of time.
Pros 
Comprehensive cooling
UEFI BIOS design and usability
Exclusive DTS Custom onboard audio
WiFi 6
Cons
Incompatible with some ARCTIC coolers
ASUS also provides a network optimization tool for customizable packet prioritization. This tool helps you reduce lag by up to 45 percent, with no expert knowledge.
6. Gigabyte X570 AORUS Elite
Price: $239
Form Factor: ATX
Gigabyte X570 AROUS Elite offers a rich list of features such as support for PCIe 4.0, refined audio, USB Type-C interfaces, and high speed of Ethernet to fulfill users' data transfer needs. It's a great choice for users who are looking to build the best AMD platform gaming system.
Its efficient thermal design enables you to unleash the full performance of the Ryzen 7 3700X. The motherboard is packed with a high-quality ball-bearing fan which guarantees 60,000 working hours. 
Pros 
High quality ball bearing fan
Efficient heatsink design
Multiple temperature sensors
High quality audio capacitors and audio noise guard
Cons
There are plenty of LED customizations that allow you to transform your PC's look to represent your lifestyle. From graphics cards to peripheral devices, you can personalize your machine with your own style. For gamers, there is a 'gaming mode' that makes the lighting effect interactive, providing you with the most immersive gaming experience.
5. ASUS ROG Crosshair VIII Hero X570
Price: $370
Form Factor: ATX
ROG Crosshair VIII Formula is built with an optimized power-design layout to handle the power of the third generation AMD Ryzen processors without throttling. It has a differential sensing circuit that allows you to track voltages accurately, simplifying overclocking and tuning.
With the dual Ethernet and WiFi 6, the motherboard eliminates all bottlenecks for online gaming — it minimizes lag and provides an overall smoother experience. The M.2 supports AMD StoreMI technology to enhance SSD speeds for faster load times.
The integrated tools make it easier for you to optimize the system. If you want fine-grain control, the UEFI BIOS has numerous advanced options to configure every aspect of your system.
Pros 
Active chipset heatsink and M.2 aluminum heatsink
On-board Wi-Fi 6 (802.11ax) with MU-MIMO support
Automated system-wide tuning
Countless personalization options
Cons
Expensive
A few balky motherboard utilities
For example, you can adjust fans by dragging a curve with the mouse, view SATA port details for easy device recognition, use mouse control to change the date and time, and enable/disable every onboard LED for a more subdued aesthetic.
4. MSI B550M PRO-VDH
Price: $108
Form Factor: Micro ATX
B550M PRO-VDH features a smart design for DIY users and various system tuning and troubleshooting tools. It makes it easy for users (even for beginners) to install the motherboard without any issues.
One of the most important things about DIY is expandability. This motherboard offers countless possibilities for prosumers' needs. Faster storage, high transfer speed, stable LAN, and other expandable connectors increase your flexibility.
You can manage the speeds of CPU fans and check primary system characteristics through a simple graphical interface. There are options to set up four temperature targets for the motherboard and CPU, which will adjust the fan speed automatically.
Pros 
2oz thickened copper PCB
Fully isolated DDR4 circuit
Supports all-in-one & customized water cooling solutions
Easy BIOS recovery with flash BIOS button
Cons
Doesn't support some entry level Ryzen processors
The board also supports many all-in-one customized water cooling solutions available in the market. It has a dedicated water pump PIN header that gives you complete control of the water pump speed.
3. MSI MAG B550M Mortar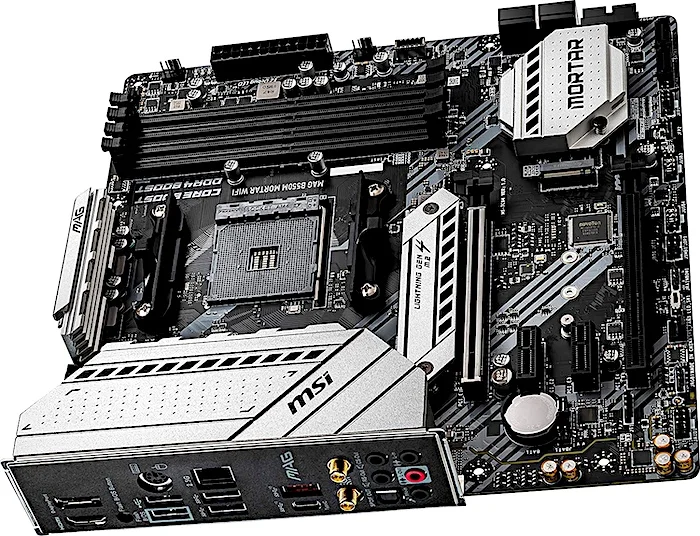 Price: $193
Form Factor: Micro ATX
The MSI B550M MORTAR is packed with 2.5 Gbps LAN, Core boost, PCIe 4.0 slot, M.2 Shield Frozr for the latest PCIe device compatibility, and pre-installed I/O shielding. Its extended heatsink, thickened copper PCB material, and 7W/mK rated thermal pads help components maintain optimal temperatures and sustain extreme performance.
The ultrahigh-speed Ethernet LAN and 2.4 Gbps WiFi 6 provide impressive network connectivity, especially for gamers. To get a superior online experience, users can prioritize latency-sensitive programs via MSI LAN Manager.
Pros 
Supports dual channel DDR4 memory up to 128 GB (4400 MHz)
2.5 Gbps LAN (with LAN manager) and 2.4 Gbps WiFi 6
7W/mK rated thermal pads
USB Type-C on rear and front case panel
Cons
Antennas can get in the way of accessing the rear I/O
MSI LAN Manager automatically identifies and prioritizes certain applications for online games, and allows you to modify the traffic priority of applications or customize bandwidth for each application.
2. MSI MPG B550 GAMING EDGE
Price: $179
Form Factor: ATX
MPG B550 Gaming Edge is built with a six-layer PCB to provide higher performance and long-lasting system stability without any compromise. Its high-quality digital PWM makes sure the system runs smoothly even under extreme conditions. The PCIe Steel Armor protects VGA cards against bending and electromagnetic interference.
The board features enlarged PCIe clips to help you remove or swap your device easily. If you run into trouble, the onboard LEDs (for important components) will show you the source of the error, so you know exactly where to look to get up and running again.
Pros 
2.5 Gpbs LAN and 2.4 Gpbs WiFi 6
Extended heatsink with additional choke thermal pad
Control water-cooling pump speeds
LED lighting and extendable pin headers
Cons
Low count of USB ports compared to other motherboards
The MPG series is specially built for heavy users. It brings the best in gamers by enabling full expression in color with RGB lightning control and synchronization. Users can experiment with different personalization levels with a front LED strip, which provides real-time and in-game notifications.
1. Gigabyte B550M DS3H
Price: $106
Form Factor: Micro ATX
Gigabyte B550M DS3H utilizes a 5+3 phases pure digital PWM + Low RDS(on) MOSFETs design to support Ryzen 7 3700X and other third-generation AMD processors. In addition to delivering precise power to each energy-sensitive component, it provides ultimate hardware scalability.
Its dual M.2 connectors support up to 64 Gb/s data transfer speed. The HDMI 2.1, which is backward compatible with the previous HDMI version, offers 48 Gb/s of bandwidth.
The motherboard is also equipped with a high-performance, friendly network chip — Realtek 8118 LAN — with automatic bandwidth allocation. This provides smooth browsing and gaming experience.
Pros 
Ultra durable PCIe 4.0 ready x16 slot
Rear HDMI & DVI support
Interoperable fans and sensors
Intuitive UI for fan control
Cons
Some SATA ports are obstructed when you use a very long video card
Unlike traditional boards, B550M DS3H uses specialized anti-surge ICs to protect crucial components against static electricity and any sudden surge in power delivery.
Read: 9 Best Micro ATX Motherboards
Frequently Asked Questions
Is Ryzen 7 3700x good for gaming?
With 8 cores, 16 threads, and 4.4 GHz overclock speed, Ryzen 7 3700x is more than enough for gaming as long as you have 16 GB of RAM and enough SSD storage. It should have no problem crunching through any task you throw at it, including image editing, video rendering, audio encoding, and file compression.
What are the best GPUs for Ryzen 7 3700X? 
If you are a gaming freak, you can pair this processor with a top-class graphics chip. The best options are:
Gigabyte RTX 2080 Super Gaming OC
ASUS GTX 1660Ti Phoenix Version
MSI RX5700XT Gaming X
Is it better than Intel i7-9700K? 
This is quite a tricky question to answer. The i7-9700K outperforms Ryzen 7 3700X in most of the gaming benchmarks. The difference can be somewhere between 1 and 20 frames per second (running at 1080p).
Read: 9 Best B450 Motherboards To Buy This Year
If you focus entirely on performance or gaming and budget isn't an issue, Intel Core i7-9700k is the way to go. However, Ryzen 3700X can save you significant money, and you can pour the saved amount into a better GPU or other components.