A music player is something that comes pre-installed or by default in smartphones, but we still need a third-party music application for our Android device, why? Well, there could be a multitude of reasons for that. For instance, a default music application might not have the particular feature you're looking for, or even if there is it's not powerful enough.
Today, almost all Android smartphones come with Google Play Music. It's an easy-to-use application that offers both traditional features along with the support for cloud streaming. However, it still lacks many advanced functions that other apps provide in areas of file management, customization, and control over the sound.
Now the question is, what are the best options available right now. Below, we have compiled 15 best music player apps for Android devices that you should try.
15. Shuttle+ Music Player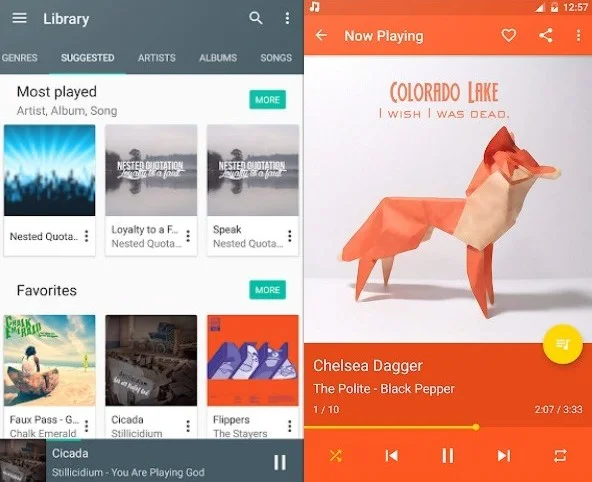 Price: Free/$2.49
First in this list is Shuttle+ Music Player, a potent music app for your Android in almost every way possible. Although new (relatively), its popularity has increased quite handsomely in the recent past.
It follows Google's standard material design principle to ensure a smooth and intuitive user interface. Of course, you can customize its appearance with the help of available theme options and customizable widgets. For some advanced users, the fact that the app is open source might be pleasing to their ear.
With Shuttle+, you will get a six-band equalizer accompanied by bass boost, gapless playback, ID3 tag editor, and scrobbling support, among other things.
14. Musixmatch
Price: Free
Do you spend a considerable amount of time searching the lyrics of your favorite songs? If yes, then Musixmatch is the app you need. A popular platform, Musixmatch, allows users to find lyrics for millions of songs in different languages.
Here you can listen to and get lyrics of songs from popular streaming services, including YouTube, SoundCloud, Google Play Music, and Spotify.
The app allows users to search songs by artist, title, and even by few lines of its lyrics. Its floating lyrics widget gives you sync lyrics in real-time. The app contains ads.
While Musixmatch is not a traditional music player and doesn't have all the features that an advanced music app generally possess, it surely provides something different.
13. jetAudio
Price: Free/$2.99
jetAudio users love this app for its simplicity and robustness. It features a ten bands graphic equalizer with more than 30 different presets to choose from and various sound effect enhancements like X-Bass, Reverb, and Wide.
The application supports popular audio formats, including mp3, wav, FLAC, m4a, tta, wv, etc. It is also capable of playing audio files through WiFi from your home network (shared folders).
Users who want an ad-free experience with advanced features can go with its premium version. Other pro features include 20-bands graphic EQ, tag editor (for specific file types), multiple lock screen options, pitch shifter, and MIDI playback support.
12. Neutron Music Player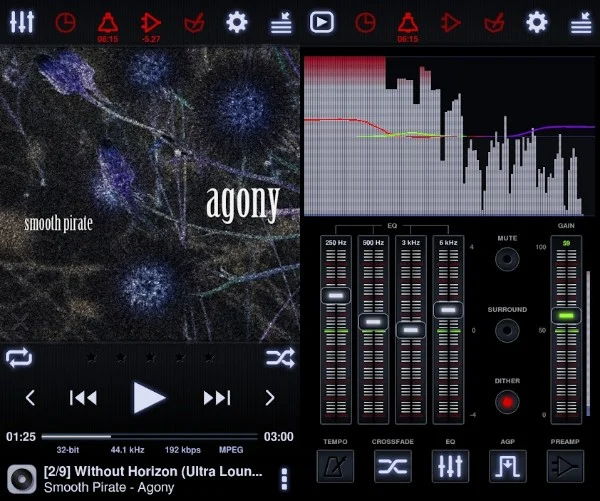 Price: Free trial/$ 5.99
Neutron Music Player is an advanced, feature-rich music app that comes with a 32/64-bit audio rendering engine, which according to its developers, is independent of its host operating system (Android OS) and provides superior audio quality. The app also supports high-quality audio playback without frequency resampling and bit truncation.
Other notable features include sleep/wake timers, Real-Time Spectrum Analyzers (RTSA), crossfade, gapless playback, ReplayGain (a non-destructive audio normalizing technique), dithering support, etc.
Overall, it's a powerful music player app but lags in terms of simplicity and ease of use.
11. MediaMonkey
Price: Free/$2.49
MediaMonkey is another decent music player app that allows users to browse, manage, and play music smoothly without a headache. Just like any powerful music app, it carries several advanced features such as a five-band equalizer, intelligent navigator, and scrobble support. You can also manage your podcasts and audiobooks from the app.
The app puts special emphasis on file management and navigation, due to which you can easily create a queue, add/delete an entire playlist and sort music more effectively. Another critical aspect of this app is that you can synchronize large chunks of media collection from phone to desktop or vice-versa with just a few clicks.
Other features such as sleep timer, chrome cast, and Android Auto support, .are also there.
10. BlackPlayer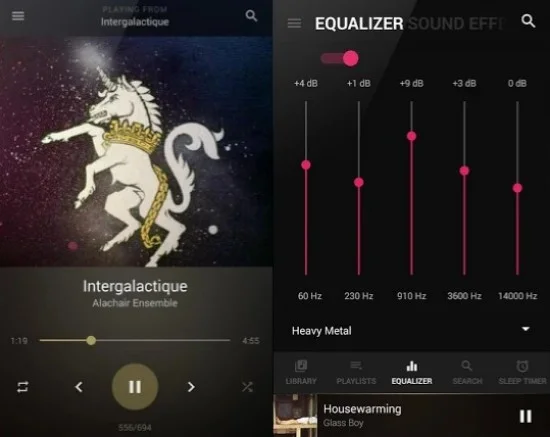 Price: Free/$3.29
BlackPlayer is a simple yet powerful app that is capable of being the go-to music player, even for the most demanding user. The app tries to keep things simple with a flat, minimalist design, but it also comes with plenty of theme options and font choices. It supports every popular audio file formats including, MP3, OGG, FLAC, and WAV.
With BlackPlayer, you get features like basic equalizer, 3D virtualizer, gapless playback, and ID3 tag editor with which you can edit embedded lyrics, artist names, and other meta information. Furthermore, it comes with a sleep timer and support for crossfading.
For those who want to give BlackPlayer a try, keep in mind that its free version not only contains ads but lacks many of the advanced features that are only available on the premium version.
9. Pi Music Player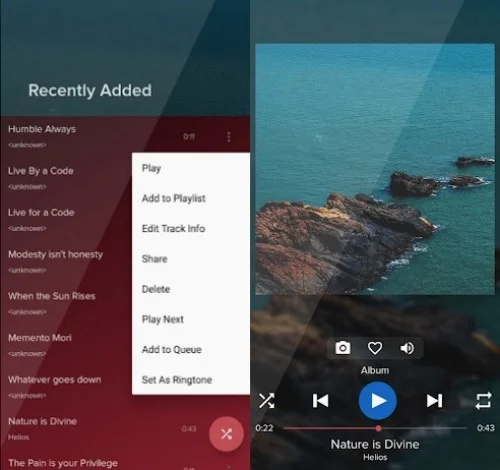 Price: Free
Pi music player might not be a flawless app, but it sure carries all the essential features that a music lover might fancy. The app comes with a simple and attractive user interface and strictly follows material design principles to make sure that it remains an eye candy to users.
Out of all the features, the one I like the most is Pi Power Share, with which you can send your music playlist and tracks to any other device securely. It has a built-in five-band equalizer with 3D audio effects, and multiple presets to choose from. Moreover, you can create your custom MP3 ringtone with the app's ringtone cutter.
8. Rocket Music Player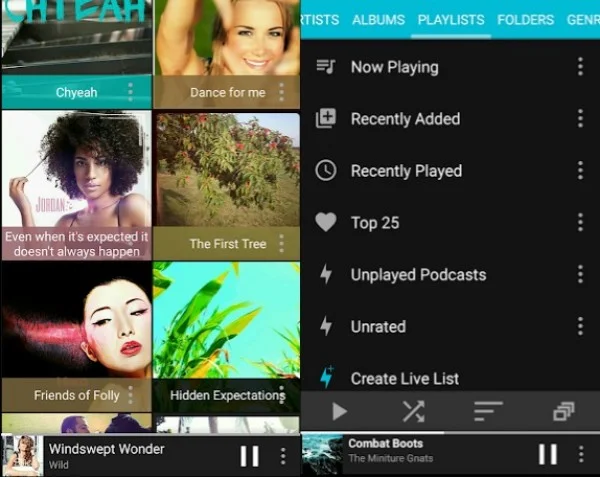 Price: Free
Rocket Music Player is a feature-rich mobile application that allows users to search, play, and manage songs on their smartphones quite easily. The app supports a wide range of media formats, including wav, Ogg, m4a, alac, tta, ape, mpc, wav as well as other popular container formats.
Other features include a ten-band graphic equalizer, tag editor, custom lock-screens, and sleep timer. You can customize the app with more than 30 themes. And yes, it also supports services like scrobbling, Android Auto, and Chromecast.
7. PlayerPro Music Player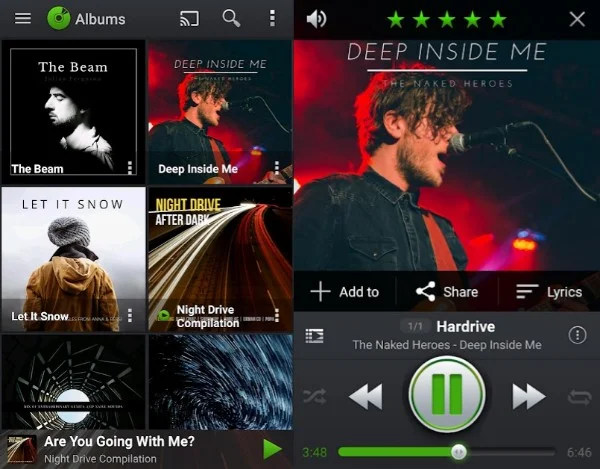 Price: $4,99
PlayerPro might not be as popular as some of the music players on the list, but don't let just some numbers fool you. The app comes with many advanced features such as tag editor, ten-band equalizer, handy import/export capability, etc., which are otherwise rare. Its smart playlist and effective folder management make sure you find your favorite song or album with ease.
After a brief trial of the app, I found its interface intuitive with a great many options. You can also install custom skins and DSP pack at your will.
The app has two different versions; a free, limited release and a paid version. The limited version will remain ads free for about ten days from activation.
6. n7player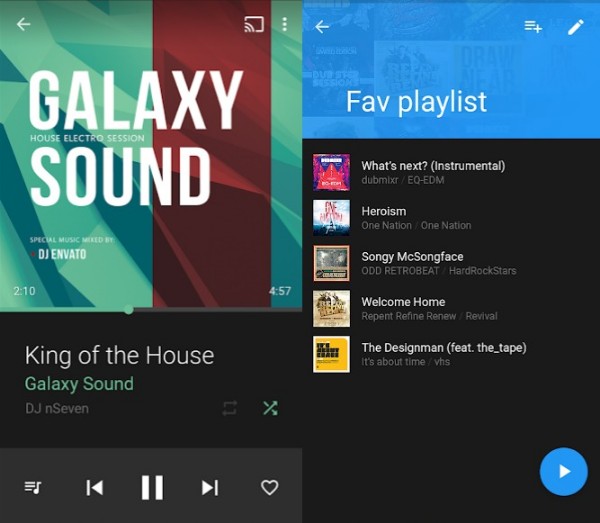 Price: $3.49
Next on the list is n7player, a popular music player known for its innovative and user-friendly design. The app allows one-click access to songs and music libraries. There is a ten-band equalizer, with which you can twitch songs according to your taste. Multiple presets are also available.
The one thing many would like is that the app can be almost completely revamped. Everything from lock-screen to widgets can be customized. Other features include tag editor, music scrobbling, gapless playback, sleep timer, and album art grabber.
5. Apple Music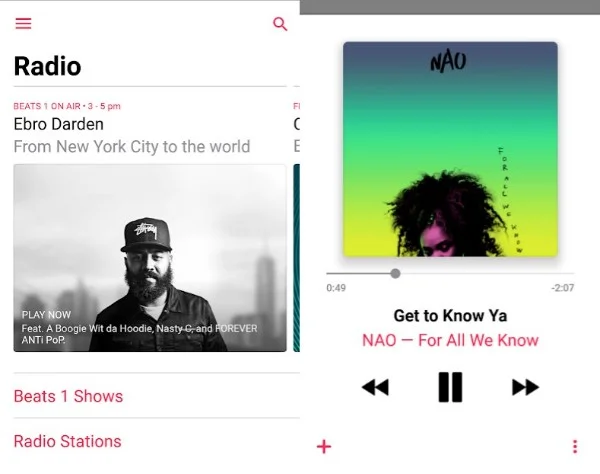 Price: Free trial, $9,99/month
For those who are wondering, yes, Apple Music is also available on the Play store and is no longer exclusive for Apple users. While I have to admit that the application is pretty good overall, it doesn't perform at the level of its original iOS version.
The app allows users to access more than 30 million songs from Apple's media catalog, along with Beats 1, a popular around-the-clock music radio station operated by Apple. You can also explore hundreds of other exclusive content.
Despite the elegance, which you will find in almost every other Apple product, the application is riddled with all sorts of issues. Anyway, just like its iOS version, Apple Music comes with a three-month free trial period, during which you can enjoy the service without ads.
4. Phonograph
Price: Free
Phonograph is a popular Android-based music player known for its smooth and sleek design. It comes with an intelligent UI that dynamically adapts the color of media content to provide you with a wholesome experience. Its clean interface allows users to navigate through their media without any issue.
Apart from performing essential music player functions, the app can fetch additional details related to songs such as title, artist, and album name automatically, you can also edit those details with tag editor.
3. doubleTwist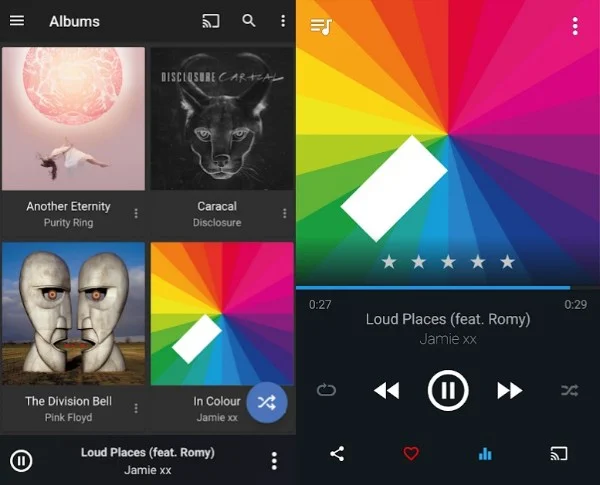 Price: Free
Are you looking for a music app that can also be used as a podcast manager? If yes, then you don't have to look any further than doubleTwist, which can become your favorite music player app from now. Its straightforward interface allows users to navigate between podcast manager and music application easily.
A pro version of the app is also available for those who need advanced features such as Gapless playback, quick album art search, and AirSync, with which you can synchronize all your music files to a different platform over WiFi. The pro version also includes DLNA and Chromecast support.
Read: 12 Best Free Movie Download Apps
2. Musicolet
Price: Free
If you're looking for a powerful music player app that only plays local audio files from your Android device, then Musicolet is perhaps the best option available. It's a lightweight, easy-to-use, and yet feature-rich music app that doesn't support any sort of cloud or media streaming activities.
Its primary purpose is to provide advanced offline functionality to its users that otherwise default music players and even many third-party apps don't offer. Musicolet allows you to create/manage multiple queues for your songs and navigate them with earphone control options.
Other features include a tag editor with embedded lyrics support to edit lyrics and additional metadata information. A sleep-timer is also there in case you need to stop after a specific period.
1. Pulsar Music Player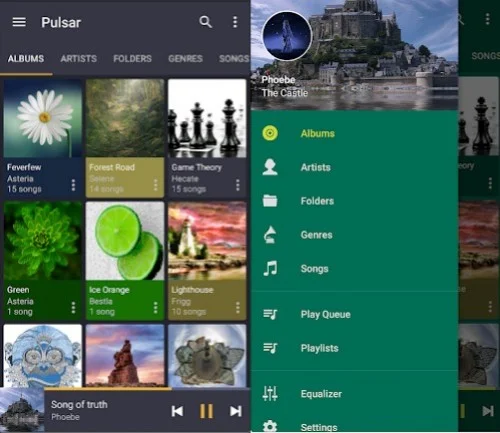 Price: Free
Pulsar is perhaps one of the most favored music apps among Android users and for obvious reasons. It's an easy-to-use, elegant, and ads-free application with powerful features that can fulfill all your music needs.
Read: 15 Best Music Identifier Apps To Find Unknown Track
With Pulsar, you can play and manage all your music files, perform quick searches and edit songs/albums metadata with built-in tag editor. The app also comes with Gapless playback, Crossfade support, ReplayGain, and audio visualizer rendering ability.
It also comes with a sleep timer and Last.fm scrobbling support. Apart from few glitches here and there, it's a pretty decent application and certainly worth your time.