The Need For Speed franchise surely doesn't need any introduction. Even if you're not a fan of racing simulation games, there is still a good chance that you have played an NFS game at least once in your lifetime. That's how popular it is. Those who are actually die-hard fans of the series, like myself, have nice memories about some of the games in the series.
Believe it or not, it has been more than 28 years since the first NFS game was released – Need For Speed in 1994. Since 1994, Electronic Arts has released about 25 NFS games created by different studios and developing houses.
The franchise has seen several ups and downs with some of the most successful and popular installments, such as NFS Hot Pursuit and Most Wanted on one side, and disappointing titles, including NFS Run and Undercover. However, irrespective of a few setbacks along the road, the franchise has proven time and again that they make one of the best racing games for desktop and video consoles.
Almost every great game in the NFS series has a unique feature that makes it stand out from the rest. But there are a few common elements that are usually found in those games. It includes cop chases, extensive customization options, FMV (full-motion video) sequences, or cut scenes.
Below is our list of 12 best Need For Speed games that you should play at least once.
12. Need For Speed (1994)
Platform: MS-DOS, Windows, PlayStation, Sega Saturn
It is hard to leave the original Need For Speed game from the list of best games in the franchise. This is where everything started, with every new game taking a bit from this classic masterpiece, whether it is sprint races or police pursuits.
The game was the first serious attempt towards achieving a more realistic racing sim with better driving elements. It is also known for audio and visual commentaries that were created by Road & Track, an American auto magazine, in collaboration with Electronic Arts. The game was initially released for the 3DO video game console and later for DOS (PC), followed by PlayStation.
Need For Speed (1994) was undoubtedly one of the most popular and advanced racing games of its time.
11. Need For Speed: Carbon (2006)
What do we like about the game: Core gameplay, extensive customization options, FMV sequences
Platform: Windows, PlayStation 2/3, Xbox/360, Mac OS X, Wii, Nintendo DS, Game Boy Advance
Need For Speed: Carbon is an arcade-style racer game that succeeded NFS MW 2005. Carbon adopted the same gameplay mechanics of its predecessor, while its main storyline is a continuation of the final events that took place in Need For Speed: Most Wanted.
However, it also brought several changes, including Autosculpt customization (which allows you to make minor changes in almost every car), improved graphics, and a different progression system in career mode. Instead of racing against individual opponents, the game is all about competing and winning against racing crews or gangs to secure their territories.
NFS Carbon has four game modes – Career, Quick Race, Challenge Series, and Multiplayer. You will compete with other racers in seven different race modes, including, Sprint, Circuit Drift, Canyon Duel, Toolbotch (where you race against time), and Pursuit Tag, and Pursuit with knockout (both specifically for multiplayer).
The game takes place in a fictional metropolitan, Palmont City. It is divided into four large districts or boroughs, and each district has several territories. Obtaining a majority of territories in a district (by winning races) will convert the ownership of that district from a rival gang to yours. It will also unlock races in other territories.
After taking control of all the territories, you will be able to challenge the main crew's boss in a duel event. You can always come back to engage in races you've already won, but the reward will be far less.
NFS Carbon features a good quantity of licensed real-world cars that are grouped in three tiers – Exotic, Tuner, and Muscle, each with different advantages in races. Visual customization and fine-tuning of vehicles are mostly done through Autosculpt, a tool that allows making minor changes in almost every part of a car, including roof scoops, spoilers, exhaust tips, side skirts, rear, and front bumpers.
10. Need For Speed: Most Wanted (2012)
What do we like about the game: Graphics and landscape, perfect car handling, multiplayer racing
Platform: Windows, PlayStation 3, PlayStation Vita, Xbox 360
The 2012 Need For Speed: Most Wanted is a reboot of the original Most Wanted game released in 2005. It is the nineteenth installment in the NFS series. If we're to describe the game in one sentence – it is the closest, yet a whole different game than the original NFS Most Wanted game.
Both the games have open-world environments with the ultimate goal of defeating a group of racers. It also includes intense police chases that are on par with those in the original Most Wanted game. Though most of the racing and police chases in the game are enjoyable, it lacks one of the most engaging elements present in the 2005 game: a solid narrative.
The game requires players to accumulate as much 'Speed Points' as they can by completing street races, triggering speed cameras, blowing up billboards, and evading cop chases. You need a certain amount of Speed Points to challenge the racers on the list (there are ten of them). They can also be exchanged for upgrades for your cars. The game has three race modes – Sprint, Circuit, and Ambush.
Perhaps the biggest attraction of the 2012 iteration of NFS MW is its multiplayer game that is considered one of the best the series offers and has even received critical acclaim. You can line up with friends or random players to explore and compete on city roads privately.
It's not a guarantee that this game would be of your liking even if you're a fan of the original Most Wanted game of 2005, but this game has its own merits, especially when it comes to multiplayer racing.
9. Need For Speed: Heat (2019)
What do we like about the game?: Next level graphics, night racing mode, a nice collection of cars
Platform: Windows, PlayStation 4, Xbox One
Released in 2019, Need For Speed: Heat is the most recent installment in the NFS series. The gameplay takes place in Palm City and its surroundings, a fictionalized world similar to Miami, Florida. The game is polished and has advanced graphics, as expected from a newer entry.
It takes inspiration from some of the most cherished NFS games in the past. It features popular elements such as cop chases, day/night races, and rewards after the end of races, and an open-world setup.
While the game didn't introduce any innovative or trendsetting ideas like its predecessors, such as NFS Most Wanted, Hot Pursuit, or the Underground series, it has made several improvements and changes to existing features that will keep you engaged. What makes NFS Heat much special is that it followed a couple of fairly disappointing racing games in the series.
The game employs a distinctive day and night racing system. There is no day/night cycle in the game, but players can choose between the two at a time. Daytime racings are sanctioned events, such as 'Time trials,' and Speed Traps, that players can take part to earn cash and other rewards to tune up their cars. Night racers are far more thrilling as they are 'illegal' racers that attract police cars but reward with greater amounts of rep (reputation).
To make the world of NFS Heat more fun and engaging, hundreds of different collectibles are scattered across Palm City for players to find. It includes neon flamingos that give players cash rewards and specific amounts of rep points. Players can also find distinct 'street arts' on different corners of the map that can be used as a livery on cars. All in all, Heat is the best NFS game in recent years.
8. Need For Speed: Rivals (2013)
What do we like about the game?: Overall design, gameplay mechanics, better replay value
Platform: Windows, PlayStation 3 and 4, Xbox 360 and One
After the commercial success of NFS Hot Pursuit in 2010, followed by NFS Most Wanted in 2012, Electronic Arts decided to create a new game by combining critical elements of those two. It is named Need For Speed: Rivals. The game allows you to start a career either as a street racer or a cop and battle it out on the streets of Redview County. Most of the gameplay and your playing style depending on the choice.
The game follows a career development system in which players progress in their careers by completing given sets of objectives, upon the completion of which unlocks various items, including tools and bonus cars. These objectives are collectively termed 'Speedlists' for racers and 'Assignments' for cops.
NFS Rivals can be seen as an ideal blend of Hot Pursuit and Most Wanted games. However, many argue that it's more of an improved version of the former. The game features Autolog, a system that tracks players' progress and allows them to compare scores in real-time. It was first introduced in NFS Hot Pursuit.
Moreover, this installment of NFS offers minimal vehicle customization options with basic paint jobs, modest decals, a few body wraps, and livery options. While the vehicle customization in the game is not as advanced as the Underground or NFS Carbon, it offers more flavor than 2010's Hot Pursuit.
7. Need For Speed: Hot Pursuit 2 (2002)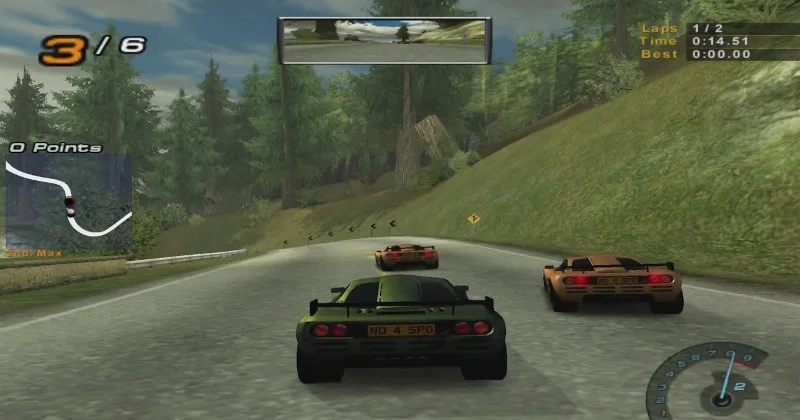 What do we like about the game: PlayStation 2 version for overall gameplay
Platform: PlayStation 2, Windows, Xbox, GameCube
Need For Speed: Hot Pursuit 2 is an arcade-style racing game rather than a simulator, featuring an extensive collection of cool cars from some of the world's most popular automakers. Like its predecessor, NFS III: Hot Pursuit, the game emphasized police chases and evading them. Well, that's accurate for about fifty percent of the game.
NFS Hot Pursuit 2 has two primary game modes, only one of which involves police chases. Race mode that doesn't include police pursuits allows players to compete with other drivers in races such as Time Trials, Lap Knockouts, and sprints without being bothered by cops. The police chases are challenging, and it becomes much harder to evade them as you progress. What's more impressive is that police will not be fixated on you and will try and bust AI drivers equally throughout the game.
The game features more than a dozen of exotic cars from manufacturers such as Aston Martin, Lamborghini, McLaren, and Ferrari. While driving in this game is far from realistic, it tries to emulate real-world cars' characteristics to some extent.
You can also be a police officer to chase racers and make arrests in the game. As an officer, you will have the authority to call in additional units, including a helicopter, and order barricades and spike strips. Each arrest will earn you certain awards.
Hot Pursuit 2 was initially released in three versions, available for PlayStation 2, Xbox, and GameCube. However, all the versions were not identical. While the PlayStation 2 version, which is considered the main version of the game, has great graphics and an overall satisfying game, the Xbox and GameCube versions are notably dull in all departments. The game's PC version was also relatively disappointing since it was a port of the Xbox and GameCube versions.
6. Need For Speed: Underground (2003)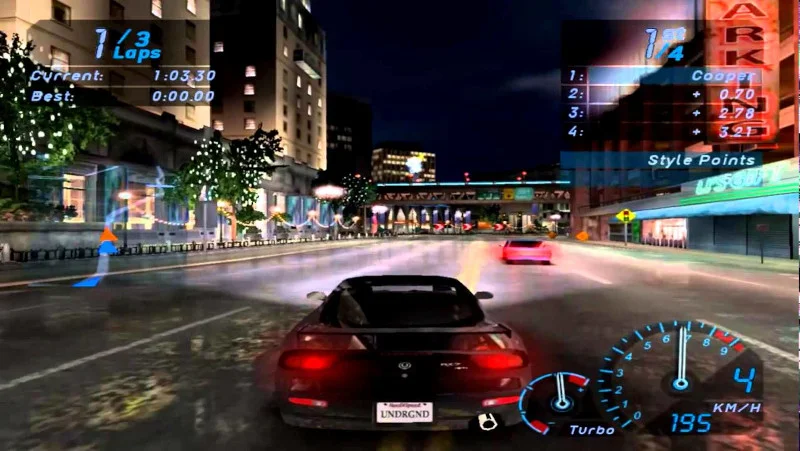 What do we like about the game?: Extensive customization options, single-player experience
Platform: Windows, PlayStation 2, Xbox, Game Boy Advance
Released a year after the Hot Pursuit 2, NFS Underground offered a completely different experience to the racing sim fans. It ditched the notion of having an extensive amount of exotic and sports cars and high octane police chases that made its predecessors a fan favorite. Instead, it brought something that no game in the franchise had done before: an impressive vehicle customization system and a well-designed single-player mode.
Underground does well with driving aspects, such as handling and crash physics, even though it's far from a realistic racing simulator. The game focuses on providing a flexible vehicle customization mode to turn a fairly mid-range racing car into a flashy, eye-catching speedster.
The number of cars available in the game is decent with Honda Civic, Toyota Supra, Mazda Miata, and Dodge Neon. You will also come across Acura Integra, Honda S2000, and many similar cars.
Cars can be upgraded from both visual and performance viewpoints. Performance upgrades include better engines, turbocharge, body frames, enhanced brakes, chip tuning, and NOS, to name a few. To purchase a performance upgrade, they must be first unlocked by completing races. Buying visual upgrades, such as headlights, hood replacements, neons, headlight or taillights, and other components. The purchased upgrades can be applied to a car from the customization menu.
NFS Underground features five different race modes, including Circuit, Knockout, Sprint, Drifting, and Drag racing. Drift racing mode was the newest addition to the series in which players are required to score as many points as they can by drifting in a short loop track. It added more flavor and challenge to the game.
Underground is a solid NFS game with a whole lot of customization options, good soundtracks, and graphics, but it tends to get boring due to the lack of diversity in race tracks.
5. Need For Speed: Shift (2009)
What do we like about the game?: Reward system, driving experience, sound effects
Platform: Windows, PlayStation 3, Xbox 360
Need For Speed: Shift has almost everything that one would want from a racing game. From vehicle and track choices, customization options, handling, crash physics, AI opponents, or overall racing experience, it gets all of these things right.
The game doesn't involve any story whatsoever, except for a voiceover during the start of the game. But it doesn't make the gameplay dull or boring as one would think. Shift features 19 real-world race tracks, including Willow Springs, Laguna Seca, and Spa Silverstone. Though these tracks are not perfectly accurate, Slightly Mad Studios has done a brilliant job in making them graphically compelling enough to be able to enjoy every inch of the racecourse while driving.
The in-car view, which was last used in NFS: Porche Unleashed, provides a highly detailed view of the driver's surroundings. Shift's more advanced graphics allow players to experience close-to real-life crashes with audio and visual effects, such as crash sounds and screen blur.
There are about 60 cars in the game that are divided into four tiers with entry-level cars such as Audi TT in Tier 1, mid-level cars such as BMW M3 in Tier 2, and more advanced supercars in Tier 3 and Tier 4.
4. Need For Speed: Underground 2 (2004)
What do we like about the game: Extensive customization options, enjoyable races
Platform: Windows, PlayStation 2, Xbox, Nintendo DS, Game Boy Advance
Need For Speed: Underground 2 was released in 2004, a year after its direct prequel – NFS Underground. The game not only continues but dramatically expands and improves the gameplay elements introduced by its predecessor. Underground 2 is set in an open world environment, and all the action takes place in a large city that is divided into five sections.
What makes NFS Underground 2 much more memorable is that many of its gameplay mechanics and key elements are similar to another fan-favorite game series, Grand Theft Auto. While driving, you will occasionally receive text messages or calls. All the races in the game are divided into five 'stages', with each stage taking place in a different section of the map. Once a stage is completed, the previous race locations are replaced by the race locations of the next stage.
Unlike most racing games, in which you can start a new race from a menu, Underground 2 requires players to drive to a certain location on the map to start a race. While most of the race locations are shown on the in-game radar, a few of them remain hidden and can be found by the player while exploring.
One of the best things about playing NFS Underground 2 is its vast visual customization options. You can customize almost every exterior part of your car including, spoiler, bumpers, headlights and taillights, roof, mufflers, and rims, add decals, and so on. These custom options are unlocked as you complete more races.
The game has four main racing modes – Circuit race, Sprint, Drifting, and Drag racing – in contrast to five in NFS Underground. It also introduced four additional race modes that are variations of the original ones.
3. Need For Speed: Shift 2 Unleashed (2011)
What do we like about the game?: More realistic racetrack experience, Need For Speed DNA (Autolog), sound effects
Platform: Windows, PlayStation 3, Xbox 360
If you're a fan of racing sims like Gran Turismo or Forza, there is a higher chance that you have already played and like one of Need For Speed's most prized installments, Shift 2 Unleashed. The game builds on its prequel – NFS Shift – expanding and improving various aspects of the gameplay. In fact, the improvements are on a significant scale.
The game added a helmet camera that displays the driver's viewpoint and follows the player's head movement. The camera perfectly demonstrates player crashes by violent forward jerking movements as the car runs into obstacles. It also emulates the tunnel-vision effect that drivers suffer from driving at higher speeds. Shift 2's advanced graphics make racing more realistic and challenging, especially night racing.
Like its predecessor, Shift 2: Unleashed is ideal for hardcore racing gamers who yearn for a more lively experience. One may easily feel the thrill and rush while driving a car in this game with a more realistic racetrack experience, crash physics, and refined car designs.
With slightly more than 140 tunable cars and about 40 real-world locations or tracks, Shift 2 is no way near the size of the games like Forza Motorsport 3 or Gran Turismo 5. However, Shift 2 is one of the closest things you can get to those games when it comes to the overall gaming experience.
2. Need For Speed: Hot Pursuit (2010)
What do we like about the game?: Autolog system, police chases, landscape
Platform: Windows, PlayStation 3, Xbox 360, Wii
The 2010 Hot Pursuit is the sixteenth installment in the Need For Speed franchise and a reboot of the 1998 NFS III: Hot Pursuit. This game is the successor of previous Hot Pursuit games (NFS III and Hot Pursuit 2) in every way possible as it embraces the core features of those games and produces something more polished and advanced.
Here, you can either choose to be a racer or a police driver and make a career out of it. As a cop, you'll have the power of law enforcement at your side and will be able to call additional units, roadblocks, spike strips, and use EMPs to slow down opponents. On the other hand, racers can use equipment such as Turbo boost and Jammer to evade police cars.
Hot Pursuit reboot was the first game to introduce Autolog, a social network system for modern Need For Speed games where players can track their progress and share them online. All the vehicles in the game are licensed real-world cars, some of which are limited editions, such as the Porche 918 Spider. The game offers very few visual customization options except for the Wii version.
Some of the game's highlights are its exceptional landscape, environment, and crash physics. The game is widely considered as addictive and one of the best racing games in recent years.
In 2020, EA released a remastered version of this game for PC, PlayStation, Xbox, and Switch platforms. It is the first game in the NFS series to get one. Not that it desperately needs one, the remastered version adds more fun into an already remarkable game. It includes several vehicle customization options and DLCs from previous games that can now be played in the main career.
Read: 12 Best Car Racing Games For Desktops and Gaming Consoles
1. Need For Speed: Most Wanted (2005)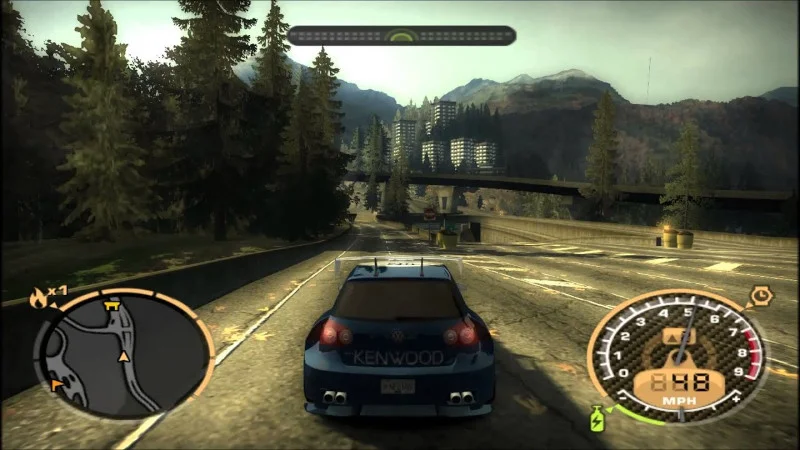 What do we like about the game?: Amazing soundtracks, police system, engaging cut-scenes, and map design
Platform: Windows, XBox 360, PlayStation 2
The original Need For Speed: Most Wanted is, without a doubt, a masterpiece racing game that will always have a special place in our hearts. Set in the fictional city of Rockport, the game challenge players to compete with the city's most notorious street racers and eventually become the most wanted racer.
NFS: Most Wanted brought several disruptive improvements and additions to the gameplay, making it a benchmark against which all later games in the NFS series are evaluated. It combined the open-world street racing aspect of the Underground series with the environmental aesthetics and other gameplay mechanics of its predecessors.
One of the highlights of the game is police pursuits. Although police chases were fully introduced in Need For Speed III: Hot Pursuit and were improved upon in Hot Pursuit 2, they became a primary focus in NFS Most Wanted. The game enhanced the mechanics of police pursuits adding more depth and complexity.
Alongside the standard game, a special collector's edition of Most Wanted was released, known as Black Edition. It includes additional content such as cars, races, and other challenges. NFS Most Wanted is the best-selling game in the NFS franchise, with about 16 million copies sold worldwide.
Read: 18 Best Physics Game For All Platforms
Frequently Asked Questions?
Which NFS game has the best graphics?
A general consensus among NFS fans is that the most visually appealing games in the series, so far, are NFS Rival for daytime and NFS 2015 for nighttime.
Which NFS game has the best map?
NFS Most Wanted 2005 edition has, by far, the most memorable map in the franchise's history. You can also try NFS Hot Pursuit (2010) and NFS Heat.
What is the most sold NFS game?
The best-selling game in the Need For Speed franchise is the 2005 Most Wanted game, with over 16 million copies sold worldwide. It is followed by NFS Underground (2003), with close to 15 million sales.
Read: 16 Best Puzzle Games
Is Forza better than Need for Speed?
Forza and Need For Speed are two of the biggest names in the world of racing games. They are entirely different franchises in terms of the products they offer, and each excels in various aspects of the game.
While the Forza games have superior handling, graphics, list of cars, and camera angles/photography, the Need For Speed series is known for extensive customization options, sound effects/music, and maps. One can argue that graphics on some NFS titles are on par with Forza's.
So to answer the question, none of them has a clear advantage as the better franchise, though the NFS' popularity has diminished over the last few years due to some mediocre games.