Gone are the days when you have to live by the rules of your cable TV provider in order to enjoy your favorite shows and movies on your television sets. Now you have a choice. We order food, cab rides online, so why not order our favorite entertainment?
The rise of on-demand streaming all across the world has greatly affected the entertainment industry, with more and more people opting for online subscriptions over cable TV. No doubt, Netflix is currently the king of the online video streaming industry with more than 118 million paying subscribers worldwide.
However, it's not the only option out there. Now, whether it's due to overpricing or boredom or simply for the sake of trying something new, Netflix users search for different alternatives that might suit their needs. Below, we have compiled a list of the 16 best Netflix alternatives that you can try this year.
16. SnagFilms
Price: Free
Alexa Rank: 80,364
First on the list is an ad-supported video-on-demand platform known as SnagFilms. Those who love rare documentaries and indie films (independent films) can really get along with the platform. At the moment, there are more than 5000 different titles that you can enjoy. It also features a few popular documentaries produced by National Geographic.
15. Acorn TV
Price: $5/month
Subscribers: 430,000
Alexa Rank: 49, 632
Acorn TV is a US-based video-on-demand platform that offers popular movies and TV series from Great Britain, Australia, New Zealand, and Canada. The platform features content from different genres including, dramas, mysteries, and documentaries.
Apart from the licensed content from global distributors like BBC and ITV,  Acorn TV subscribers can also enjoy some of its exclusive original series like Close to the Enemy and Agatha Raisin.
14. Hotstar
Price: $9.99/ month
Downloads: 100 million
Alexa Rank: 282
Hotstar is a widely popular video-on-demand platform in India. It offers exclusive coverage of the elite cricket tournament IPL or Indian Premier League. Licensed contents from Marvel Studios, Disney are also available.
13. Stan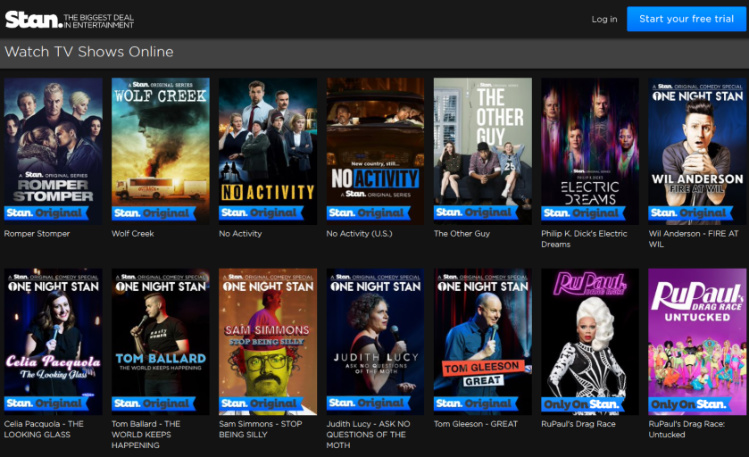 Price: Starts at $10
Subscribers: 800,000
Alexa Rank: 8,495
The subscription-based video-on-demand platform Stan is your default choice (after Netflix) if you are living in Australia. Users can access hundreds and hundreds of licensed movies and TV series from ABC, SBS, CBS Warner, and more.
Further tie-ups with media giants like Warner Bros. enabled Stan to provide numerous exclusive content on their platform. At the time of its launch, Stan acquired copyrights for two shows produced by Amazon Prime. Stan is also expanding in the content creation area with half a dozen original series to choose from.
12. HOOQ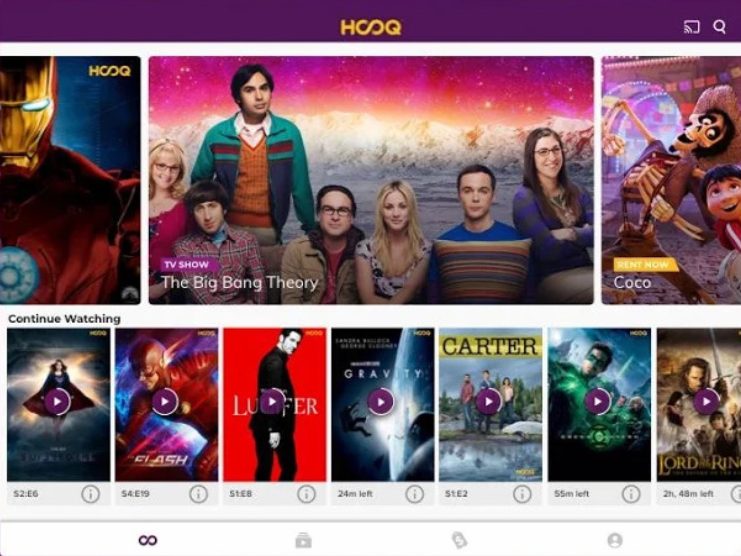 Price: $1/month
Subscribers: +1 million
Alexa Rank: 46,892
If you are living in South East Asia, especially in India, then HOOQ is the perfect video-on-demand platform for you. It offers thousands of local and regional shows and movies to customers with an option to download those on their devices. A good collection of Hollywood content is also available.
HOOQ entered the content creation industry after striking a deal with a major telecommunication company Globe Telecom. But the best part about HOOQ is its low subscription cost at just over $1/month.
11. iflix
Subscribers: 6.5 million
Alexa Rank: 9,040
iflix is another video-on-demand platform that specifically targets relatively new markets by focusing on local content from Asia, Middle East region, although they are also in an active partnership with Disney, Warner Bros, and other content distributors for global content. Recently, the platform rolled Channels, showcasing the user's favorite genre and recommendations. They also launched their service in full HD.
10. Sony Crackle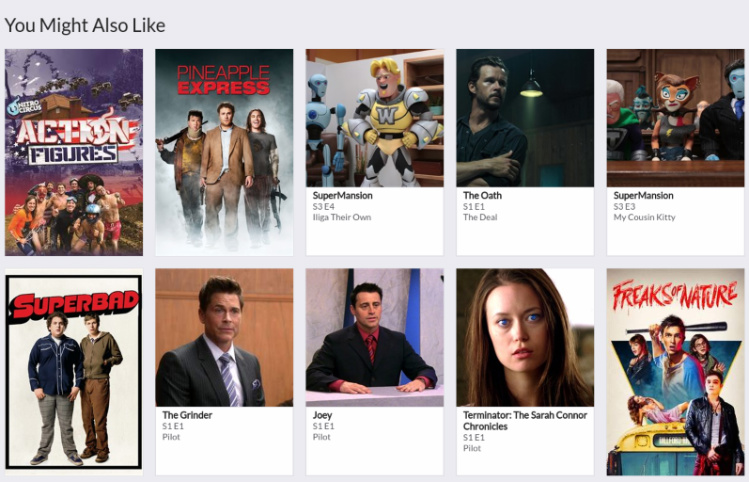 Price: Free
Alexa Rank: 64, 605
Sony Crackle is a free, ad-supported video streaming platform that offers its services in over 20 nations across North and South America. It features dozens of running and upcoming original TV series, plus licensed content from partners such as FOX Digital, Universal Studios, Warner Bros., etc.
After a brief tryout, I found its interface quite simple and you don't have to login or create an account to watch any of its titles. But if you get easily frustrated by reoccurring ads, then this platform is definitely not for you.
9. FilmStruck
Price: $6.99
Alexa Rank: 32,313
(Discontinued)
FilmStruck is a US-based streaming service owned by Turner Broadcasting System. It provides users with instant access to tons of rare and ultra classic movies across different genres. You can also find a good collection of international and indie titles.
According to recent data, the platform has over 1,6000 movies, of which 1,200 are licensed from the Criterion Collection. In February 2018, TCM (Turner Classic Movies) announced that it will bring all-time classic Hollywood movies like Casablanca, Citizen Kane, and others to the platform.
8. MUBI
Price: $8.99
Subscribers: 8 million
Alexa Rank: 15,607
MUBI is not a conventional video-on-demand platform, where you can watch your favorite and shows whenever you want, instead it allows users to stream a new movie every day from a collection of handpicked items. After every month, you get to choose from a different batch of movies.
Well, the idea of someone else choosing movies for you sounds like an online theater, but it's actually great for those who are tired of searching for a 'great movie' on platforms with huge content. Plus, if you are into classics and indie titles rather than mainstream movies, MUBI is one of the few good options for you.
You can start with a week-long trial, after that, you can pay $7.5/month to continue.
7. CBS All Access
Price: Starts at $5.99
Subscribers: 2 million
Alexa Rank: 2,094
CBS All Access is a video-on-demand service that offers its users thousands of new and old media content owned by CBS Interactive and its affiliate partners. Moreover, it features about half a dozen original series like The Good Fight and Star Trek: Discovery with a few more in production. Members also have access to Live TV, where they can stream their favorite sports and live events on CBS.
Subscribers may find its video and audio quality quite unsettling as it provides videos at 720p (maximum quality) with two-channel stereo sound. Right now, CBS All Access is available only in the United States and Canada.
6. Fandor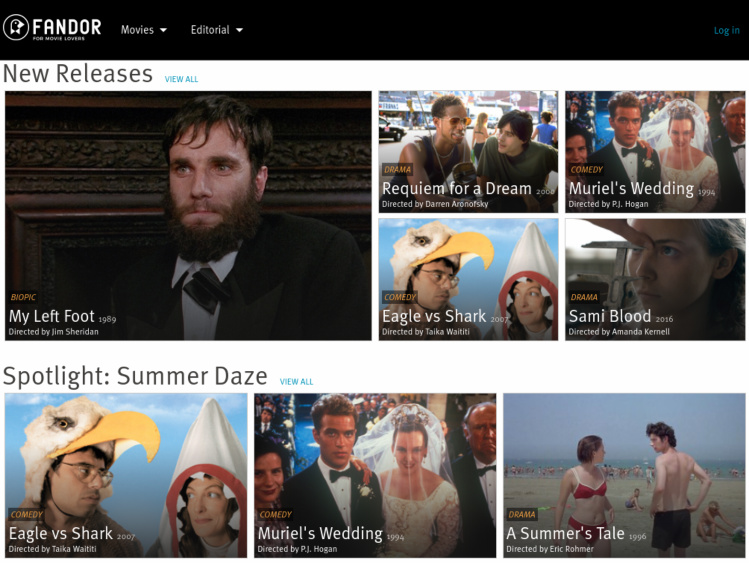 Price: Starts at $7.5/ month
Alexa Rank: 48,070
Are you a serious film buff and finding Netflix not the right fit? If yes, then you should check Fandor. This California based company is a relatively new player in the online streaming business but proving out to be a stiff competitor to Netflix and other big online platforms.
Fandor features about 6,000 films, including cult classics, documentaries, and international films. But it's known for its huge collection of indie films. You can choose to pay between a monthly fee of $10 and an annual payment of $90.
5. iTunes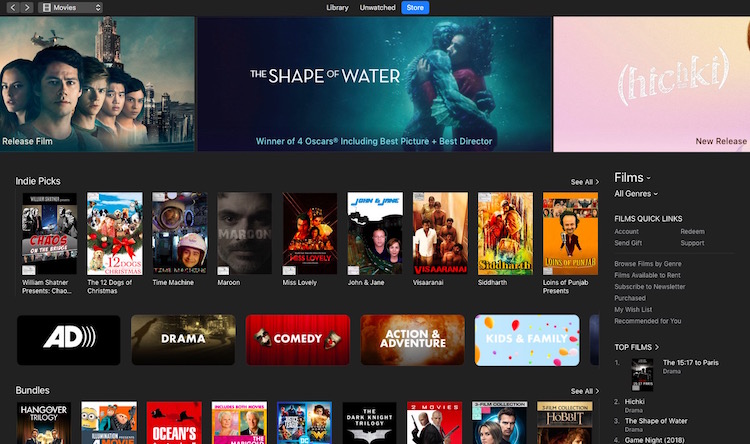 Price: Pay per movie/TV show
iTunes might not be a direct competitor to Netflix, but it's doing a good job entertaining Apple users since its launch in 2005. Users can download or rent more than 112,000 different movies including classics, indies, and box office hits. If you can't figure what to watch, there is always a collection of hand-picked movies that you can try.
"We're doing for video what we've done for music — we're making it easy and affordable to purchase and download, play on your computer, and take with you on your iPod".     Steve Jobs 2005.
4. VUDU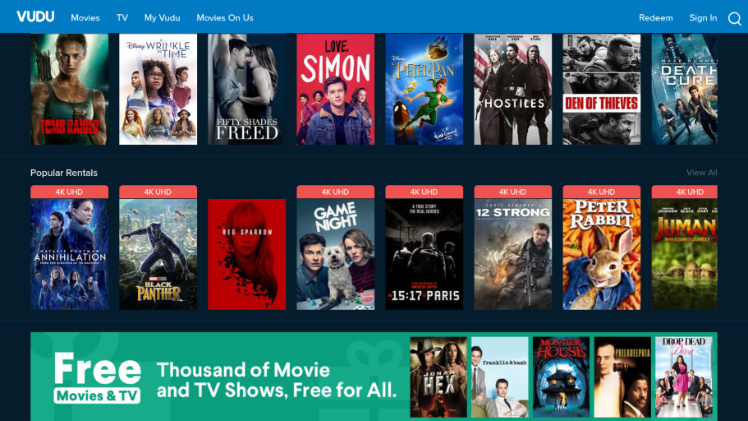 Price: Starts at $5
Alexa Rank: 5,823
Walmart owned VUDU offers a wide variety of digital content. It has more nearly 20,000 movies and 5,000 TV shows from different genres. You can find anything from kids' shows to music albums and documentaries.
VUDU is compatible with various modern entertainment gadgetry like Blu-Ray players, PS3, or Xbox 360. Furthermore, you can download HD quality movies in HDX format, an exclusive format used by VUDU.
Read: 15 Best Music Identifier Apps To Find Unknown Track
3. HBO NOW
Price: $14.99/month
Subscribers: 5 million
Alexa Rank: 3,396
If you are into HBO shows and documentaries more than anything else, then HBO NOW is what you need. After losing its place as the king of content, HBO launched its video-on-demand service to attract the "cord cutters" by taking on the big players like Netflix and Hulu.
With a subscription to HBO NOW, you can get access to almost all of HBO's digital content, including movies, TV series, and documentaries on virtually as many devices as you want. But this whole experience will cost you slightly more than other on-demand platforms. Moreover, it is only available in the United States and some U.S territories.
2. Hulu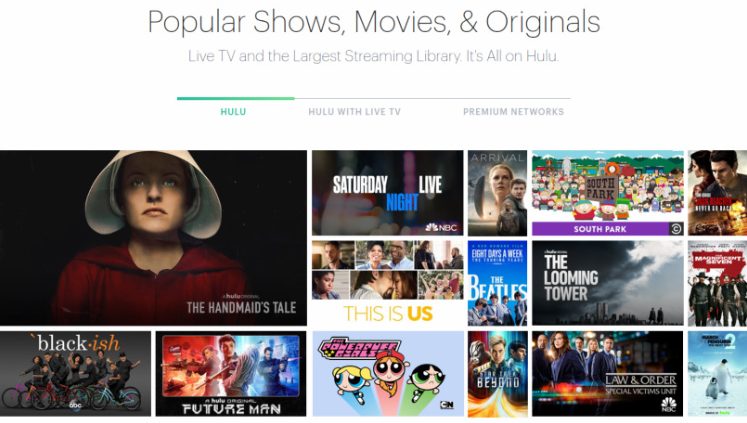 Price: Starts at $7.99
Subscribers: +20 million
Alexa rank: 233
Hulu is another vastly popular US-based online streaming platform, which is similar to Netflix in many ways. It offers instant access to hundreds of old and new shows and movies from large broadcasting companies like NBC, USA Network, and Fox. Like Netflix, Hulu also offers original content. Series like The Handmaid's Tale and Difficult People will probably freshen up your streaming experience.
The platform currently offers its services for one penny less than $8 (with limited commercials). You can also subscribe to Hulu Live TV, with which you can stream your favorite live sports and have all the benefits of Hulu plus. Though Hulu is a good alternative to Netflix, it's only available in America and Japan, meaning anyone outside those two countries cannot access its services.
Read: Perfect Video Editing Software For YouTube Creators
1. Amazon Prime Video
Price: Starts at $8.99/ Free for Prime Members
Subscribers: 26 million
Alexa Rank: 458
What makes Amazon Prime Video one of the best online streaming platforms is its international availability and an extremely vast media library. With Amazon Prime Video you get instant access to your favorite local television shows and movies in extremely high quality (4k on some devices). You can also enjoy some of its own productions such as Z: The Beginning of Everything and Man in the High Castle.
The service was initially launched as Amazon Unbox in 2006, however, it changed to Amazon Instant Video on Demand later on. Those who have subscribed to Amazon Prime get access to Prime Video as well, but if you like, you can purchase a video-only membership.
Read: 14 Best Free Movie Download Sites | Fully Legal
Apart from the video content, Amazon Prime subscribers can also access third-party streaming services like HBO, Starz, PBS Kids, and more, however, you have to pay additional fees on top of the Prime subscription.