We are living in an era of political and civil uncertainty where staying on top of breaking news is more important than ever. Whether you are at home, office or on the go, you will always find something interesting going on in the world. If you are a kind of person who hates to miss news related to your field, you are absolutely going to love this collection.
We've got some of the best news apps of all shapes and sizes for iOS and Android. They are known for delivering stories most relevant to your interests, as quick as possible. They cover almost all categories, from sports and entertainment to science, business and technology, and world's top stories.  We've kept the list long to give you multiple good options to choose from.
18. Squid
Squid is worth checking out for the way it selects stories with more innovative touches, which includes the option to annotate articles with text and scribbles before you share them with your friends. It has a special reader mode for content which is friendly on the eyes too.
For more personal feeds, you can follow or unfollow each topic whenever you wish by swiping right on the selected one. Just tick it off if you want to unfollow a topic for a specific period of time. It won't be permanently removed from your list. To resume receiving content from the same topic, simply tick that category once again.
17. Inkl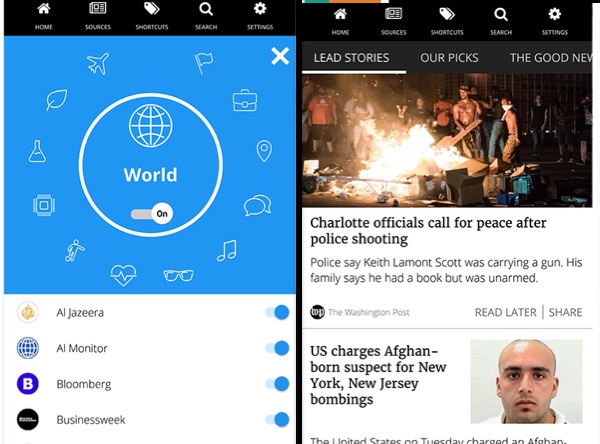 Inkl shows you highly curated and top-notch news published around the world. You won't get any gossip, clickbait or tabloid annoying news. Most of the stories are taken from big publishers like Bloomberg, The Washington Post, The Guardian and China Daily.
The app comes with a dark theme, which is pretty to look at and fluid to use. You can pay for a monthly subscription (10 cents per article) if you don't like ads.
16. Reuters News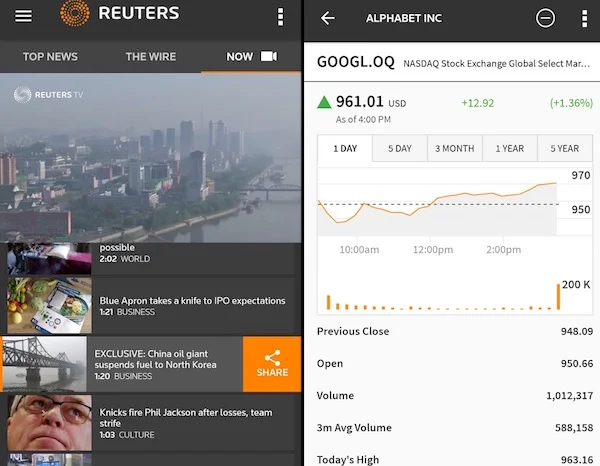 This app delivers breaking news, analysis and market data from trusted news sources. It covers a wide range of topics from politics to business and technology. Within the app, you can create and edit your personal watchlist of tickers.
Along with the text articles, you will get stream of picture and video content, so you can consume the information quickly. The app also gives you an option to save stories so you can read it later when you are not connected to the Internet.
15. theScore
If you are into sports, whether it is football, NFL, hockey, basketball or baseball, you will find all major sports in this app. It shows you live news coverage, real time score, detailed stats and alerts that you won't get on other apps.
The app is recently launched with a new dark design, which is great to look at. It covers almost all major sports including La Liga Soccer, Champions League Soccer, English Premier League Soccer and World Cup. If you are an iOS user, there's and Apple Watch app too.
14. News360
News360 is quite good at sifting the genuinely important news from the rest. The app allows you to go pretty specific in terms of news categories. There is an option to link your Twitter and Facebook for more personalized stories, though it is not necessary.
The app discovers the news from more than 100,000 sources, from top news sources to local niche blogs. You can like or dislike the news you read, letting the app learn more about what you want over time. The more you use it, the better it gets.
13. Al Jazeera
Al Jazeera was the first 24 hour news channel to cover the Middle East. It has become one of the most popular publications in the region. Its global footprint continues to grow and now broadcasts to over 220 million households in 6 continents in more than 100 countries.
The app gives you 24 hour free access to the live broadcast, breaking news alerts, videos and information on the latest stories. Other than this, you can view weather forecasts by location, save stories to 'My News' for easy retrieval and view comments that have been added to the articles by website visitors.
12. Appy Geek
Platform: iOS and Android
Appy Geek covers tech news, including gadgets, wearables, video games, product info, art, science and tech culture. You can stream videos and leave comments on the articles published on different websites, without even leaving the app.
The stunning dark theme and the UI with animations look great on the app. There are long editorial articles in the digest section – your daily news briefing. What's different? The app gives you a personal news profile, where you can discover your ranking and compare it with friends and followers. Currently, it is available in 13 regional editions, including India, Russia, China, Mexico and Italy.
11. AP Mobile
AP Mobile doesn't require any kind of registration and it doesn't see your social feeds – it is more focused on delivering instant news, sorted into the categories you specify. You can set up a "quiet time" when you won't be buzzed by whatever story is about to hit the headline.
The apps keeps you updated on national and global news, which are drawn directly from the world's definitive source for news. It also features curated content hubs for deeper insights into major news events and story lines.
10. The Economist
Platform: iOS and Android
As the name suggests, this app covers weekly international news and business publication, offering clear commentary, reporting and analysis on world current affairs, culture, science and technology, business, media and the arts.
If you are exhausted by looking on the screen all day, you can switch to listening mode and the app will read out the news for you. You can also download each issue to read it later, without an Internet connection.
9. Feedly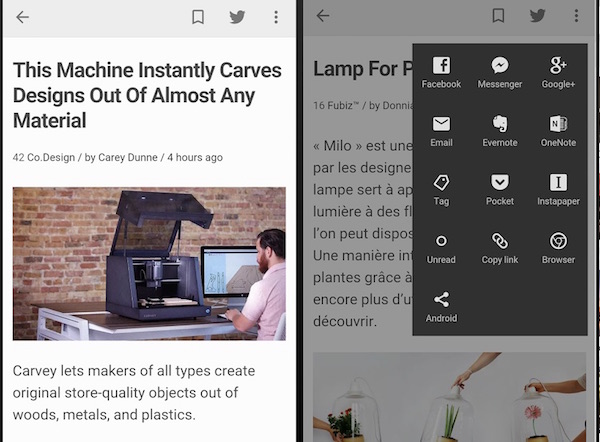 Feedly has everything a best news app should have. It lets you subscribe to as many publishers as you want, customize your feed by using tags and share news to social media. And yes, the dark theme looks great on it.
However, most of its features are locked behind a paywall. With a free account, you will receive up to 100 feeds, you won't be able to create more than 3 categories, and you can share articles to only 3 social media channels. If your requirements fall under these boundaries, the app won't disappoint you at all.
8. AOL News
The app covers news, entertainment, finance, sports, lifestyle and weather. Breaking news is delivered instantly, and you can read them even before opening the app. The interface is similar to the other news app, but loads quickly.
Stories are taken from popular websites like The Huffington Post, Engadget, TechCrunch and Daily Finance. It even provides a dedicated news feed lined with local weather, topical news and video sections.
7. SmartNews
SmartNews comes with numerous subscriptions, which can be managed in the Discover section. It gives you two options to read the story – read it by loading the source website or read it in a smart mode, which loads a light version of articles.
The smart mode that features streamlined, clutter-free and optimized content look for mobile readability. Moreover, it supports "offline reading" that fetches the news while you are connected to the Internet, and you can read/open it later when you are offline.
6. Bloomberg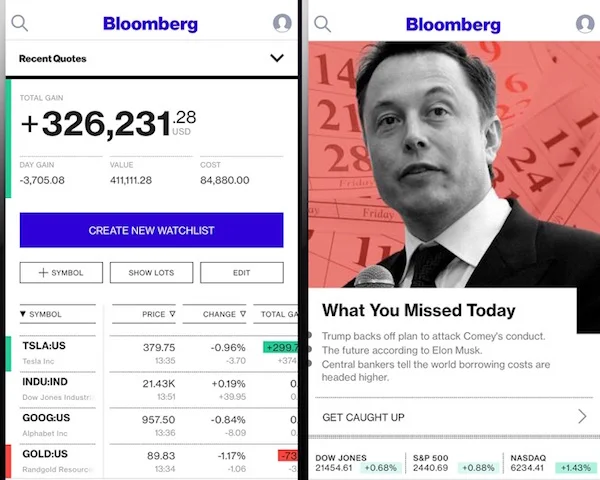 There are plenty of financial news apps that only focus on the stock market. On the other hand, Bloomberg strikes a good balance between stock market and business stories. The front page covers the financial news while the market section informs you about the stock markets.
You can manually add stocks to the watch list, and customize the app to monitor your personal portfolio and receive continuous alerts on summarized financial, economic and company information. Moreover, the app includes Live Bloomberg Television that provides a comprehensive view of global business news and insights.
5. Inoreader
Some people are very specific about what they want to read. They prefer a few particular sources and field of news they are interested in. For those, Inoreader is the best bet. It delivers news feed either divided by categories or by publishing time.
To reduce the strain from eyes, the app supports dark mode reading. The UI is fast and responsive, and content load time is also quite impressive. It keeps track of which items you have read, so you only see the unread stories when you come back.
4. BBC News
If you are looking for an app that covers the news from the whole world, look no further than BBC News. The front page displays the most relevant news from all around the world. You can select a country to read the region specific news. Customize the 'My News' section by selecting your preferred countries, and next time you open the app, you will only see what you want.
The app comes with a video section where you get short news videos (less than 2 minutes). You can go deeper into a storyline with suggestions for further reading and a range of topics related to the story. If you talk about app functionality, it is fast and responsive. It respects the font size in your device setting so you can increase or decrease the news text size as suits your preference.
3. Google News and Weather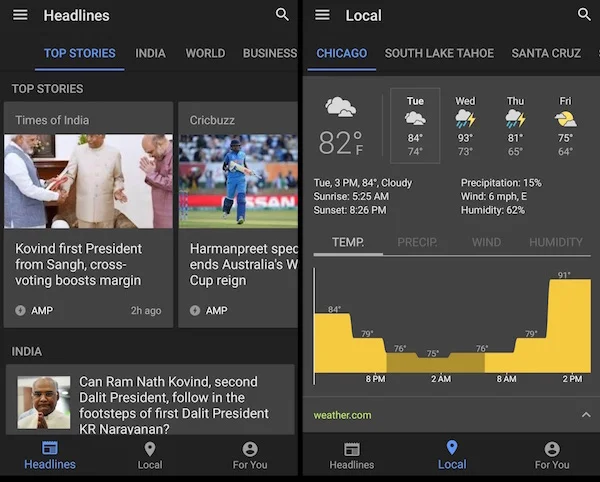 Platform: iOS and Android
We won't say Google is the most advanced news app, but it is smart. Since Google tracks your activity, it does a nice job of working out which content you are going to want to read. You will get the coverage from 75,000 publications. In case if you are getting slow connection, it will automatically optimize results to improve loading on bad connections, improving user experience.
You can turn on push notifications for news, latest stock market changes, events, traffic updates and the weather from inside the app settings. For in-depth articles, local perspectives or viewpoints, tap on the story.
2. Flipboard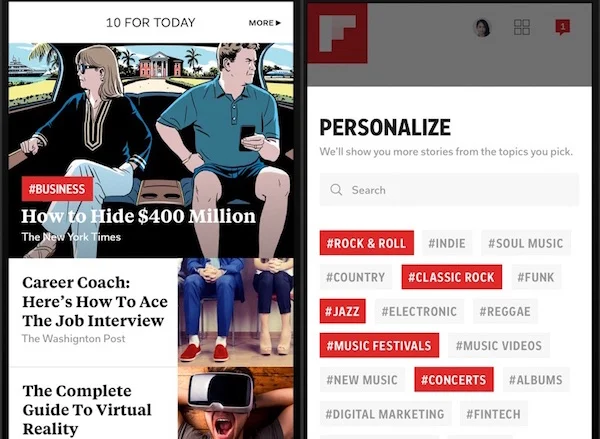 Pick your interests, and Flipboard will make a Smart Magazine for each, which blend expert voices, recommended stories and curated sources. You can even create your Custom Magazines to add all your favorite stories, best content from any source, publication, person, or hashtag.
Read: 20 Best Android Apps to Learn Science and Mathematics
Most of the stories are taken from top news sources like CNN, The New York Times, Forbes, Wired, and many more. Moreover, the app has 25 local editions, including Brazil, India, Australia, and China.
1. Nuzzel
Platform: iOS and Android
Nuzzel scans what your friends are sharing on social sites like Facebook and Twitter, and uses this as an indicator of what news you might want to hear about. The app can filter news headlines based on their timeline and popularity on the social graph.
Nuzzel describe itself as "personalized news discovery and curated newsletter for busy professionals". It sounds valid as well, as the app has been named of the best apps of 2016 by Google Play, Time Magazine and New York Times.
What's More?
Read: 20 Best Free Antivirus and Anti-malware Android Apps
Till now, we've covered all high quality apps that aggregates news from all around the world. But if you are more interested in local news? We recommend you to find the best publisher of your state or country and see if they have released any app. Listing a few countries along with their big local news publishers –
United States: The Washington Post (iOS | Android)
United Kingdom: The Guardian (iOS | Android)
India: Times of India (iOS | Android)
Russia: RT News (iOS | Android)