Have you bought a Nintendo Switch recently for the very first time and now you're not sure which game to buy? Or confused which game is better? Well, that's where we come in. Below, we have compiled some of the best Nintendo Switch games that you should play.
But before we continue, it's relevant and quite important to talk about the meteoric rise of Nintendo Switch especially after not-so-good reception of Wii U. The now popular hybrid console was first released in early 2017 and within one and a half year it sold more than 32 million units.
The sales of Switch units are overall linked with sales of popular Nintendo games such as the Legend of Zelda: Breath of the Wild, Mario Odyssey and Super Smash Bros. Mario Kart 8 Deluxe alone has sold about 15.2 million copies. So here we go.
18. BlazBlue: Cross Tag Battle
BlazBlue: Cross Tag Battle/Arc System Works
Genre: Fighting
First in the list is BlazBlue: Cross Tag Table, a fighting video game which brings the five worlds of Under Night In-Birth, Arcana Heart, Persona, RWBY, and BlazBlue together in an explosive manner.
Apart from certain mechanics, Cross Tag Table's gameplay is different from all the previous games in all five series mentioned above. The game focuses mainly on 2v2 battle tag ins without complicating anything. The game is widely appreciated for its visuals, sounds, and mechanics.
17. Undertale
Undertale/Toby Fox
Genre: Role-playing
When I first started playing Undertale, it looked nothing more than a game with some childish puzzles along with bunch other silly stuff but after playing it for quite some time, I found out that I couldn't be more wrong. The game not only has an excellent story but the way it integrates with the gameplay is also surprisingly good.
Undertale revolves around a kid, your character, who ends up in the realm of monsters which is separated with the outer world by a magically enforced barrier. Here your character meets various monsters, some are friendly while others will try to kill you.
Your main objective here, obviously, is to reach the surface and in order to do that, you must first find Asgore Dreemurr, the king of the monster's realm. The outcome of the game depends entirely on dialogue and action choices, which is largely influenced by the player's morality. For instance, during a battle, the player may choose to kill or spare an enemy. Killing enemies will earn you experience and gold.
16. Dragon Ball FighterZ
Dragon Ball FighterZ/Arc System Works
Genre: Fighting
Dragon Ball FighterZ is without a doubt one of the best games ever released in the Dragon Ball franchise. The player(s) start by selecting a team of three characters from a roster of 24 (3 of which are unlockable).
During combat, players can switch between characters which were chosen earlier and/or summon them to perform special team-attack combos. As expected, each character has one special move but some universal moves are also there which can be used by all 24 characters.
One of the highlights of the game is its uncomplicated control scheme and mechanics. There are no complex combos for special moves: just four buttons for light, medium, heavy and special attack. It comes handy especially when you're handling more than one character at once.
15. SteamWorld Dig 2
Image & Form
Genre: Action-adventure, Metroidvania
SteamWorld Dig 2 is a popular 2D platformer in which the player control Dorothy, a steambot (steam-powered robot) who set out on a quest to find Rusty, another steambot who went missing after the events of first SteamWorld Dig game.
Most of its gameplay is inspired, as expected, from that of the original game, which involves fighting enemies, collecting various resources while exploring vast underground mines.
At a certain point of time during the game, Dorothy will gain access to useful tools and weapons such as flaming pick-axe and hookshot, which allow Dorothy to cling to ceilings.
Resources that are found throughout the game can be exchanged for health upgrades, weapons and other abilities in the game's town hub. More upgrades can be found by completing quests or/and by killing enemies.
14. Night in the Woods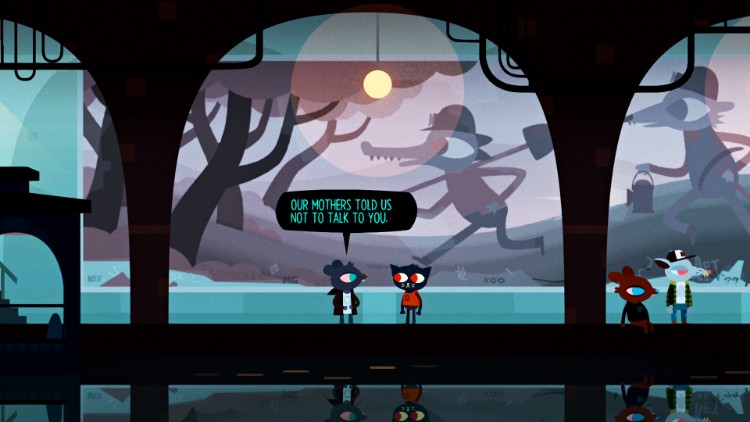 Night in the Woods
Genre: Adventure
If you like story-driven games then Night in the Woods should be high in your 'to-try list'. The game revolves around a young girl named Margaret "Mae" Borowski (your character) who, after spending quite some time abroad, returns back to her hometown of Possum Springs.
After interacting with her old friends and other residents of the town she realizes that everything in her town has changed including her dear friends. Furthermore, she also finds out that one of her old friends has mysteriously gone missing.
Your objective is to converse with Mae's friends and other Possum Springs locals while exploring the town. You're are free to do things like climb on power-lines, rooftops and observe different objects. The game also includes a wide range of fun mini-games.
13. Stardew Valley
ConcernedApe
Genre: Simulation
Stardew Valley is an addictive farm simulation game in which the player is tasked with turning his/her character's wasted farm plot into a thriving business.
To begin with, players must first create their character and choose one from a total of five separate farm maps. Each map has a different geographic setting that allows characters to focus on a particular type of work—foraging, fishing, mining, and farming.
Your very first task is to clear some room for crops and plantation on the farm to do which you're provided with some basic tools. Throughout the game, the player can interact with NPC's or non-playing characters and even form intimate relationships (marriage).
Players must carefully manage the amount of time and energy their character spend on various activities i.e, clearing land, tending to crops, livestock, crafting goods and mining. If the character gets too tired due to overwork it can result in loss of money (any random amount) and tools.
12. Rocket League
Rocket League/Psyonix
Genre: Sports
If you're a football fanatic, just like me, then you have got to play Rocket League. Most of the Rocket League's gameplay is inspired from its predecessor Supersonic Acrobatic Rocket-Powered Battle-Cars which was released back in 2008. While, essentially a soccer game, Rocket League feature elements of a demolition derby which is quite apparent.
In the game, players steer rocket-powered cars around fancy arenas to hit a giant ball (much bigger than cars) towards goalpost of the opposing team to score goals. The cars can jump in mid-air to strike the ball in any given direction. They can also perform several tricks (bicycle-kick, somersault, barrel roll) and perfecting them takes remarkable skills and practice.
One of the best things about the game is that players can challenge each other in cross-platform battles between PC, consoles and Nintendo Switch. The idea of playing football with rocket-powered cars sounds crazy enough but it might the only reason behind the enormous success of this game.
11. Sonic Mania
Sonic Mania/ PagodaWest Games and Headcannon
Genre: Platformer
Alongside Mario and Link (from The Legend of Zelda), Sonic the Hedgehog is perhaps one of the most iconic characters in the gaming world.
Sonic Mania, like previous Sonic the Hedgehog games released under Sega Genesis, is a 2D side-scrolling platformer. To begin with, you must first choose between three playable characters; Sonic, Tails, and Knuckles. Each character has unique abilities.
The game has a total of twelve levels or zones, eight of which are "remixed" and taken from previous sonic games. Players have an option to either control both Sonic and Tails simultaneously (a feature first introduced in Sonic the Hedgehog 2) or the second player can control Tails separately.
10. Donkey Kong Country: Tropical Freeze
Donkey Kong Country: Tropical Freeze/ Retro Studios
Genre: Platformer
Tropical Freeze builds on the previous entry in the Donkey Kong Country series (Donkey Kong Country Returns) in which Donkey Kong along with his companion travel across different islands to take on evil Snowmad bosses.
Its core gameplay and controls remain the same (as with the previous one) except for few additions including the ability to pick items and throw them towards the enemies to stun. Furthermore, Diddy Kong returns with his signature barrel jet pack as a playable character along with three other characters of the Donkey Kong franchise, Cranky, Dixie and Funky Kong.
Tough levels and final boss battles which are accompanied by hard-to-find, but unlockable bonuses are without a doubt the highlights of this game. But in case you're not up for the grueling challenges, there is a more convenient Funky Mode you can try.
In this mode, the playing character (you have an option to choose Funky Kong) have increased hit points and the ability to perform double-jumps, mid-air hover etc.
Read: 35 Best GBA Games OF All Time | Bring Your Childhood Back
9. Mario Kart 8 Deluxe
Nintendo EDP
Genre: Racing
Mario Kart 8 Deluxe is an enhanced Nintendo Switch port of the original Mario Kart 8. In the game, like in all previous games in the series, players participate in kart races while controlling different characters from the Mario world.
The game includes all DLC and additional content, gameplay modifications and graphics enhancements which were earlier released under previous games in the Mario Kart.
The Mario Kart 8 Deluxe battle mode has also been restored and revamped. It now features eight new arenas and players can carry two items at the same time. Additional characters include Dry Bones, King Boo, Bowser Jr., Girls from Splatoon, and Inkling Boys.
From my personal experience, I can say that Mario Kart 8 Deluxe is probably the best racing game Nintendo has made in a very long time.
8. Celeste
Celeste/Matt Makes Games
Genre: Platformer
It's not that game jams haven't produced any fun games lately, but chances of getting something like Celeste is one in a ten thousand if not a million. The game, at first, may seem like an ordinary retro-styled pixel art platformer but believe me, it's much more than that.
The plot revolves around Madeline, a young girl who must start a journey to the top of a dangerous mountain. Your objective is to take her to the summit while protecting her from deadly obstacles. Other than jumping and climbing on walls, Madeline can perform mid-air dashes (one at a time).
The game presents an unmatched level of excitement with each passing level. Unlike most other 2D platform games, Celeste gives players an option either to follow predefined paths or find new pathways and other secrets which are concealed behind illusive walls.
Celeste's spectacular gameplay is accompanied by superb sound effects and music. According to my experience in gaming, Celeste perhaps has one of the best soundtracks in the gaming industry.
7. Dead Cells
Motion Twin
Genre: Roguelike
Dead Cells begins with you taking control a reincarnated corpse inside a castle dungeon after which you must explore the castle and fight your way out of it. During your journey, you will come across various opponents of different size and shapes.
There are a total of four final bosses or keepers. In order to progress, you must defeat three keepers. New weapons, armor, and power-ups are made available as the game progress. Permanent power-ups can be gained by trading special 'cells' which can be found in random levels.
Dead Cells in many ways is similar to the legendary Souls series meaning the character is expected to die frequently to encourage level repetition. This also allows players to try new methods and tricks to complete levels and defeat bosses. Its excellent design and level of detail actually surprised me when I played the game last year.
6. Into The Breach
Subset Games
Genre: Strategy
Into The Breach is a turned based strategy game in which players wage war against Vek, an army of ruthless monsters. To take the fight to these monsters you will be provided with 'mechs', giant futuristic machines, which are operated by soldiers under your command. These machines can be upgraded with a variety of weapons as the game progress.
Before each mission, you'll be debriefed and assigned a couple of objectives along with a specific number of turns to complete them. Central to the game's plot are civilian buildings which basically function as power grids enabling the mechs. Players must protect these buildings at any cost.
To tell you the truth, the amount of tactical prowess that I witness within an hour of playing this game actually made me think how such a quality game can be created on an 8X8 grid platform. It's just damn small.
5. Super Smash Bros. Ultimate
Super Smash Bros. Ultimate/ Bandai Namco and Sora
Genre: Fighting
The most recent game in the Super Smash Bros series, the Super Smash Bros. Ultimate offers more than any of the previous games in every aspect. Here, a total of eight players can choose characters from multiple franchises to fight each other in an arena.
Every character starts with an empty health bar which increases when they take hits. Yes, that's right, instead of leveling a character's health down the game increase the percentage of their bar. Once a character's bar reaches a critical level, it gets easier to knock them out of the game.
Any battle can only be won under one of the three conditions;  Time, Stamina and Stock. In the first condition, players who gain the most points by defeating opponents within a specified time limit is victorious. The last two are last man standing conditions in which players must remain at the battle arena till the end to be victorious.
4. Diablo III: Eternal Collection
Eternal Collection/Blizzard Entertainment
Genre: Action-role playing
Blizzard's one of the finest, Diablo III is a combat-focused role-playing game in which players fight their way through battles and bloodshed, to defeat Diablo, the Lord of Terror. The game has a total of seven glorious heroes (five original, two were added later) which you can choose from.
Even though many people love it, you can completely ignore the story if you want to as it shouldn't affect the gameplay. But the high point of the game is its substantial loot system.
Furthermore, players can easily monitor their overall health, armor points, attack speed of their current weapons, bonuses among other things on the stats corner.
Read: 13 Best Pokemon Games
3. Bayonetta 2
Bayonetta 2/PlatinumGames
Genre: Hack 'n' slash
Bayonetta 2 is another combat focused game in which player control Bayonetta who fights against angels and demons alike with her melee skills and sublime gunplay.
The game features various special moves which players can use to defeat opponents. One such special move is 'Torture Attacks', when activated it traps enemies in an ancient hellish device. Another move is 'Umbran Climax' which increases range and damage of all Bayonetta's attacks for a short period of time.
'Witch Time' which is activated after ditching enemy attacks at the very last moment, slows down enemy around Bayonetta which allows her to retaliate.
Bayonetta 2 has the precision, elegance, the free-flowing and hardcore combat system that hardcore action game lovers wanted to see. But then there are things like oversexualized character design and sometimes obnoxious humor that might slightly spoil the craze.
2. Super Mario Odyssey
Super Mario Odyssey/Nintendo EPD
Genre: Platformer
Released in 2017, Super Mario Odyssey is a popular platformer game in which the player controls Mario as he sails across different worlds to rescue the Princess Peach from his arch-enemy Bowser. The game, in every sense, looks like a modernized version of the Mario 64 and sandbox 3D Mario games.
Like every other game in the Mario universe, Nintendo introduced Cappy, a hat with soul and Mario's new sidekick. It allows players to gain powers of other characters simply by throwing it at them. Cappy can also be used as a weapon and launching platform for making a jump.
While the game has that same old storyline, it does bring something new to the table, for instance bringing classic 2D style gameplay in the 3D world along with the new possession mechanic.
1. The Legend of Zelda: Breath of the Wild
Breath of the Wild/Nintendo EDP
Genre: Action-adventure
While there is no doubt about the fact that The Legend of Zelda: Breath of the Wild is the best game ever made in this popular long-running series, it's also the best game on Nintendo switch at the moment.
Similar to its predecessors, Breath of the Wild is set in an open world environment in which the player solve hidden puzzles, collect various items, and engage in side quests while exploring the vast kingdom of Hyrule.
The game is able to achieve an incredible sense of freedom and adventure by allowing players to explore the game-world in a non-linear fashion. The ability to run in any direction in the game or climb on any surface whatsoever gives me a strange feeling of satisfaction that most other games are unable to do.
Read: 16 Interesting Puzzle Games
From a grassy landscape to long-stretching rivers and misty mountains, The land of Hyrule has it all but that's not the best part. Almost everything from trees to animals and even the enemies that you'll encounter during your journey follows near-realistic rules. And perhaps the best thing about this is that it lets you be innovative.