Whether you are a high school student, an intern in a private company or an experienced professional in any field, you need to take notes and write down important things throughout the day. Do keep in mind that the culture of note-taking is not new as it has been a method of conveying ideas for hundred of years. But, now it's more important than ever.
Before the digital age, there were note pads and pencil scratches. However, the rise of desktops and smartphones have opened the gates to new and powerful tools to take the place of pen and pencils.
Smart note-taking apps have indeed changed the way we manage our work and schedule. Furthermore, the rise of cloud computing has now enabled users to access their notes anytime, anywhere they want. But then all the apps are not the same; each has its own weakness and strong points.
So today, we have compiled a list of the 15 best note-taking apps to help you choose the perfect one for yourself, which will assist you with your job throughout the day.
15. ColorNote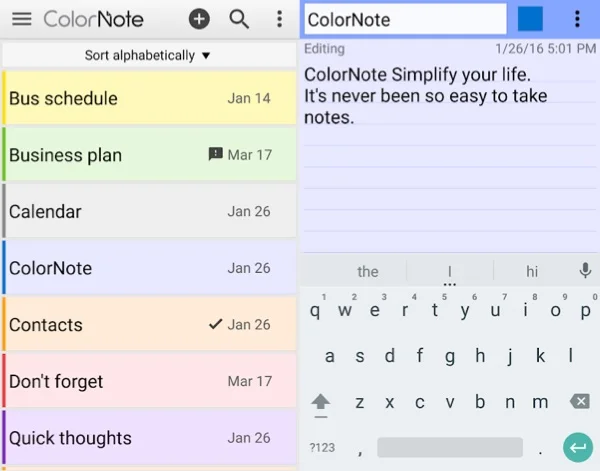 Price: Free
Platform: Android
ColorNote is a simple, yet an effective note-taking app for your Android device. With the app, you can easily manage a to-do-list, write down notes and memos, etc. It has two types of note-taking formats; lined text and checklist format. The lined text format serves as a simple word processor, without any character restrictions.
With checklist mode, you can organize your lists like grocery items or a shopping list. It also allows you to organize your notes by color. All your notes and personal stuff on ColorNote is secured with AES encryption, a standard data encryption technique used by agencies around the world.
14. CintaNotes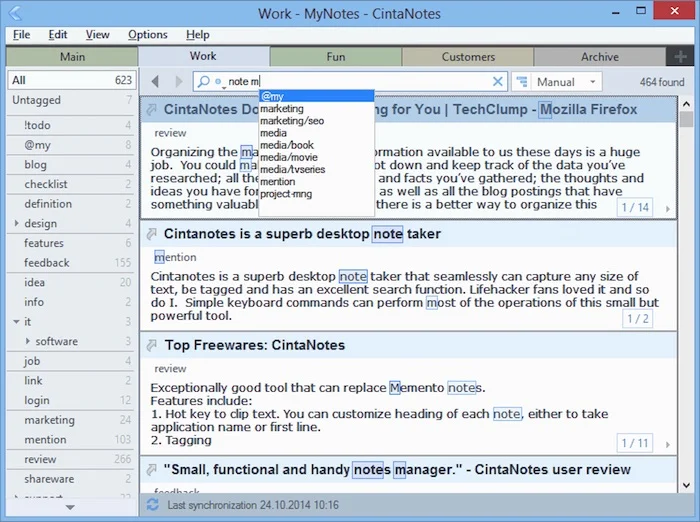 Price: Free, $39/ year
Platform: Windows
CintaNotes is a Microsoft owned note-taking application. With CintaNotes you can capture and store any text over the internet, including images and documents. It allows you to organize your text and notes with tags, however, if you are not comfortable with tagging, don't worry, it can automatically sort out notes based on user-defined rules.
If you want, you can encrypt your entire notebook. It also provides automatic backups, though most of these features come with pro plans.
13. Write
Price: $9.99
Platform: Mac, iOS
Syntax highlighting, tags, multiple writing modes, image compatibility, you name it, Write app has almost everything that an ideal note-taking app should have. One of the best features of this app is its ultra-smooth scrolling performance irrespective of document length.
It also allows you to export all your work in fully formatted HTML along with images and tables. Furthermore, it monitors your note-taking behavior such as writing speed, number of words, etc in order to produce document statistics.
12. Laverna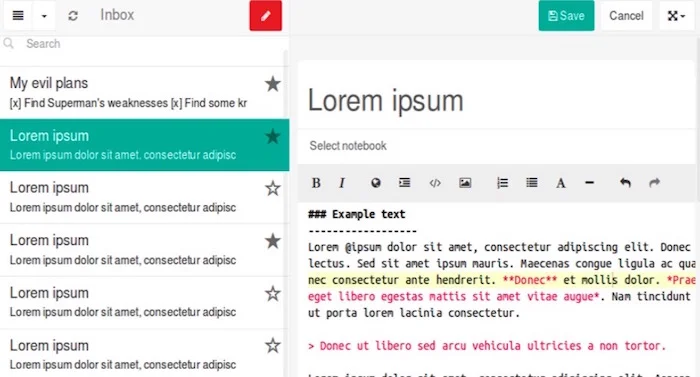 Price: Free
Platform: Web-based, Mac, Windows, Linux
Do you prefer open-source apps over commercial ones and like to try an open-source note-taking app too? If you do, then you can try Laverna. Built on JavaScript, Laverna features an advanced markdown editor and encryption support. You can start using the app without registering.
All your notes are stored in your browser database localStorage and indexedDB for better security. While you can synchronize your data with the cloud, this service is currently limited to Dropbox and RemoteStorage.
11. ClevNote
Price: Free
Platform: Android
ClevNote is a useful app that helps you manage your important work throughout the day. It has a clean interface and is easy to use. With ClevNote you can not only take notes but manage your passwords, bank accounts, and website passkeys. For instance, you can use the app to remember all your groceries before leaving the supermarket.
ClevNote is lightweight, which means it won't be a burden on your smartphone. It uses AES encryption to safeguard all your sensitive personal data. It also features a reminder function and any easy backup option through Google Drive.
10. Any.Do
Price: Free, $2.09/month
Platform: Web-Based, Android, iOS, Chrome App
Any.Do app is one of the most popular task management tools in the world. While it can assist you in a number of ways, users can also use it as a note-taking feature. It is easy to use, flexible, and enables you to manage your tasks, to-do list more efficiently.
Its premium plan provides you with more flexibility and power. There is no restriction on the number of tasks you share with your team and the data upload limit is increased from 1.5 MB to 100 MB. Premium membership also allows you to set reminders based on location and change the app's theme.
9. Nimbus Note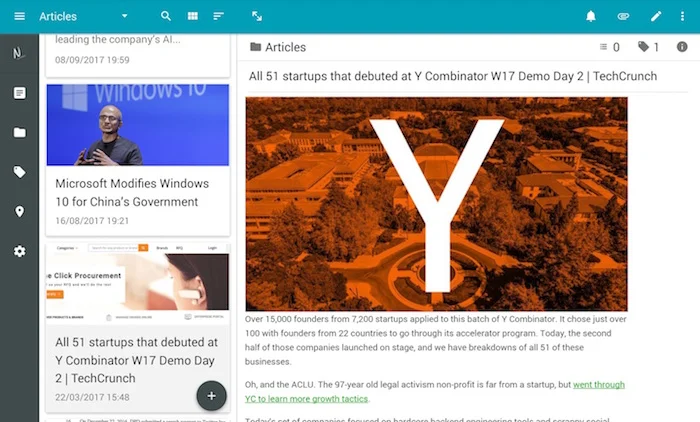 Price: Free
Platform: Web-based, Windows, Android, and iOS
Nimbus Note will never let you forget anything, ever. Nimbus Notes is a simple yet powerful note-taking app that can efficiently organize your notes. With this app, you can create notes, to-do lists, save web pages, and easily share them with others. Also, you can easily scan images and handwritten documents with an inbuilt document scanner.
As far as security is concerned, the app has a locally managed encrypted system to protect all your notes and other files.
8. DropBox Paper
Price: Free, Starts at $8.25/month
Platform: Web-based, Android, iOS
Even though Dropbox Paper is a relatively new player in this domain, it's proving out to be a tough competitor for big players like Microsoft OneNote and Google Docs. It makes teamwork a lot easier. You can easily edit documents and manage projects with your team.
In other words, DropBox Paper is an online word processor in terms of handling and sharing your documents. Its clean design and automation will help you concentrate more on work and less on doc presentation. You get a maximum of 2 GB of storage with the free version.
7. Box Notes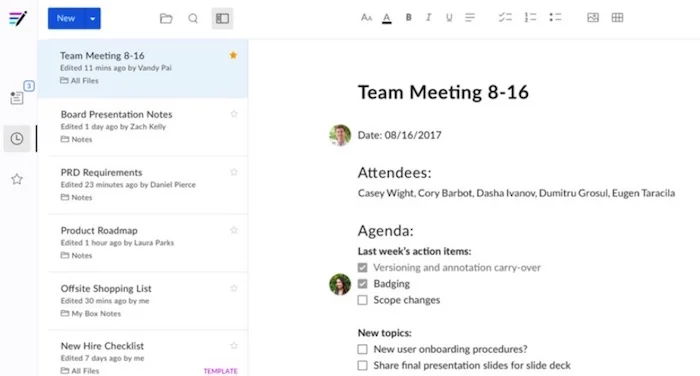 Price: Free, Starts at $5/month
Platform: Web-based, Windows, Mac
Collaborative workflow is essential across many industries and if your job depends very much on collaborating with others, then you need something more than a personal note-taker, something that enables you to work with your team in real-time. Box Notes can solve this problem.
Apart from taking notes, you can perform business reviews among other things, and share them with anyone you want. A maximum of 20 users can use the tool together simultaneously.
6. Zoho Notebook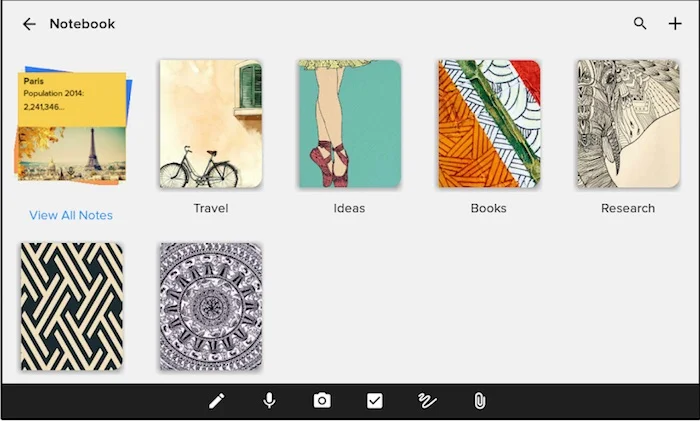 Price: Free
Platform: Android, iOS
Zoho Notebook is a free consumer-oriented app that helps you neatly organize your notes and to-do-list. With the app, you can attach almost anything to your note from images, audio files, and checklists to PDFs and spreadsheets.
Anything you feed into the app gets stored in the form of beautiful colored cards or sticky notes. These cards can be grouped together for future needs. All your notes are easily searchable within the app and are synchronized across all your connected devices over cloud.
Zoho Notebook, however, lacks some important functionalities such as a web-based interface and tag notes.
5. Google Keep
Price: Free
Platform: Web-based, Android, iOS
If you are looking for a simple and easily accessible application for taking notes, then Google Keep is a good option for you. Google Keep lets you add all kinds of notes, including images, lists, and audio. You can also use its remainder feature to get on with your daily chores.
With this app, you can organize notes with the help of labels and color-codes. Native integration with Google Now and other Google services enables you to access your notes anywhere you want.
Security is not a big concern since it runs on Google servers. Overall, it's a great app for note-taking, especially for mobile platforms, but not so if you are focused on PC.
4. Simplenote
Price: Free
Platform: Web-based, Android, iOS, Windows, macOS, Linux
As the name suggests, simplenote is a clean and simple way to take notes. The app is created for those who want a streamlined app that only includes all the necessary features and not a useless function at all.
All your notes are efficiently organized using tags, and a special pin feature allows your most important note to stay at top of the checklist. Of course, you can share your lists with colleagues and friends.
Read: 25 Small Business Collaboration Tools to Streamline TeamWork
3. OneNote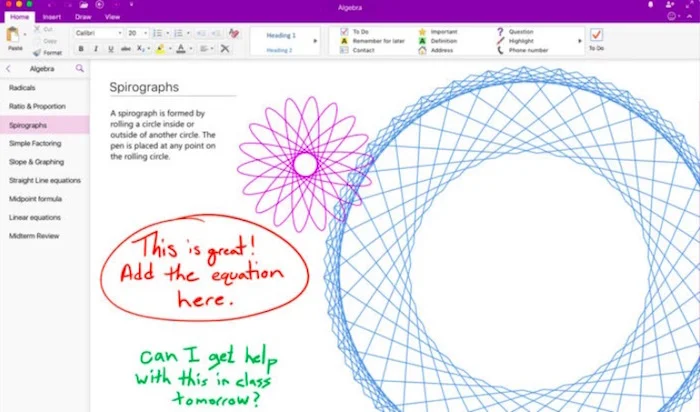 Price: Free
Platform: Android, iOS, Windows, macOS
No list of note-taking apps is complete without Microsoft's OneNote. Over the years, OneNote has become the app of choice for millions across the world. With OneNote, users can save hand-typed notes, create tables, and save web pages, audio clippings, and images.
Users can easily organize their notes by putting them in different folders. The application also supports shared editing, only when a document is saved in a shared folder. OneNote is available as a fully independent application on almost every popular platform. It can also be accessed via OneDrive.
2. Bear
Price: Free basic version, $1.49/ month
Platform: Web-based, iOS, macOS
Bear is a powerful note-taking app that helps you to organize your notes by linking them with each other and make a body of work. It also allows hashtags to efficiently organize your ideas. Bear stores all your notes in portable, plain text. The application automatically recognizes and highlights emails and URLs.
It also features an elegant markup editor, capable of highlighting about two dozen programming languages, which means developers can also use it to write down their code. A number of good themes are available that you can choose to make your work look pleasant.
While all the core features of the application are free, you need to subscribe to the paid plan in order to unlock several advanced features.
1. Evernote
Price: $34.99/year
Platform: Android, iOS, Chrome OS, Windows, macOS, Blackberry OS
Evernote is perhaps the most powerful note-taking app in the world. But it doesn't come cheap. Though there is a free version available that allows users to do some pretty basic stuff, it has limited functionality, especially for professionals. Anyway, the app allows you to create audio and text notes, clip pages, and images from the web and share them easily.
Read: 18 Best Evernote Alternatives For Quick Documentation
Pro users can synchronize unlimited numbers of devices and can create up to 20 GB of new data per month. Evernote also provides a web clipper, a browser-based extension that allows you to capture anything from the web.