Adobe Photoshop is without a doubt the de facto industry-standard software for image editing. Its name is so prevalent these days, just like Google, that it has become a verb with words like 'Photoshop it', 'Photoshop the image' or 'Photoshopping'. Many of its unique features can't really be replaced at least for now.
However, it isn't the only way to give your images a new life – there are other applications that provide powerful image-enhancing tools right at your fingertips. A good alternative to Photoshop needs way more than basic image editing tools like red-eye correction and basic filters. It also needs plugins to fill any gaps. I think you get the idea here.
So, without further adieu, let's start with 18 best Photoshop alternatives to satisfy your image editing needs. We've included both free and premium software versions.
18. GrafX2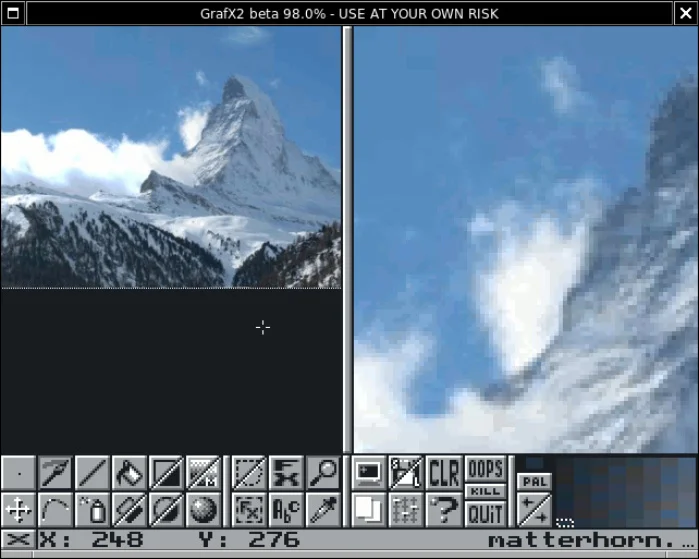 Running on Windows Maker
Price: Free
Platform: Multi-platform
The first image editor in this list is a two-decade-old graphics editor, which supports all open-source and paid platforms, including Windows and macOS. But don't get fooled by its age. Its recent version, contains all the basic tools that you may need to edit your image, including 'a brush', palette editor and other visual effects. It supports most of the file formats; of course, JPEG and PNG are included in the list. Today, it is largely used for Pixel art.
17. CinePaint
Price: Free
Platform: Unix-like
CinePaint is a powerful image and video editing and animation tool, which gained popularity for its use in many memorable Hollywood movies in the early 2000s. CinePaint is known for its ability to work with 16-bit floating point high dynamic range imaging or HDR. It supports JPEG, PNG, BMP and other well known file formats.
16. Seashore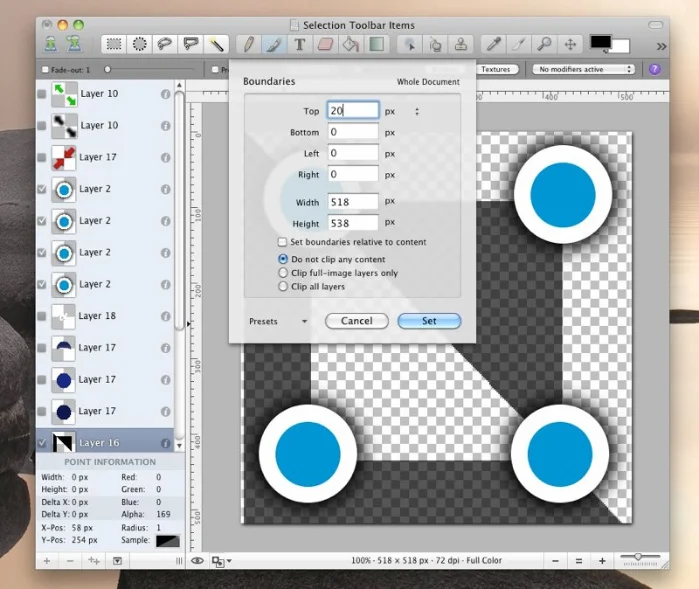 Price: Free
Platform: macOS
Are you a Mac user and feeling the need of a free tool for your image editing needs? Well, don't worry, we have something here for you. Seashore is an effective open source image editor exclusively for Mac OS, which is based on their cocoa framework. Seashore uses some core features of GIMP (GNU Image Manipulation Program) like its internal file format XCF, transparency and gradient effects, plugin filters and alpha channel support.
Seashore also supports few other image formats like PNG, TIFF and JPEG, while partial (read-only) support for GIF, PDF and BMP. Although, it is not as powerful as GIMP or Photoshop, Seashore is still a viable, easy-to-use option for Mac users.
15. Polarr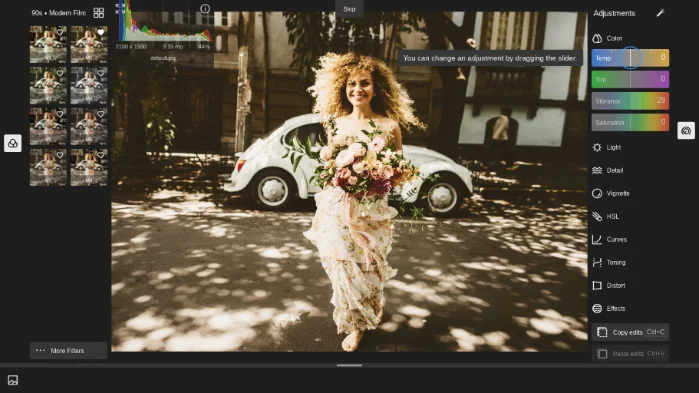 Price: Free, Pro version: $2.49/month
Platform: Multiplatform
Polarr is a popular cross platform image editing tool that focuses on features like color adjustments, gradient masks, lightning effects but fell short on image organization capability and export features. Its paid version allows users to enjoy other feature that are not freely available such as batch processing tools, more than 100 premium filters and text tools.
14. Fotor

Price: Free
Platform: Browser Based
Fotor is a free online image editor, packed with smart filters and image-enhancing tools to make your pictures look really good. It supports most of the well known file formats and also allow its users to work with RAW files.
Though it cannot actually compete with a powerful open source editor like GIMP, its clean interface and easy to use features is a main reason why people love Fotor worldwide.
13. Apple Photos
Price: Free
Platform: macOS, iOS
Apple Photos is a free and easy-to-use app for Mac and iOS users to organize, share and edit their images. The app has a clean and simple interface, coupled with uncomplicated shortcuts so that you get less distracted. To use Apple Photos' image editing feature one doesn't have to be an expert or possess much image editing skills.
Though the Apple Photos is not as powerful as other video editors, its simplicity and basic overall usability make it a popular choice among Apple users.
12. Acorn
Price: $29.99
Platform: macOS
Mac users can also try Acorn, another raster graphic editor solely made for macOS, however it's a paid software. Launched only in 2017, it has already made its name among hobbyist and even professionals as an affordable image editing tool. Its key features include a customized color picker, image filters. Acorn's recent version; 6.0 include all new web import features, color profiles and cloning tools.
11. Paintshop Pro X9
Price: $45
Platform: Microsoft Windows
Paintshop ProX9 is a powerful yet cost-effective image manipulation tool that has emerged as a practical substitute over Photoshop. It comes with a slick interface and plethora of image editing tools such as text wrapping, lens correction, instant effect palette, cloning and much more.
It also has an exclusive Retro lab feature that allows you to add retro style effects into your images. Paintshop Pro X9 also provides batch processing feature and lets you make adjustments on RAW images.
10. PicMonkey
Price: $7.99 to $9.99/month
Platform: Browser Based
PicMonkey is a well known online, browser based image editing service with a mission to 'enable everyday creatives to talk visually'. It has all graphical tools to fulfil your image editing needs. With a huge collection of design templates, fancy image editing filters, blemish and wrinkle removal, PicMonkey is quite a handy image editor.
Although, its services are paid, PicMonkey do provide a trial period of one week, in which users can enjoy most of its features. In 2013, PC magazine placed PicMonkey among the top 100 websites.
9. Krita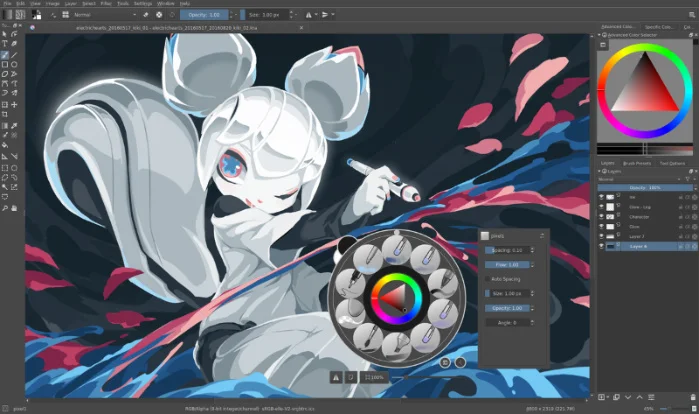 Price: Free, open source
Platform: Linux, macOS, Windows
The open source software Krita is widely applauded for its high-end image editing features including advanced color management support and brush engine, clean user interface, high performing canvas, better masks and layers, etc. Krita is mostly considered as a tool for professionals and is known for its use in the VFX industry.
8. Adobe Photoshop Elements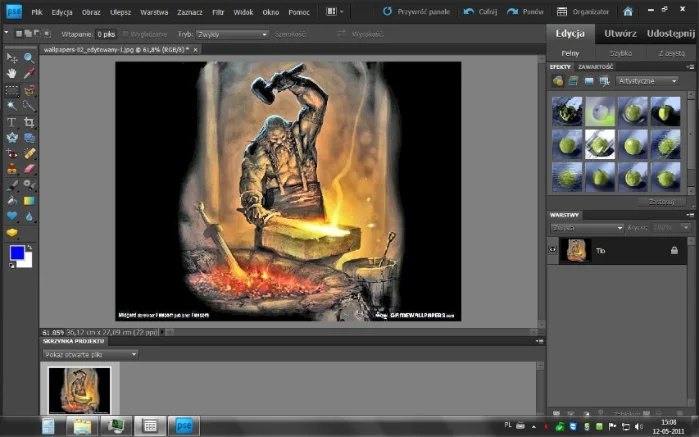 Price: $99.99
Platform: Windows, macOS
Adobe Photoshop Elements is basically an image editor for newcomers, who are still learning different editing tricks and techniques. While it carries most of the features of the professional version, the options are much simpler and fewer. The number of Photoshop plug-ins is also limited here.
Overall, the application is easy to use, versatile and powerful and a solid option for users who want easy to use, guided image editing solutions.
7. Serif Photoplus X7
Price: $79.99
Platform: Microsoft Windows
Serif Photoplus X7 is a cost effective image editing tool: it's an easy to use application with lots of artistic effects. Features like lens correction, comprehensive Wrap studio and easy social media share make it even more useful. The learning curve of this tool is pretty high and it is definitely not advised for beginners and novice.
6. SumoPaint
Price: Free, $4/month
Platform: Browser Based
SumoPaint is a browser based image editing tool, which is available in both free and paid versions. In terms of tools and features, it has some striking similarity with Photoshop and popular image editing tool Pixlr. Few of its important features are layering capability, color balance and options for shadows.
It's packed with all standard image editing tools – pencils, brushes, shapes, texts, gradients, etc., which are readily accessible from the side toolbar. However, compatibility issues and other limitations make it quite less popular among advanced users and professionals.
5. Pixelmator Pro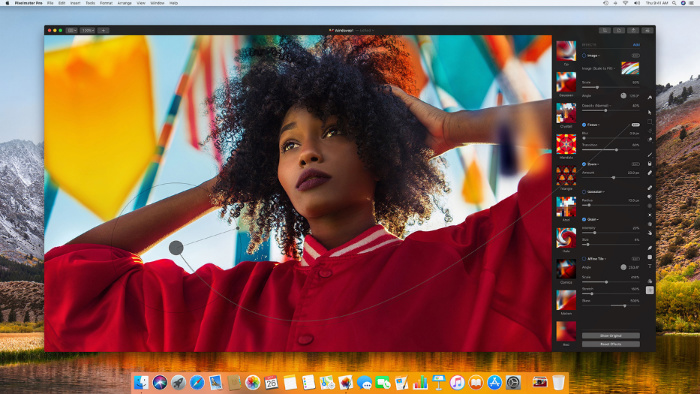 Price: $
Platform: macOS and iOS
Pixelmator Pro is another good Photoshop alternative for Mac users. It uses advanced Mac technologies like Automator and Core Image to provide a superior image editing environment. With over 40 tools for cropping, retouching, measuring, navigation and typing, plus 16 color correction and 50 different filters, Pixelmator can perform almost every job you throw at it.
4. Pixlr Editor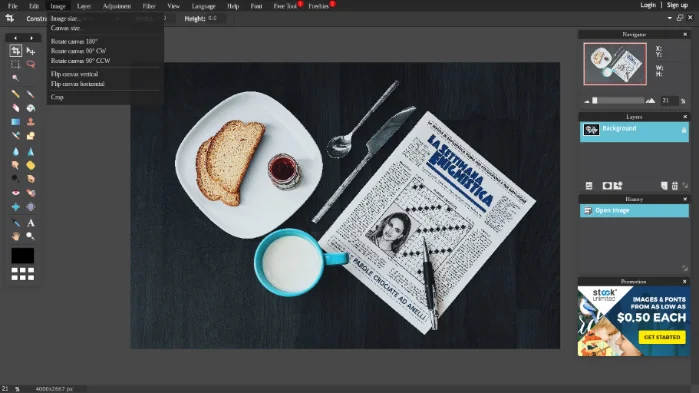 Price: Free
Platform: Browser Based, Smartphone
Pixlr is a highly respected name in the image editing world. It is arguably the best browser based image editing tool right now. Pixlr is free and have all the important features you expect from a good photo editor, everything from cropping, re-sizing, overlays, red-eye etc.
Initially, Pixlar was intended for non-professional use, but over the years, several advanced photo editing features were also included. Pixlar editor has a very easy and similar interface to that of the Photoshop. It also has many Photoshop-styled tools such as noise adjust, unsharp mask and blur. You can easily use it on multiple devices, including your smartphone via app.
3. Paint.Net
Price: Free
Platform: Microsoft Windows 7
No list of Photoshop alternative is complete without the Windows-based Paint.Net. What started as a computer science project during spring of 2004 as a basic MS Paint replacement, has gradually become a full fledged image editor with plugin support, and many advanced features has been added over the years.
Like other popular image editors, Paint.Net offers a wide range of manual editing tools with advanced automatic filters to perform finest of adjustments. Plugins are an important part of this freeware program which add masks, effects and support for other file types. Batch processing feature is added by default.
Read: MS Paint for Mac: 10 Similar Sketch Tools
Overall, it's reliable, fast and runs exceptionally well on older PCs. Paint.Net is actually a viable option for users if one can live without recent additions in the Photoshop.
2. Affinity Photo
Price: $49.99 (One time fee)
Platform: iOS, macOS, Windows
Affinity Photo became an instant hit among professional photographers soon after its launch in 2015. The application is often hailed as a suitable alternative for Photoshop; it provides a wide range of image manipulation features like image stitching, aberration and black point compensation.
With only one time fee, Affinity Photo is a much cheaper alternative to Adobe's Photoshop. The application is also fully compatible with popular file formats including PSD (Photoshop). If you are still not sure about the image editor and want to try it first, no problem, they also have a free trial version available on their website.
1. GIMP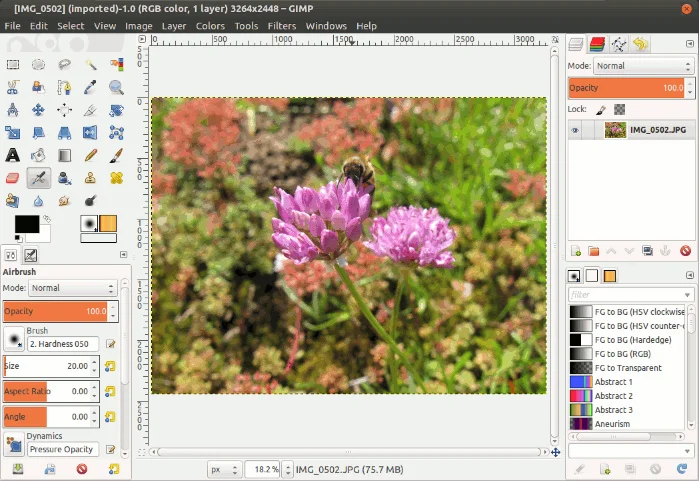 GIMP 2.8 running on Ubuntu
Price: Free
Platform: Windows, Linux, macOS, BSD
The GNU Image Manipulation Program or simply GIMP is perhaps the best Photoshop alternative that you can get right now. It's free, open source and has been around for more than two decades. GIMP provides a wide range of image editing tools which enable users to perform actions like color correction, pixel cloning among many other things.
Read: 15 Tools to Instantly Convert 2d Images to 3d Ones
The editor supports a wide range of file extensions, means you can easily work on popular image formats such as JPEG, PNG and TIFF. Plug-ins can further increase its format import/export capability. Also, you can enhance its functionality with few useful extensions like GIMP Animation Package, Resynthesizer and GIMP Paint studio.
If you are planning to jump from Photoshop to no-cost GIMP, then it should be relatively easy as GIMP shares some striking similarities with Photoshop except its interface.