Plumbing software programs allow businesses to automate daily scheduling, dispatching, and billing systems. They make it easier for staff members to communicate and view customer history to offer better customer experience.
Some advanced tools can even estimate commercial, construction, or residential jobs. Using this data, companies can efficiently hire employees and increase their return on investment.
Overall, a good plumbing platform gives you a 360-degree view of your business so you can make informed decisions and deliver excellent service every time. Below, we have featured some of the best plumbing software services that help you find the perfect fit for your business operations.
9. ServiceTitan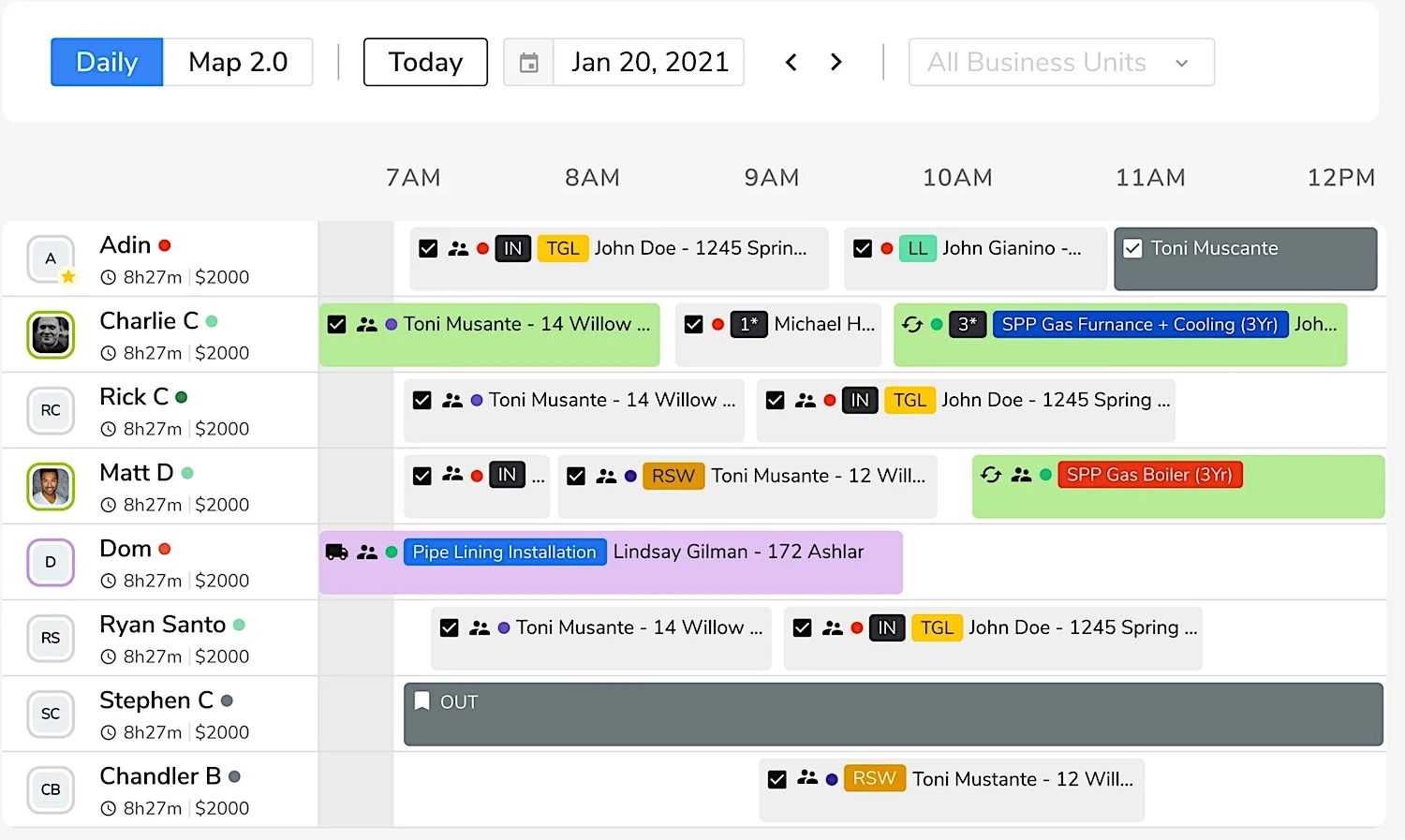 Released in 2007
Price: Starts at $125 per technician per month | 14-day free trial available
Rating: 8.6/10 from 200+ clients
ServiceTitan offers end-to-end solutions to grow your plumbing business, manage the back office, and deliver a steller customer experience. It includes a customer relationship management tool, intelligent dispatching system, comprehensive reporting dashboard, and marketing management tools.
The platform's core product offers drag-drop dispatch board (that allows you to match skilled workers to jobs they are perfect for) and communication system (that allows you to seamlessly contact workers via emails, calls, and texts).
Unlike most other plumbing software, ServiceTitan also tracks advertising ROI and location of new customers. It ranks all your campaigns by revenue, so you can drill down and see what type of ads are generating the most profitable jobs.
Features
Deliver accurate, cloud-based quotes
Assign work orders and monitor job progress
View real-time ad campaign performance
Schedule recurring services for contracted customers
You can also provide various financing options to your customers to close bigger jobs. Or your customers can apply for financing directly from the ServiceTitan app and receive instant approval. According to the company, offering financing options results in 17% increase in business revenue and 11% increase in average ticket size.
Although they have not mentioned any pricing details on their official website, it usually costs between $125 and $400 per month. All plans include intuitive dispatching, call recording, automated checklists, and adaptive marketing.
If you are looking for more affordable options, we recommend you to explore other field service platforms like Jobber and Housecall Pro.
8. FieldEdge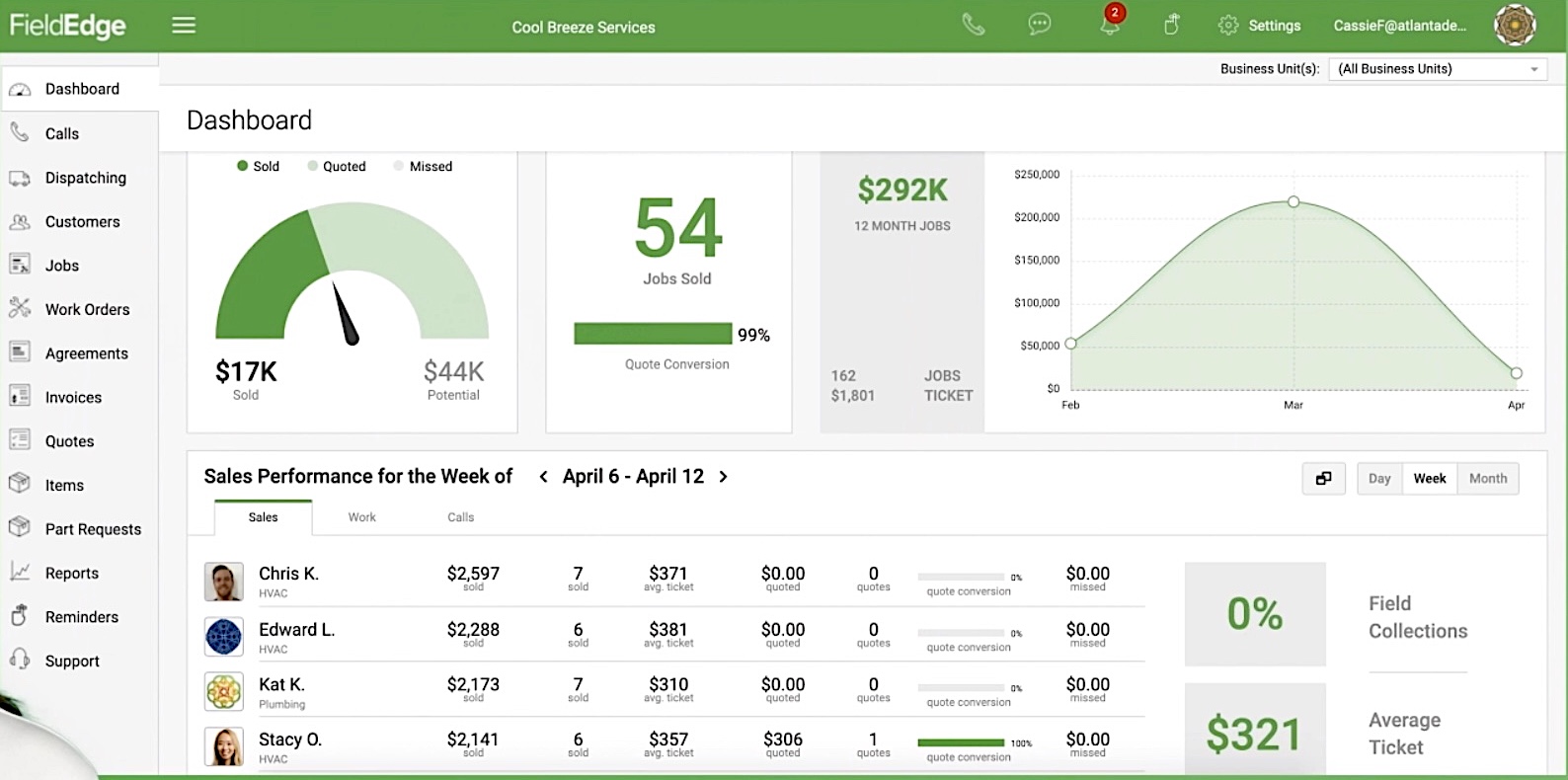 Released in 1980
Price: Starts at $100 per month | 14-day free trial available
Rating: 8.7/10 from 2,000+ clients
FieldEdge is one of the oldest field service management programs initially developed to help contractors run their HVAC businesses. Over the past four decade, the company has expanded its operation to a range of industries, serving 40,000 clients.
Today, it empowers plumbing businesses to increase efficiency, generate bigger tickers, and deliver excellent customer experience.
The dynamic dispatch board, for example, makes it easier for you to assign the right plumber for every job based on skills and distance from the job. It shows the status of each plumber (traveling, working, or pending). Just drag-drop the unassigned tasks to specific field workers, and that's it.
The platform also keeps a detailed database of your customers. You can view work order histories, quotes, invoices, quotes, and components used in the job.
All relevant information can be accessed via the mobile app. Your workers can customize services based on customers' demand, update work orders, and add notes for future references.
Key Features 
Create work orders and dispatch workers right from the smartphone app
Track performance of field workers and office staff
See how many leads are converting into customers
Built-in payment processing system
And since FieldEdge integrates with QuickBooks, you don't have to enter data twice to maintain your business finances. Transactions made in either the office or the field are automatically sync and show up in both platforms.
As for pricing, FieldEdge costs between $100 and $150 per user per month. If you have a large team, you can go for the higher plans that allow you to add unlimited users.
7. RazorSync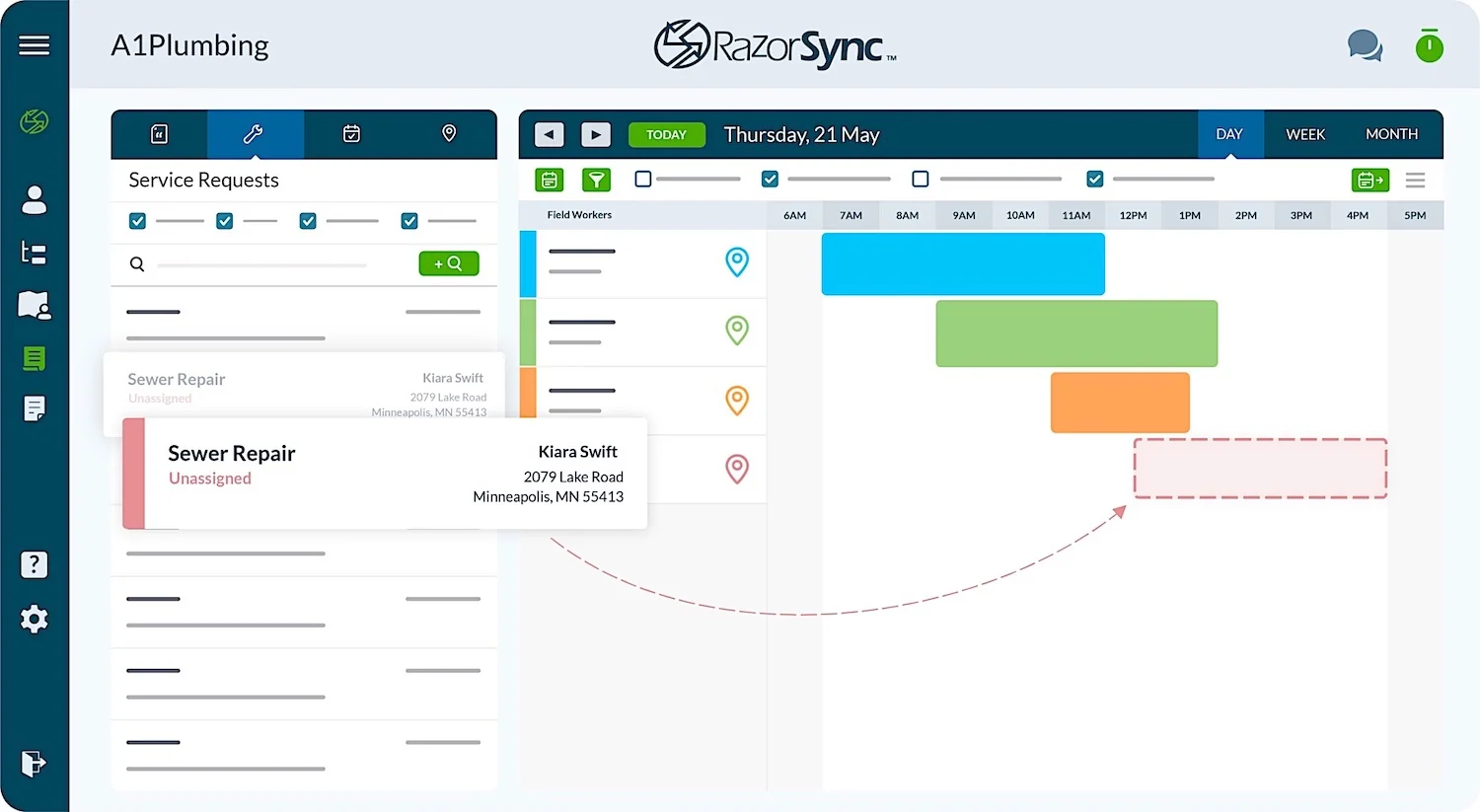 Released in 2010
Price: Starts at $55 per month (when paid annually) | 14-day free trial available
Rating: 8.6/10 from 500+ clients
RazorSync centralizes your plumbing operations into one view, helping you identify potential areas for improvements. It is designed for small businesses to enhance team efficiency and internal workflow.
The platform shows the location of your field employees, jobs they are currently working on, and their upcoming jobs — all while tracking hours and payroll. This makes it easier for you to analyze the performance of each employee (either from the office or field) for payroll reporting and distribution.
Key Features 
Put customer records in one place
Color-coded workflow status for quick visualization
Intuitive map view and time tracking
One-click payment option for customers
RazorSync is packed with some attention-seeking templates that can be used for sending texts and emails to employees. You can also use color-coded worker and work order tagging system to instantly understand job statuses.
Another great feature of RazorSync is its automated billing system. Several businesses have increased their revenue by 9% and shortened the billing cycle by working days.
You can try it for free for 14 days. If everything goes well, small businesses can opt for the 'TEAM' plan, which costs $145 per month (when paid annually). It comes with all standard features and advanced reporting and supports up to seven users.
6. Knowify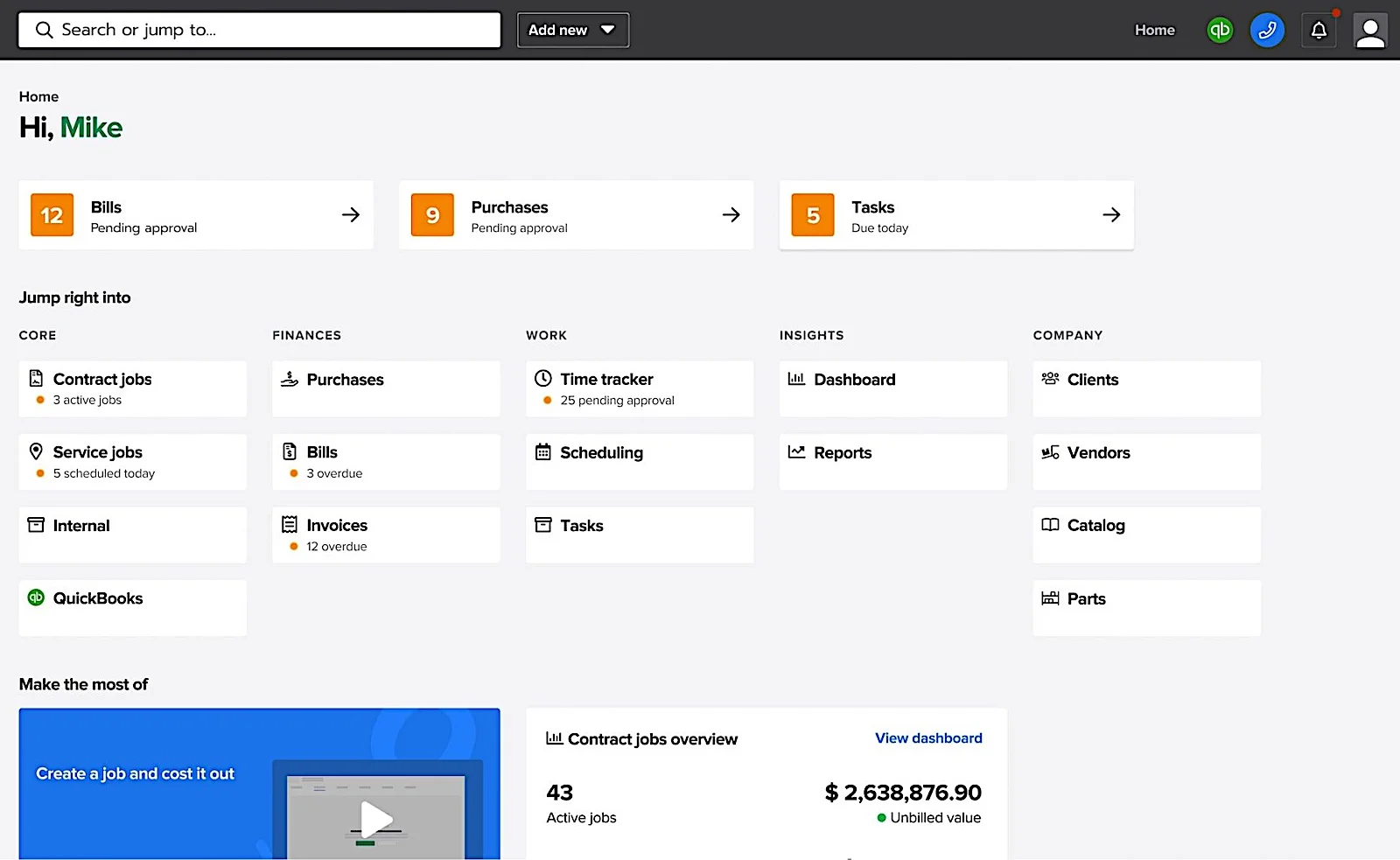 Released in 2012
Price: Starts at $149 per month (when paid annually) | 14-day free trial available
Rating: 8.8/10 from 1,400+ clients
With Knowify, you can manage scheduling, workers' tasks, service tickets, contracts, invoicing, and billing at one place. It simplifies and streamlines you business processes, giving you more time to focus on implementing right strategies and increasing revenues.
You can use its in-built project management tools to estimate jobs and monitor field workers' performance. Unlike other platforms, Knowify is well-integrated with timekeeping and purchasing. This means you will be able to see real-time progress of workers and materials budgets without entering any additional data.
Key Features 
Streamlines the quoting process
Shows workers' performance and expenses in real time
Supports standard and commercial invoicing
Integrates with QuickBooks
Knowify also comes with powerful bidding and estimating tools that make it easier for you to prepare bids for commercial jobs. It also helps you create long-term contracts and capture customers' acceptance (via e-signature) of your terms.
You can start with a basic plan, which allows you to manage up to 10 active jobs and track labor and material costs in real-time.
5. mHelpDesk
Released in 2009
Price: Starts at $169 per month | 14-day free trial available
Rating: 8.5/10 from 1,000+ clients
mHelpDesk is a field service automation software that eliminates the slow and tedious processes for plumbing contractors. It can handle almost all operations, from scheduling and dispatching to inventory management and payments.
mHelpDesk comes with a lead management feature that allows you to create accurate estimates and send them to your customers. Interested customers can then book appointments online by selecting the type of services at available dates and times.
Key Features
Live mapping and map-view routing
Text message dispatching and inventory tracking
QuickBooks and Google Calendar integration
Staff productivity reporting
You can quickly schedule and assign jobs to plumbing crews. The platform notifies your crews and gives you real-time updates. It has a GPS tracking system to give you real-time location data of your field workers.
Just install the mobile app to get all notifications and always be on the same page with your office stage and field workers. The app uses push notifications, SMS text, and emails to make communication between your team members seamless.
Moreover, you can view all customers' service history and track customer equipment details. Everything is organized in an easy-to-understand format.
As for pricing, it seems relatively expensive for what it offers.
4. Marketing 360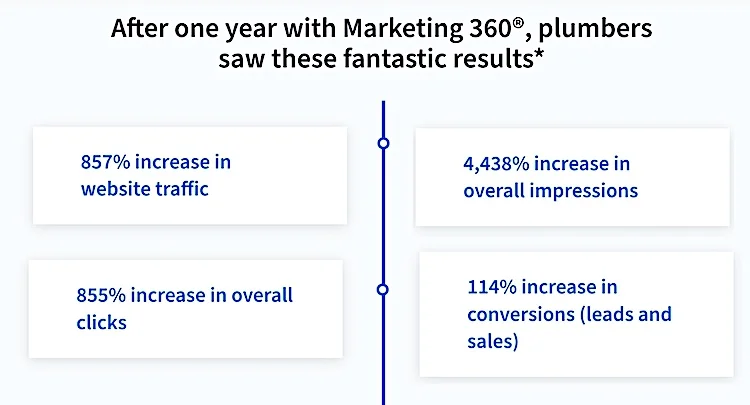 Released in 2009
Price: Starts at $25 per month | 30-day free trial available
Rating: 8.8/10 from 1,100+ clients
Most plumbing businesses fail within five years because they can't stand out in a saturated market. It's not like there is a low demand for plumbing solutions, but businesses struggle to get themselves noticed and pick the right audience.
That's where Marketing 360 comes in handy. It helps you pinpoint what's unique in your plumbing business and why it is better than thousands of other plumbing solutions available in the market. It puts your business in front of the target customers, in the right place, and at the right time.
Key Features
Build an attractive website for your brand
Drive high-quality leads through multi-channel advertising
Target the right audience
Monitor performance
The platform gives you a set of tools to create a streamlined, cohesive marketing strategy across the website and social media channels. For example, you can manage pay-per-click advertising (PPC) and search engine optimization (SEO) from one place.
To make the most of your investments, you need to know what strategy is working and what's not. The Marketing 360 platform covers that too — it gives you a detailed report of all key metrics like content marketing, multi-channel advertising, social media engagement, and email management.
This helps you make data-driven decisions, deliver better customer experiences, and maximize your return on investments.
3. FreshBooks Accounting Software
Released in 2003
Price: Lite version costs $15 per month | 30-day free trial available
Rating: 8.9/10 from 8,500+ clients
With FreshBooks Accounting Software, you can grow your plumbing business more efficiently and faster. It handles the financial health of your business so you can focus one more important things like delivering a better customer experience.
This all-in-one accounting tool is designed to take care of every bookkeeping needs, from managing cash flow and creating invoices to tracking time and activities of your employees. Since it tracks every dollar, you can run accurate reports and view payments and profits.
Plus, there are plenty of integration options that allow you to manage appointment scheduling and payroll directly through your [cloud-based] account. They have also built a smartphone app that lets you work anywhere on the go.
Key Features 
Create customized invoices and add personalized notes within minutes
Send recurring bills to regular customers
Late payment reminders
Appointment scheduling and auto-billing for plumbing services
Integrates with various business-friendly applications
You can start with a Lite plan, which allows you send unlimited invoices to up to 5 customers, track unlimited expenses, send unlimited estimates, and view reports.
2. Jobber
Released in 2011
Price: Starts at $19 per month (when paid annually) | 14-day free trial available
Rating: 9/10 from 4,100+ clients
Jobber's plumbing management platform allows you to design professional-looking estimates and get approved online, schedule tasks, dispatch field workers, and keep track of each task throughout the process. Whether you are responding to scheduled maintenance or emergency requests, this platform has everything you need to run your business smoothly.
Organize your customers' data (including past invoices and job details) in one place. Add custom fields to store supplementary information like water tanks installed at the property. Attach property notes, images, and other relevant documents to each field.
Key Features 
Send professional-looking estimates
Schedule Dispatch your crew within a few clicks
Manage leads separately from existing customers
Automate invoicing and get paid faster with Jobber's credit card processing
The platform also makes it easier to differentiate between leads and existing customers. You can view, manage, and respond to leads via emails. And since it integrates with QuickBooks Online, you can easily keep your accounting information (invoices, job details, payment data) up to date.
In addition to plumbing service tools, Jobber also provides general contractor tools, construction software, and HVAC servicing platform — all at the same prices.
1. Housecall Pro
Released in 2013
Price: Starts at $49 per month (when paid annually) | 14-day free trial available
Rating: 9.1/10 from 10,500+ clients
Housecall Pro is all-in-one software to schedule, dispatch, create estimates and invoices, and handle payments — all while delivering a great customer experience.
This SaaS (Software as a Service) platform can be accessed via a web portal or mobile app. You can create professional estimates from your phone and provide detailed proposals with images and multiple options.
Your customers can use the portal or app to book the service, communicate with your team, and make online payments. They can even sign recurring maintenance agreements or opt for long-term deals.
Key Features 
Manage appointments with a drag-drop calendar
Track workers' locations and assign them to the closest job
Add services and customize line items during the job
Provide instant financing options to customers
The platform also makes it easy to assign field workers and estimators to the calendar. Use the in-app messaging system or automatic phone notification to communicate with team members and keep workers updated.
Once the job is done, you can offer multiple payment options to your customers, including ACH, debit card, credit card, or competitive consumer financing options. The app simplifies the financing process and prevents late payments.
The reporting dashboard give you detailed insights of your business. It shows field workers' performance, job profitability, weekly revenue trends, converted estimates — all in a single place, so you don't have to spend time hunting down your data.
As of today, Housecall Pro serves over 30,000 plumbing, electrical, HVAC, and other field service businesses.
Other Equally Good Tools for Plumbers
10. WorkWave
Price: Starts at $79 per month | Free demo available
Rating: 7.1/10 from 100+ clients
WorkWave is a cloud-based service-oriented company connects you with your technicians, giving you complete visibility of what's happening in the field.
Like other software, it comes with a scheduling dashboard and job management tool, so you can assign technicians to the right jobs and access customer information — all in a single place.
They have developed a smartphone app for field workers to time in and out of jobs, view crucial job details, and connect with the office.
Key Features 
Field workers get most up-to-date schedules on their smartphones
QuickBooks integration
Productivity and marketing reports
Generate leads and track marketing campaigns
Overall, WorkWave can help you improve your operational efficiency throughout the sales cycle, from signing new customers and delivering service in the field to invoicing and everything in between.
11. GorillaDesk
Released in 2012
Price: Starts at $49 per month | 14-day free trial available
Rating: 8.8/10 from 350+ clients
GorillaDesk allows you to plan and dispatch team members via optimized routes in minutes. This helps you reduce mileage, improve efficiency, and increase operating profit every day.
It also helps you strengthen your business finances. Use pre-designed templates to create invoices, get paid faster with recurring invoices, and send automatic payment reminders to keep your cash flow aligned with business goals.
Key Features 
Access customers data from any device at any location
Track your technician's location on the map in real time
In-depth reporting helps you make data-driven decisions
Integrates with QuickBooks Online
GorillaDesk also offers an easy-to-use customer portal where your customers can view quotes, book appointments, pay invoices using a credit card, and request additional work.
You can start with the basic plan that has everything you need to run local plumbing business efficiently. It allows you to manage up to 24 jobs simultaneously.
12. PlumbersCAD
Platform: Mac | Windows
Price: $138 per month | $1,385 a year | $2,493 one-time fee | Free trial available
PlumbingCAD allows you to create 2D and 3D designs (such as complex plumbing systems) for residential and commercial projects. It is specifically designed for plumbers to make 'As-Built' drawings (also called 'As-Installed' plans).
The software program has an intuitive interface with minimal buttons, a reactive cursor without unnecessary indicators, and guiding prompt.
It allows you to produce accurate 3D views of a 2D plumbing system. In fact, it supports numerous special views that make it easier to review and analyze your designs. You can utilize these views to highlight specific pipe sizes, certain types of fixtures, or hot/cold piping only.
Key Features 
Draw 2D or 3D designs using accurate measurement tools
Import PDF and AutoCAD drawings
Locate items by layer, name, style, type, color, and weight
You can either upload a CAD file or create your own plumbing system design from scratch. PlumbingCAD is advanced enough to create a material list based on your design. It also gives you the option to customize the included products and generate quotes that can be exported to PDFs.
Overall, PlumbersCAD is an enhanced version of RealCAD software. You can use a range of CAD tools to draw any intricate designs, not just plumbing diagrams.
13. Service Fusion
Released in 2014
Price: Starts at $126 per month (when billed annually) | Free demo available
Rating: 8.9/10 from 200+ clients
Service Fusion is an all-in-one field service management platform that lets you run your plumbing business from anywhere with enterprise-level features.
Service Fusion has a clean, easy-to-understand interface that keeps you focused on what really matters. It increases your productivity and communication efficiency while reducing errors and time spend on tedious tasks.
For example, it eliminates manual scheduling and dispatching, allows you to create estimates and jobs within a few clicks, and gives you quick access to customer information and job history.
Key Features 
Connect field workers with office team through a highly-rated mobile app
Capture pre-work and post-work signature
Customers can book appointments via a web portal
Auto-route calls to technicians
While Service Fusion doesn't have any free version, all paid plans offer personalized onboarding and unlimited training and support via live chat, phone, or email.
More to Know
What's the difference between plumber and pipefitters?
Plumbers' jobs include installing, repairing, and maintaining the water systems, drainage systems, and gas systems in residential and commercial buildings. They design piping system, unclog pipes and drains, fix sinks, and replace water fixture.
Pipefitters, on the other hand, perform industry-specific tasks. They assemble, install, and maintain pipes that transport gases and chemicals, as well as systems that generate heat and electricity. They work with pipes (more like PVC, copper, and heavy-duty materials) that are designed to withstand high pressure.
Where is the highest demand for plumbers?
Developed states with large population have the highest employment rates for plumbers. For example, New York, New Jersey, and Pennsylvania employ more than 28,600+ plumbers, steamfitters, and pipefitters.
And since Pennsylvania has been a leader in the production of oil and natural gas, pipefitters and steamfitters find more opportunities here than in any state.
How much do plumbers earn?
According to the USNews, plumbers make an average salary of $60,000 a year. The top 25% make about $78,000 a year, while the bottom 25% make $47,000 a year. This is slightly higher than other similar jobs like electricians, carpenters, insulation contractors, and construction works.
Anchorage, San Francisco, San Jose, Fairbanks, and Chicago are among the best-paying cities for plumbers.
Plumbing Fixtures Market Size
According to the Transparency Market Research report, the global plumbing market size will exceed $91.9 billion by 2031, growing at a CAGR of 4.7% from 2023 to 2031.
The increasing demand for plumbing services, especially in Asia Pacific countries, is opening up new doors for market players. Businesses are now focusing on long-term growth through efficient integration and continuous improvements in plumbing fittings.
Why you can trust us?
We thoroughly analyzed 25 plumbing software and read clients' reviews. It took more than 30 hours to do the comprehensive research. Eventually, we decided to shortlist the 13 platforms based on their services offered, pricing structure, and ability to integrate with third-party tools (like QuickBooks).
Our "Rating" is the average of all ratings given by genuine clients on trusted review sites. In order to show you the true picture, we haven't considered reviews and testimonials featured on the company's official website.
We DO NOT earn commission from any of the featured services. Moreover, we have two independent editors who have no influence over our listing criteria or recommendations.
Read More 
13 Best Sales Tracking Software For Small Businesses
8 Types Of Business Ownership You Must Know