Predictive Analytics involves utilizing statistics and advanced modeling methods to estimate future outcomes and performance. It analyzes the historical and current data patterns to predict whether similar patterns are likely to emerge again.
To make such predictions, it leverages a series of techniques such as data mining, artificial intelligence, and deep neural networks. Data mining, for example, can be useful for analyzing large sets of structured and unstructured data to identify specific patterns.
Today, predictive models are applied in tons of applications, ranging from translating voice to text and creating video games to developing investment portfolios and forecasting weather. They also help businesses develop marketing strategies, forecast revenues, and manage inventory.
According to recent surveys, over 85% of businesses believe that predictive analytics will be a key factor to their future data analysis success. However, only a few of them have been able to fully integrate the predictive tools into their business models.
This is because most firms don't have expertise in choosing the right technology for their requirements. They usually end up buying an expensive tool that fails to meet future expectations.
To make sure that you don't make the same mistake, we have carefully curated a list of some of the best predictive analytics software programs. They can help you detect frauds, reduce risks, optimize operations, and make informed decisions.
9. TIBCO WebFOCUS
Rating: 8.8/10 from 150+ customers
TIBCO WebFOCUS is a business intelligence platform that features data management, predictive analytics, and stunning visualizations. It is developed for business analysts, administrators, data scientists, and researchers to examine and collaborate on analytics content.
Simplify complex data sources and prepare them for analytics, visualize that data in different formats, and arrange the new content into an interactive page — all within a single session.
The platform combines data science and artificial intelligence, giving more insights to researchers to make data-driven decisions and ensure the best outcomes. It also makes it easy to publish reports and distribute interactive applications at a massive scale. 
Key capabilities 
Data science machine learning

: Build business reports, predict trends, determine risk, and answer questions by leveraging Natural Language Processing techniques

Location analytics

: Merge business intelligence and geographic information to identify patterns in data

Detailed reports

: Schedule reports to run at certain intervals

Analytics anywhere

: Share interactive analytics with team members and further explore content on-demand
The platform supports various out-of-the-box applications and use cases. Law Enforcement firms, for example, use pre-designed WebFOCUS app with real-time crime dashboard and officer activity. Credit Unions use customized plugins for important KPIs, such as transaction information and member retention.
Overall, the TIBCO WebFOCUS is uniquely designed to fulfill all requirements of a modern enterprise.
8. SAP Analytics Cloud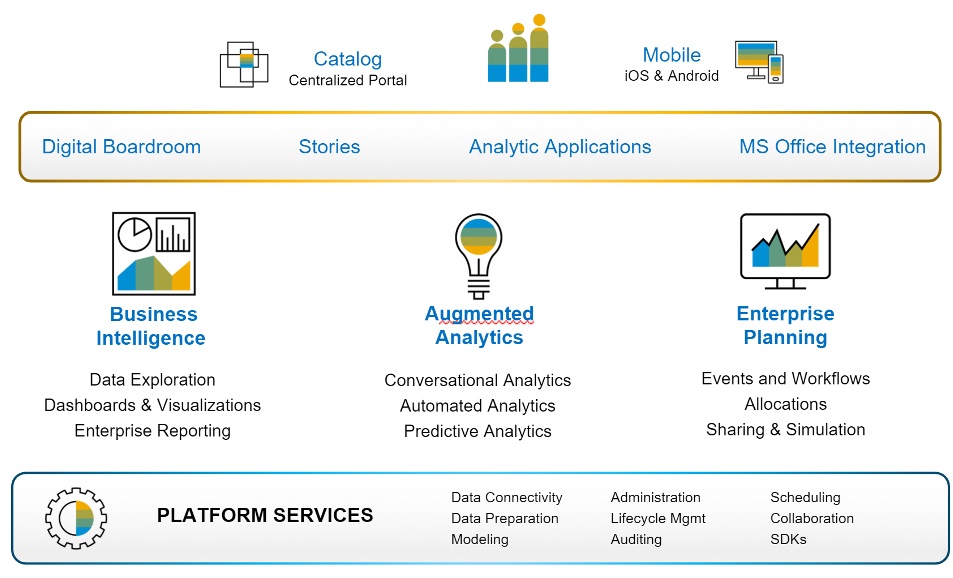 Rating: 8.9/10 from 1,200+ customers
SAP Analytics Cloud is offered as a SaaS for planning, business intelligence, and predictive analysis. It uses artificial intelligence and neural networks to predict future outcomes and maximize data-driven decision-making.
The platform allows you to dig into any level of detail, from a single data point to the whole model, and answer questions about future possibilities. There's a feature called Smart Predict, which makes it easy to develop predictive models faster. All you need to do is select a suitable model that can answer the trickiest questions and discover new information.
Key Features 
Improves business decisions and analysis workflow
Stunning visualization with role-based personalization
Dedicated view of business sustainability performance
Rapid setup and results
Overall, you can monitor operational, financial, and sustainable business performance at the deepest level to make informed decisions. And to do that, you need to pay $36 per month (excluding tax). SAP also provides one-month free trial to all users.
7. IBM Watson Studio
Rating: 8.5/10 from 350+ customers
IBM Watson Studio allows analysts, developers, and data scientists to run and manage AI models. One can create a project and share it with other team members to work on it simultaneously. All members will have access to various analytics models and open-source tools, such as Spark and RStudio.
The platform also makes it easy to bring together popular frameworks, like TensorFlow and PyTorch, for code-based and visual data science. Work with Jupyter notebooks or write in Python, Scala, and R in a secure and governed environment.
Watson Studio features a Natural Language Processing Premium Environment where all users (working on the same project) get access to pre-trained test analysis models in 20+ languages. These modes are developed and tested for quality in each language by IBM Research Team.
Advantages
Develop and deploy AI anywhere
Synch apps and AI
Plan and allocate resources using 'prediction' done by AI models
Manage risks and regulatory compliance through automated validation
The platform also comes with a tool called "AutoAI" to help beginners develop AI models faster. It automates the entire process of making AI models, from data preparation and feature engineering to hyperparameter optimization.
As far as pricing is concerned, you can either choose from multiple licensing options or pay only for the resources you use on a fully managed IBM Cloud Pak.
6. Minitab Statistical Software
Rating: 8.9/10 from 650+ customers
Minitab Statistical Software looks at past and current data to detect patterns, discover trends, and reveal hard-to-find relationships between variables. It comes with advanced analytics that allows users to predict accurately, compare alternatives, and forecast business outcomes for the near future.
You can extend the capabilities of the software by integrating machine learning algorithms such as Random Forests, TreeNet, and Classification and Regression Trees. Or, you can write your own code (in Python or R) from scratch.
The software is also known for presenting complex data in a simple, beautiful manner. It has an interactive tool that lets you view various graph options without running your analysis again and again. You can seamlessly switch from heatmaps to correlograms to bar charts and more.
Key Features 
Descriptive statistics and charts
Time series plots and trend analysis
Proprietary machine learning algorithms to answer tricky questions
Powerful scripting capabilities
Minitab is used as a statistics education program at more than 4,000 universities and colleges. Thousands of businesses, including over 80% of the Fortune 500, use Minitab products to make more accurate decisions in lesser time.
The annual subscription of Statistical Software + Predictive Analytics Module costs $2754 per user. Teachers and students can opt for a more affordable option (rental program), which costs $55 per annum.
5. AVEVA Predictive Analytics
Rating: 7.9/10 from 150+ customers
AVEVA Predictive Analytics is specially designed for industrial plants and other asset-intensive organizations. It provides early warnings and diagnosis of equipment issues weeks before failure, helping organizations minimize equipment downtime and maximize reliability while reducing maintenance costs.
To precisely identify defects in instruments, AVEVA uses multiple data analysis methods, including machine learning techniques, advanced pattern recognition algorithms, and artificial neural network technology. It gathers data from factory instruments and learns how they perform under different tasks.
More specifically, the current and past sensor data is fed into the AVEVA model and compared to real-time operating data. When there is a slight mismatch, the software alerts the admin and provides fault diagnostics. It can also assist admins in conducting root cause analysis and understanding the reason and potential risks of the problem.
Key capabilities 
Asset-centric visualization and alerting
Offers online monitoring of abnormal conditions
Minimize equipment downtime, increase reliability
Can monitor hundreds of remote assets across multiple sites
The platform integrates well with all control and monitoring systems and can be easily deployed on the cloud or on-premise. It is currently used to monitor more than 15,000 assets across the world, the most common being compressors, motors, turbines, electric generators, water heaters, and industrial vehicles.
4. RapidMiner
Rating: 9.1/10 from 500+ customers
Developed on an open core model, Rapidminer is a comprehensive data science platform that unifies data preparation, text mining, machine learning, deep learning, and predictive analytics.
It provides full automation for non-programmers, an integrated JupyterLab environment for seasoned data analysts, and a visual drag-drop tool to replicate almost everything you can do in code.
RapidMiner makes it easy to prepare data for predictive modeling. Its intuitive interface lets you explore data to evaluate its quality and completeness. Apply quick fixes such as missing values, create new rows/columns to add information, and blend datasets together within a few clicks.
You can also utilize the Automatic Feature Engineering and Hyperparameter Tuning to develop the near-perfect predictive model for your use case. Once your model is complete, you can then open it as a visual workflow for explainability and further configuration.
Key Features 
Time-saving augmented data prep
Unprecedented auto feature engineering
Target recommendations
Risk assessment
The free version is only available on desktops and is limited to 10,000 data rows and 1 logical processor.
Over 950,000 customers have used RapidMiner to find interesting patterns from large amounts of data. This includes high-profile clients like Samsung, Intel, Cisco, and BMW. The company claims to be the market leader in data science platforms against competitors such as IBM and SAS.
3. Alteryx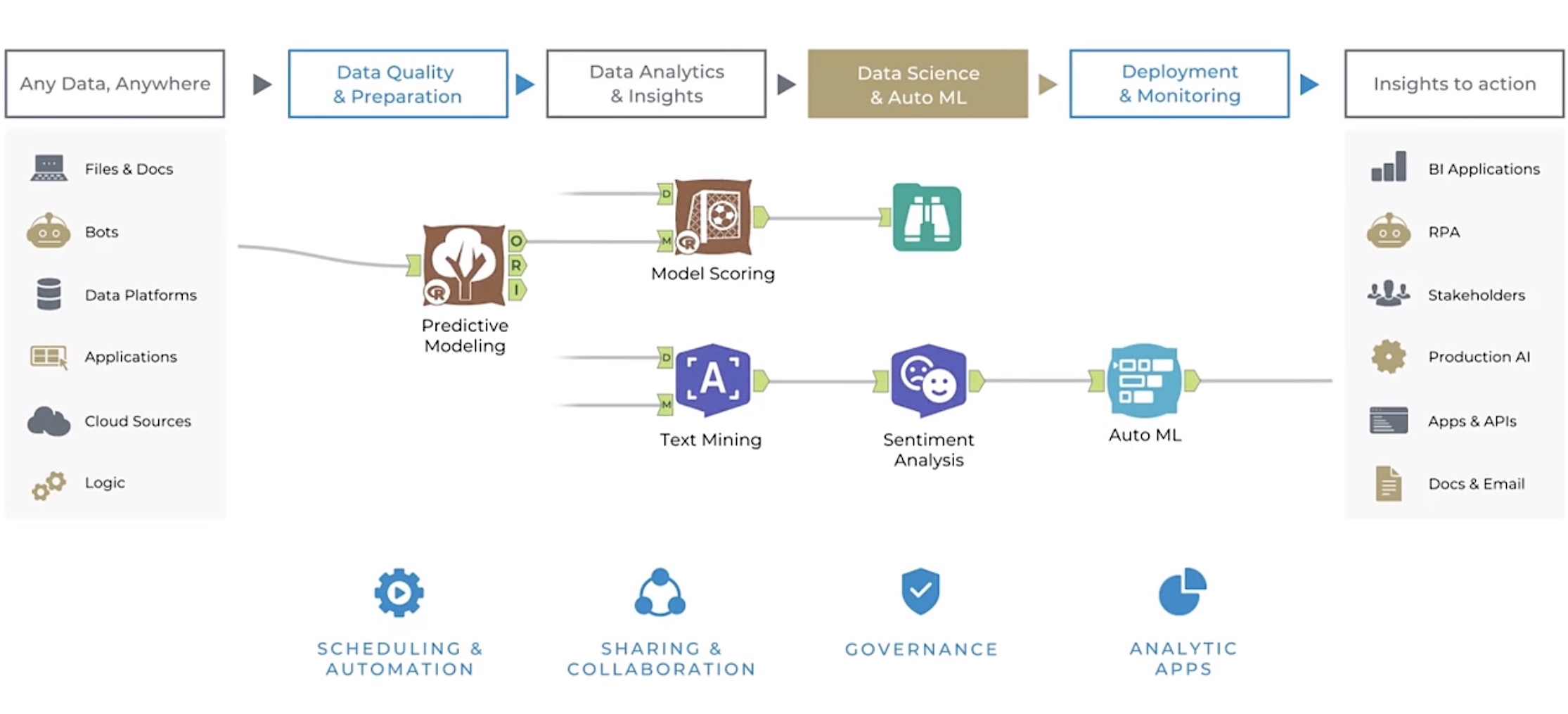 Rating: 9.2/10 from 500+ customers
Alteryx Analytic Process Automation unifies analytics, data science, and business process in a single end-to-end platform, enabling the agility required to accelerate digital transformation.
Unlike most other platforms, Alteryx empowers you to prepare, combine, and analyze complex data faster. It has hundreds of low-code, no-code analytic building blocks that enable repeatable and configurable workflows.
Alteryx also features over 80 natively integrated data sources (including Salesforce, Oracle, and Amazon), so you can securely connect and upload data from third-party platforms. Prepare and merge data from various sources with or without unique identifiers. In short, if you can access the data, you can integrate it with Alteryx and spend more time evaluating and less time searching. 
Step-by-step guides are provided for people who don't have analytics or coding skills. They can develop complex R-based models and perform sentiment analysis on unstructured data with little-to-no coding skills.
Programmers can add Python or R code directly within a workflow, or use pre-designed predictive models. All models can be customized and put into production to be used by the organization.
Key Features 
More than 80 natively integrated data sources
Turns Big Data into big insights
Analyze data faster with hundreds of no-code analytic building blocks
Publish insights in any format or share it on other platforms
What's more? Alteryx has built-in tools for creating charts, reports, and dashboards. It can also power dashboards in MicroStrategy, ThoughtSpot, Qlik, Power BI, Tableau, and any other program within an enterprise.
You can choose Alteryx with different business intelligence tools depending on your use case and department. The complete package would cost you $5,195 per year. And yes, the company does a free trial for 30 days. 
2. Qlik Sense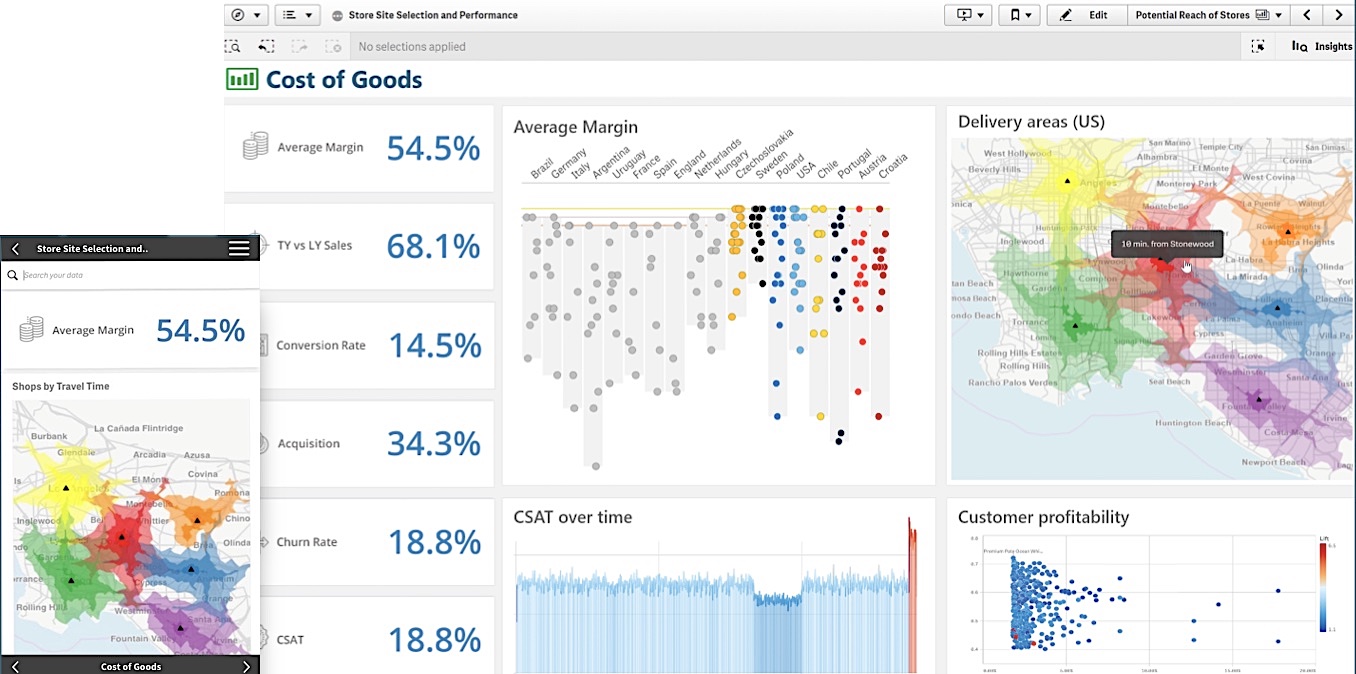 Rating: 8.2/10 from 1,500+ customers
Qlik merges your data in one place (in a secure cloud environment) to create rich, interactive visual analytics. It is designed to maximize a company's ability to make better decisions by using current and past data.
Unlike most other popular platforms that focus on only one solution, Qlik Sense provides comprehensive data analytics capability. It supports a wide range of analytics use cases, from detailed visualization and augmented analytics to reporting and alerting. Its cloud data analytics offers powerful data integration, centralized management, high-performance scalability, and open and standard APIs to meet the requirement of any business.
The platform indexes complex data and shows related and unrelated values as you click, unveiling the hidden patterns that would be missed by conventional query-based software programs. It uses machine learning to minimize cognitive bias, amplify discovery, and help users understand how their data can be used more effectively.
Key Features 
Associate multiple data sources
Search-based and conversational analytics
AI-generated insight suggestions
Fully interactive visualizations with AI assistance
With Qlik Sense, you get robust data integration, automation, and detailed insights, along with the convenience of SaaS with multi-cloud capabilities. The basic version costs $30 per month per user. You can start with a free trial.
1. IBM SPSS Modeler
Rating: 8.1/10 from 200+ customers
IBM SPSS Modeler is a set of data mining and text analytics tools that allow you to quickly build predictive models and deploy them into business operations to improve decision-making.
The platform provides various modeling techniques built on statistics, artificial intelligence, and machine learning. You can utilize these techniques to derive valuable information from complex data and to develop predictive models. Every technique has its own benefits and is best suited for certain types of problems.
Its easy-to-use interface lets you leverage statistical and data mining algorithms without coding. Test various modeling techniques, compare outcomes, and choose the best one to deploy in a single run. There is a tool called 'smart chart recommender' that finds the best chart for your data among hundreds of options, so you can easily understand trends and share insights quickly. 
Key Features
Lets you use open source-based tools including Python, R, Hadoop
Captures key concepts, sentiments, and trends by analyzing unstructured text data
Reshapes data into the best format for predictive modeling
Visualize every step in the data mining process
Overall, data scientists and companies across the world use SPSS Modeler for data preparation and discovery, predictive analytics, and monetizing data assets.
It can be purchased as a standalone product or used as a service along with SPSS Modeler Server. The desktop application costs $499 per month per user. A free 30-day trial is also available. Support during the trial period is provided via the Stack Overflow forum.
Other Equally Good Predictive Analytics Tools
10. Explorium
Price: Starts at $50,000 per year, based on usage | Free trial is available
Most companies rely on external data. However, obtaining external data for analytics has its own challenges: it's hard to get, difficult to use, and relevancy and compliance are not guaranteed.
That's where Explorium comes in handy. It offers efficient data enrichment tools that dynamically integrate a company's internal data with thousands of external sources and extract the most relevant features. It pulls data from right, trusted external sources and blends it into your analytics and predictive models.
The platform not only ensures data coverage and compliance, but also shows you which data sources and features can provide the best model uplifts. It uses machine learning to understand your data based on context and presents you with an optimal feature set. You can then instantly use these feature sets or develop a model on top of them.
Since the platform automates a major part of your data science pipeline, you get more time to focus on using insights to improve business operations. Whether you are looking to revise the advertising budget, forecast demand, mitigate risk, or predict customer lifetime value, Explorium can help.
11. SAS Advanced Analytics
Best for: Non-technical users to create and execute Business Intelligence and Analytics workflows
SAS Advanced Analytics is a complete suite of applications and modules for data management, business intelligence, multivariate analysis, and predictive analytics.
The platform makes it easy to interact with your data (using graphs and charts) and understand key relationships. It can automatically generate trustworthy forecasts using AI and proprietary algorithms. Since it doesn't require any human intervention, forecasts are not affected by the company's politics or personal agendas.
You don't have to be a programmer to apply these advanced forecasting methods. The intuitive GUI gives you access to the full capabilities of SAS forecasting. It also helps you identify trends, isolate the outliers, find the root cause of faults, and plan more effectively for the future.
In fact, you can test 'what-if' plots to determine the most probable impacts on your predictions. Account for both planned and unplanned episodes.
According to the IDC research, SAS has the largest market share in advanced analytics (about 30.5%). Its biggest competitors include Microsoft Power BI, Oracle Hyperion, SAP BusinessObjects, and IBM Cognos.
12. H2O Driverless AI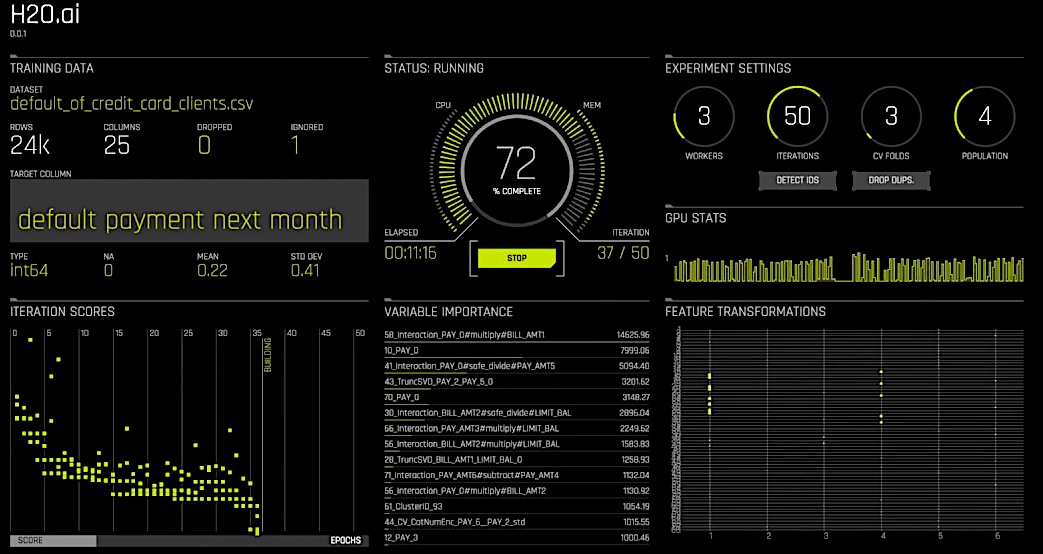 Best for: Dramatically accelerating the data science projects
H2O Driverless AI is an automated machine learning platform that empowers data scientists to use state-of-the-art computing power (from GPUs) to complete complex tasks in minutes that used to take weeks.
The platform delivers unique functionality for feature engineering, model interpretability, and low-latency deployment, addressing the specific needs of every organization in every industry.
Once you feed the data, H2O Driverless AI automatically engineers new, valuable features to extract the most accurate results. You can upload your own model to extend the platform. The outcomes of the models are shown in four charts (that are generated automatically): Shapely, K-LIME, Decision Tree, and Partial Dependence plot.
Moreover, it can process large text blocks using advanced natural language processing techniques. This helps businesses solve problems like document classification, sentiment analysis, and content tagging.
13. Databricks
Best for: Streamlining end-to-end data science workflow
Founded in 2013, Databricks blends the best of data warehouses and data lakes to deliver an open, unified platform for data, analytics, and AI use cases. It allows users to operate on a multi-cloud lakehouse architecture, which offers up to 12 times better price/performance than conventional cloud data warehouses.
You can use your preferred tool (such as Tableau, PowerBI, or Fivetran) to query and analyze the complete data, without moving it into a separate data warehouse. Quickly discover and share new insights with the inbuilt SQL editor and dashboard. You can also display the query results in various interactive charts and graphs.
Key Features 
Unifies data from other enterprise applications
Content-based recommendation engines
Tracks experiments and logs parameters and versioning of data and code
Faster, more precise demand forecasting
Unlike most other analytics tools, Databricks uses a pay-as-you-go pricing model with zero upfront cost. You only pay for the resources you use at per-second granularity. Before enrolling, you can sign up for the 14-day free trial.
Read: 13 Best Market Research Tools
Frequently Asked Questions
What technologies are used in predictive analytics?
Modern predictive analytics tools use a wide range of techniques to identify patterns and discover trends in current and past data. They are built to help data analysts forecast future outcomes accurately. Most of them utilize technologies like data mining, statistical modeling, artificial intelligence, neural networks, machine learning, and natural language processing. 
What are the most common applications of predictive analytics?
Predictive analytics can help businesses address complex problems, mitigate risk, and discover potential opportunities. Its real-world use cases include:
Predicting buying behavior in the retail industry
Estimating how likely a customer is to abandon the cart
Predicting the results of various treatments
Predict disease outbreaks and epidemics
Optimize business operations to avoid additional expenses
Forecasting adverse weather conditions
Equipment maintenance at manufacturing facilities
Detecting cyber attacks and threats to the system
Content recommendation
What's the future of predictive analytics solutions?
According to the MarketsAndMarkets report, the global predictive analytics market size will exceed $28 billion by 2026, growing at a CAGR of 21.7% from 2021 to 2022.
The rise in adoption of Big Data technologies, integration of IoT and AI, and the increasing demand for predictive analytics (by small- and medium-sized enterprises) will be the major factors behind this growth.
North America is more likely to have the largest market share in the Predictive Analytics market. This is mainly because of the high spending on Big Data analytics and early adoption of artificial intelligence and machine learning in this region.
Read More:
12 Best Machine Learning Tools
13 Best Data Science Tools To Use