An efficient productivity app can allow you to do more work in less time. As powerful as today's smartphones have become, it's needless to say that they play a more vital role in our day-to-day lives than ever before.
Smartphones powered by some of the best productivity apps can help us be more organized and allow us to do things on the go.
There is a long list of productivity apps out there. The trick is to find the most effective, and we can help you with that. From note-taking and calendar apps to to-do-lists and mobile office suites, here are some of the best and most useful productivity apps that you can use right now.
13. IFTTT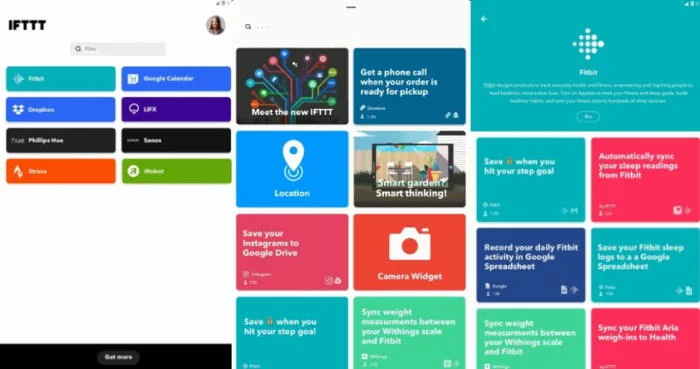 For: IoT, automation
Platform: Android | iOS
Price: Free
IFTTT (short for If This Then That) is an easy-to-use task automation tool that allows users to create recipes or applets, a series of conditional statements.
Each of these applets is instructed to carry out a specific task once a trigger condition is met. For instance, you can set an applet telling your app to send weather forecast to your phone every day at 7, or turn your WiFi off when you leave home. There are tons of options.
Such apps take the pain of doing repetitive jobs away from users allowing them to focus on more important things.
Read: 10 Best IFTTT Alternatives To Automate Your Online Workflow
12. Total Commander
For: File management
Platform: Android
Price: Free
For a power Android user, it's helpful to have an app with which you can manage your device's storage, locate files/folders and make changes quickly. Simply put, a file manager allows you to take complete control of your Android device. One such app that fits the bill is Total Commander.
The app makes it easier for you to perform cut, copy, and paste, search files, and other such functions within your device. It can also create directories and compressed files in case you need one.
That's not all, with Total Commander, you can access WebDAV, FTP, and SFTP services via separate plugins. It comes with a built-in media player that allows you to play videos directly from LAN.
Note: Android File manager works better on a rooted device.
11. Evernote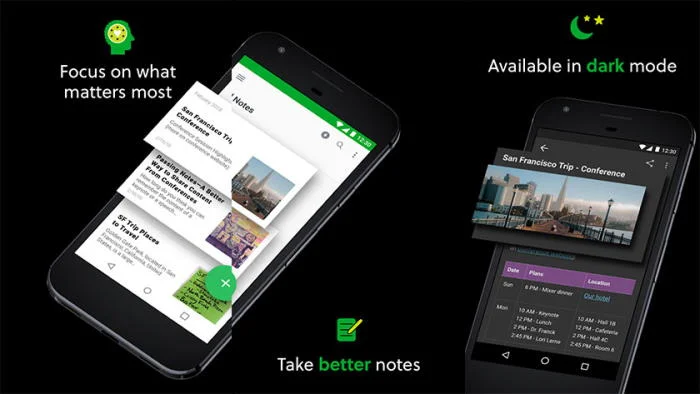 For: Note-taking
Platform: Android | iOS
Price: Free | $14.99 per month/user
Evernote is a powerful note-taking app equipped with all the necessary means to boost your productivity overall. It's one of the most widely used productivity apps in the world.
The app helps you get organized by keeping notes, checklists, to-do-lists, and making them easily accessible across all your devices. Note-taking can be done in various formats, including; images, audio, web-links, PDFs, and video. It can also be used to manage bills, invoices, and receipts.
10. Bear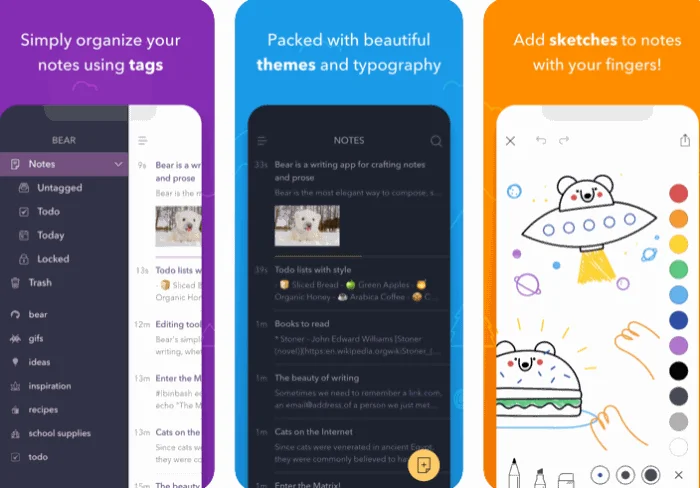 For: Note-taking
Platform: iOS
Price: Free | $1.49 monthly
Bear, undoubtedly, is one of the best note-taking apps you can find for your iOS device. The app is known for its distraction-free and simplistic design. It provides users the ability to quickly edit, organize, share, and export their notes and reminders.
Bear works smoothly with different Apple services and products to make it more efficient. You can use Siri to create notes and Apple Watch to dictate them on the go. Notes can also be encrypted, though the feature comes with a pro subscription.
Furthermore, the app supports Apple Pencil and takes care of your privacy and security as well.
Read: 15 Best Note-Taking Apps Of 2020 To Boost Your Productivity
9. Google Drive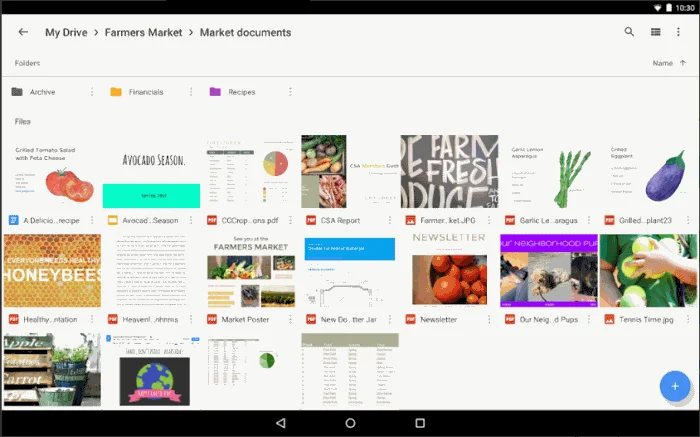 For: Multi-purpose, Cloud storage
Price: Free | $1.99 to 99.99 monthly
Primarily an online file storage service, Google Drive, is a productivity-boosting app that you might have overlooked. It allows users to access collaboration and note-taking/word processor applications such as Google Slides, Docs, and Sheets. A storage and backup service on top of that.
The app's free version comes with 15 GB space, but you can always pay for more storage. The Drive has folder options and can organize your data by creating distinct sub-folders. It supports various Web-based editing applications as well.
8. Toggl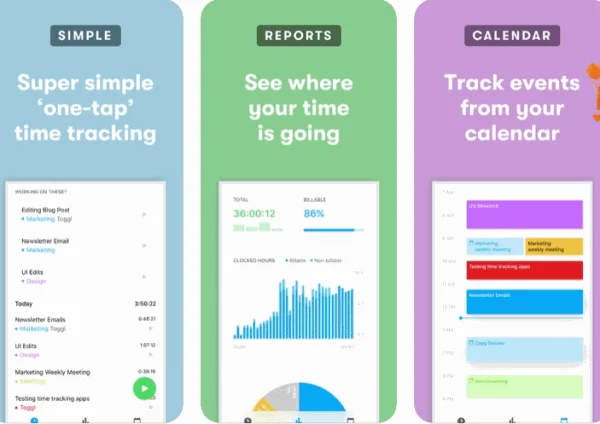 For: Time-tracking
Platform: Android, iOS
Price: Free trial | starts at $10 per month
Do you find it challenging to keep track of time? If your answer is yes, you're not the only one. To be more productive, one must know where they are spending their precious time. While there are several time tracker apps that you can use, only a few are efficient and cost-effective as Toggl.
The app offers both manual and automatic time tracking, and feature an in-built Pomodoro timer. Toggl's comprehensive reporting and project dashboard make sure you're on the right track and meet your deadline.
It allows secure sync of your data across devices and integrates with a variety of other services. Toggl's flexibility alone makes it a must-have productivity app.
Read: 15 Pomodoro Technique Apps To Increase Your Productivity
7. LastPass
For: Password generation, quick access
Platform: Android | iOS
Price: Free | $3-$8 per month/user
No matter what, password security should be a top priority these days for everyone. For one thing, no one would want an unauthorized takeover of their social media accounts. Generating and using strong passwords on a smartphone screen is, however, time-taking and frustrating.
The best way to tackle such a situation is by using a good password manager that can not only help you with password creation but save them in a secure location for late use. LastPass is one of the best options available out there.
With LastPass, you can log on to anything in just one tap. And you can do it across all your devices. Apart from passwords, it can also remember payment details and shipping address for a quicker checkout.
LastPass is available for both personal and business uses, with each having multiple plans to choose from. All basic features of the service are available for free, but premium plans offer more flexibility and security.
6. Pushbullet
For: Connectivity
Platform: Android
Price: Free | $4.99 per month
Even though modern smartphones have become more resourceful, we spend most of our time in front of a desktop, working. If anything else, the constant switching of gadgets causes distraction and affect our work overall.
Now, what if I say you can take care of all that with just one app. Yes, that's right. Pushbullet is something that allows us to perform specific Android functions straight from the desktop. It was, without a doubt, one of the best things that ever happened to Android.
With Pushbullet, you can see and dismiss notifications (including calls) on your desktop. Share files, send and receive text messages, including that from platforms like Whatsapp and Facebook messenger, all of this right from your desktop.
Though most features are available in the free version, it has limited capabilities that might not be enough for many users. AirDroid and Pushline are some of the better choices if you're looking for free alternatives.
5. Any.do
For: To-do-list, task management
Platform: Android | iOS
Price: Free (with paid option)
Any.do is an all-in-one task management tool that can enhance your productivity in various ways. Initially started as a simple to-to-list application, Any.do can now function as a task planner as well as a virtual assistant.
Furthermore, it can set location-based reminders, sync tasks across all your devices in real-time. The Any.do Assistant helps you by automating specific tasks, such as scheduling appointments and finding the best deals over the internet.
The application can seamlessly integrate with popular services like Slack, Google Assistant, Amazon Echo, and Zapier.
4. Slack
For: Instant messaging
Platform: Android | iOS
Price: Freemium
Slack has become the go-to instant messaging platform for office teams around the world. Its official tagline, "Slack replaces email inside your company," is turning out to be true for many small as well as large firms.
The application allows you and your team to be more efficient by being organized and informed. Slack channels (chat rooms) can be arranged by topic and private groups to avoid confusion and get more done.
Slack's seamless integration with other productivity app and one on one calls with teammates makes it more effective.
The free version, which includes all essential functions and security, is adequate for starters with and small teams.
3. Trello
For: Project management
Platform: Android | iOS
Price: Free
Trello is a highly capable project management application used by groups around the world. Inspired by the Kanban method of management, Trello allows its users to define and better organize their tasks.
The team members can interact and collaborate using project boards, cards, and lists employing a convenient drag and drop feature. Users can also make use of images, links, and comments on the team boards.
Trello app is lightweight, flexible, and an easy-to-use tool. The free version of the service is pretty generous. It provides unlimited personal boards and 10 MB per file upload limit. Limited automation and security features are trade-offs.
2. Todoist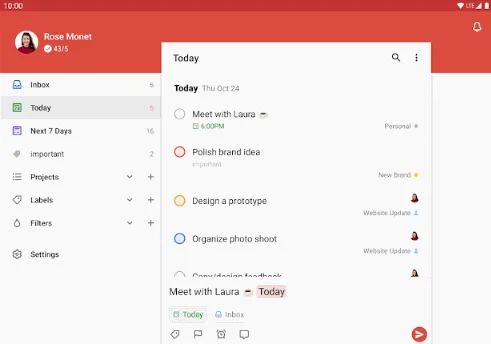 For: To-do-list, management
Platform: Android | iOS
Price: Free | $3 and $6 per month/user
Todoist is perhaps one of the most popular multi-platform to-to-list apps; that allows users to plan and organize their daily schedules more effectively. It gives you a complete view of the tasks in hand and liberty to prioritize, label, and make quick changes.
The app also has (albeit limited) project management capabilities. Teams can use it to assign individual tasks, communicate and monitor their progress/productivity. Smart Todoist notifications serve you well in busy situations.
Furthermore, Todoist allows easy integrations with more than 50 tools and services, including Slack, Google Drive, and Zapier. With the free version, users can manage up to 80 projects at a time, and assign a maximum of five people on each project.
1. Microsoft Apps
Microsoft OneNote
No list of productivity-boosting apps is complete without Microsoft products. These apps have time and again proved their potential for smartphones. Apps that are in question are Microsoft Word, PowerPoint, Excel, OneNote, OneDrive, Microsoft to do, and a few others.
Read: 18 Best Apps For Small Business
Like Google Drive, Microsoft OneDrive is a cloud storage service that lets you save and manage your files and other stuff from any device, anywhere. Outlook app allows easy access to emails and has calendar management features.
Another useful app from Microsoft is OneNote, a powerful note-taking app. It lets you take notes, which are then synced across all your devices.