Rabb.it was a video streaming application and website that allowed multiple users to watch the same content in realtime. Within five years, it became a popular platform for watching TV shows and movies while chatting with friends.
Unlike other streaming services like Netflix and Amazon Prime, Rabb.it did not host the content viewed on it. Instead, it streamed a Rabbitcast (a virtual computer with a browser) that could be viewed and controlled by a group of users.
By May 2019, the company had 30 employees worldwide. However, they had to cease operations due to failed Venture Capital funding. The site went down at the end of July 2019, and its software stack and patents were acquired by another streaming service Kast.
While Rabb.it is no longer accessible, there are tons of similar services that provide an equally good experience. Below, we have gathered some of the best Rabbit alternatives with many exciting features that will keep you entertained.
15. Twoseven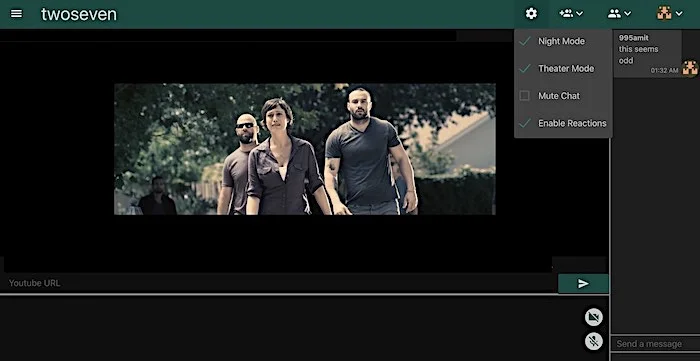 Price: Free
Plus Point: Has Chrome and Firefox extension, supports dozens of video streaming services.
Like Rabbit, Twoseven allows you to watch movies and TV shows with friends and interact with them via chatbox. This browser-based video service lets anyone host a killer movie night or add some company to TV binging. It focuses on three parameters:
Share live reactions using webcams
Auto-sync video and audio content
Provide realtime experience with as low latency as possible
The platform supports Amazon, Disney+, Netflix, HBO, YouTube, Apple TV, and Vimeo. It also has a browser extension that detects supported-videos from several other websites and offers an easy way to watch together.
14. Watch2gether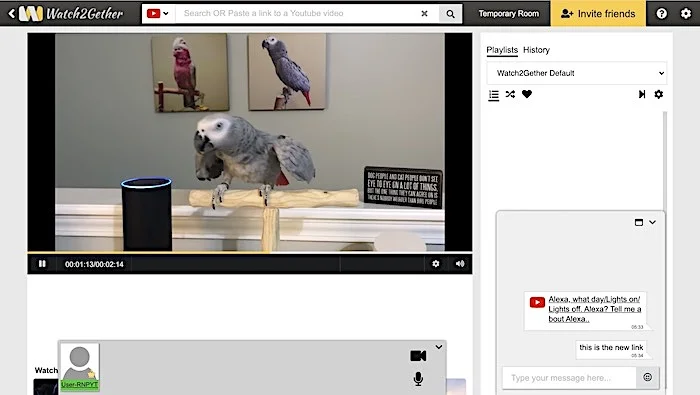 Price: Free | $4 per month
Plus Point: No need to sign up, only the host needs to have a browser extension to invite people
Watch2Gether allows groups of people to watch video content in-sync together and communicate (at the same time) through webcam, audio chat, or built-in chatroom.
It works well with videos from various platforms, which can be pooled in a joined playlist and watched on a private room/separate website. It supports YouTube, Vimeo, Instagram, Twitch, Twitter, Facebook, and many other popular platforms. The site can also be used for other purposes, such as socializing with friends, discussing a topic, or planning a project.
The premium version gives you some exclusive features like personal chat color, animated GIFs in messages, dedicated email support, and no ads on the website.
13. &chill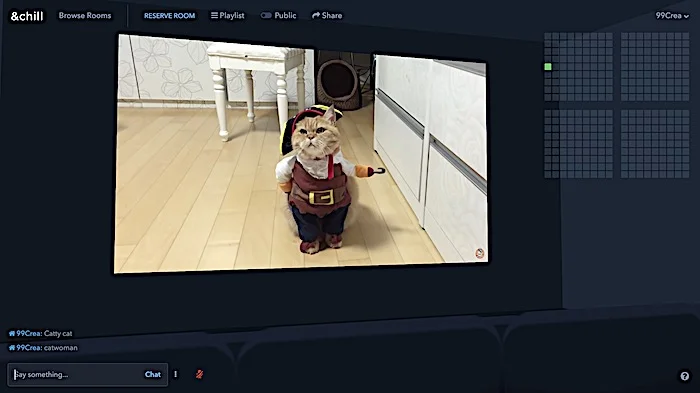 Price: Free
Plus Point: Theatre view provides a unique experience
&chill allows you and your friends to watch YouTube and Twitch videos together in a unique way. It's like a virtual cinema hall.
You can create or join a room and then get seated in the theatre-style hall. The screen view will be adjusted according to your choice of seat. Moreover, you don't need to register to create private/public rooms. Just visit the website and join public rooms or create one and invite your friends.
12. CyTube
Price: Free
Plus Point: Open-source program, support for unlimited channels
Started in 2013, CyTube is a simple web application that provides media synchronization along with a chatbox. Hosts can create as many channels as they want and define custom rules, such as no advertisement or hate comments in the chatbox.
The server-side is written in JavaScript and runs on Node.JS, while the clientside uses jQuery, Socket.IO, and APIs for various media providers. The web interface is easy to use, but it looks quite outdated.
11. Sync-Video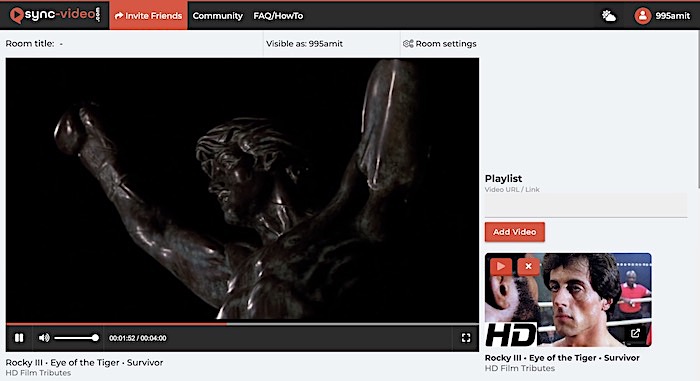 Price: Free
Plus Point: No need to register to watch or create a Room.
Sync-Video is the simplest platform to enjoy the internet in sync with friends. It's a useful website if you want to watch a video on YouTube or Vimeo simultaneously with your friends who are not sitting next to you. It features a synchronized player for audio and video, as well as a chat room to talk to your friends.
You don't need to have any technical skills to use it. Just create a Room, add a password, and share the private link with friends. Add any video from YouTube and watch in sync with everyone else in the room. That's it.
Gamers can use it to stream their gaming moments and all the excitement associated with gaming. Educators can use it as an alternative to creating a webinar. Overall, anyone can leverage this platform, as long as their videos are available on YouTube.
10. Parsec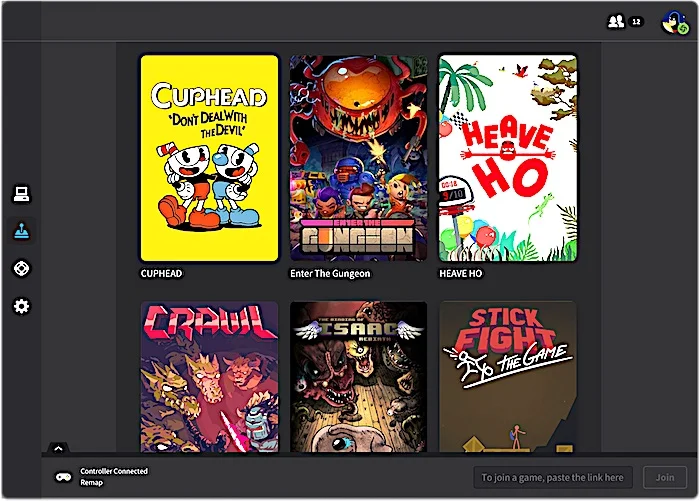 Price: Free | $4.99
Plus Point: Stream videos at 60 FPS HD across multiple devices, virtually lag-free
Parsec is primarily used for playing games through video streaming. It is fine-tuned for the needs of games and gamers, but you can use it to stream movies and TV shows as well.
Invite anyone to your content stream, and they will be able to watch videos in realtime with minimum latency. Their proprietary technology allows you to stream content at 60 FPS HD across multiple devices, anywhere, anytime.
And just like any other game streaming, you can interact with your friends using the chatbox. The tool is available for all operating systems, including Windows, Android, Linux, and macOS. If you don't want to install the software, you can use it directly on your Chrome browser.
9. Airtime
Price: Free | $4.99
Plus Point: Easy to use, react with animated stickers and sound reactions
Launched in 2012, Airtime is one of the oldest platforms for realtime video sharing and communication. The website was launched in a press conference in NYC, which featured a few major celebrities, including Martha Stewart, Snoop Dogg, and Olivia Munn.
At present, the company provides its services through iOS and Android apps. It allows you to watch hand-picked TV shows, movies, YouTube videos, and listen and share music with up to 10 friends and see their reactions in realtime. You will enjoy the best parts of hanging out friends on the couch, without having to share your popcorn.
With the premium version, you get additional features like featured messages and exclusive reactions to send within the Room. You also get excess to exclusive live paid events hosted on Airtime.
8. Mozilla Hubs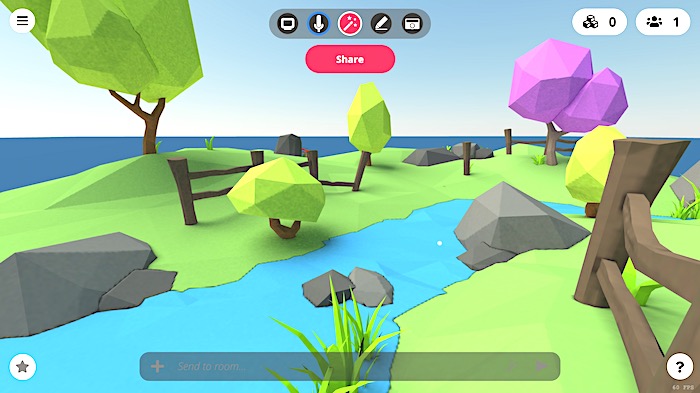 Price: Free
Plus Point: No installation process, create/join a room with a single click
Mozilla Hubs is different than other platforms: it's a virtual reality chatroom that allows you to watch videos, play with 3D objects, or just hang out. It's an open-source project by Mozilla Labs for exploring how communication in mixed reality can come to life.
It supports almost all Mixed Reality headset, including HTC Vive, Oculus Rift, and cardboard viewer. If you don't have any VR hardware, you can simply use your smartphone or desktop to share a virtual room with friends.
7. Netflix Party
Price: Free
Plus Point: Upload emojis, screenshots, and GIFS in the chatbox for even more excitement
Netflix Party is a Chrome extension for enjoying Netflix remotely with friends. It lets you start, stop, and pause a video so you can watch it at the same time as a group of family or friends.
The extension provides a chatbox on the right-hand side, where you and your buddies can discuss what is going on in the show/movie, much as you would if you were sitting in the same room.
6. Rave
Price: Free
Plus Point: Sync smartphones into an instant speaker system
Rave is a smartphone application for sharing and enjoying multimedia content with friends. Whether it's the hottest video on YouTube or the latest Netflix show, Rave lets you sync it with ease, so never watch alone again.
The app (both iOS and Android) supports Netflix, YouTube, Reddit, Vimeo, Dropbox, and Google Drive content. Connect with friends by talking or texting while you watch, and synchronize your device into an instant speaker system.
5. Syncplay

Price: Free
Plus Point: Supports VLC media player
Syncplay allows you and your friends to watch the same video content simultaneously on different PCs and different locations by synchronizing playback of locally installed media players.
How does it work? The program client launches a media player on your desktop, links to a Synchplay server, joins a virtual room on that server. Your actions (stop, forward, play next video) are relayed to connected friends via the server, so everyone in your group watches the same thing. When new people join, they are also synchronized by the server.
Syncplay comes with a text-based chat system, and it is compatible with many popular media players like VLC, MPC-HC, MPC-BE, and MPV. The tool is available for Windows, macOS, Linux, and BSD.
4. Scener
Price: Free
Plus Point: One stop-destination for streaming almost everything
Scener is a Chrome extension that allows you to host a watch party for millions of people viewers. Its technology supports a wide range of streaming services, including Netflix, Disney+, Prime Video, Vimeo, HBO Max, Hulu, and Funimation. However, each guest needs to have a subscription to the service you are watching.
It also has an interactive video chat feature for users who want to watch with friends in a private theater. While the extension is completely free for users, the company generates revenues by forming a partnership with streaming services to create engaging social experiences around its content.
Read: 15 Best Music Player Apps For Android
3. Kosmi
Price: Free
Plus Point: Play games or watch videos with friends or strangers without signing up
Kosmi is a browser-based application where you can create a private room for watching videos, playing games, and socializing through text, voice, video chat.
You will need to share your screen with friends to watch Netflix together. Since you are just sharing the screen, your friends don't need to have a Netflix account.
It has an inbuilt player for watching YouTube content and files stored on your device. This means if you have TV shows and films downloaded on your laptop, you will be able to share them virtually through Kosmi. You can also host a virtual game night by sharing your screen on a video call.
2. Tutturu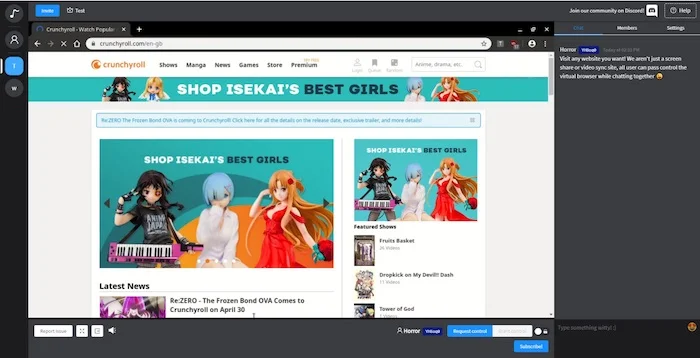 Price: Free | $4.99 per month
Plus Point: Developers are super-fast in responding to issues and constantly working on upgrades.
Tutturu allows you to effortlessly connect to any websites at the same time with your friends, even those who are thousands of miles away from you. Pass controls as if you were sitting next to each other and visit any website you desire.
It is specifically designed to watch video content together with friends, but you can also use it to run a demo and analyze suspicious URLs without risking your device. Premium subscribers can watch content as long as they want (with no timeouts) and save favorite websites and extensions.
Read: 13 Best YouTube Alternatives To Watch Videos
1. Metastream
Price: Free
Plus Point: Great user interface, support for WebRTC peer-to-peer connections
Metastream synchronizes media on websites so you can watch it with your friends. The platform uses its proprietary algorithm to bring superior live streaming quality to multiple users with imperceptible latency.
Read: 13 Best Streaming Services
All you need to do is start a session and invite your friends by sharing a unique code or link with them. Once connected, you can chat with them while watching shows or movies. Almost all popular websites are supported for playback. However, you need to install a Chrome or Firefox extension to start public, private, or offline sessions.