Search engines have made it really easy to find information and buy products online, but have you ever stumbled upon a photo that looks familiar but you can't recognize where it was taken or what actually it symbolizes?
It happens to all of us and in such cases, image search engine and apps come to the rescue. When you take a sample image and feed it to any computer program in order to retrieve information related to that image, this process is called reverse image search.
The process is characterized by a lack of search terms. It doesn't require you to guess terms or keywords that may or may not provide accurate results. It enables you to discover stuff related to the sample image, including its altered versions and derivative works.
Below is the list of some of the best reverse image search engine and apps in the market. We have ranked them according to their results' accuracy and speed.
Along with extracting detailed information about an image, you can use them to
Discover sites where the image appears.
Locate the source of the picture.
Find higher resolution versions.
Find the artist or content creator.
Find visually similar and plagiarized images.
9. Shutterstock
Platform: Web-based | iOS | Android
Best For: Finding images based on particular color schemes, mood, or shapes.
Along with stock photography, stock footage, and editing programs, Shutterstock is packed with a smart reverse image search tool.
Shutterstock maintains a library of more than 200 million royalty-free stock photos, vector graphics, and illustrations. Thus, this is the source you should not forget about when you want to find a specific picture.
All you need to do is upload a picture by clicking a 'camera' icon on the search bar, and the website will return similar, royalty-free stock photos from its database, which you can edit and save for future use.
8. Depositphotos
Platform: Web-based | iOS | Android
Best For: Meets the needs of bloggers, designers, and photographers.
Yet another royalty-free microstock photography platform that offers over 127 million images to search from.
Like Shutterstock, it comes with a reverse image search tool which uses sophisticated image recognition to analyze all components of the photo and provide similar pictures in just a couple of seconds.
7. Baidu Image Search
Platform: Web-based
Best For: Finding similar products and webpages relevant to China.
The Chinese search engine Baidu offers various services to locate information and products, including advanced text search, news, stock quotes, images, videos, train and flight schedules, weather and other local information.
Baidu's 'image search' allows users to search billions of images on the internet. You can search by image file type and size. The results are organized in different categories, which are updated automatically through algorithms.
If you are searching via mobile, you can quickly capture (or upload from photo library) and crop the image to search for the specific portion. On the downside, the search engine works quite slow in countries other than China, Japan, and Vietnam.
6. Pinterest Visual Search
Platform: Web-based | iOS | Android
Best For: Exploring over 100 billion new ideas for every part of your life, from fashion and style to home design and architecture.
In 2015, Pinterest introduced a visual search on its platform. It is built by using world-class machine learning algorithms, data storage and client technologies on one of the largest human curated visual datasets of ideas.
Pinterest's visual search is capable of characterizing images, including local and deep features, salient color signatures and pixels. It can extract visual features from fashion objects (such as earrings, shorts, glasses, dress, and shoes) and offer similar-looking product recommendations.
It is pretty simple to use: just tap on any pin in your home feed and then tap the icon in the bottom-right corner of the pinned photo. You can crop the image if you want, and the website will return you visually similar results for that cropped portion.
5. Yandex Images
Platform: Web-based
Plus Point: All results are displayed on a single page and can be viewed in several different modes.
Yandex is a popular search engine in Russia that provides results from both main web index and specialized information resources such as blogs, news, images and videos on a single page.
Yandex's image search is quite accurate but it only shows where images are being used. If Yandex database has nothing to satisfy the exact search, it will show you similar images. You can configure your search by selecting image dimension and other related keywords.
To perform an image search, simply click the image icon at the top and input source image by either uploading a source file or entering the image URL in the search field.
4. Google Lens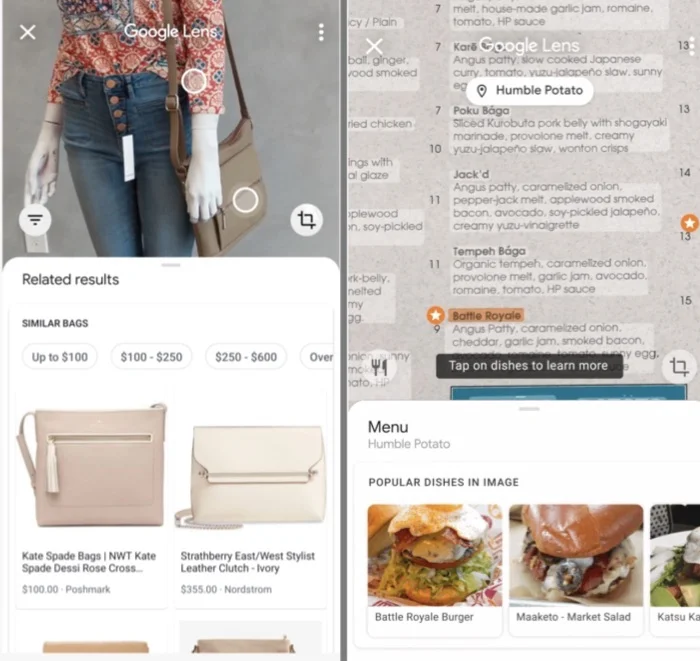 Platform: Android
Plus Point: Smart text selection, identifies similar clothes, furniture, and home decor.
Announced in 2017, Google Lens is an image recognition technology designed to provide information related to items it detects using visual analysis based on a neural network.
All you need to do is direct your smartphone's camera at an object and the app will try to identify it and show relevant results. For instance, if you point the camera at Wifi label consisting of network name and password, it will automatically connect to the scanned Wi-Fi source.
The app can read handwriting, QR codes, barcodes, copy text, make calls to phone numbers, identify animals, plants, landmarks, movies, books, and several objects. It can also recognize as well as recommend items on a menu, calculate tips and split bills.
And since it's a Google product, it is already integrated with Google Assistant and Google Photos apps.
3. TinEye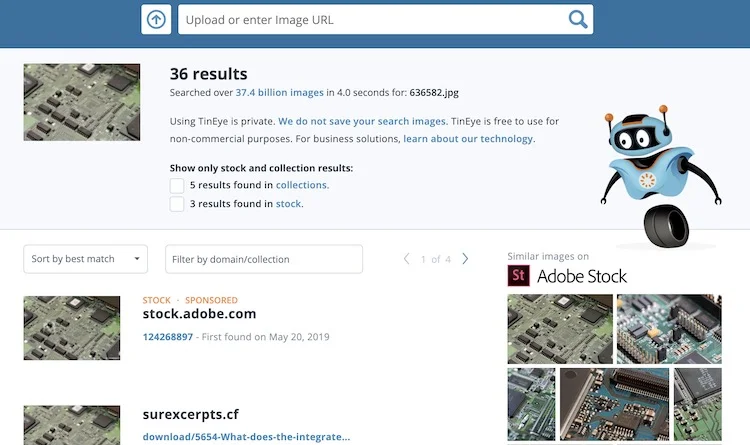 Platform: Web-based
Plus Point: More than 37 billion images indexed for comparison.
TinEye is the first image search engine to use image identification technology instead of keywords, metadata or watermarks. Once you input a picture, it generates a unique and compact fingerprint or digital signature of the image and matches it with other indexed images.
The search engine is capable of matching even edited versions of the input image and reporting time and date at which they were published. It can also recognize the larger, smaller, and cropped versions of an image.
There are some limitations though: you can only upload images less than 20 MB in size, and it doesn't recognize outlines of objects or perform facial recognition. The results can be sorted by best or worst match, or smallest or biggest image.
2. Bing Visual Search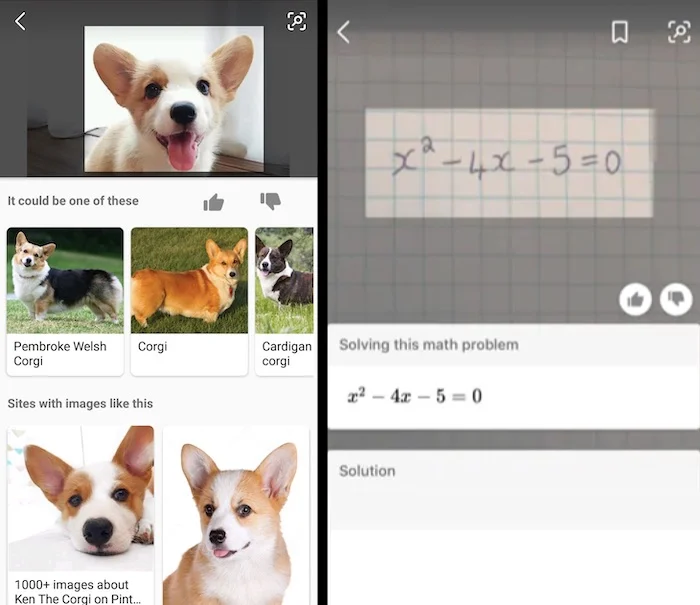 Platform: Web-based | iOS | Android
Plus Point: has an incredibly useful user interface; allows you to turn the private mode on or off for a single search or for all your searches.
Bing Visual Search can be genuinely useful if you know how to use it. From the rich Image Feed to Trending Images, Bing has lots to you keep engaged.
The visual search engine is packed with several advanced features such as 'search within images' and image recognition. It has simple UI backed by powerful artificial intelligence that allows users to search within images. The AI can search for objects within an object and even recognize people in a photograph.
There is also a nice information box [on the right] that gives a small summary of the image along with related searches and allows you to dig further by clicking on it.
Furthermore, Microsoft has added apps for mobile platforms. The visual search in the app lets you find similar images, pinpoint locations, explore landmarks, and even find solutions to math problems.
Read: MS Paint for Mac: 10 Similar Sketch Tools
1. Google Image Search
Platform: Web-based
Plus Point: Filter results according to size, time, and user rights.
Google added reverse image search functionality to its search engine in 2011. It allows users to search for related pictures just by pasting the image URL or uploading an image.
Google analyzes your input, constructs a mathematical model using advanced algorithms, and then efficiently compares the input against billions of other images in Google's database. Finally, it returns matching and similar results along with metadata (such as alt-text and meta description) within a few seconds.
The desktop version is easy to use but things get a bit complicated on mobile platforms. If you are using Safari, you have to request the desktop site to proceed with the search. If you are on chrome, just tap and hold the image [you want to search] for a couple of seconds until a pop-up menu appears and then tap 'search google for this image'.
Read: 26 Exciting Things To Draw
There is no limit on file type or file size, and since Google has the largest number of images indexed, the probability of finding a match is high compared to other search engines.