Robotics combines science and technology to create a robot that can perform tasks humans won't do — the most dangerous, tedious, and dirtiest jobs you can think of. Some advanced robots are built to perform tasks that are too complex for humans.
Although robots are not taking over the world (at least for now), they are becoming increasingly prevalent in a wide range of industries, from education and healthcare to defense and manufacturing.
The use of industrial robots, in particular, is increasing rapidly. The manufacturing industry employs 126 robots per 10,000 employees on average. The auto industry has been the biggest employer of automatic and semiautomatic robots so far, accounting for more than 42% of all installed units.
The recent advances in computer science, electronics, and mechanical engineering have made it possible to build robots that can carry out domestic, commercial, or military tasks with precision. Below, we have listed some of the robotics companies to keep an eye on.
Before we begin, did you know the first programmable robot was built by George Charles Devol in 1954? General Motors bought it in 1961 and used it to lift hot metal pieces from die casting machines.
9. iRobot
Roomba S9+ Robot Vacuum
Founded in: 1990
Headquarters: Massachusetts, United States
Products: Autonomous cleaning devices, medical robots
iRobot was founded by three members of MIT's AI Lab, who designed devices for military defense and space exploration. The company designs and manufactures a wide range of consumer robots. So far, it has sold more than 31 million robots and deployed over 5,000 defense and security robots.
Their two most popular products are Roomba and Braava —
Roomba

is a series of autonomous robotic vacuum cleaners equipped with sensors and advanced obstacle avoidance systems.

Braava

is a floor mopping robot built to operate on all hard-surface floors.
iRobot has also collaborated with InTouch Health to develop a medical robot called RP-VITA (short for Remote Presence Virtual + Independent Telemedicine Assistant). It allows medical professionals to provide their experience and care remotely. The robot is cloud-connected, has access to patients' medical records, and can be linked with diagnostic devices like otoscopes and stethoscopes.
8. Intuitive Surgical

Founded in: 1995
Headquarters: California, United States
Products: da Vinci Surgical System, Robotic-assisted endoluminal platform
Intuitive Surgical Corporation develops and markets robotic instruments to improve clinical outcomes through minimally invasive surgery. One of the most popular products is the da Vinci Surgical System. It is used for cardiac valve repair, removal of prostate gland parts, and gynecologic surgical procedures.
With more than $4.5 billion in annual revenue, Intuitive Surgical is a part of the S&P 500 and NASDAQ-100. It has an installed base of over 5,600 da Vinci Surgical Systems, including 3,700+ in the United States, 1,000+ in Europe, and 800+ in Asia.
The company has developed a revolutionary robotic-assisted endoluminal platform called Ion. It is used for minimally invasive peripheral lung biopsy. Ion's flexible needle, ultra-thin catheter, and fiber optic shape-sensing technology enable precise biopsy, even in the hard-to-reach nodules outside airways.
Overall, the flexible configurations, consistent interface, and upgradable architecture make Intuitive's products unique and stand out from competitors.
7. Boston Dynamics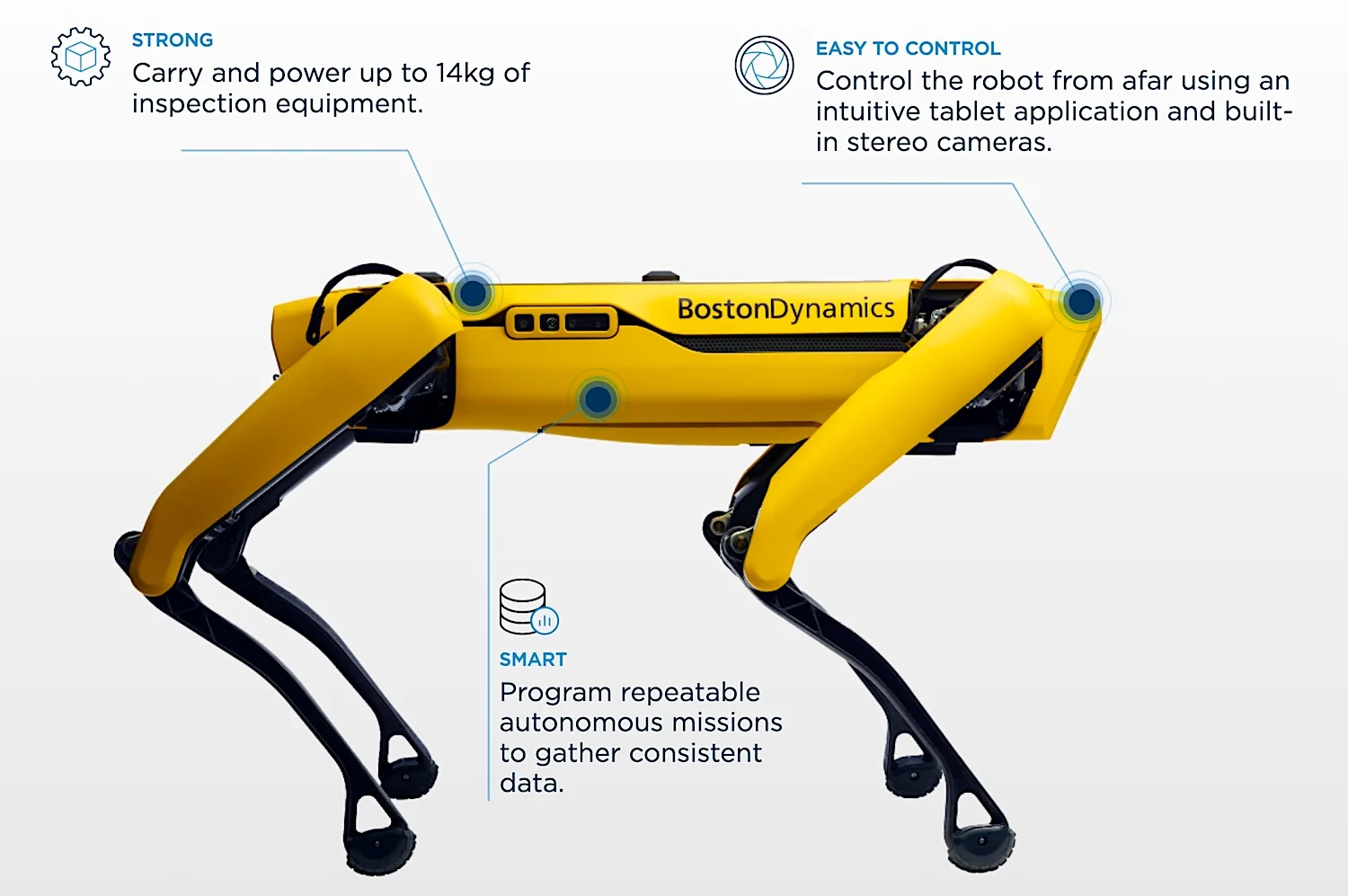 Founded in: 1992
Headquarters: Massachusetts, United States
Products: Four-footed robots, Anthropomorphic robots, Bipedal humanoid robots
Founded by a professor of Electrical Engineering and Computer Science at MIT, Marc Raibert, Boston Dynamics is now owned by the Hyundai Motor Group. The company is best known for developing a series of dynamic highly-mobile robots.
Their most popular products include BigDog, Atlas, Handle, LittleDog, Cheetah, and Spot. Most of their robots are uniquely designed to conquer terrains inaccessible to others and perform automated tasks in harsh environments.
In 2019, Boston Dynamics started developing robots for commercial purposes. Spot was their first commercial four-legged robot. It was launched for the general public to purchase at a price of $74,500. However, Spot is primarily used by police and fire departments to get remote visibility into potentially dangerous areas and make more informed decisions that reduce risk to human life.
The company plans to commercialize other robots as well in the near future.
6. Denso Robotics
Founded in: 1949
Headquarters: California, United States
Products: Industrial and medical robots
Denso develops and manufactures small assembly robots and software. More than 50,000 Denso robots are used by the automotive industry, while 16,000+ units are installed in Denso's own manufacturing facilities globally.
The company offers a broad range of compact, high-speed robots, including 4-axis SCARA and 5- and 6-axis articulated robots with 88 pounds maximum payload capacity and ±0.015 mm precision. These robotic arms are used for assembling, processing, screwing, inspecting, and machine tending applications.
Denso robots are designed to work in dusty, damp, and clinical environments. All models can be programmed and controlled via an intuitive interface. Plus, CE and ANSI compliance enables global deployment, with UL-listed models available in both United States and Canada.
5. Kawasaki Robotics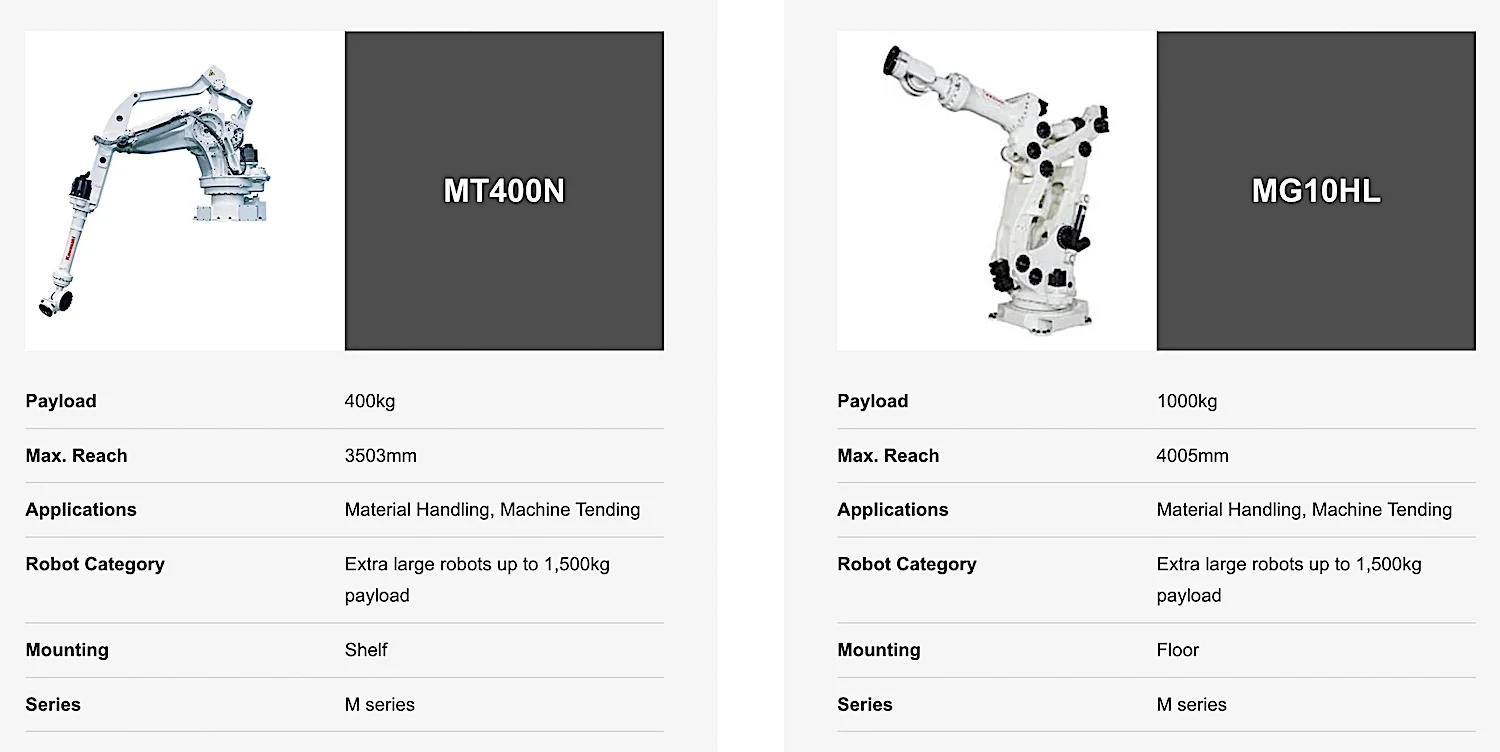 Founded in: 1968
Headquarters: Akashi, Japan
Products: Industrial robots, Pharmaceutical robots, Automation systems
In 1969, Kawasaki Heavy Industries developed its first industrial robot in Japan, starting a new era of the commercial production of industrial robots. Since then, the company has shipped more than 220,000 robots worldwide.
These robots offer numerous services in different sectors. They are primarily designed for assembly, material handling, palletizing, painting, dispensing, arc welding, spot welding, and silicon wafer handling.
In addition to top-notch industrial robots, the company also offers solutions perfectly catered to customers' requirements for automation and labor-saving measures. These solutions help customers improve the quality of the final product and enhance workers' productivity.
4. Yaskawa Electric Corporation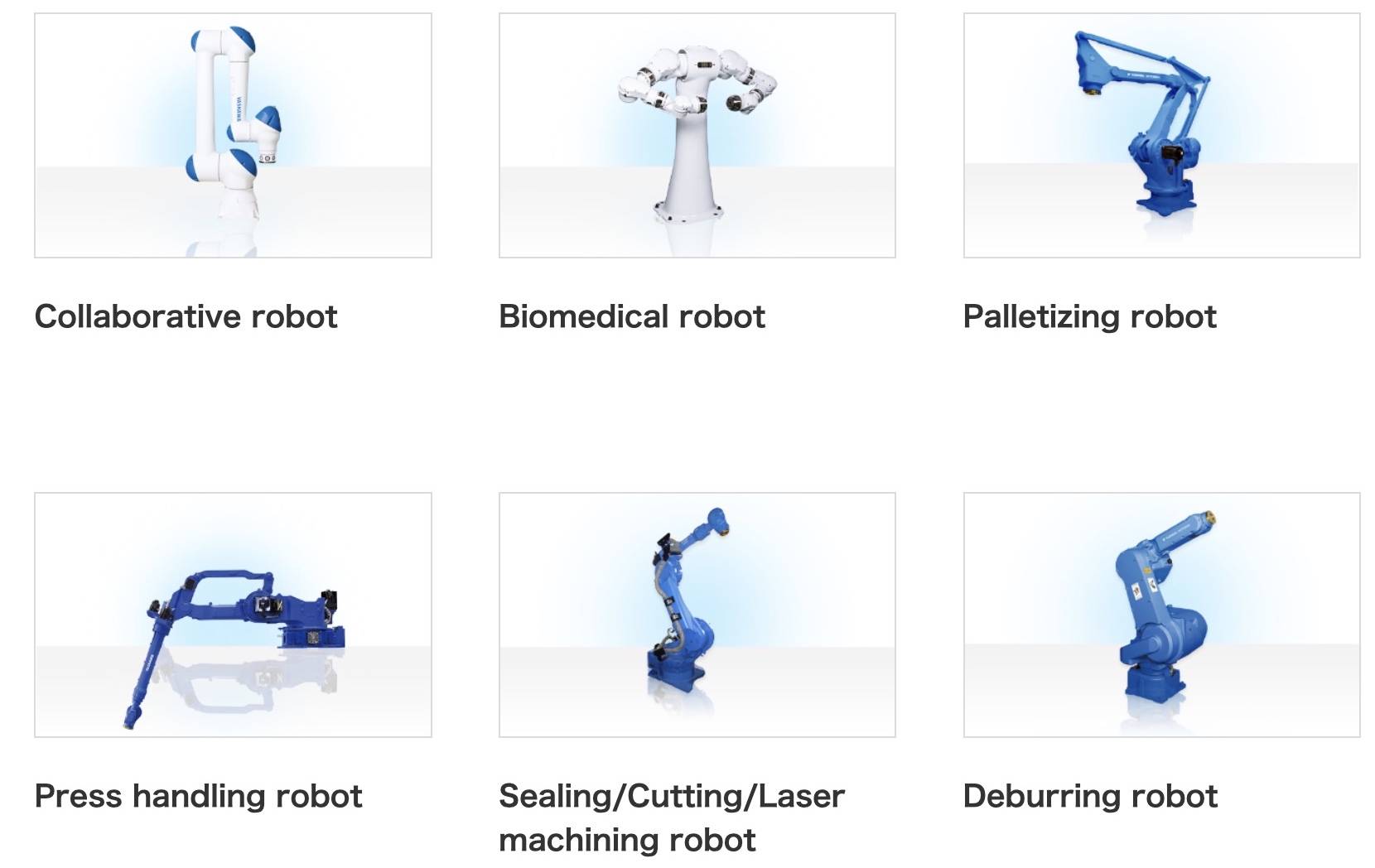 Founded in: 1915
Headquarters: Kitakyushu, Japan
Products: Industrial robots, Servo drives, Machine controllers
The Yaskawa Electric Corporation manufactures servos, AC motor drives, industrial robots, and motion controllers. In 1977, the company developed Japan's first all-electric industrial robot under the brand name Motoman. Since then, they have delivered more than half a million units worldwide.
The Motoman robots are powerful industrial robots used for cutting, welding, assembly, coating, and general automation. They are employed in a wide range of industries, including semiconductor manufacturing, logistics, electronic equipment, and medical products.
Yaskawa generates annual revenue of over $3.5 billion, of which about 1 billion comes from robotic products.
In response to present technology trends like AI and IoT, the company is focusing on an entirely new concept solution (called i3 Mechatronics) to realize the industrial automation revolution. Their aim is to gather and analyze as much data as possible to improve productivity and results of operations.
3. KUKA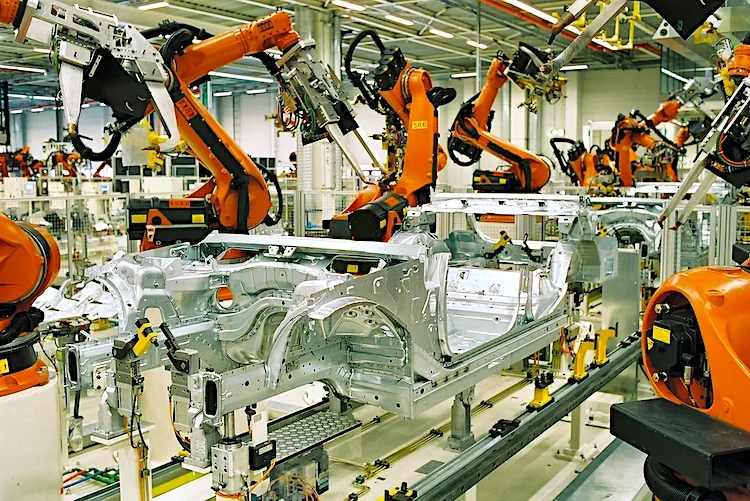 KUKA robots used for spot welding in the BMW plant 
Founded in: 1898
Headquarters: Bavaria, Germany
Products: Factory robots, Robot peripheral equipment
KUKA builds a wide range of industrial robots with different payload capacities and reaches. They also develop application-specific robot peripheral equipment, such as linear units and end effectors.
KUKA robots are mostly used by the automotive industry. Their top customers include Volkswagen, Volvo, GM, Ford, Chrysler, and BMW. The company also provides products and services for task automation in the industrial processing of metallic and non-metallic materials. These materials are used in various industrial sectors, ranging from railways and aerospace to energy and agricultural machinery.
The robot package consists of a robot, a controller, software, and an operator control element. Moreover, the company has developed a proprietary programming language, called KUKA Robot Language (similar to Pascal), so users can configure robots precisely.
2. FANUC
Founded in: 1958
Headquarters: Yamanashi, Japan
Products: Collaborative robots, Paint robot, ROBOGUIDE software
FANUC (short for Fuji Automatic NUmerical Control) is a Japanese corporate group that provides various automation products and services, including robotics and computer numerical control wireless systems. It is currently the world's largest manufacturer of industrial robots.
With more than 25 million products installed worldwide, FANUC is one of the most popular brands of manufacturing automation. It designs and develops all robot components, such as servo motors, mechanical arms, sensors, controllers, and software.
They have over 100 robot models suitable for specific applications. These models support straightforward integration, payloads of up to 5000 pounds, and maximum reaches up to 4.7 meters. The I series robots, in particular, are equipped with the sophisticated advanced controllers R-30iB with intelligence and networking for diverse tasks.
The company has also developed simulation software, called ROBOGUIDE, that allows users to accurately design and evaluate all robot systems.
1. ABB
Founded in: 1988
Headquarter: Zürich, Switzerland
Products: Industrial robots, Controllers, Functional modules
ABB provides robotics and machine automation services, offering innovative solutions to a wide range of industries, from electronics and automotive to logistics and healthcare. The company has more than 11,000 employees in 53 countries.
They have a large portfolio of industrial and collaborative robots. The IRB 5710 and 5720 robots, for example, are used in factories for EV manufacturing, forging, and metal fabrication. So far, the company has shipped more than half a million robot solutions across the world.
ABB has also developed a software solution to improve the precision and speed of electronics assembly. Its high-speed alignment software allows manufacturers to increase the accuracy of 6-axis robots by 50% and speed by 70%, significantly reducing the products' assembly time while increasing preciseness.
More Thriving Robotic Companies
10. Zimmer Biomet
Products: ROSA surgical robot, ROSA one
Zimmer Biomet is the first company to develop a comprehensive robotics platform for knee and brain procedures. The platform is called ROSA (short for Robotic Surgical Assistant).
ROSA Robotics provides real-time insights to optimize patient outcomes. It can accurately measure bone and tissue tension in the knee throughout the surgery, eliminating the need for additional pre-operative X-rays, CT scans, and other tests. Moreover, its 3D capability enables precise bone resection and alignment during surgery. 
Another robotic platform — called ROSA ONE — assists surgeons in planning and performing intricate neurosurgical procedures in a minimally invasive way. Studies show that these robotic assistance surgical procedures are quite faster than traditional frame-based procedures. And since incisions are smaller and less invasive, patients recover faster.
Zimmer Biomet operates in over 45 countries and sells products in more than 100 countries.
11. ANYbotics
Products: Four-legged robots, Simulation software
ANYbotics is a Swiss robotics company that develops quadrupedal robots. Every year, their prototypes get better in terms of maturity, reliability, and autonomy – moving from a research project to a fully functioning demonstrator.
Their most popular model is ANYmal, which is designed for autonomous operation in harsh environments. It can navigate multi-story buildings, capture minute details, and find the shortest route to perform its mission. Plus, the robot can avoid obstacles and quickly move over rough terrain or crawl into tight spaces.
The company has also developed a simulation tool that reflects the real ANYmal robot. Developers can write integrative code and run it to see how the robot will perform in an actual scenario. The tool features a rich set of visualization, logging, and debugging programs.
12. Universal Robots
Products: Collaborative robots, Software to connect operators and robots
Universal Robots focuses on developing flexible, reliable, and easy-to-use collaborative robots that can efficiently automate and streamline tedious industrial processes. These robots are suitable for businesses of all sizes within industries such as electronics, manufacturing, automotive, pharmaceuticals, and metal and machining.
The UR5e model, for example, is a lightweight industrial robot built for performing medium-duty tasks with exceptional flexibility. The UR16e model, on the other hand, efficiently tackles heavy-duty tasks like machine tending and material removal.
Universal Robots is growing fast since its inception in 2005. With more than 800 employees and 1,100 partners worldwide, the company now generates over $250 million in annual revenue.
13. Seegrid
Products: Autonomous mobile robots
Seegrid combines autonomous mobile robots with real-time sensor data and artificial intelligence algorithms to create a fully autonomous robotic fleet with an exceptional ability to visualize, understand, and learn. In other words, it develops vision-guided robots that can reliably navigate in busy, ever-changing environments.
Unlike conventional automated guided vehicles, Seegrid mobile robots navigate with a detailed photographic view of the surrounding, reducing the risk of downtime — which is quite an expensive problem to solve with laser-based technology. Seegrid captures data at every inch of a robot's journey and uses proprietary machine learning methods to continuously improve the knowledge and capability of the robotic fleet.
Seegrid's machines and technologies are used by some of the world's largest logistics, e-commerce, and manufacturing companies to automate material flow in complex spaces. Seegrid also helps businesses solve labor shortages, increase throughput, and improve overall productivity.
Frequently Asked Questions
Who invented the first electronic robot?
William Grey Walter invented the first electronic autonomous robots when he was working as a neurophysiologist at the Burden Neurological Institute in Bristol, England. His early models (developed between 1948 and 1949) were three-wheeled tortoise robots that could find their way to a power station when they ran low on batteries.
Is Tesla a robotic company?
Yes. Tesla cars are robots that perform a specific task — sense the environment and move safely with little or no human input. The company is also working on a humanoid robot that will run the same artificial intelligence used by Tesla's autonomous vehicles and will help humans by performing unsafe and tedious tasks. The early versions are expected to carry a cargo of up to 45 pounds.
How much do robotic engineers make?
In the United States, robotic engineers make an average of $90,000 per year. Nesco Resource, Boeing, and Agilent Technologies are the top-paying companies in the US. As per the Indeed report, Nesco Resource pays an average annual base salary of $140,000 to its engineers.
What's the future of robotics technology?
According to the Allied Market Research report, the global robotics technology market size will reach $190 billion by 2027, growing at a CAGR of 13.5% between 2020 and 2027.
The major factors behind this growth are the increasing demands for automation and safety in organizations as well as the availability of affordable, energy-efficient robots. Plus, various industries, especially the automotive sector, are heavily investing in industrial robots across the globe. For example, in 2020, BMW ordered 5,000 robots from KUKA for their new production lines.
Read More
15 Different Types of Robots | Explained
17 Different Car Engine Types | Overview