Screen sharing refers to broadcasting contents of one screen to another screen or multiple devices. It allows teams to easily demonstrate complex tasks, share data, and collaborate in real-time.
The big advantage of any screen sharing tool is that it allows educators or trainers to "show" rather than merely "tell" about a particular topic.
Screen sharing has become more popular than ever before. More and more businesses are now choosing this option for remote collaboration. The work-from-home culture has caused tens of thousands of companies to explore innovative ways for teams to communicate and collaborate with software and services, replacing group sessions and in-person meetings.
Since many of these tools and services have expanded their free offering in the past few years, it has become increasingly difficult to select the best. To help you make an informed decision, we have shortlisted the most powerful, feature-rich screen-sharing software tools that enable in-depth remote training and education.
9. AeroAdmin
Price: Starts at $90 per year | Free version available
AeroAdmin offers a large set of features for a very reasonable price. To start with, it comes with a contact book that contains the list of your recently accessed remote devices. This eliminates the need for re-entering the ID of the host computer every time you open connections.
No matter how your machines are connected to the Internet or whether they are located in one or multiple LANs; the software automatically identifies your network configuration and facilitates stable NAT pass-through connections.
Users can sync clipboards between connected desktops for simple file transfer, take screenshots during the session, and reboot a machine from a different location (in case software upgrades demand).
Perhaps the best thing about AeroAdmin is it doesn't require installation or configuration. It is ready for use right after downloading. You will just need the ID of the host computer and permission from the remote user to connect. All data transmitted during the connection is end-to-end encrypted with AES and RSA algorithms.
Pros
No installation or configuration is required
Detailed session reports
Multi-monitors support
Remote Windows lock and reboot
Cons
Sometimes, the connection drops out for no reason
8. Chrome Remote Desktop
Price: Free
Developed by Google, Chrome Remote Desktop has two main features:
Remotely connect with your work or home computer or share your screen with others
Securely access your desktop whenever you are away, using your smartphone, tablet, or other computers.
This tool transmits the mouse and keyboard events from one device to another, relaying the graphical screen updates back in the other direction over the Internet. The overall system is built on Google's secure infrastructure using the latest open web technologies, such as WebRTC.
Since it runs entirely from the Chrome browser, all popular operating systems (including Android, Windows, macOS, and iOS) can use it. This means you are not limited to who you can provide support to.
However, the tool is limited to 100 clients. Trying anything more than that will return a "failed to register computer" error.
Pros
Quick install and easy to use
Works between operating systems
Supports multiple monitors
Regular updates
Cons
No file transfer, remote printing, or chat
7. Slack
Price: Standard version starts at $2.67 per month | Free version doesn't have screen-sharing option
Although Slack is known for its impressive instant messaging and video conferencing service, it is also a good resource for collaboration. It allows teams or communities to join a workspace via a unique URL or invitation sent by the admin.
Slack provides numerous chat features, such as intuitive chat rooms organized by topic, direct messaging, and private groups. Users can search for anything within Slack, including conversations with team members and shared files.
Its predesigned call functionality makes it easier for team members to solve problems together with screen sharing and drawing tools. These tools are perfect for giving feedback about a presentation, sketching out new ideas, and walking teammates through a multi-step process.
During a call, the person sharing the scene becomes the active speaker by default. Other participants on the call will only see the active speaker's screen, even when others are talking.
Pros
Super easy to use
Dark mode
Seamless switching chats and channels
Numerous third-party app integration
Cons
Annoying, irrelevant notifications
Quite expensive as you add additional paid members to the group
6. Microsoft Remote Desktop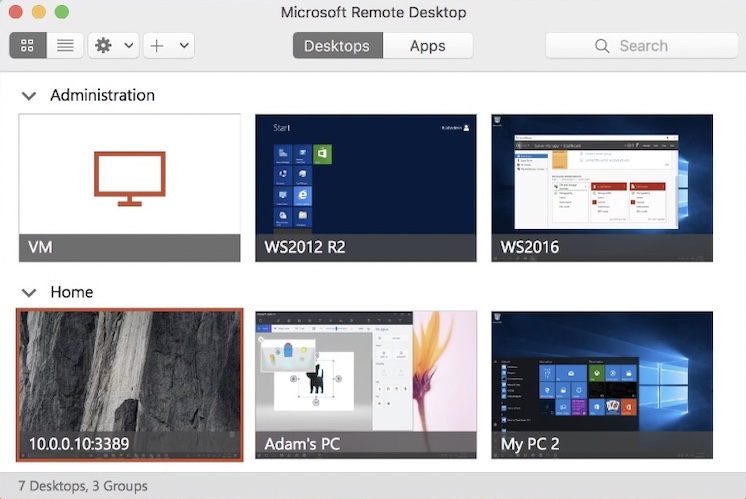 Microsoft Remote Desktop app running on Mac
Price: Free
Microsoft Remote Desktop provides strong features for both personal and business contexts. It allows you to access remote devices from a computer or by downloading the mobile application on Android or iOS. Either way, the software provides a seamless experience that's almost as good as having the desktop in front of you.
The smartphone app includes separate keys for modifiers such as alt, control, and option, which makes it easier to perform keyboard shortcuts. It gives you access to the files stored on the remote computer, and share and print documents from any location.
It is built into Windows and also available as a Windows 10 Universal app in the Microsoft Store. You just need to enable it on the PC you want to remotely access.
Pros
Response time is good
Seamless connection to production systems while running applications
The whole desktop can be mirrored
Runs well across a variety of devices
Cons
Chipping occurs when accessing images and videos
5. Splashtop
Price: Starts at $5 per month per user | 7-day free trial available (no credit card required)
Splashtop is all-in-one remote desktop software that allows users to remotely access or support computers from desktops and smartphones. It is specially designed for businesses, educational institutions, help desks, and IT support.
It has different versions for different business needs. Individuals and teams, for example, can use Splashtop Business Access to remotely access their own computers and shared computers with any device. Large companies can use Splashtop Enterprise to give their employees remote access to computers and provide remote support for various devices.
In addition to multiple-device access, Splashtop offers remote printing, file transfer, chat, and user management functionalities. Users can view/edit files, browse the web with full Flash and Java support, play games, access entire documents and media library, and perform all other usual tasks remotely.
Agents can connect to computers remotely using nine-digit code. It is available both in on-premise and cloud-based deployment options.
Pros
Beginner-friendly UI
Initiate chat in a separate window
Customizable security options
Highly specialized plans
Cons
Not all features are available on all devices
4. AnyDesk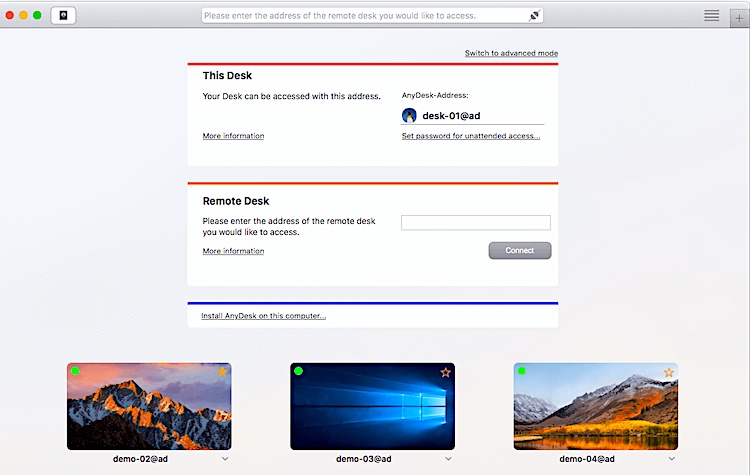 Price: Starts at $11 per month per user | 14 days money-back guarantee
AnyDesk is a proprietary software program that allows you to remote into computers, smartphones, and tablets securely from any device, anywhere in the world. It helps startups and large organizations provide effective internal service to their employees and ensure incredible service for customers.
It works smoothly, even with bandwidths as low as 100 kB/sec. On local networks and normal internet connections, it delivers a fluent (60 fps) on-screen experience.
Furthermore, AnyDesk uses RSA 2048 asymmetric key exchange encryption to verify each connection and banking-standard TLS 1.2 technology to protect your device from unauthorized access.
The best thing about this software is it doesn't require any registration, installation, or administrative privileges. Just download, launch, and you are good to go. Whether you are a business person who needs access to critical information on the go or an IT professional looking for software to streamline support tickets, AnyDesk solves all kinds of remote challenges.
Pros
Lightweight and easy to use
Transmits audio and video with decent quality
Features on-screen whiteboard and remote printing
Efficient bandwidth use
Cons
Limited user controls
Sometimes it looses the connection in between calls
3. TeamViewer
Price: Starts $49 per month per user for up to 200 managed devices | Free for non-commercial use
TeamViewer connects computers, servers, tablets, smartphones, and other IoT devices through its global access network. Since it works great even in low bandwidth environments, it has been installed on more than 2.5 billion devices, with up to 45 million devices online at the same time.
In the past few years, TeamViewer has emerged as the best screen sharing software in terms of device coverage. It supports more than 120 manufacturers of mobile devices, IoT devices, and operating systems on the market today. Its functionality differs based on the device and version of the software.
The primary function of this software is to provide remote access to desktops and IoT devices, as well as their control and maintenance. Once the connection is established, the user at the other endpoint can view the remote screen. Users at both endpoints can access a shared clipboard as well as send and receive content.
TeamViewer is perfect for working with incident detection remotely and for covering multiple devices from a single terminal. It works very well on smartphones and doesn't leave important functions aside when switching from one deployment to another.
Users don't need to worry about intruders during the execution of maintenance meetings with clients. TeamViewer secures the connection using end-to-end 256-bit AES encryption, two-factor authentication, and other state-of-the-art security features.
Pros
Straightforward connection using ID number & password
View status of all online users and devices
Seamless file transfer
Options like ad-hoc VPN are remote printing are quite helpful
Cons
Different versions are not compatible with each other
No scheduling of any kind of group chats
2. GoToMeeting
Price: Starts at $14 per month per organizer | 14-day free trial available (no credit card required)
GoToMeeting is a desktop sharing, online meeting, and video conferencing tool that allows users to meet with colleagues and customers via the Internet in real-time.
It securely broadcasts the desktop view of a host computer to a cluster of devices connected to the host. You can broadcast your content to up to 250 people. Each transmission is protected with high-security encryption and an optional password.
The tool is equipped with numerous useful options, including drawing tools, recording, split-screen, and presenter switching. The split-screen feature, for example, allows you to easily review ideas, campaigns, and reports, and offer edits before presenting the final outcome to clients.
Designed for businesses of all sizes, GoToMeeting pairs productivity with flexibility, letting employees work effectively anywhere on any device. The platform is trusted by 2 million people worldwide who use it as an essential part of their daily lives.
Pros
Easy to create events
Single click meetings and drawing tools
Share all types of files
Cloud recording
Cons
Mobile application lack some features
Consumes a lot of memory resources on Mac
1. Zoom
Price: Starts at $150 per year per license | Free version lets you host up to 100 participants or unlimited one-on-one meetings
No one would have predicted it a few years back, but knowing how to share the screen on Zoom is now a necessary skill for modern life. This video conferencing app has become extremely popular over the past years, as many people have adopted the work-from-home culture.
In addition to one-to-one and group meetings, Zoom allows users to share their screen with everyone on the call. It provides great audio and video quality in all sessions.
Zoom not only allows you to share your desktop but also highlights which window you want to share, so there is no risk of revealing something personal by mistake. You can show presentations, documents, photos, spreadsheets, and videos with or without sound. It really is that versatile.
Sharing your screen is very simple: you can do it before joining a call from the app homepage or choose to start sharing at any time during a live session. Once you join a meeting, you will see plenty of options like mute voice, start/stop a video, and Share Screen icon.
The interface looks slightly different on each app, with the desktop version having more options for screen sharing, including options to annotate and use a whiteboard.
Every session is secured with 256-bit AES encryption. To further enhance protection, Zoom has released end-to-end encryption for both paid and free accounts. The encryption keys are generated on the participants' devices, so only they have access to them.
Pros
Local and cloud recording
Admin controls on business plans
Share the entire screen or a selected portion
Works great even on a slow internet connection
Cons
Mobile application lack some features
Can't create custom links with custom names
Read: 9 Best Call Center Scripting Software
Frequently Asked Questions
What are the benefits of using screen sharing software?
The major advantages of using a screen sharing tool are:
Communication efficiency boost: It can be challenging to memorize every instruction provided by an active speaker during a session. A screen sharing tool makes it easy to follow other members and co-browse through presentation materials at the same time.
In-depth product demonstration: Visualization makes it easier for the speaker to catch the interest of the meeting attendees and explain complex topics.
Real-time comparison: Multiple members in the meetings can share their desktop screens simultaneously, and other members can toggle between the screens to compare the documents or reports in real-time.
Quick service delivery: These tools remove the barriers between the Support team and customers, significantly reducing the response time rather than clients waiting for a technician to visit the home/office.
Are there any open source screen sharing tools?
There are several open-source screen sharing and remote desktop tools available for free. The most popular ones are TightVNC, NoMachine, X2go, and Xrdp.
If you have stumbled upon anything else, just make sure it offers end-to-end encryption and brute-force protection. A secure and reliable screen sharing app also features access control, password protection, two-step authentication, and code-signing security.
Read: 9 Helpdesk Software For Small Business
What's the future of screen sharing software?
The upcoming remote desktop applications with see numerous added functionalities like:
Virtual and Augmented Reality will take over video conferencing, enabling absolute virtual networking.
Extensive use of cloud computing, mobile computing, and streaming.
Development support required for scalability from anywhere, anytime.
All in all, the global screen sharing software market will witness potential growth opportunities from the IT and business industry verticals. It is expected to grow at a high CAGR between 2021 and 2026.