Lyric is the collection of verses and choruses that make up a complete song. The meaning of lyrics can either be implicit or explicit, and sometimes it is hard to get.
Have you ever sung the wrong lyrics to your favorite song for so long that you can't get them out of your head? It has happened to all of us at some point. It is amusing to go to some song lyric apps and compare the original lyrics with what you were singing all the time.
To ensure that doesn't happen with you again, we have gathered some of the best song lyrics finder apps and websites that will help you find the lyrics of almost any song.
These tools are much like a traditional search engine, but they focus solely on music lyrics. If you remember a few words, you can search for the song to find its details like title, singer, genre, and more. Or you can simply search for the artist/band, and these tools will do the rest.
10. AZLyrics
Platform: Web-based
Plus point: Easy to sort by artist.
AZLyrics has been around since 2000 and frequently shows up when searching for lyrics with a search engine like Bing or Google.
The website lets you find lyrics via its keyword search tool, or you can browse alphabetically. It has a large database that contains hundreds of thousands of songs.
However, on most pages, the source of lyrics isn't mentioned, and visitors are presented with a lot of ads.
9. LyricsX
Platform: macOS
Plus point: Work perfectly with iTunes, Spotify, and Vox.
LyricsX is an open-source plugin for Spotify, iTunes, and Vox. It automatically searches and downloads lyrics of the song playing from the Internet and displays them on the desktop or menubar.
You can customize the color, font, and position of the lyrics, as well as navigate the song with lyrics by double-clicking a line to jump to a specific position. The plugin also has an option to auto-launch and quit with a music player.
8. Lyrics Mania
Platform: Android | iOS | Web-based
Plus point: Works well with third party player
Lyrics Mania comes with an integrated music player, so you can listen to music and get lyrics in real-time. If you are using an external player (such as Spotify, Google Play Music), the app provides a real-time notification, bringing you to the lyrics of the song you are listening to, even in streaming.
The lyrics are elegantly displayed on the screen: one line after the other (karaoke). And the homepage of the website shows you the top 10 artists and lyrics of the month.
The app uses MusicID to identify and get the lyrics of the song playing near you within seconds. You can also search for an artist or a song from its large database.
7. QuickLyric
Platform: Android
Plus point: Offline lyrics for free
QuickLyric brings the lyrics to you instantly and makes it easy to store for offline access. It lets you download the lyrics for your entire library of songs. On top of that, it supports synchronized lyrics (karaoke).
The app features Material Design, a search engine, a Karaoke mode, as well as some handy settings. Unlike most lyrics apps where you need to type the name of the song you are searching for, QuickLyric automatically identifies what song is playing on your mobile and quickly delivers the lyrics to you.
The premium version of the app comes with a night mode, exclusive new themes, and supports Android Wear devices.
6. MetroLyrics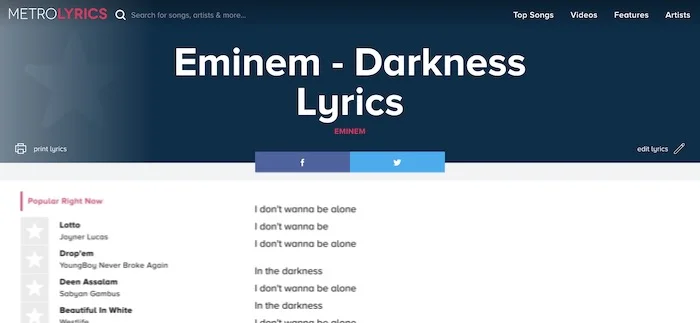 Platform: iOS |  Web-based
Plus point: Includes a top 100 lyrics list
Launched in 2004, MetroLyrics is one of the oldest lyrics-dedicated sites with more than 1 million songs performed by over 16,000 artists. It was the first lyrics website to provide users with licensed song lyrics and to compensate copyright holders for the content.
The website features a search bar at the top to find lyrics by song title or browse them alphabetically. Right next to this search bar, you can find videos, artists, and the top 100 list of most popular lyrics.
The platform has well-coordinated, relevant features that make searching for lyrics simple and easy. However, it is quite filled with ads (including video ads) that may annoy you from time to time.
5. SoundHound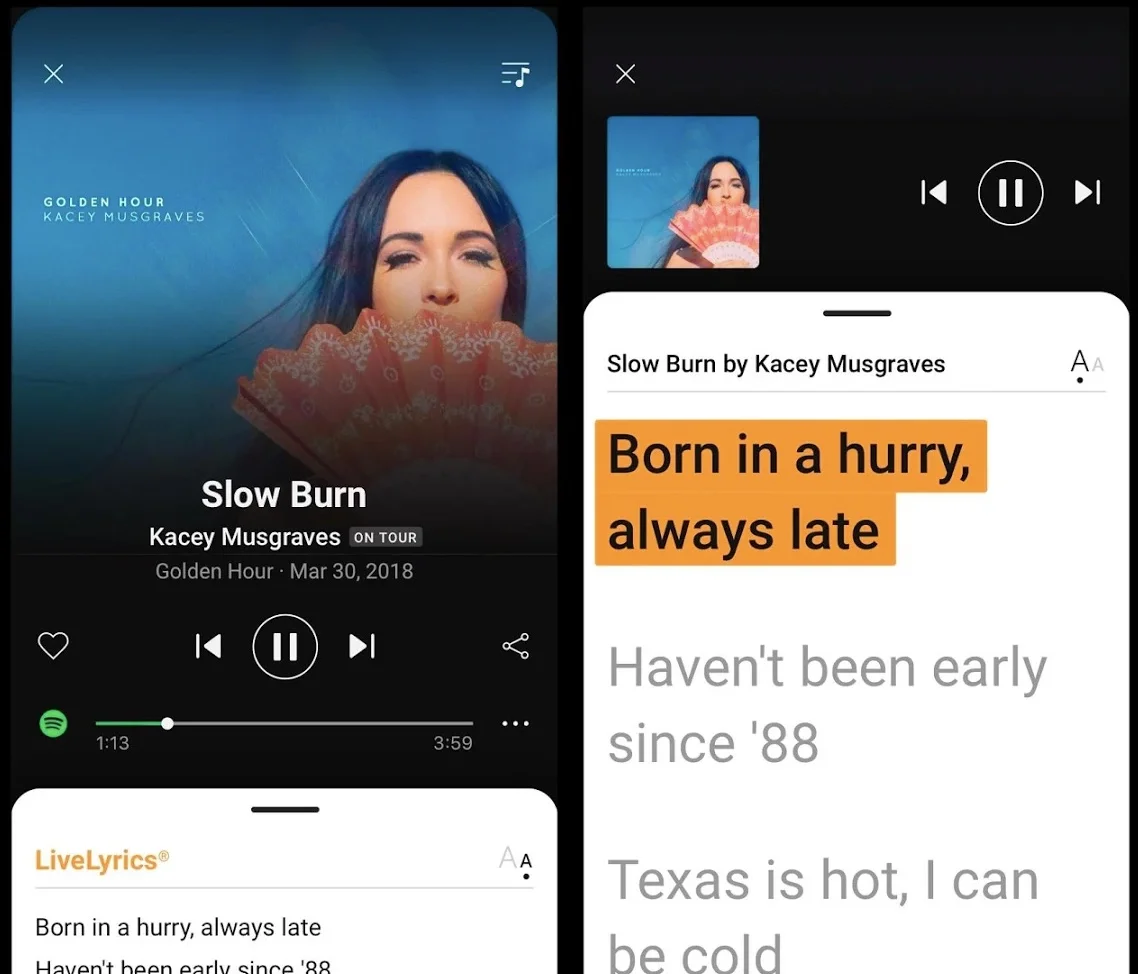 Platform: Android | iOS
Plus point: Voice search
SoundHound is a song identifying app, just like Shazam. It includes music charts, made up of songs most frequently identified by other users, so it's a great way to find new music.
The app features 'LiveLyrics' that lets you view and interact with real-time lyrics. You can use voice search to find lyrics: just say "Ok Hound, show me the lyrics of…".
You can also discover lyrics to the most popular songs topping the SoundHound charts across multiple categories and genres. All songs and lyrics are kept in your personal history. Moreover, there is an option to connect your Spotify account to create playlists and explore your favorite music across genres — all with real-time lyrics.
4. Genius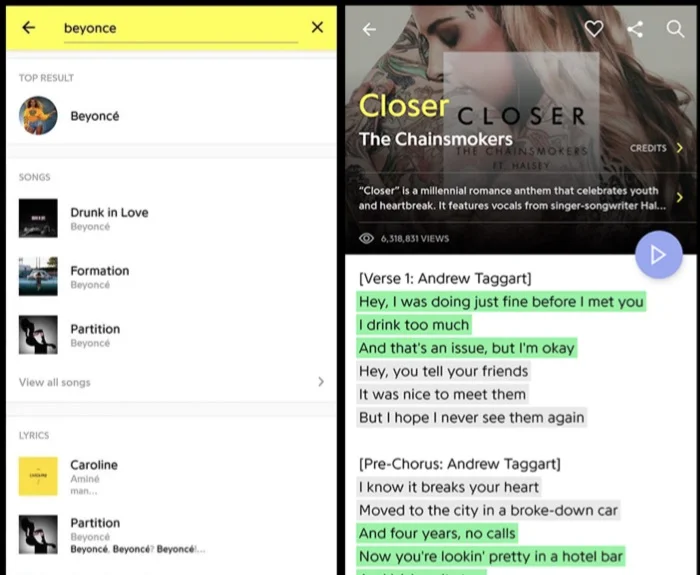 Platform: Android | iOS | Web-based
Plus point: Discover interesting facts about a track from artist and Genius community.
Genius allows users to provide annotations and interpretations of song lyrics, poetry, and news stories. It has a huge collection of song lyrics and crowdsourced musical knowledge.
Content on Genius's website or mobile app is presented with several lines highlighted in gray. When users click on these lines, it displays pop-up annotations, providing additional details and context for that specific section. Registered users can also provide their own annotations by highlighting fragments of text.
If you want to find the lyrics of the song you are listening to, just tap the soundwave button on the app, and it will show you annotated lyrics. You can also navigate the lyrics for all the songs in your iTunes library.
3. Shazam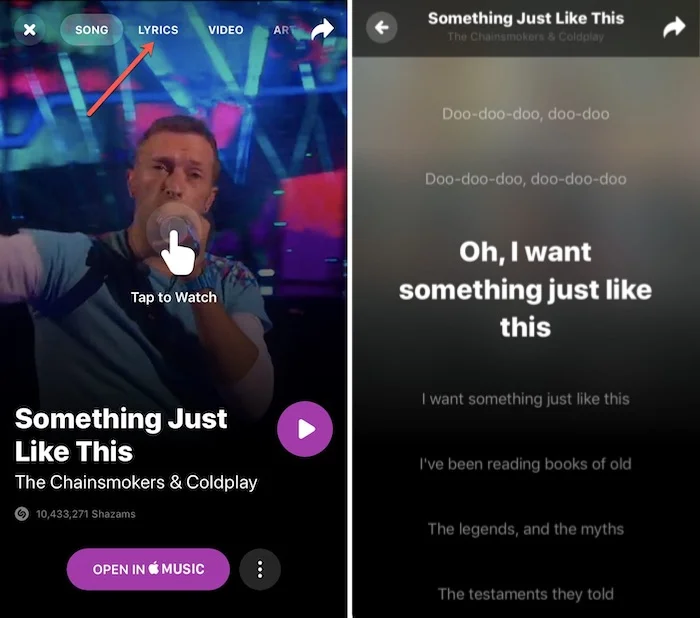 Platform: Android | iOS | Web-based
Plus point: Easy to use, free from ads
While Shazam is the best music identification app in the market, it provides song lyrics to users for free. Since it is developed and owned by Apple, it is integrated with Siri. This means you can simply ask Siri what a song is, and she will tell you.
Besides identifying songs you are listening to, you can use Shazam to get real-time lyrics. With just one tap, the app takes you directly to the lyrics at that exact part of the song. The lyrics scroll as the song plays.
The website, on the other hand, shows you the lyrics and other similar songs. There is also a 'Charts' section that displays trending tags, top songs, and popular tags in different genres.
Read: 15 Best Music Player Apps For Android
2. Musixmatch
Musixmatch focuses on building a music metadata and lyrics database. It is the world's largest platform of this kind, with more than 73 million users and 14 million lyrics.
It works great for English songs and quite good for German songs as well. The mobile app displays lyrics synchronized with songs being played. The app can also be used as a music player: it can scan all songs in your music library and find lyrics.
The company has global clients, including Spotify, Facebook, Instagram, Amazon Music, Apple Music, and Google Search.
1. Google and YouTube
Plus Point: Has a lot of advanced search commands if you need them
Google is the easiest way to search among millions of songs: just type a small part of lyrics into the search box. The trick here is to wrap the lyrics in quotes so that Google spots exact those words, in that particular order.
The search engine identifies the song by its lyrics and displays some context along with websites/apps where you can listen to that song.
Read: What Song Is This? 15 Best Music Identifier Apps To Find Unknown Track
The other most helpful platform is YouTube. Here you can find lyrics video, which not only lets you sing along (with the correct words) but also lets you understand what message the artist is sending with the music.