A speedometer is used for measuring and displaying the instantaneous speed of a vehicle. The device uses different means of sensing speed for different vehicles and has different names. For an aircraft, it is called airspeed indicator. For a boat, it is called a pit log.
Today's smartphone can do the same job without needing any external hardware. Of course, it won't be as accurate as an actual speedometer, but it does work pretty well.
Below we have included some of the best speedometer apps that people can use as per their needs. Runners and cyclists, for example, can use them to gauge their speed and keep statistics in useful formats.
8. SpeedView: GPS Speedometer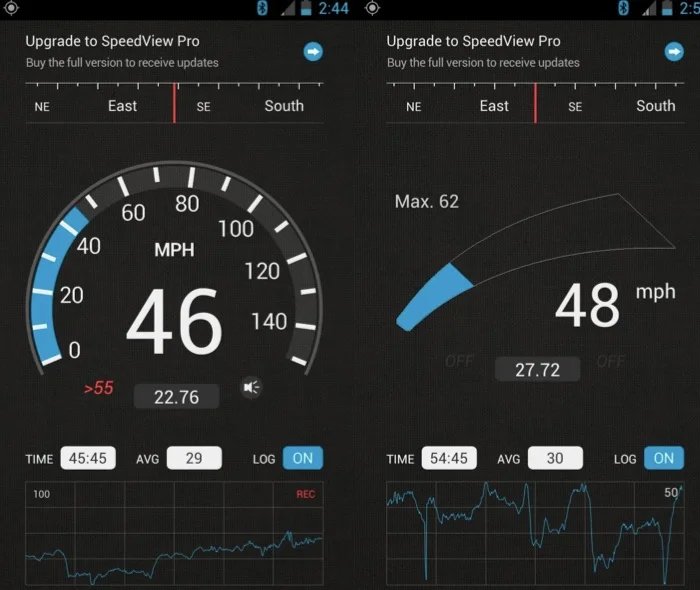 Platform: Android
Price: Free | $1.99
SpeedView is suitable for running, driving, and hiking. It displays your current, maximum, and average speed in an elegant way. Other important parameters like direction, time traveled, and total distance covered in a trip are displayed as well.
The app features a HUD (head-up display) mode, which allows you to mirror the numbers on your car's windshield by placing the phone on the dashboard. This feature works great at night.
There is a graph that shows speed covered in the last several minutes. You can also set speed limits for three different types of roads. When you go over the specified limit, the app will notify you with a sound or visual alert.
7. Speedometer Simple
Platform: iOS
Price: Free | $2.99
As the name suggests, Speedometer is a very simple and easy-to-use app. It comes with selected features and relies on the device's GPS to determine how fast you are going.
The app displays speed in large fonts and supports three units: km/h, mph, and knots. You can change the look of the interface, but there aren't too many options for colors. Optionally, a compass and city name can be displayed on the screen.
Speedometer Simple records the speed during your journey and provide post-journey stats such as traveled distance, maximum speed, etc. Maximum speed, average speed, and the total traveled distance are shown in an optional screen as well.
6. Ulysse Speedometer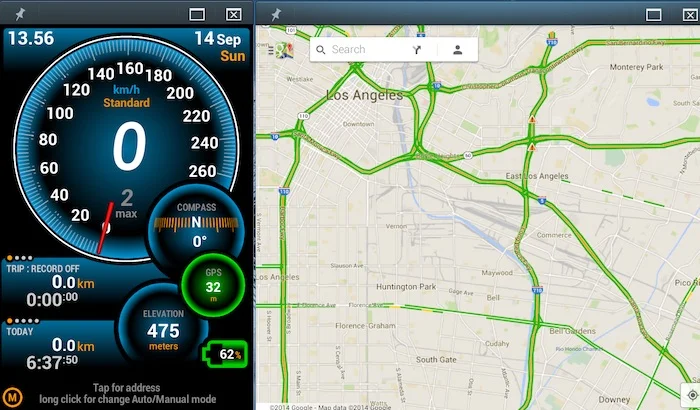 Platform: Android
Price: Free | $1.99
This is an advanced GPS app, specially designed for tracking your current speed and displaying it in a beautiful layout. Whether traveling by bus, bike, train, plane, horse, boat, or paragliding — you will definitely find this app useful.
It comes with a Trip Computer that records your yesterday's, current, today's, week's, and month's journey logs. You can create different profiles for running, skiing, and driving.
Aside from maximum and average speed indicators, the app has a 'racing meter' which measures acceleration times for 0 to 60 mph or 1/4 mile. It can display the numbers in different units, such as kilometers, nautical mile; mph, km/h, knots; miles/feet.
While running in background mode, Ulysse Speedometer shows speed discretely in the status bar and gives visual alerts for speed limits.
5. Speedometer PRO
Platform: Android
Price: Free
Speedometer Pro shows the route, average speed, maximum speed, and total distance traveled. It has an interactive graph to display the ratio of speed to time.
All your stats are arranged in chronological order, so you can manage them easily. The app works very well in the background, and there is a special widget that allows you to keep track of speeds of all your journeys.
With inbuilt HUD mode, you can monitor the vehicle speed and other details about your trip by reflecting the smartphone display off your car's windshield. You can even pause tracking to adjust your stats.
The app also has a speed warning feature that alerts you every time you exceed a specified speed limit. Overall, it's a simple-to-use app with multiple layout options.
4. Speedometer One Speed Tracker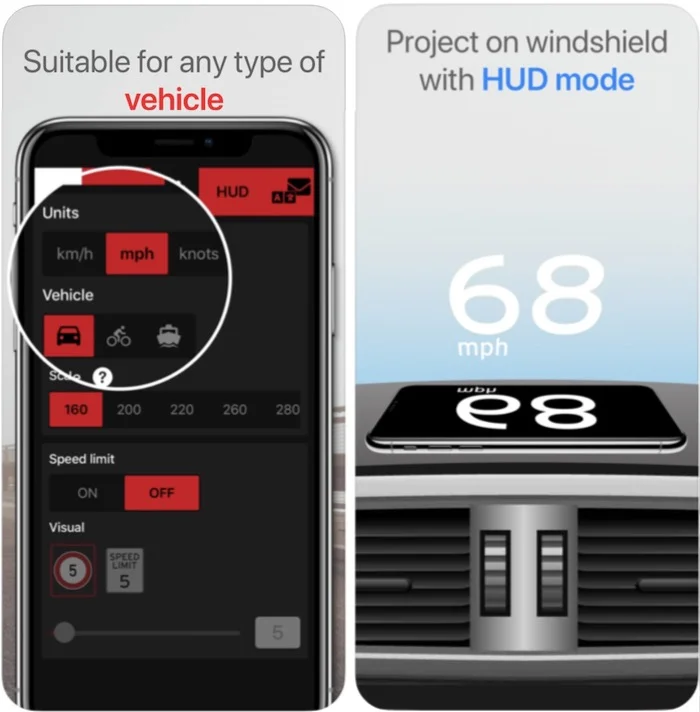 Platform: iOS
Price: Free | $1.99
This app turns your iPhone and iPad into a speedometer and makes it easier to drive. It supports all types of vehicles, including motorcycles, cars, and boats.
Like other apps, it uses GPS to track your speed and is packed with features like HUD screen and night mode with high contrast. It alerts you when you go over the specified speed limit. It supports EU and US style speed limit signs and different display units.  However, you can enable or disable this feature as per your convenience.
Aside from showing your speed, the app also displays your distance, altitude, top speed, and average speed. But what sets it apart is its customization ability: you can set the look and display according to your mood and eyesight.
The pro version gives you an option to select from 44 themes (22 light and 22 dark).
3. Speedometer 55 GPS Speed & HUD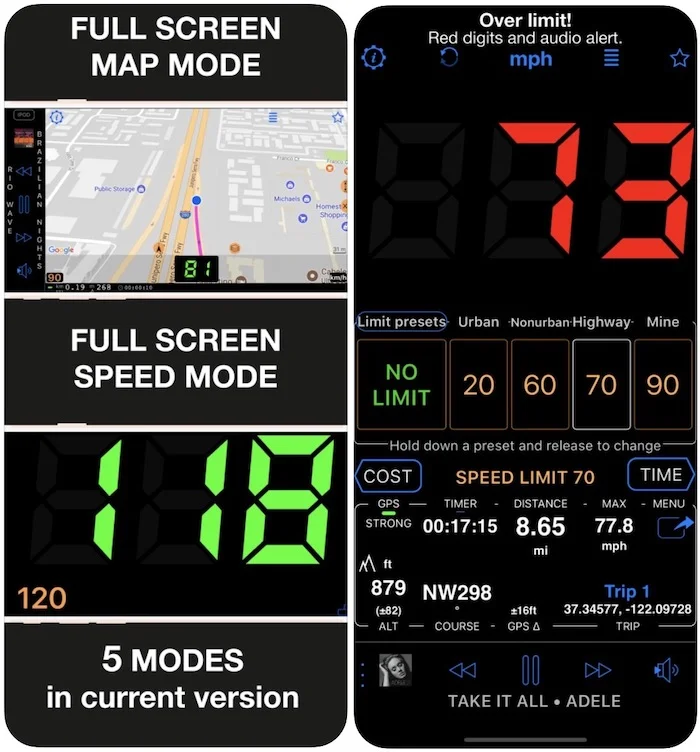 Platform: iOS
Price: Free | $3.99
This is a high-quality speedometer app with easy to set and configuration speed limits. In addition to speed and distance, it shows your current location, which you can share easily with ambulance, friends or car assistance services in case of emergency.
The app offers point by point speed, position, altitude information for the last 20 minutes of your journey. Of course, you can switch it off or reset parameters at any moment.
The interface is quite amazing to look at: when you cross a specified speed limit, the large digit changes color from green to red and the smartphone starts ringing alert tones. The app also provides you with a head-up display so you can have it reflected off your windshield at night.
The pro version of the app (costs $3.99) is packed with more features, such as trip cost computer, ability to work in the background, GPS tracking, and Siri shortcuts for setting speed limits.
2. DigiHUD Speedometer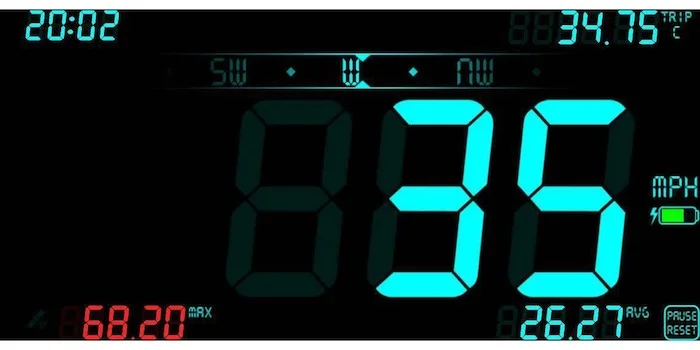 Platform: Android
Price: Free (no ads)
DigiHUD Speedometer is a neat little app that displays useful speed and distance information for your journey. It can be switched between standard viewing mode and mirrored HUD mode, which works great at night.
You can open the app as a floating window on top of the homescreen or other apps. If you want, you can resize the window using the corner drag handle.
In the display preferences, you can enable/disable different screen elements, such as three trip distance counters, maximum speed, average speed, compass, current time, satellite lock status icon, and battery level indicator. The screen will not turn off during long journeys. 
The app also works with external GPS receivers (test at 10Hz) and offers various settings to make it suit your needs. And the best thing is there are no ads to distract you.
Read: 19 Best Smart Notification Apps for Android Users
1. GPS Speedometer and Odometer
Platform: Android | iOS
Price: Free | $1.99
With this app, you can measure how fast you are going with 98% accuracy. Although it works offline, you will get slightly less accuracy.
In addition to current speed, the digital speedometer shows you average speed, maximum speed, total distance, and time taken to cover a trip. It can select your desired unit from mph, km/h, and m/s.
Unlike other apps, you can set the maximum and minimum speed to make sure you run/drive in a perfect range. The app will alert you through siren or short/long vibration when you go faster/slower than the specified limit.
You can also find altitude, latitude, and longitude at your current position even if your smartphone does not have a barometer.
Read: 18 Best Augmented Reality (AR) Apps
The interface of the app is quite attractive. There are two themes: Purple and Jet Black, featuring a beautiful head-up display in both landscape and portrait mode. The app can also run in a background window efficiently, so if you are using other apps, you can still view your speed.