"Streaming" refers to media content (recorded or live) that is delivered to mobile and computer devices via the internet and played back in real-time. Music videos, TV shows, movies, webcasts, and podcasts are common forms of streaming content.
Think of a streaming service as a modern version of traditional pay-TV service from a cable and satellite provider. Although you won't receive all of the channels and perks you usually get a cable subscription, you will save some money on your overall bill as long as you have suitable streaming devices and a decent internet connection.
A broadband speed of at least 3 Mbit/s is recommended for streaming standard definition content without experiencing buffering. 5 MBit/s is recommended for High Definition videos and 25 Mbit/s for Ultra-High Definition content.
Before the widespread adoption of 4G technology, there were only a few video-on-demand services available to choose from. Now, numerous services are competing to acquire customers, and new options debut all the time.
Streaming service's success primarily depends on what content it is offering. And since revenue in the video streaming segment is projected to reach $85 billion by 2025, many companies are investing heavily in developing high-quality original content.
However, not all of these services are reliable or reputable. You should not fall into the trap of paying more than you did for cable. Using our unbiased approach, we have listed the best and most valuable streaming services currently available. Make sure you only subscribe to the service that offers what you actually want to watch.
13. Tubi
Fee: Free
Launched In: April 2014
Popular Content: The Wicked, Camp Lakebottom, Paranormal Captured, Manhunt Files, Popeye Classic Cartoons.
Tubi is an ad-supported streaming service owned by Fox Corporation. Its library holds more than 20,000 TV shows and movies – an impressive count for a free platform.
Tubi was able to gather that much content by partnering with over 200 providers, including Viz Media, Funimation, Lionsgate, Sony Pictures, Paramount Pictures, Viz Media, and more. It features an easy-to-use interface that organizes everything neatly into descriptive categories. The streaming resolution, however, is capped at 720p.
The platform has more have 20 million monthly active users. So far, over 132 million hours of content have been streamed. It's true that it doesn't come with a boatload of original content, but if you are looking to watch some older TV shows and films, Tubi might be a great place to start.
12. VRV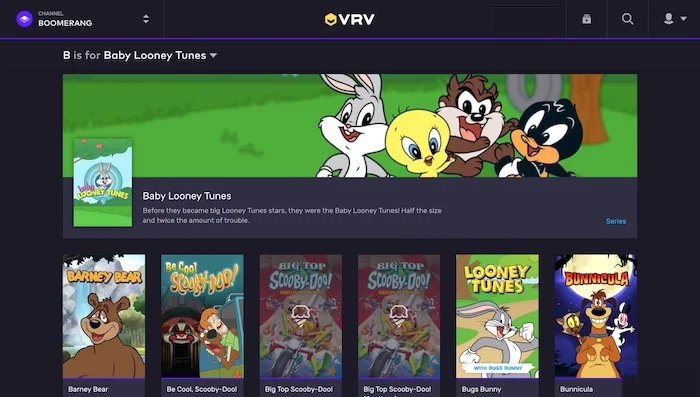 Fee: Free | $9.99 per month
Launched In: November 2016
Popular Content: Bruce Lee: Tracking the Dragon, HarmonQuest, Attack of the Crab Monsters, The Cyanide & Happiness Show.
VRV bundles together gaming, speculative fiction, and anime related channels, such as Cartoon Hangover, Crunchyroll, and Boomerang. Although you can subscribe to individual channels, a full VRV subscription is a better value.
The platform offers more than 20,000 hours of ad-supported content for free. The premium version gives you immediate access to exclusive series and new episodes of numerous shows. You can stream all shows ad-free or download them for offline viewing on Android and iOS devices.
VRV's slick interface (for all media streaming devices and gaming consoles) makes it easy to switch from one channel's offerings to another's. You can organize the content you want to watch and simultaneously stream on as many devices as you want.
11. Peacock
Fee: Free | $4.99 per month | $9.99 per month
Launched In: July 2020
Popular Content: American Psycho, Jurassic Park, Battlestar Galactica, The Capture, Brave New World.
NBCUniversal's Peacock offers three plans: an ad-supported free version, a Premium tier with live sports and clip-based channels, and a Premium Plus plan that provides the full library with no ads. Commercials are limited to five minutes per hour in both ad-supported tiers.
It contains an impressive catalog of TV shows and movies, with content from popular studios such as Universal Pictures, Blumhouse, Syfy, and Dreamworks. There are various kinds of content for people of all ages and genre preferences.
The flexible pricing tiers make Peacock a viable competitor in the great streaming war. However, unlike other streaming services, it doesn't provide some basic features like 4K HDR and download options for offline viewing.
10. Apple TV+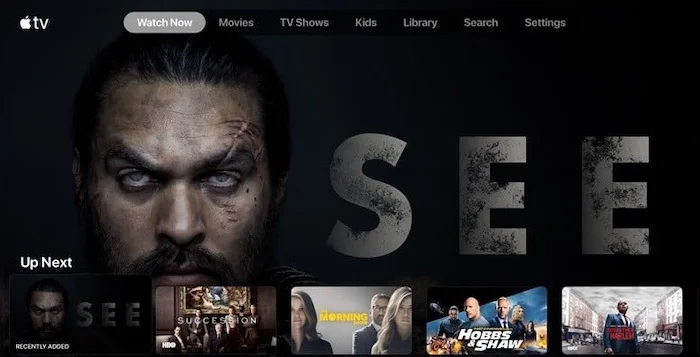 Fee: 30-day free trial |  $4.99 per month
Subscribers: 47.6 million
Popular Content: The Morning Show, See, For All Mankind, Oprah's Book Club, Greyhound.
Apple TV+ is a streaming service of movies and shows produced in conjunction with Apple or directly by the company itself. As yet, it doesn't have a large library, but the company aims to bring new original content every month.
The service has excellent streaming features and capabilities. Since most of its shows support 4K resolution, Dolby Vision, and Dolby Atmos, they look and sound spectacular.
Apple TV+ allows you to stream six different content at six different devices at the same time. That's more than other major streaming services. To you can download content to your iPhones and iPad to watch offline.
9. ESPN+
Fee: Starts at $4.99
Subscribers: 7.9 million
Popular Content: The Boardroom, Peyton's Places, Ariel & The Bad Guy, NBA Rooks, The Fantasy Show.
ESPN+ is a sports streaming service that provides access to live games from organizations like Top Rank Boxing, MLS, MLB, and NHL. It offers TV shows, movies, as well as pay-per-view programs like UFC Fight Night.
The platform contains thousands of original studio shows, exclusive live events, and acclaimed series that aren't on the ESPN networks. Subscribers can buy UFC PPV events and get access to a large archive of on-demand content, including game replays and the entire 30 For 30 library. It also contains premium articles written by some of the most respected voices in sports news and opinion.
While you can stream sports content at up to 60 frames per second, you have to sit through commercials. Despite paying for the premium plan, you will still get a limited number of ads while watching live programming.
8. YouTube Premium
Fee: 30-day free trial | $11.99 per month
Subscribers: 20 Million
Popular Content: Wayne, Impulse, Best Shot, Origin, Weird City, Sherwood, Scare PewDiePie, Cobra Kai.
As the name suggests, YouTube Premium is the site's paid subscription service. It provides exclusive, paywalled videos primarily made by popular YouTube personalities.
Much like other popular streaming services, YouTube is now producing its own exclusive content, which is available under the Youtube Originals moniker. The movies and shows straddle a broad range of genres and feature a mix of famous YouTubers and well-known TV personalities.
It also has several additional features and perks. For instance, you get ad-free videos on all YouTube content, an option to download videos for later offline viewing, and ad-free access to YouTube Music, the dedicated music app with millions of songs. On mobile, you can listen to long music and podcasts with your screen locked.
7. Vudu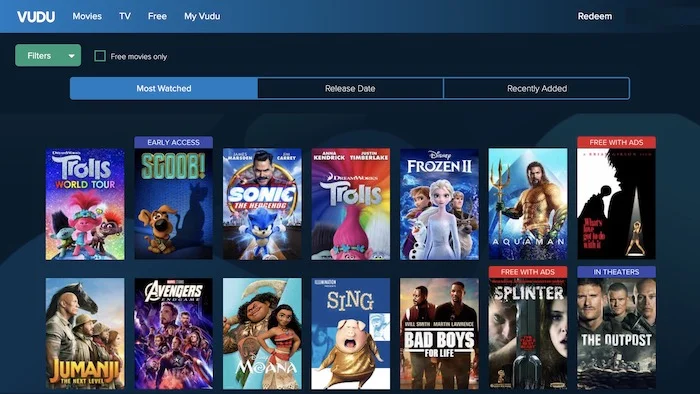 Fee: Free | Rent or Buy individual content
Launched In: January 2010
Popular Content: Troy, John Wick, Two and a Half Men, Adventure Force 5, Aladdin, Norm of the North.
Vudu is quite different from the rest since it doesn't offer a monthly subscription. Instead, it provides a wide range of videos on demand that you can buy or rent, including some movies that are still running in theaters. It carries plenty of films and TV shows that you can watch for free, though you will have to sit through commercials.
The service has more than 24,000 titles in its library and over 8,000 television shows, which makes Vudu one of the largest streaming providers of its kind. Titles range from major documentaries, motion pictures, cartoons, anime, independent films, and recorded musical performances.
Vudu has partnered with hundreds of independent and smaller movie studios. Most of the films are available in 4K quality with Dolby Atmos, Dolby Vision, and HDR10 on supported content and devices.
There are a few drawbacks, though. The catalog of free titles mostly includes old and less popular content. Plus, the cost to rent movies and shows can quickly surpass what you will pay for a monthly subscription with one of its competitors.
6. CBS All Access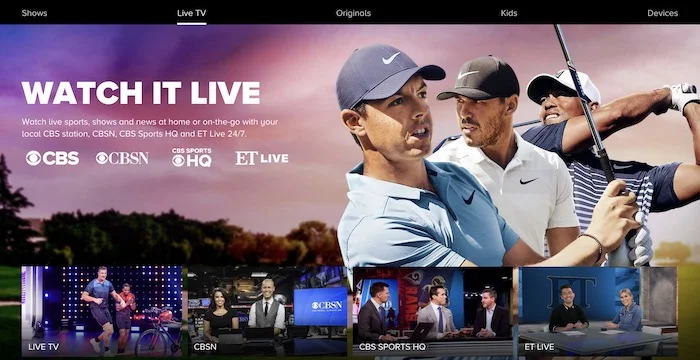 Fee: 7-day free trial | $5.99/month with limited ads | $9.99/month with no ads
Subscribers: 10 Million
Popular Content: The Twilight Zone, Young Sheldon, The Good Fight, Roman Holiday, The Godfather, How I Met Your Mother.
CBS All Access offers an affordable plan to stream favorite shows as well as live TV. You get access to over 15,000 episodes of CBS shows for on-demand viewing. Plus, you can live-stream shows, sports (including all NFL games), and news televised on CBS.
It has an amazing interface design: movies, news, and sports are arranged under a different menu at the top of the screen. Shows are sorted into different categories like reality, drama, and originals. There is also a search toolbar to quickly find available content.
Although it does provide some original TV series and live TV channels, the number of shows and channels are smaller than those of other streaming services.
5. Hulu
Fee: 30-day free trial | Starts at $5.99 per month
Subscribers: 30.4 Million
Popular Content: High Fidelity, Gravity Falls, Brooklyn Nine-Nine, American Horror Story, The Handmaid's Tale.
Hulu offers a diverse set of streaming options. It has partnered with several big broadcast networks, including CBS, Fox, NBC, and ABC. The top shows of these channels are available to stream the day after they premiere.
In addition to a good selection of movies and classic shows, Hulu + Live TV gives you an option to subscribe to more than 60 channels (for sports, news, and entertainment programming) for $54.99/per month. It also provides plenty of kids' content, including Cartoon Network favorites (like Steven Universe and Adventure Time) and a vast array of anime (like Naruto series and Sailor Moon).
While the movie library isn't as robust, Hulu rotates its content frequently and shows you which movies and shows are getting ready to leave the platform. Due to the lack of original content and limited selection of 4K videos, Hulu trails some top competitors.
And did I mention, you have to sit through commercials with its basic monthly plan? The add-free version will cost you $11.99 per month.
4. HBO Max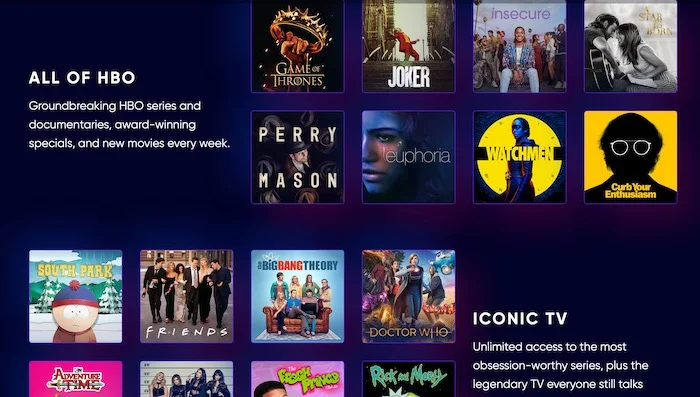 Fee: 7-day free trial | $14.99 per month
Launched In: May 2020
Popular Content: The Lord of the Rings, Harry Potter movies, John Wick, Joker, Friends, Silicon Valley, Chernobyl.
HBO Max is HBO's new entry in the streaming war. Perhaps its greatest strength is its catalog of prestige original shows. The service acquired the streaming rights of numerous other popular shows as well.
It bundles an impressive collection of movies and TV episodes for both adults and kids. You can also stream content from other sources within the greater WarnerMedia universe, including CNN, DC Comics, and Looney Tunes. They promise to keep the library fresh with new Max Originals.
The downside? HBO Max costs much higher than the base price of every other service on this list. Plus, you cannot stream in 4K HDR.
3. Disney+
Fee: 7-day free trial | Starts at $6.99 per month
Launched In: 55 Million
Popular Content: Iron Man, The Simpsons, Star Wars, Darkwing Duck, The Muppets, DuckTales, The Mandalorian, X-Men
Disney+ is designed for kids and adults who are still young at heart. It has the lastest live-action movies as well as animated classics like "The Little Mermaid". You can also stream educational content from National Geographic and lighthearted shorts from Pixar.
Disney+ library includes tons of TV shows and movies: you just name a Disney show, and it's there. Even before you complete your search, the interface serves up various suggestions, including a great mix of nostalgia and princess shows.
The service supports 4K HDR video, and Dolby Atmos surround sound, depending on the contest and device. It runs on Apple TV, Smart TV, Fire TV, web browser, and Android and iOS devices. You can stream up to four different shows on four different devices at the same time.
2. Amazon Prime Video
Fee: 30-day free trial | Starts at $8.99 per month
Subscribers: 150 million
Popular Content: Mr. Robot, Vikings, Undone, The Hitchhiker's Guide to the Galaxy, House.
There are two ways to access Amazon video content: purchase a standalone Amazon Video subscription that costs $8.99/per month or Amazon Prime subscription that costs $12.99/month. If you regularly order things online, go for Amazon Prime as it includes tons of shipping and shopping perks.
Its library contains movies that are more off the beaten path in addition to mainstream new releases. In particular, if you are looking for stuff from the 1970s, '80s, and '90s, this is a perfect platform for you.
In addition to thousands of free shows, Prime Video also gives you the option to rent or purchase movies and documentaries, similar to Google's Play Movies & TV, Apple's iTunes, and Microsoft Store's Movies & TV. You can also add premium channels like Showtime, Starzz, and HBO to your app with add-on subscriptions.
It has an exclusive feature named X-Ray that gives you instant access to characters, featured music, photos, and other bonus materials while you watch. This feature helps you browse trivia, find answers to quick questions, and explore deeper content.
The service supports 4K and HDR video streaming (based on your device) as well as download for offline viewing. It works on set-top boxes, web browsers, Android and iOS devices, Smart TVs, Fire devices, and game consoles. You can stream up to three titles simultaneously from the same account.
Read: 12 Best Apps To Download Movies For Free
1. Netflix
Fee: 7-day free trial | Starts at $8.99 per month
Subscribers: 193 million
Popular Content: Stranger Things, Money Heist, Bird Box, Our Planet, Peaky Blinders, Dark.
Netflix revolutionized the on-demand streaming service with its easy-to-use platform, and also popularized the binge-watch culture. The company spends billions of dollars every year to create its own original scripted and unscripted series, theatrical-quality feature films, and dozens of stand-up comedy specials.
No other service has yet given Netflix a good run for its money in terms of quality performance, and content selection. And that's why it remains the best streaming service and the largest entertainment/media company in the world.
Netflix library of older movies and series has shrunk a bit in recent years as its rivals, including NBCUniversal and Disney, have reclaimed their intellectual property. But it still contains an extensive collection of retro goodness, such as Grey's Anatomy and Star Trek.
Read: 14 Best Free Movie Download Sites | Fully Legal
Although Netflix costs slightly more than the average streaming service (especially if you want to watch in 4K), you will find its vast library and intuitive interface to be well worth the price.