TeamViewer is without a doubt one of the most popular desktop sharing application available right now. It allows users to access and control systems remotely. People around the world use it to conduct online meetings, provide assistance in real time, among other things. System developers also use such platform for easy deployments.
But like every other thing, it also has downsides. TeamViewer has been a subject of multiple controversies. Back in 2016, the platform was reportedly hacked internally, after which many of its users lost valuable possessions, including money, though the company denied any such occurrence.
Furthermore, TeamViewer and other similar applications has been used by scammers in the past to execute technical support scams. While this technically doesn't have to do anything with the security, but these types of things do affect the company's image. So if you are looking for another service, it's better to explore all your options before making a decision.
Here, we have compiled 13 best TeamViewer alternatives that you can choose from to perform your remote operations.
13. Supremo Remote Desktop
Price: Starts at $38
Platform: Windows, Android, and iOS
Developed by Nanosystems, Supremo Remote Desktop offers a complete solution for remote desktop control and support. It is packed with an efficient data transfer protocol that doesn't need any firewall or router configuration. Multiple users can connect to the same device and transfer files using a simple drag-drop feature.
There is an integrated chat application that lets user communicate with each other while they are connected. As far as security is concerned, Supremo uses AES 256-bit encryption and it generates a random 4-digit password at every control session. You can also manually set a much stronger password to safeguard your device and block particular IDs.
12. BeAnyWhere
Price: $29
BeAnyWhere is a one stop support platform that allows its customers to monitor and fix any device related problem remotely in real time. It is simple, effective and powerful application that provides access to unattended systems. An admin section provides system managers with tools to monitor support team activities and conduct other administrative activities.
Notable features include file transferring, VoIP, chat, multiple sessions support. It uses TLS and AES encryption to protect privacy. The platform was bought by software company SolarWinds back in 2015.
11. LogMein Pro
Price: Starts at $49/month
Cons: More expensive
LogMeIn Pro is a powerful remote desktop sharing tool offered by the US based SaaS company of the same name. With the application users can easily access their documents stored in a remote system, share and collaborate with colleagues across multiple devices. Furthermore, you can print documents from a remote system.
While it has some advanced features that you may need plus other benefits, lack of free version and expensive plans can be a real deal breaker for potential users.
10. GoToMyPc
Price: Starts at $20/month
Cons: No free version
GoToMyPc is a browser based application which allows users to access remote computers over a secure connection. Users can easily transfer files and listen to voicemails from the remote desktop. To start with GoToMyPc, you first need to make an online account. Then install the application to the desktop you want to access remotely.
Now all you need to do is login to your account with GoToMyPc from any other computer or device to gain remote access. You can choose from three different versions of the platform; Professional, Pro and Corporate. Overall, it is a fast and reliable alternative to TeamViewer.
9. TightVNC
Price: Free
TightVNC is a popular cross-platform, open-source desktop remote control software, which complies with RFB or remote framebuffer (an open protocol for remote access to GUIs). TightVNC is absolutely free for both private and commercial uses.
It uses the tight encoding technique, which significantly reduces data sizes and ultimately improve its performance especially over low bandwidth internet connections. Features include DFMirage driver to detect screen updates, zoom in and zoom out and file transferring capability.
8. Remote Desktop Connection
Price: Free
Pros: Its absolutely free, comes inbuilt with Windows
Cons: Only works on Windows, complex setup
If you are looking for a free desktop sharing tool for your Windows platform, then you might not need to look any further than the built-in tool known as Remote Desktop Connection. It enables Windows users to connect their desktop to another Windows based computer securely over LAN or via the internet.
For instance, you can easily access all your files, programs and other resources on your home desktop using your office computer. It has every basic features including support for 3D videos. While it's extremely fast and a good alternative to TeamViewer, the application can only run on Windows.
7. Mikogo
Price: Starts at $14/month
Pros: Better way to organize online meetings
Cons: No seamless window
Mikogo is a multi-platform, desktop sharing application which allows users to host virtual meetings and collaborate with others remotely to get things done. Its features include, a session scheduler to pre-plan your meetings, high quality VoIP and teleconferencing, a session recording tool and file transfer capability. For security, Mikogo uses 256 bits AES encryption.
Like few other desktop sharing applications, Mikogo also provides free services to personal users. Commercial users can choose from multiple plans, according to their needs.
6. AnyDesk
Price: Free, paid version starts at $79/ year
Pros: File Transfer, Enterprise Support
AnyDesk is a popular remote desktop sharing software, which comes with a multitude of powerful features. It is fast, reliable and most importantly secure. AnyDesk use the advanced TLS 1.2 protocol and RSA 2048 bit asymmetric encryption to make sure no one can have an unauthorized access to your network.
It's a beast in terms of performance with fast data transmission and low latency even on slow internet connections. Commercial users can set up their own secure Enterprise network to keep full control of their company's data. They can also record every remote session just for extra security.
AnyDesk supports multiple operating systems including Android, Linux and FreeBSD so that you can work without worrying about compatibility. It's completely free for personal or non-commercial users.
5. UltraVNC
Price: Free
Pros: Open Source
Cons: Only for Windows
UltraVNC is a free, open source remote desktop application for Windows. The application uses the RFB or Remote Frame Buffer Protocol to provide its users easy access to remote desktops over the internet or internal network.
The remote access is achieved by cloning the remote desktop's display and transmitting cursor movements and keyboard actions from the user's desktop to the remote computer. Both the system must have a working VNC client for it to work.
Apart from remote assistance, UltraVNC supports chat functionality and file transfers. For security, the application employs an encryption plugin along with few authentication methods.
4. Chrome Remote Desktop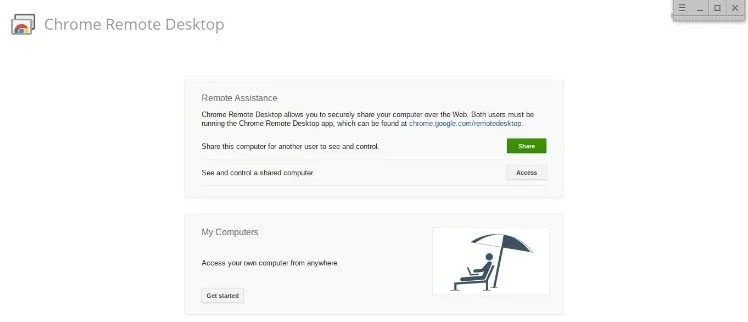 Price: Free
Pros: Chrome based, highly compatible
Cons: No File Transfer support
Google Chrome Remote Desktop allows users to access other systems remotely through a desktop sharing protocol known as chromoting. With this application you can both, access a shared desktop (remote assistance) as well as share your own computer for others to see and control.
To use Chrome Remote Desktop, you basically need two things; Chrome browser and a chrome extension. It is free, easy to use and compatible with every major operating systems. However, it does lack an essential file transfer capability.
3. TigerVNC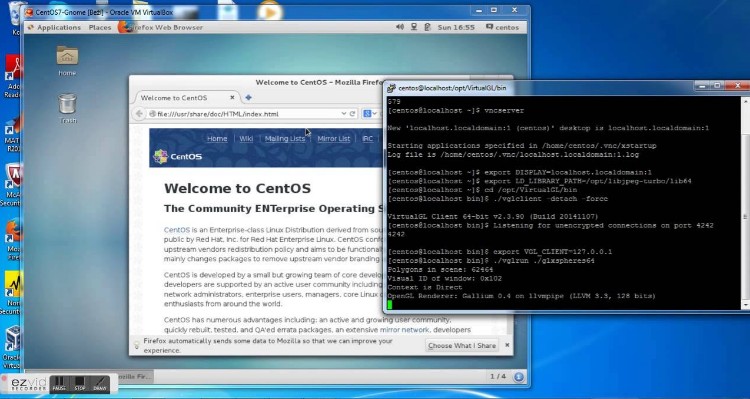 Image Courtesy: Youtube
Price: Free
Pros: Open Source
Cons: No File transfer support
TigerVNC is another open source remote desktop client that provides access to remote desktops through VNC protocol. It has a clean, simple interface and has all the necessary ingredients to provide a high performance output.
To establish a connection, you first need to enter the IP of the remote server manually. Then, you can also define the data compression rate and color depths. As far as the security is concerned, TigerVNC uses TLS encryption to protect your data. It also provides extensions for added security.
Read: 30 Useful Bug Tracking Tools For Developers
2. Remmina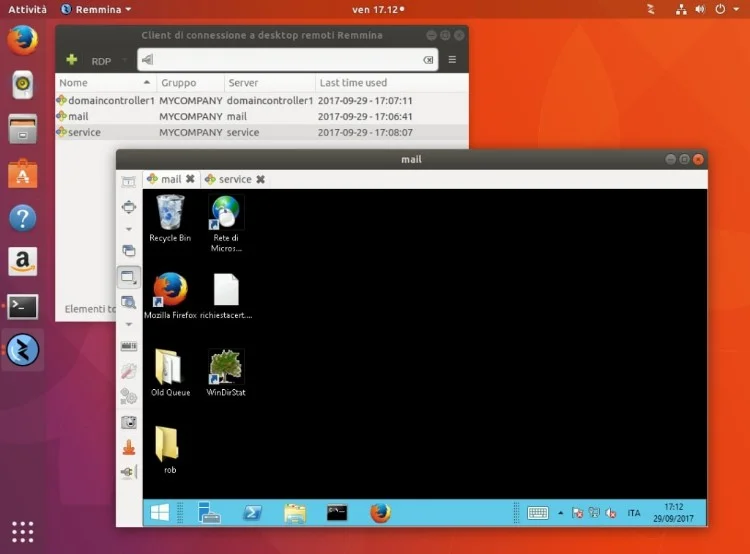 Price: Free
Remmina is without a doubt one of the best open-source remote desktop client available at the moment. It's free, secure and created specifically to fulfill the needs of system admins, who get most of the work done working remotely. It supports half-a-dozen of network protocols, including RDP (Remote Desktop Protocol), XDMCP, VNC, NX, SPICE and SSH.
It's a default desktop sharing client for Ubuntu since version 11.4 (Natty Narwhal) and included in the package repositories for Debian. Remmina supports drag and drop file transferring, multiple sessions and uses AES-256 bit encryption to protect connections from intruders.
To establish a connection with Remmina, you need to define connection parameters including which protocol you want to use, and IP address of the server. You are free to define additional parameters like quality of your connection and color recognition level.
1. VNC Connect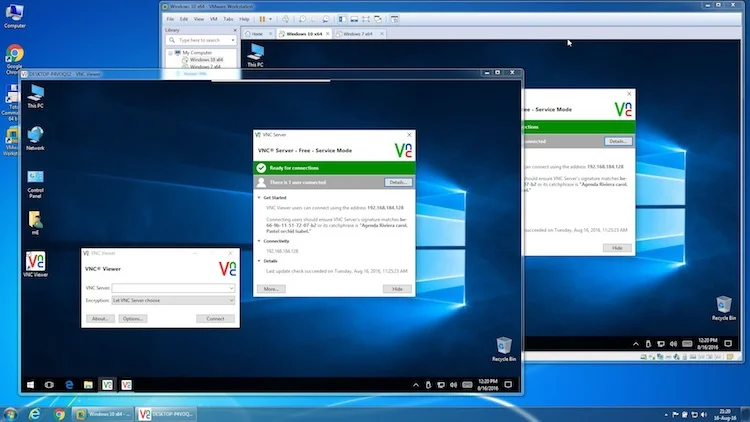 Price: Free, Paid version starts at $40
Formerly known as RealVNC, VNC Connect offers its screen sharing technology that works across different platforms, including Windows, OS X, Linux and even Android and iOS. It employs the RFB/VNC protocol to provide its users with fast and secure access to remote desktops.
VNC Connect is available in three different versions; Open Edition, Professional Edition and Enterprise edition. Open edition is free with minimal features, no file transfer support and is secured with 128 bits AES encryption. The Professional edition has remote printing and file transferring abilities.
Read: 25 Small Business Collaboration Tools to Streamline TeamWork
Finally, the Enterprise edition is perfect for medium and large companies; it comes with enhanced security (256 bits AES instead of 128 bits), dedicated support, team management options, configuration lock down, centralized deployment and other features.