Learning a new language is pretty hard. It takes hundreds of hours to become fluent in a second language. Most people don't have that kind of time to dedicate to learn another language.
This is where translation apps come in handy. They could help you communicate with foreigners on vacations or business trips, bridge communication gaps through accessible classroom learning with live captioning, and improve cross-language understanding.
We've gathered some of the best language translation apps for both Android and iPhones. They are packed with various useful features, including a speech recognition system, dictionary, and offline facility.
14. Translate All
Platform: Android
Price: Free | in-app purchases
Plus Point: Provides a detailed history of translations.
Translate All provides voice, text, and camera translation to help you communicate without barriers in all over the world. You can use it every day for travel, education, and business purposes.
The app has a decent user interface, an advanced search engine, and supports more than 100 languages. However, sometimes it displays too many ads, which could be annoying for most of the users.
13. TextGrabber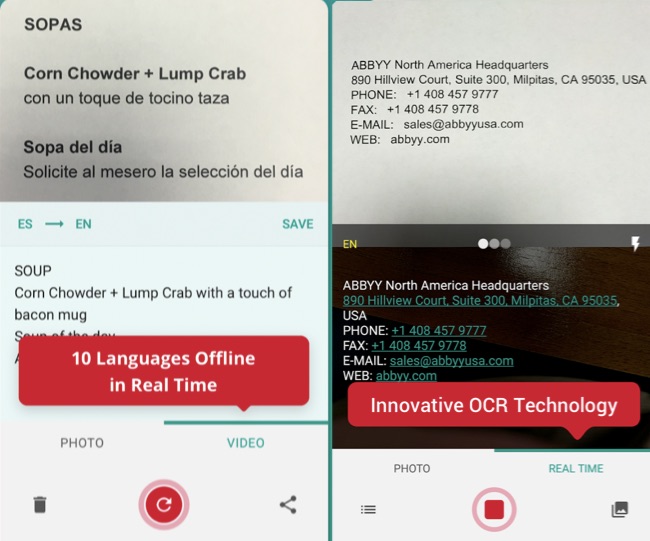 Platform: Android | iOS
Price: Free | $0.99 per language speech input
Plus Point: Instantly captures information and recognizes it without connecting to the Internet.
TextGrabber instantly captures text from pictures and live video streams. It can recognize useful elements in the text (such as email address, time, phone number, links) and make them clickable. Recognition is performed on the device, so no internet connection is required.
There is a unique real-time recognition mode that extracts information in more than 60 languages not only from papers but from any surfaces. All extracted text is automatically saved in History, where you can easily read, combine, or delete them.
12. SnapTrans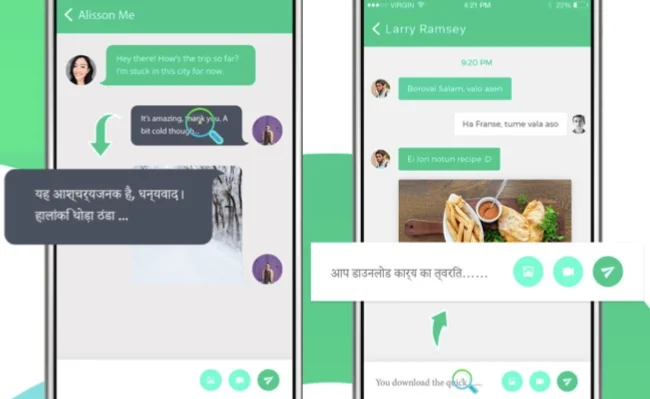 Platform: Android
Price: Free | offers in-app purchases
Plus Point: Supports regional languages.
SnapTrans can translate any text into your native language and make it easier to read in third-party apps such as Facebook, Messenger, and WhatsApp. It can intelligently translate text in more than 30 languages with a simple drag.
All you need to do is drag the translation ball on the bubble text, and the app will translate the text into your preset language, enabling you to easily communicate with friends in a foreign language.
11. VoiceTra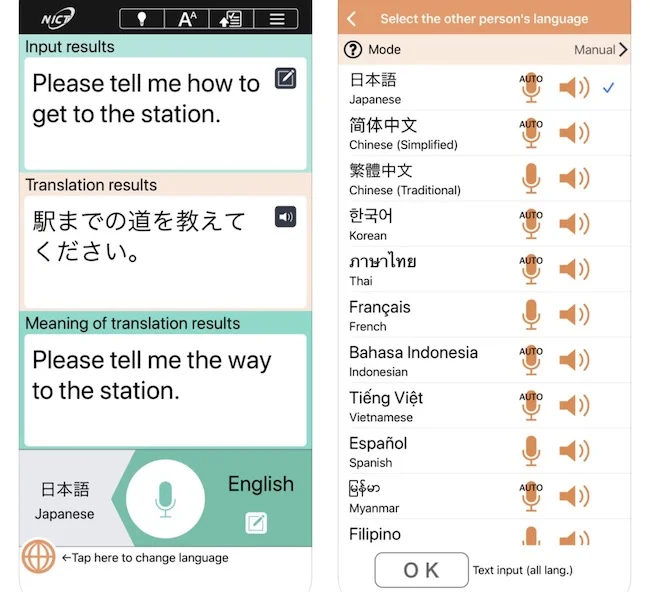 Platform: Android | iOS
Price: Free
Plus Point: You can check if the translation results are correct.
VoiceTra uses speech synthesis and translation technologies developed by the National Institute of Information and Communications Technologies (NICT) to translate phrases into more than 30 different languages. The results are read out loud in a synthesized voice, and you can check if the translation results are correct.
While the app is best suited for travel-related conversations, it has also been introduced as a disaster-related and disaster-prevention application.
10. Translator with Speech
Platform: Android | iOS
Price: Free | $0.99 per language speech input
Plus Point: Sleek user interface and transliteration support for non-Latin characters.
As the name suggests, it's a talking translator that instantly translates texts into any of 88 languages. You can either type/speak text or take a picture of text from your camera, and the app will display the translation and read it out loud.
Unlike other translation apps, it doesn't solely depend on one web translator and produces superior spoken translation. The free version displays ads and requires you to make in-app purchases to get voice recognition for all languages.
9. Voice Translator App
Platform: iOS
Price: Free | in-app purchases start at $4.99
Plus Point: Intuitive dialogue conversation interface.
The app can provide immediate translations of real-time conversations and instantly pronounce translated phrases on-the-fly. It supports more than 100 languages in text-to-text and speech-to-speech modes.
You can use it as your personal interpreter for all of your translating needs. Read street signs in a foreign country, translate text in images, and documents of your overseas purchases. It will also help you communicate freely at the supermarket, hotel, gas stations, or any other place.
8. Easy Language Translator
Platform: Android
Price: Free
Plus Point: Uses very little system resources.
The app translates more than 100 languages, including both text and voice translation. You can listen to your translations, copy/add them to favorites, save them as MP3, and share them with other people.
Although the interface seems somewhat dated at first, the app does exactly what it claims to do. It translates words, phrases, idioms from one language to another within seconds.
7. SayHi Translate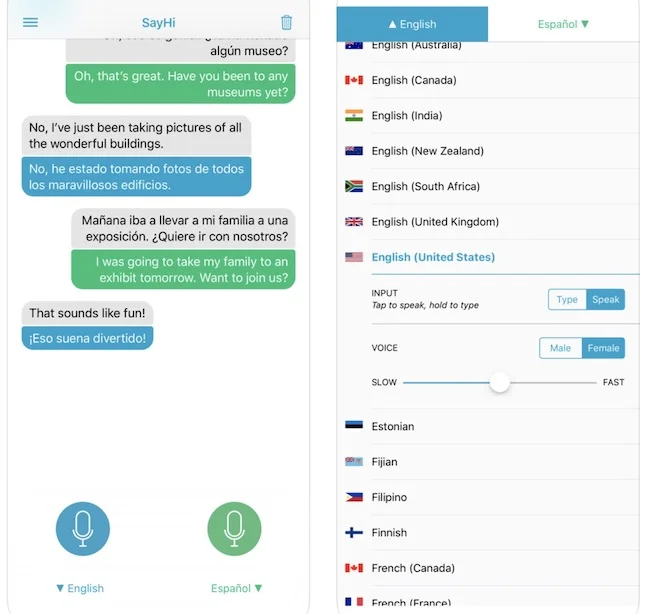 Platform: Android | iOS
Price: Free
Plus Point: Has precise and clear word recognition, and it's super easy to switch languages.
SayHi Translate is an easy-to-use app with support for over 50 languages and dialects. You can initiate a conversation in two languages and hear your voice translated in real-time.
The interface is quite simple and straightforward: Quickly change language, select male or female voice, and adjust the rate of speech. Tap and hold on a translation to copy and share conversations via social networking sites, email, or SMS.
6. Naver Papago
Platform: Android | iOS
Price: Free
Plus Point: Automatic translation for all content when you enter the address of a foreign website.
In Esperanto, Papago means parrot, a bird with language abilities. So far, the app supports 13 languages and features a set of useful tools that includes image, voice, and handwriting translation.
Unlike other translators, Papago uses a neural machine to learn from its errors and learn what type of translations the user requires. It is also packed with a dictionary to check additional meanings other than initial translation results.
5. Speak & Translate
Platform: iOS
Price: Free | Starts at $4.99 per month
Plus Point: 117 languages for text translations and 54 for voice translations.
With this app, you can communicate effectively in any corner of the globe. It offers real-time voice recognition that significantly improves the speed of your translation.
The app automatically detects the source language and provides translations in your native language. You can select male or female voice and adjust its speed. The translation history is synchronized across all your Apple devices.
Overall, the app is great but the free version serves ads and puts a limit on the number of daily translations.
4. Translate Now
Platform: iOS
Price: Free | $9.99 per month
Plus Point: Create custom lists of phrases for each language for offline usage.
Translate Now is an iOS-exclusive app that has a variety of useful add ons, such as Siri shortcuts, phrasebook, offline mode, dark mode, in addition to core translation features. It is also available for Apple Watch for quick translation of one-on-one conversations.
You can dictate what you want to translate and the app will read out the translation. It can easily translate the world around you with augmented reality, including signs, menus, and paper documents.
3. iTranslate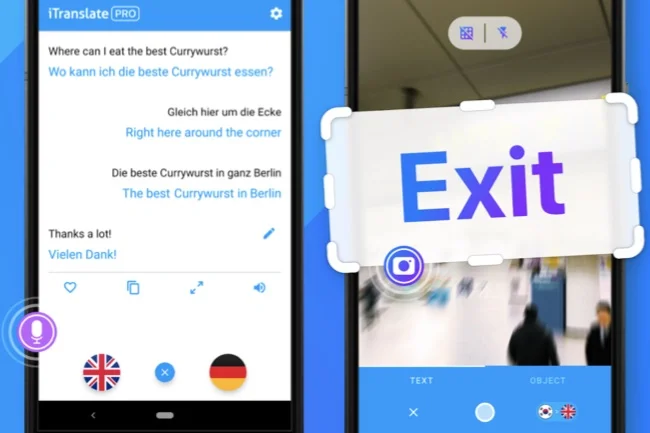 Platform: Android | iOS
Price: Free | offers in-app purchases
Plus Point: Look up verb conjugations in different tenses.
iTranslate is a free translator and dictionary app that enables you to read, write, and speak in over 100 languages. It makes it easy to read non-Latin characters, look up verb conjugations in different tenses, and save translations for further use.
The app is packed with plenty of useful features such as text, voice, and camera translation for instantly translating signs, cards, and menus in your native language. The interface is pretty good: you can switch to the dark mode and fullscreen mode to view translations.
2. Microsoft Translator
Platform: Android | iOS
Price: Free
Plus Point: Pronunciation guides to help you learn common phrases in foreign languages.
This is a personal translation app for translating text, voice, conversations, images, and screenshots in more than 60 languages. It features a unique split-screen mode that lets two users have a bilingual conversation.
The app allows you to look up alternative meanings of a word to find the best translation to express yourself. You can also hear the translated phrase out loud and save it for later use. And since it's a Microsoft product, it works great with MS Office, Skype, Edge, and Visual Studio.
Read: Microsoft Builds The Largest Language Generation Model With 17 Billion Parameters
1. Google Translate
Platform: Android | iOS
Price: Free
Plus Point: Translate bilingual conversations on the fly.
With support for more than 100 languages, it is the most powerful and accurate translation app available in the market. Instead of fragmenting sentences into smaller parts, it can translate complete sentences while looking at a broader context.
The app is fairly straightforward to use: just copy the text in any app and tap the Google Translate icon. You can draw text characters instead of typing or translate texts in photos quickly by pointing the device camera.
Read: 8 Best Grammar Checker Tools
It also works offline if you have downloaded a language pack, which comes with neural machine translation for better accuracy. Each language set is between 25-45 MB in size, so they won't take up much space on your device.