Who needs a travel agent when you have a smartphone. It is 2017 and you all have enough tools to make your vacations stress-free whether you are traveling for a short weekend or a jam-packed summer trip. From itinerary generators to finding the most affordable hotels and flights, there is absolutely no shortage of apps developed for travelers. We've gathered some of the best travel apps to make your next vacation hassle-free.
18. Kayak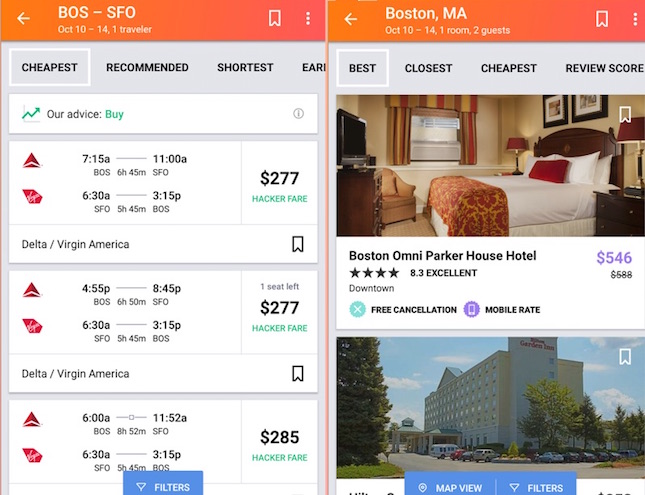 For millions of users, Kayak has been the go-to trip planning destination for quite a while. The app searches across numerous travel sites for hotels, flights and rental cars. It often offers exclusive deals that you won't find on other websites.
You can set price alerts and use Price Forecast to check whether you should buy deals or wait. Overall, it acts as a perfect trip planner, providing important information at glance in real-time, like your flight number and hotel confirmation number. Furthermore, the app is also available on Apple Watch.
17. PackPoint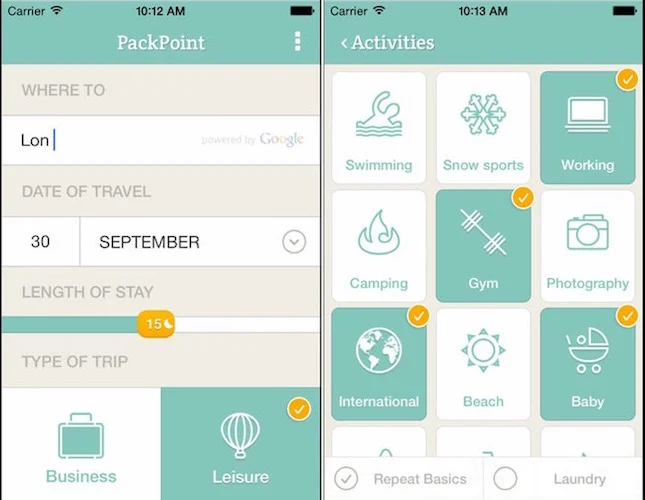 PackPoint organizes the things you need to pack for your next trip. You need to enter the date of travel, destination, length of vacation and a few details about the activities you are planning. For instance, will you be traveling internationally, working, hiking, swimming or traveling with a child? The app create you packing list according to your needs, which can be easily customized.
Once your list is created and well-organized, you can choose to share it with family, relatives and friends in case they need help packing too.
16. Splittr
Platform: iOS
There are numerous apps for splitting bills, but Splittr is especially designed for traveling. It provides a simple platform for sharing money among friends. The app even supports unevenly distributed expenses if a certain person benefitted less or more from the expense.
You can add expenses as you go and the app will tell you who is next to pay and who owes whom how much. It works offline and supports all currencies. You can export bills and reports in PDF or CSV format.
15. App in the Air
App in the Air gives you the best coverage of airplanes and airports – its a smart and straightforward flight tracking application. It covers more than a thousand airlines worldwide and all major United States airports.
The app gives you real time status, in-airport navigation nap, flight profile and airport tips. It even works offline – flight status update are sent through SMS.
14. XE Currency
Platform: iOS, Android and Windows
XE is the most popular currency conversion platform with dozens of business-oriented features. It is quite helpful for travelers as it allows them to convert every world currency.
The app includes over 180 currencies and features minute exchange rates and historical charts. It also works offline by saving the last updated rates. Moreover, it can monitor up to 10 currencies simultaneously and includes a simple currency calculator.
13. iTranslate
Heading to a country where they speak different language makes you wish for a device that could quickly translate any language you hear. iTranslate does something similar to that.
Speak into your smartphone and the app will translate into your choice of over 90 languages. The local you are speaking to then talks into the smartphone and app translates again into the language you understand. Although, it isn't 100% accurate, you will understand most part of the unfamiliar speech. The best thing is you can download some of the most common languages to use them offline.
12. HotelTonight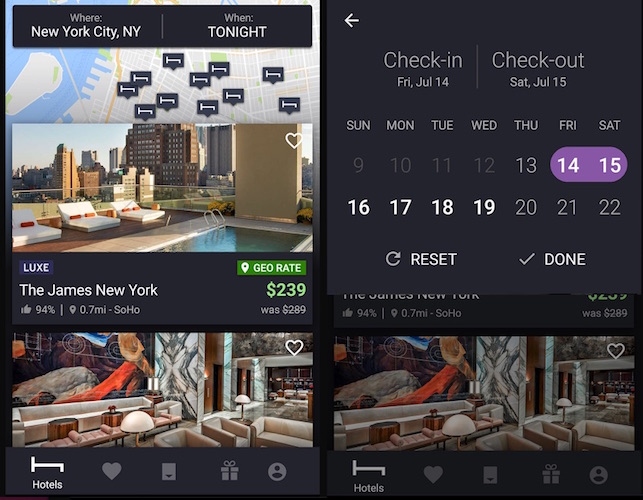 There are already dozens of online booking hotel apps available on the app store. What makes HotelTonight different is the quality of its hotel reviews, bargains it offers and last minute deals.
The app has a simple interface that lets you book any hotel within 10 seconds. You can search by attractions, city and nearby hotels on a map. All hotels are sorted according to the level of luxury – a useful metric for vacation planners.
11. Cleartrip
Platform: iOS and Android
If you are visiting UAE or India, you should consider Cleartrip. You can explore best deals on hotel rooms in more than 15,000 cities, too. It is primarly designed for booking hotels, flights and trains. 
The app has the capability to securely save credit card information, so you can do 1-click purchase of flight tickets or book hotel. The interface is pretty simple – you can choose among deals and then purchase tickets, within a minute.
10. TripIt: Travel Organizer
TripIt is like a free, personal travel assistant in your pocket. It is simple and easy-to-use. All you have to do is forward your booking email or SMS to the app and it will automatically organize them in a way that make sense and you can extract maximum useful information from it.
The app tells where you need to be at what time, saving you from having to search through every email or bags for necessary documents. Moreover, it allows you to share entire itinerary or particular plans, with your friends and family.
9. Google Trips – Travel Planner
Platform: iOS and Android
Google Trips puts your necessary information into one place and makes it available even offline. It extracts your travel information from Inbox and Gmail and organizes them automatically. It allows you to check flight, rental car, hotel bookings, all in one place.
The app gives you suggestions of things to see, based on what is nearby, and adjust your day plans. Each trip consists of things to do, day plans, food and drink recommendations, and more.
8. Guides by Lonely Planet
Platform: iOS and Android
The internet is full of location reviews from locals and tourists, but sometimes all you want is an straightforward authoritative voice. The Lonely Planet digital guide is insightful as well as comprehensive.
The app gives you details of popular locations, suggests places to drink and eat, and even it helps you learn communicate with locals. It includes over 10,000 phrases for 19 different languages, including Chinese, Japanese, French and Spanish. Like other apps, it stores maps' data so you can use it later when you are not connected to the internet.
7. Real-Time Transit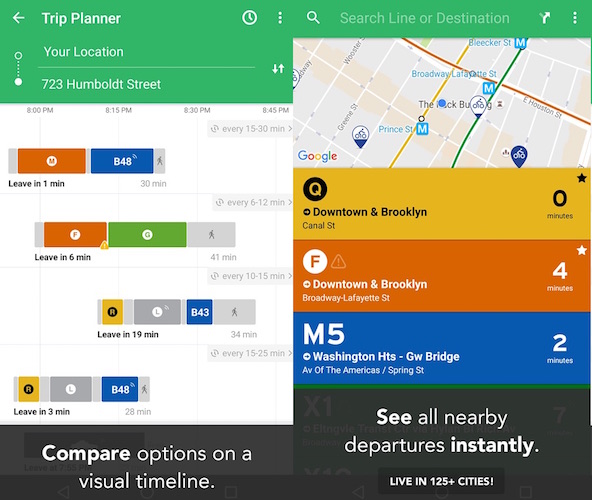 This app provides real-time train, bus and ferry information to people in more than 80 domestic and international cities. It appears to be a simple public transportation app, but if you dig deeper into its feature sets, you will discover a variety of helpful commuting tools.
Transit doesn't only display location, but also vehicle icons as it approaches. If you are visiting New York City, it will show you Citi Bike docking stations along with the number of available rides. Best of all, it schedule and route itineraries even when you are not connected to the internet.
6. Skyscanner
Skyscanner is a place to search hotels, flights and rental cars. It gives you the best suited and most affordable options via its travel partners. You can track the cheapest dates to fly and get alerts when prices change.
Are you not sure where you want to spend your vacations, don't worry, Skyscanner has got you covered. You can explore some amazing deals from a curated list of places at affordable prices. If you find the list long, filter the results by number of stops, airline, departure/arrival times and duration. There are no booking fees or hidden charges.
5. TripAdvisor
TripAdvisor compares the prices of hotels and flights from hundreds of websites so you can find the most affordable option. You can explore restaurants by price range, food type or rating. It is also good at suggesting nearby places that you might find interesting.
The app contains more than 500 million reviews and opinions by travelers, so most probably you will find the review of the location you are going to visit. Not just reviews, you can browse millions of photos and videos uploaded by other visitors.
4. Expedia
Expedia is all-in-one travel app where you can book hotels, flight, rent a car and even book tickets for theme parks and tourist attractions. What's interesting is you can book bundle deals which includes your flights and hotels in a single booking, saving you some more money.
The app also shows you upcoming trip details, maps for direction, hotel address information, and gives alerts for flight delays, hotel check-out times and more. You can share itineraries with friends and family via SMS or email.
3. Airbnb
With Airbnb, you can find unique homes and adventures in your hometown or faraway locations. There are more than 2.5 million homes in 190+ countries to choose from. The app gives you facility to search by nearby places, amenities or price.
Airbnb gives you latest suggestions on where to visit and find city's best restaurants, bars and secret spots. There is a feature called trips that offers experiences led by local experts, for instance, you can go for a hunt for truffles in a Tuscan forest or explore Seoul's underground music scene.
2. Moovit: Bus & Train Live Info
Moovit has a tidy interface which is easy to navigate. Joining all transit options together – subway, bus, train, and more, the app gives you complete control over your travels.
The app provides detailed geolocation tracking, accurately telling you to which direction you are facing. It also delivers "Get off" alerts when it is time to exit your train or bus. Overall, the app's precision makes it kind of necessary if you often use public transport to get around big cities.
1. Citymapper – Transit Navigation
This is probably the smartest trip planner out there, making cities easier to use. It gives you the best possible route by combining all possible transport modes – bus, train, cab (Lyft, taxi, Uber), car or bike share, ferry, subway and walk.
Read: 16 Best Android Apps to Block Spam Calls and SMS
You can check real time departures in real time. It informs you about transport delays and let you follow your trip with step-by-step direction. And yes, it does include offline maps.