Trucking dispatch software (also referred to as transportation management software) is designed to help trucking businesses manage and optimize their daily operations, such as load assignments, driver assignments, route optimization, order management, and communication with drivers and customers.
Since most modern dispatch software tools are cloud-based, they can be accessed by fleet managers, dispatchers, drivers, and other members involved in the transportation process.
The manager, for instance, can track driver availability, monitor driver performance, and analyze key metrics like load tracking and fuel consumption to optimize business operations for better efficiency and profitability.
All in all, integrating a dispatch software tool into your trucking business can really help you automate and streamline various aspects of your operations. It can provide you with comprehensive reports to make data-driven decisions and identify areas for improvement.
We have organized a roundup of the best trucking dispatch software available in the market to help you minimize expenses, improve productivity, and enhance customer satisfaction. They all offer unique features at different prices, so choose as per your business requirements.
9. TruckingOffice
Released in 2010
Price: Basic version starts at $20 per month | 30-day free trial available
Rating: 8.9/10 from 70+ customers
The TruckingOffice software platform is built for businesses of all sizes, from owner-operators with one truck to larger fleets with several trucks and drivers. Besides automating trucking operations, it reduces administrative overhead and offers deeper insights into the financial performance of your business.
You can easily check driver availability, assign drivers to loads, and communicate with drivers and other team members involved in the dispatch process. Additional functions like dispatch notifications, GPS tracking, and route optimization help you improve productivity and ensure timely deliveries.
Key Features
Customizable invoice templates
Plan load and send information to drivers, including street-level routes and maps
Track mileage for individual drivers or trucks
Provides insights into fuel tax liabilities
Perhaps its most useful feature is IFTA reporting, which simplifies International Fuel Tax Agreement (IFTA) requirements. It automatically calculates fuel taxes based on fuel purchases, jurisdictional rates, and mileage and generates IFTA reports.
As for pricing, TruckingOffice has two models: Basic and Pro. The former offers essential features like load and dispatch management, invoicing, and expense tracking. The latter targets medium-sized trucking businesses by offering advanced reporting, document management, custom branding, and integrations with accounting software.
8. Trimble Transportation
Released in the 1990s
Price: Starts at $1,200 per month | Free demo available
Rating: 7.8/10 from 400+ customers
Trimble Transportation has a long history of providing software and hardware solutions. It has a diverse range of products that continues to evolve to fulfill the demands of the transportation industry and keep up with technological advancements.
Its fleet management solution, for instance, helps trucking businesses manage their vehicles, drivers, and assets. It lets you keep track of vehicle maintenance, monitor driver performance, and ensure compliance with Hours of Service (HOS) regulations.
The analytics solution gives you a 360-degree view of your business operations, so you can identify areas for improvement and optimize the supply chain.
Key Features
In-cab navigation and route optimization tools
Automates the recording of driver hours and duty status
Track vehicle maintenance tasks
Offers mobile apps for drivers and other field personnel
Unlike other platforms, it allows you to optimize asset utilization. Keep track of trucks and trailers, manage individual vehicles to reduce their idle time, and maximize asset visibility.
Trimble's platform integrates with many popular business and transportation tools, including Transcore GlobalWave, RTA Fleet Management, Squarerigger, CoPilot Truck, and RapidLog.
The company hasn't mentioned any pricing details on its official website. However, based on customer reviews, they may offer subscription-based pricing where you can choose from different levels of packages based on your business budget and requirements.
Their representative may also offer customized pricing options based on the fleet size, number of users, and additional features or integration requirements.
7. Samsara
Released in 2015
Price: Starts at $27 per month while typical hardware costs $100 – $150
Rating: 8.2/10 from 350+ customers
Samsara comes with a suite of software and hardware solutions that give real-time visibility and insights into fleet operations, allowing trucking companies to streamline their operations, optimize routes, increase overall fleet efficiency, and improve safety.
More specifically, it makes it easier to manage routes for commercial vehicles. You can track vehicle location and instantly check route progress or missed stops instead of manually calling drivers.
Samsara's software program also tracks fuel usage and generates reports on fuel consumption patterns. This helps you detect fuel inefficiencies and take measures to reduce unnecessary fuel consumption. Plus, it keeps a record of vehicle maintenance tasks like oil changes, wheel balancing, and electrical component inspection. This helps you optimize fleet maintenance and minimize downtime.
Moreover, Samara's analytical system generates a 'planned vs. actual' report that compares your initial plans with actual performance. This report can guide you on how to reduce route delays and increase ROI.
Key Features
Track vehicle location in real-time
Create geofences
Track fuel usage and vehicle maintenance
Review past routes taken by vehicles
Scales to 10,000+ assets
As for pricing, Samsara charges an annual or monthly subscription fee for its cloud-based platform. The fee depends on the number of vehicles being managed and the number of features being used (such as asset tracking, fleet management, driver behavior monitoring, and more).
The company also provides hardware components like cameras, sensors, and GPS tracking modules. You can pay either a monthly fee or an upfront cost for these components. They may also charge a one-time setup fee to get the hardware and software up and running.
6. TRUX
Released in 2013
Price: Starts at $100 per month | Free demo available
Rating: 9.1/10 from 150+ customers
Trux logistics and dispatch software allows you to manage everything in one place, from assigning loads to finding new trucks through a large dump truck marketplace.
You can track the location of your trucks in real-time, assign delivery tasks to drivers, and monitor the progress of each task. The software is integrated with various tools for load planning, driver scheduling, and route optimization to increase your net profit and improve overall productivity.
It also helps you identify potential underpaying, overpaying, underutilization, and overutilization of haulers.
Overall, it's a great solution for dump truck owners, material producers, contractors, and brokers to efficiently manage business operations and deliver products on time with full visibility.
Key Features
Drag-drop dispatching and load stacking
Track delivery progress
Real-time and historical GPS tracking
Communicate job-specific instructions and changes in real time via the Trux Drive app
The platform has processed more than 8.2 million load deliveries, resulting in 20% faster turnaround time and 18% higher dispatch productivity.
As for pricing, the company doesn't seem to believe in a one-size-fits-all model. Their pricing (not publicly disclosed) varies on the number of vehicles being managed, the types of services needed, and the level of customization required.
5. Dr. Dispatch
Released in 2003
Price: Starts at $50 per month | Two-week trial available
Rating: 8.5/10 from 400+ customers
Dr. Dispatch is an all-in-one software solution designed for small and medium-sized trucking companies. It allows companies to manage and optimize dispatch operations, scheduling, invoicing, and other transport-related tasks.
The software shows you the status of individual loads and automatically generates load sheets that can be sent in minutes. There is a maintenance module to view equipment and repair costs, a load template system to speed load entry on recurring lanes, and an automated billing system to generate payroll and driver settlements within a few clicks.
Plus, it produces reports for IFTA reporting. This simplifies the process of calculating and reporting fuel taxes.
Dr. Dispatch also integrates with QuickBooks, allowing you to seamlessly transfer data between two systems. This integration helps you streamline the billing process and manage finances.
Key Benefits
Saves hundreds of hours per week
Easy to use; no training is required
Keeps loads, equipment, and dispatchers all on the same page
Per Load Expense Tracking
Quick customer support (36-minute average response time)
Developed by people from the trucking industry and backed by over two decades of proven reliability, the Dr. Dispatch platform is continually improving to fulfill the requirements of modern trucking and brokerage professionals.
Their pricing start at $50 per user per month and goes up to $250 per user per month based on the features included. While they allow you to create your own custom plan as per your business requirements, such customizations come at an additional cost.
4. Rose Rocket
Released in 2016
Price: Starts at $200 per month | Free demo available
Rating: 8.6/10 from 200+ customers
Rose Rocket is a cloud-based transportation management software designed for trucking businesses of all sizes. It comes with various tools to help you manage the complete transportation lifecycle, from order planning and accounting to dispatching and shipment tracking.
Businesses can concurrently plan and dispatch various parts of an order. Large businesses can operate from multiple divisions through one centralized platform.
The platform makes it easy to track profitability at every movement, schedule drivers, and put the best person on the most profitable legs every time. It is also integrated with tools for electronic proof of delivery, automated customer communication, and reporting and analytics.
Key Features
Organize loads better with custom tags
See real-time profitability in every order and movement
Create orders and schedule drivers from a map-based view
Integrate with apps, webhooks, and APIs
The reporting and analytics tools, in particular, allows you to monitor key performance indicators and analyze trends over time. You can easily create reports on revenue, expenses, shipment volumes, and other key metrics.
And yes, it does integrate with third-party applications, including Quickbooks, electronic logging devices, and accounting software. This helps you streamline business operations and eliminate manual data entry.
As for pricing, their Essential plan includes all basic features like load planning, dispatch management, invoicing, and real-time tracking. You can also request a custom quote based on our specific needs.
3. TruckLogics
Released in 2015
Price: Starts at $30 per month | 15-day free trial available
Rating: 7.9/10 from 250+ customers
TruckLogics lets you keep track of all complicated load details, from dispatching and phone check calls to shipping details and invoicing.
Its user-friendly interface makes it easy to navigate and access all the features. For example, you can create Full Truck Load (FTL) and Less than Truckload (LTL) dispatches in minutes, assign drivers and notify them of their assignment with just one click, generate separate paperwork for each customer's load, and calculate route mileage using Google Maps or ProMiles.
The platform also offers valuable data analytics and reporting tools to help you make informed business decisions. Generate in-depth reports on revenue, expenses, and other key metrics, or use data visualization tools to quickly understand patterns in your business data.
Key Features
Route planner and Fuel optimization
Track and manage fuel-ups and other expenses
Track driver payments
Assign different roles to users like Office manager, dispatcher, or driver
TruckLogics has a smartphone application that can be used by drivers, fleet managers, leased operators, and independent owner-operators. One can use this app to send manual or automatic check calls to customers or brokers based on their location.
Managers can automate check calls to receive notifications like Start of Trip, Location, Enroute, or Drop-off Complete. They can also track the vehicle's movement in real-time and enable 'geofencing' to receive notification whenever a driver enters or exits a specific location.
The platform has three pricing plans: Pro (costs $30/month), Preferred ($50/month), and Premium ($70/month). All plans include unlimited customers, unlimited users, and unlimited loads at no additional fees.
2. Connecteam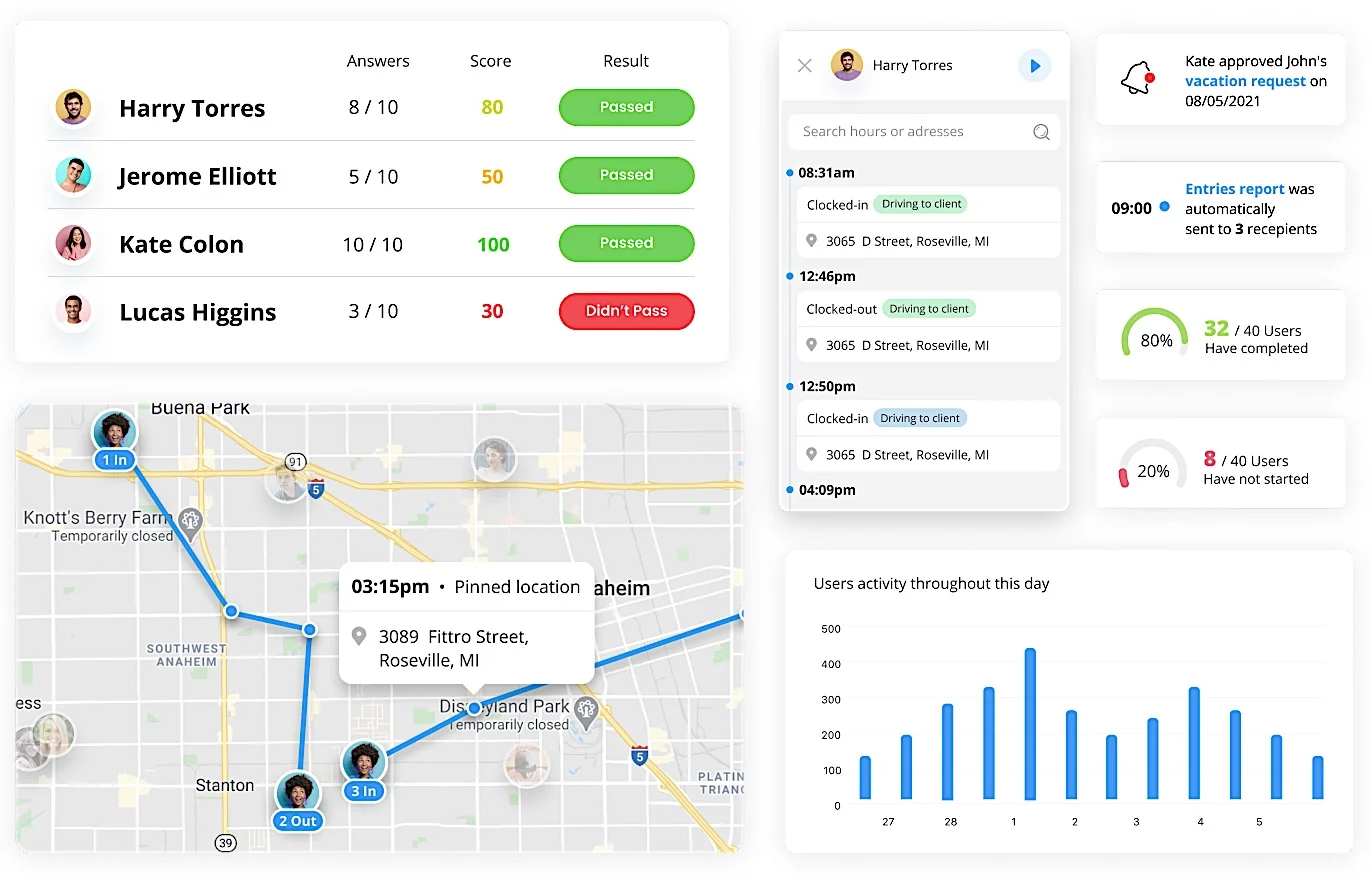 Released in 2018
Price: Starts at $35 per month for up to 30 users | Free version available
Rating: 9.3/10 from 650+ customers
Connecteam's logistics tracking system is one of the most simple and affordable solutions to monitor and manage your logistics from one place.
Its scheduling system allows you to quickly schedule shifts and dispatch jobs as per your drivers' availability. You can create recurring shifts, copy previous shifts, or use pre-built templates to save time. Your drivers will have the essential information and documents on the service order right on their smartphones.
The software is capable of automatically signing jobs to drivers based on their availability and location. This ensures that resources are managed more efficiently and jobs are assigned in a timely manner.
Key Features
Dispatch with special instructions
GPS tracker with live or past trucks routes
Manage legal driving hours
Capture signatures and manage digital documents through mobile
It also allows you instantly share information with your employees and see how many of them read updates. You can even distribute digital forms or checklists to fill out, add attachments, sign, and send back straight from the job site.
Connecteam offers four pricing plans: Free, Basics, Advanced, and Expert. The free plan gives you access to all hubs and features, including real-time dispatch management, scheduling, GPS tracking, and automated job assignments.
1. Onfleet
Released in 2014
Price: Starts at $500 per month | 14-day free trial available
Rating: 9.4/10 from 300+ customers
Onfleet is a cloud-based dispatch software designed for managing and optimizing last-mile delivery operations. It is used by a range of businesses, including restaurants, eCommerce companies, and logistics providers.
The software allows you to easily schedule, dispatch, and track deliveries in real-time. Assign tasks to drivers, monitor their progress, and make adjustments on the fly. Updates are instantly sent to drivers.
It comes with a smart route optimization engine that uses several parameters (like traffic, time, location, and capacity) to generate the most efficient routing solution. It can adapt itself according to the type of delivery: same-day, next-day, or scheduled delivery.
Key Features
Real-time driver tracking
Status and ETA-triggered notifications
Integrated customer communication
Task history and driver performance metrics
Onfleet provides detailed analytics and reporting tools, allowing you to track delivery performance, identify areas for improvement, and make data-driven decisions.
More specifically, it allows you to visualize key metrics like on-time rates, service time, distance traveled, feedback scores, and more. Unlock even more insights by segmenting data by drivers, teams, week, day, and hour.
The platform integrates with hundreds of third-party tools like Google Sheets and Shopify without a single line of code. For complete control, you can connect via Onfleet's API.
As for pricing, the basic version costs $500 per month. It includes up to 2,000 delivery or pickup tasks and 90-day historical analytics — which is perfect for small businesses. As your business grows, you can upgrade to a higher tier, which includes advanced tools like barcode scanning and ETA notifications.
Other Equally Good Fleet Management Solutions
10. Tookan
Released in 2015
Price: Starts at $99 per month (when paid annually) | 14-day free trial available
Rating: 8.6/10 from 200+ customers
Launched in 2015, Tookan's cloud-based software quickly gained popularity among transport businesses due to its comprehensive features and user-friendly interface. Today, it helps thousands of small and mid-sized businesses manage their fleet and automate dispatch operations.
It features a Smart Dashboard to receive and dispatch order requests, track the order fulfillment cycle, and take quick actions like cancel, delete, or re-assign delivery.
Once the order is received, the system can automatically assign it to the nearest free driver. The driver gets an instant 'delivery alert' on his app, which he can either accept or reject.
The software can also calculate the shortest and fastest routes to minimize fuel expenses and improve efficiency.
Key Features
Allocates fleet automatically to the nearest available driver
Route optimization and navigation
Task alerts and reminder
Monitor earnings for all connected drivers
Unlike conventional dispatching tools, Tookan allows you to track the number of deliveries, canceled and delayed orders, ratings and reviews of drivers, and much more to help you take control of your business.
Small businesses can start with a basic version, which costs $129 per month. It allows you to add unlimited drivers or agents and complete up to 700 tasks in a month. Each additional task would cost $0.17.
11. Teletrac Navman
Released in 2020 (its latest offering TN360)
Price: Starts at $25 per vehicle per month | Demo available
Rating: 7.4/10 from 50+ customers
Teletrac Navman offers a range of cloud-based tools to manage fleets more effectively. From local construction projects to cross-country trucking hauls, its fleet management solutions provide you with valuable data to reduce expenses, stay on schedule, and put resources in the right place.
Its latest AI-powered platform (called TN360) gives a more holistic view of your fleet operations, making it easier to manage efficiency, safety, and compliance. It uses machine learning to analyze data from different sources and provide detailed insights and recommendations for improving trucking operations.
For instance, TN360 can analyze driver behavior data to identify patterns and suggest training programs to enhance driver safety.
Key Features
Real-time fleet visibility with Drone View location monitoring
Geofence activity measurement
Alerts for harsh driving behavior
Customized driver scorecards
Measure Wait Times at Depots
The platform is designed to be scalable and flexible. Businesses of all sizes across the world can choose the pricing level and features that best fit their requirements. Or they can ask for customized pricing plans and support levels.
12. LoadOps
Released in 2018
Price: Starts at $150 per month | 30-day free trial available
Rating: 7.9/10 from 70+ customers
LoadOps automates back-office tasks and optimizes tedious processes such as finding drivers and searching for loads, increasing your overall efficiency. It allows you to closely manage each phase of the load lifecycle using a centralized dashboard.
The platform is integrated with a real-time load-tracking system and compliance resources, which can significantly reduce expenses and increase productivity. Plus, it can be easily connected to various third-party tools like accounting apps, electronic logging devices, and DAT's load board.
Key Features
View the status of all loads in one place
Detect delay early and replan routes
Custom alert rules
Tracking page for customers
LoadOps also makes it easier to monitor your crucial assets as they move across the map. Take care of background operations by automating mundane tasks like document management, driver settlement, and customer invoicing.
It keeps key performance indicators in one place, so you can instantly compare important metrics (dollar per mile, earnings per driver, planned vs. actual revenue, etc.) and make informed decisions.
More to Know
How much does truck dispatch software cost?
While the cost depends on various factors like features offered, the scale of the trucking business, and the customization required, most dispatch software tools charge monthly subscription fees between $25 and $150 for their basic version.
Points to consider before selecting the right dispatch software for your business?
A trucking dispatch tool should offer the following features or benefits
Simple user interface and easy to use
Load planning and assignment
Real-time vehicle tracking
Communication tools to facilitate coordination between dispatchers, drivers, and customers
Route optimization (reduces idle time and fuel costs)
Document management (reduces paperwork)
Reporting and analytics to make informed decisions
Integration with other systems like accounting software and CRMs
What are the advantages and disadvantages of using a trucking dispatch software tool?
While implementing dispatch or fleet management software involves an initial investment for setup and it can be quite complex for large business infrastructure, its advantages far outweigh the disadvantages.
| | |
| --- | --- |
| Advantages | Disadvantages |
| Streamlines business operations | Initial setup requires time and can be complicated |
| Improves communication and coordination | Relies on internet connectivity and software updates |
| Route optimization and cost savings | |
| Enhanced visibility and reporting | |
| Helps make informed decisions | |
| Scalable and flexible | |
Market size of truck dispatch software platforms
According to various market research reports, the global truck dispatch platform market is expected to grow at 10-15% CAGR from 2023 to 2029. Based on these estimates, the market size could potentially reach $5 billion by the end of the forecast period.
The key factors behind this growth include the rising focus on automation and digitization and increasing demand for efficient fleet management systems and real-time tracking. Plus, these cloud-based platforms offer advanced reporting and analytics tools, which helps in proactive decision-making and improved operational efficiency — and this is driving the adoption of truck dispatch software.
Why you can trust us?
We thoroughly analyzed over 30 trucking dispatch software programs and read users' reviews. It took more than 24 hours to do the comprehensive research. Finally, we decided to shortlist the 12 most reliable platforms based on their features offered, pricing structure, and ease of use.
Our "Rating" is the average of all ratings given by genuine customers on trusted review sites. In order to show you the true picture, we haven't considered reviews and testimonials featured on the platform's official website.
We DO NOT earn commission from any of the featured platforms. Moreover, we have two independent editors who have no influence over our listing criteria or recommendations.
Read More
13 Best Dump Trucking Companies