Microblogging and social media websites are the best platforms for sharing information and ideas with the world. This is why most influencers and corporations have accounts on social networking and microblogging sites.
Tumblr is one of those platforms with a separate fanbase. It allows you to post different types of content, including stories, GIFs, links, Spotify tracks, videos in a short-form blog. You can follow other people's blogs and see their content via a 'dashboard' interface.
As of 2020, Tumblr hosts more than 490 million blogs and over 173 billion posts in total. However, the site has faced several criticisms (such as copyright issues, censorship, promotion of self-harm and suicide) from time to time.
In recent years, millions of users have stopped using Tumblr because of such issues. Or maybe they find other platforms more lucrative. If you are also looking to switch, we have gathered some of the best Tumblr alternatives where you can join like-minded communities and express your views.
11. Diaspora
Plus Point: No ads on the website, user retain 100% ownership of their data.
Diaspora is a user-owned, nonprofit, distributed social network. It contains a cluster of independently owned nodes (called pods) that interoperate to form the network.
Diaspora relies on two principles:
Decentralization: It doesn't have huge central servers owned by a corporation; instead it is hosted by many different individuals and institutions.
Privacy: Users' data is not sold to advertisers. They retain complete ownership of their data.
Like Twitter, Diaspora supports #tags and 'mentions' (a username preceded by a @symbol). Users can format text and links using Markdown, upload photos to posts, and embed media from YouTube, Vimeo, and other sites.
10. GNU social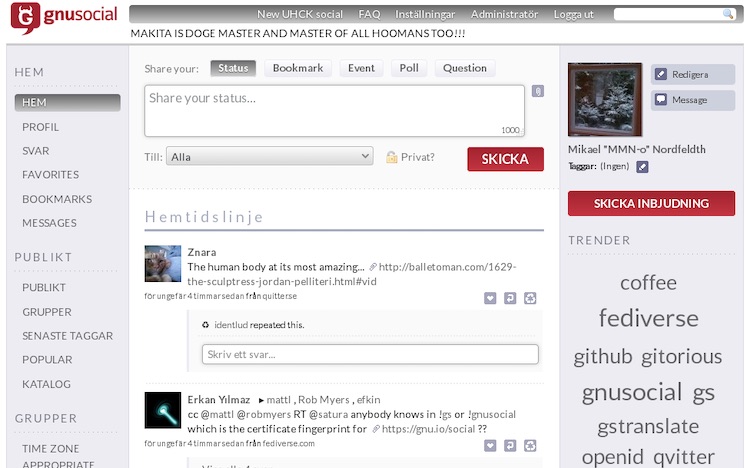 Plus Point: It has been deployed on hundreds of interoperating servers.
GNU social is an open-source software microblogging server that implements the OStatus standard (an open standard for federated microblogging) for interoperation between installations.
GNU social offers functionality similar to Twitter: it supports categorization using hashtags, attached media files in podcast format, and embedding content from other sites. But unlike Twitter, it also provides the potential for open, distributed communication between microblogging communities.
Although individuals and enterprises can install and control their own data and services, installing software might be tricky for users with no technical background.
9. Newgrounds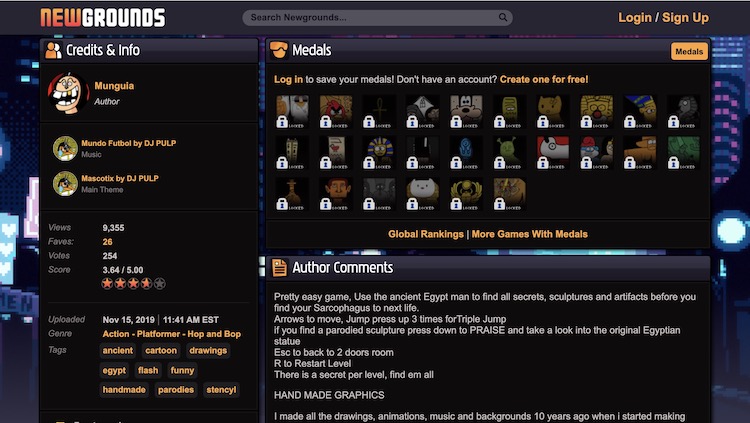 Plus Point: Full of an endless supply of exciting games and videos.
Newgrounds is a social media and online entertainment website that hosts user-generated content in four main categories: games, movies, audio, and art.
You can submit content from the website's homepage. Unlike Tumblr, the site supports adult content. Each submission is rated (from 0 to 5 stars) and reviewed by other users. 
In addition to private messaging and a live chat room, a community portal is also available where you can communicate with others through different Internet forums.
8. Ello
Plus Point: Specially designed for creators to share and sell their work.
Launched in 2014, Ello has shifted from its initial Facebook-like incarnation toward a Pinterest-like platform, showcasing web culture, art, and photography.
The service doesn't share users' data with third parties or enforce a real-name policy. There are no ads either, so if you an artist who is looking for an ad-free publishing platform, this could be your destination.
Creators can utilize this website to share and sell their content, build their own audience, and get hired and collaborate.
7. Typepad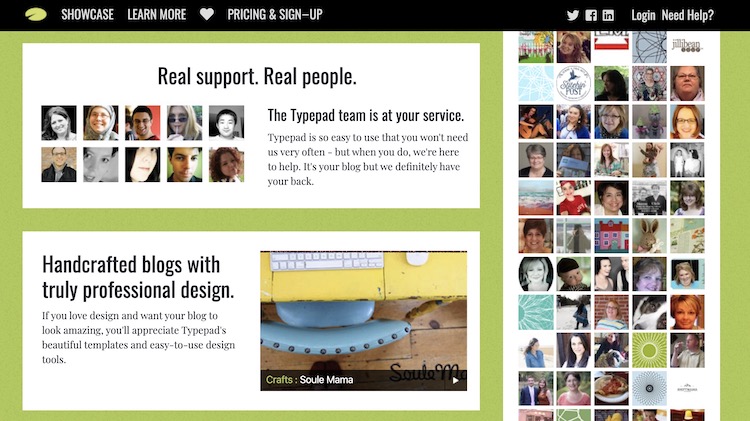 Plus Point: Built-in support and thousands of beautiful templates are available.
Typepad is a flexible blogging service used by many media companies and large organizations to host their weblogs, such as the BBC, MSNBC, and ABC.
You can use it to sell your services, products, or run ads on your blog. There is an option to integrate your blog with Google Analytics so you can track which of your blogs are the best performers and how you can get most out of your content.
The service is paid (starts at $15 per month), but 14-day free trial is available to get started with.
6. Yammer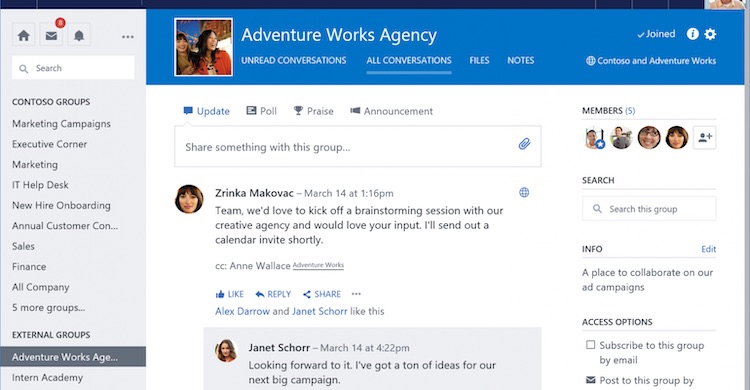 Plus Point: Keeps you updated on what's happening within the organization.
Yammer is a freemium service used for private communication within organizations. Since it is owned by Microsoft, it comes with all enterprise plans of Office 365.
The social networking service allows all employees to know what is happening day-to-day and build on the work of others. They can create public/private groups for small-team collaboration along with keeping documents in context while discussing things online.
In summary, it will help teams reduce the number of meetings and intracompany emails, and be more productive with timely useful conversations.
5. Ghost
Plus Point: Supports SEO and social sharing features.
Ghost is designed to simplify the process of online publishing. It powers many different websites, ranging from individual bloggers to a large team of writers.
In terms of features and functionality, Ghost is better than Tumbler. However, it is also quite a different format when it comes to creating content. While Tumblr offers basic editing functions, Ghost has a feature-rich editor that allows you to create different types of content with responsive cards.
Unlike Tumblr, Ghost is an open-source tool. Whatever you create is completely yours: no one has the right to remove, suspend, or repurpose your content. For full-time publishers, this is really important.
4. Mastodon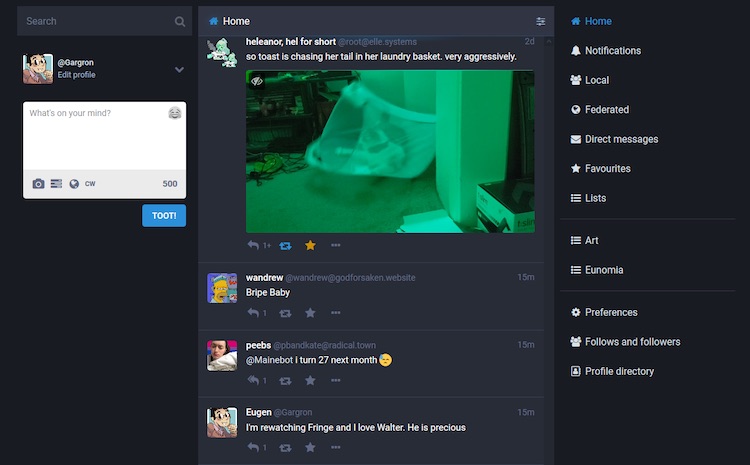 Plus Point: Decentralized service, and specific privacy options.
Mastodon is an open-source self-hosted social networking service. It has microblogging features similar to Twitter.
Users can post short messages called 'toots' and configure the privacy settings of each post. Unlike other mainstream social networking websites, Mastodon lives in different chunks called 'instances', each with its own rules and administrators.
There are many useful features; for example, you can hide spoiler or sensitive content behind a button before posting. The system is designed to discourage selfish or gratuitous posts.
Mastodon users are way more queer and friendly. Once you join, you will see more and more artist posting their work.
3. Reddit
Plus Point: Laugh, discuss, think, and dig deep into topics that matter to you.
Reddit is more of a discussion website than a microblogging website. Registered users upload content (text posts, images, and links), which are then voted up or down by other users.
Contents are organized by topics into user-generated boards called 'subreddits'. There are more than 130,000 active subreddits on various topics ranging from science and technology to movies and video games.
Submissions that attract more up-votes appear on the top of their subreddit. And if your post receives enough up-votes, it would ultimately appear on the website's homepage.
Since the website attracts more than 1.2 billion unique visitors per month, this is the best platform to reach a wider audience.
2. WordPress
Plus Point: SEO friendly, thousands of themes and plugins are available for customization.
While Tumblr provides you a platform for sharing blogs, WordPress lets you have your own full-fledged website. It is the most popular content management system: more than 80 million websites (including 33% of the top 10 million) are built on WordPress.
WordPress was initially designed for publishing blogs but has evolved to support various types of web content such as online stores, media galleries, forums, and mailing lists.
It's an open-source tool that emphasizes accessibility, performance, security, and ease of use, so you can focus on sharing your services, products, and stories.
Read: 13 Best WordPress Alternatives
1. Medium
Plus Point: It will open your stories to a different audience that otherwise never would have heard of you.
Medium is the perfect example of social journalism: it has both professional and amateur publishers. You can think of it as a Twitter for long-form content, except it has an algorithmic timeline that shows your stories based on your interest.
This is the best place to gain new perspectives on topics you care about most. There are no ads, no noisy news feeds, no distraction and distortions.
You can set up your custom domain name to make your blog stand out. The platform gives you access to in-depth stats like how many people viewed your stories and how many read to the end.
Read: 8 Best Grammar Checker Tools
If you have blog content anywhere on the web, you can import it on Medium. This will give your content a second life and help you continue to grow your audience.