The genre of typing games was born of necessity. They were designed to teach people how to type on a keyboard. Games developed in the 1980s, such as Mavis Beacon Teaches Typing!, used the novelty of the keyboard as a game mechanic to keep a new generation of computer users playing.
Now learning to type accurately and quickly has become an essential skill. And modern typing games can make this learning easier and more fun. They encourage you to spend more time practicing and improving your typing skills without looking at the keyboard.
The new era of keyboard games is focused on both education and entertainment. We've gathered some fully-fledged typing games for kids and adults. Most of them are free and you can play them instantly. Mixing these games into your practice will definitely enhance your typing skills.
13. TypeRacer
Price: Free
Platform: Browser-based, multiplayer
TypeRacer is an online typing game that improves your typing speed by allowing you to compete against your friends and other players. You compete with a racing miniature car that advances as you type words.
In order to complete the race, you need to finish a whole paragraph that contains 3-4 sentences or up to 1,000 characters. Whoever finishes first wins the game.
It then shows your typing speed (words per minute), errors, and your recent ten averages. Based on your average speed, it put you into one of six graduated ranks:
| | |
| --- | --- |
| Rank | Words per minute  |
| Beginner | <=24 |
| Intermediate | 25-30 |
| Average | 31-41 |
| Pro | 42-54 |
| Typermaster | 55-79 |
| Megaracer | >=80 |
12. Cooldog Teaches Typing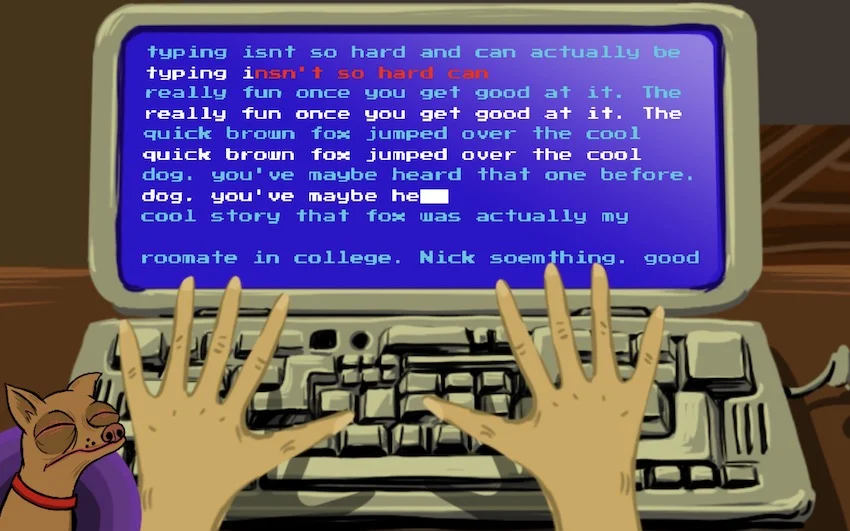 Price: Free | Available on Itch.io
Platform: Cross-platform, Singleplayer
Unlike your pet, this cool dog can actually teach you how to type. Although the game has only 3 lessons, it is filled with some hilarious paragraphs for you to work through. Some of the lines don't make sense at all and are full of typos, but you need to copy them carefully as they appear on the screen.
Sometimes, you will get errors for using correct punctuation and capitalization, but you will at least have a laugh playing it.
11. Typing Ninja
Price: Free | Available on Typing
Platform: Browser-based, Singleplayer
Typing Ninja is very much similar to Fruit Ninja, however, in this game, you have to type letters instead of slicing fruits.
There are three levels of difficulty, and you can choose either letters or numbers at each level. You will only get 3 lives, so be careful not to hit any of the bombs being thrown your way.
10. Ghost Typing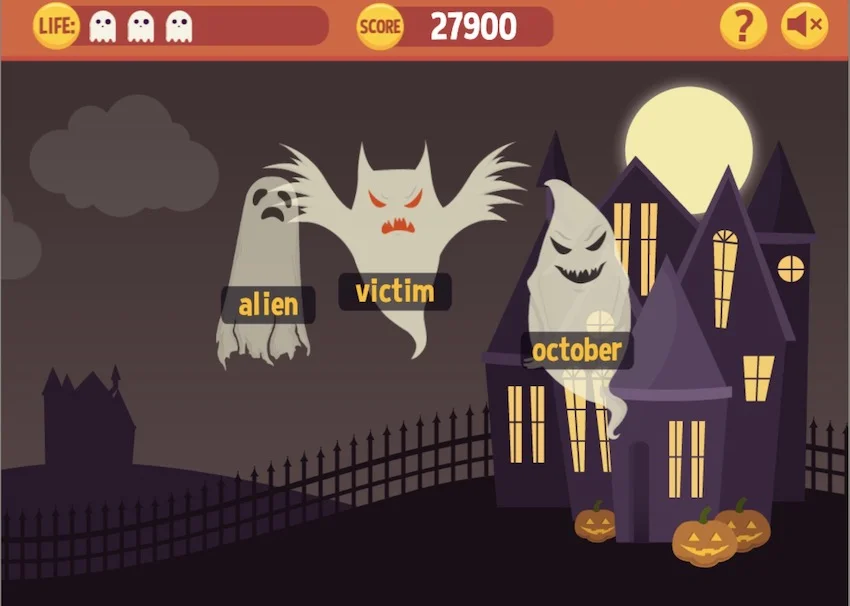 Price: Free | Available on ABCya
Platform: Browser-based, Singleplayer
If you are already quite good at typing but just want to increase your speed, ghost typing is the perfect game for you. Your objective is to type the words that appear on your screen fast enough before the ghosts [in the background] get too close.
You'll have a total of 5 lives, and each ghost will take one away if your speed is not fast enough. Overall, it's keyboarding fun with a Halloween theme.
9. God Of Word
Price: $4.99 | Available on Steam
Platform: Cross-platform, Multiplayer
God of Word is an epic proportion of wordplay and typing game, fusing together the enchanting setting of Greek Mythology and multiple game modes to build the ultimate word game.
The game tests your vocabulary skills as you re-enact the popular stories of yore as the Apprentice of Hermes. There are dozens of world scramble puzzles and speed typing challenges to defeat opponents.
Throughout the gameplay, you will get several chances to unlock weapons and armor with unique traits. Also, there are numerous exciting bonus rewards for which you have to complete hangman and chest minigames.
8. Typing Attack
Price: Free | Available on TypingGames.zone
Platform: Browser-based, Singleplayer
Typing Attack helps you learn to type words and practice spelling. Each word that appears on the screen will improve your skills to type the most common English words as fast as possible. It's suitable for both amateur and experienced typists.
The game will encourage you to type words at once rather than learning to press keys one by one. All you need to do is press the right keys to shoot the aliens with a laser. It's a great way to learn the keyboard layout in less amount of time.
7. Epistory – Typing Chronicles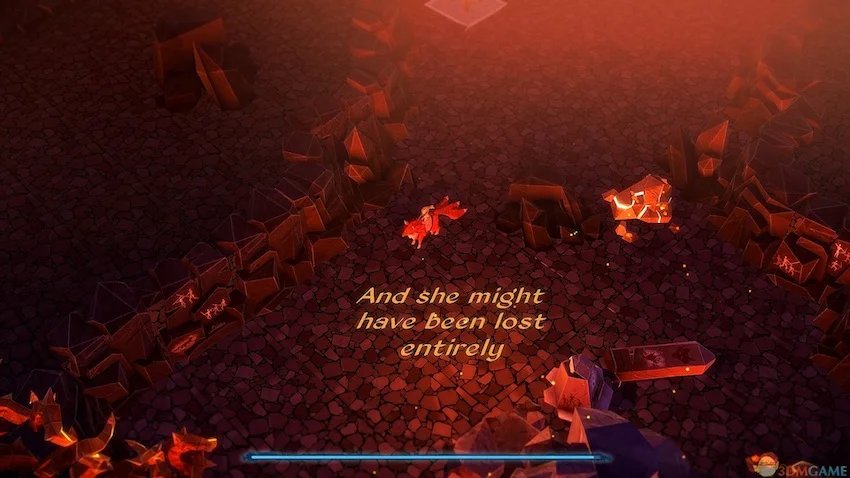 Price: $14.99 | Available on Steam
Platform: Cross-platform, Singleplayer
Epistory is an atmospheric adventure typing game that boasts impressive 3D graphics, story, and voice acting. The game is about a writer who lacks inspiration and asks her muse to help complete her latest book.
You play a fictional character of the writer's muse: everything starts with an empty page, and as you gather inspiration and solve mysteries, the world becomes larger and more livable.
Every single aspect of the game can be controlled with the keyboard, from fighting epic battles to opening chests and tiny movements. It also supports alternate keyboard layouts such as Colemak, Dvorak, and AZERTY.
The Typing Chronicles franchise has also released a successor of this game called Nanotale. It features a vibrant 3D fantasy world where your task is more than just typing: you have to solve difficult puzzles and defeat foes in epic magical fights.
6. Nitro Typing Racer
Price: Free | Available on TypingGames.zone
Platform: Browser-based, Singleplayer
If you like racing games, you are going to enjoy this one. Nitro Typing Racer allows you to race against time by writing short and easy words. Just hit the spacebar to launch and jump over other cars. You can change the lane by typing the word displayed in that particular lane. Just type as fast as possible and avoid hitting other cars.
There is another similar game named Nitro Type that enhances your typing skills by letting you compete in fast-paced races with players all across the world. In this game, you can play against your friends in real-time, trace records, and earn new cars.
5. Slash It 2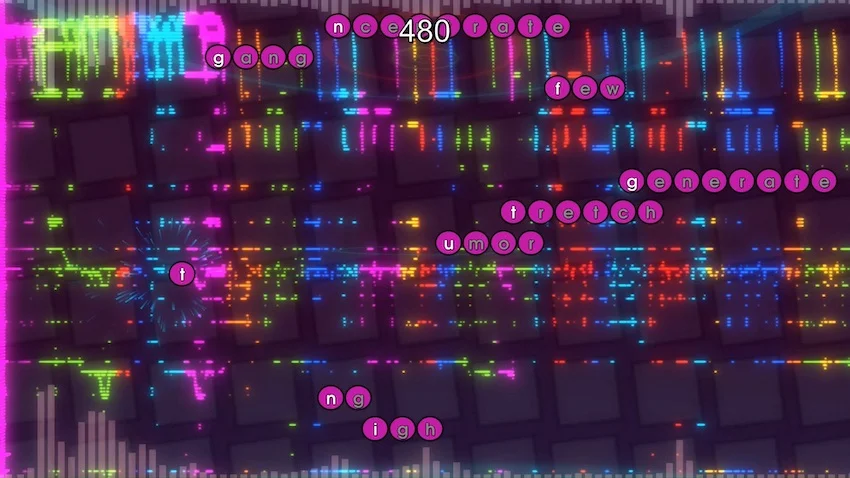 Price: $0.49 | Available on Steam
Platform: Cross-platform, Singleplayer
Slash It is a simple, two-dimensional arcade game. All you need to do is press numbers, letters, and type words at the right time and direction. It's really helpful for those who want to improve their key pressing reaction times.
It is packed with cool soundtracks that change according to the game mode. There are a total of 6 modes to choose from, including Numbers, Letters, Words, or a combination of Numbers and Letters.
The more you progress in the game, the more difficult it becomes. The soundtrack and visualizer in the background make the game even more mesmerizing.
4. Spacebar Invaders
Price: Free | Available on FreeTypingGame.Net
Platform: Browser-based, Singleplayer
Spacebar Invaders is a pretty simple game: all you need to do is type the words that appear beneath the aliens (and UFOs to score extra points) before they reach the bottom of the screen.
The game is packed with dozens of lessons and three levels of difficulty, thus it's suitable for both beginner and expert typer. It provides a nice mix of works and there is an option to pick specific things only, such as numbers, letters, or home row keys.
3. Monologue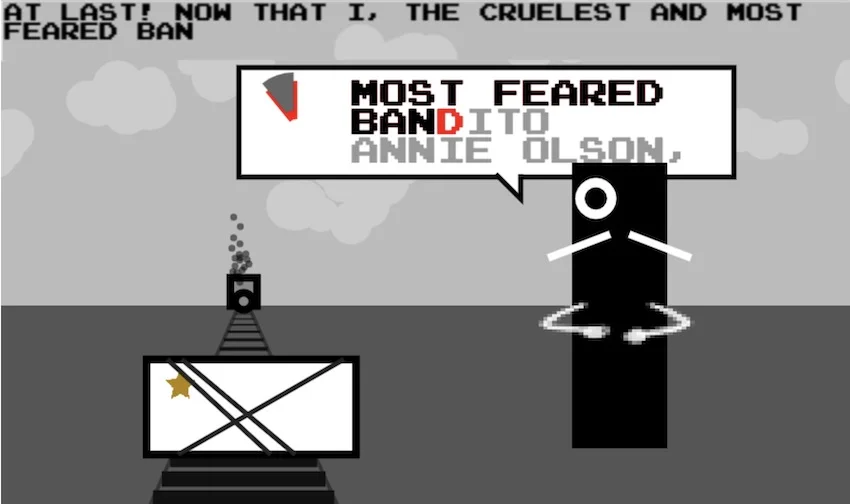 Price: Free | Online
Platform: Browser-based, Singleplayer
Monologue is a free-to-play, online game where you play as the mustachioed Wild West villain who has tied his enemy on the track of an oncoming train.
Your job is to quickly finish the victory speech (of course, by typing it) before your foe manages to escape. If you make a mistake, you have to type the whole word again. Thus, to avoid wasting your precious time, you need to be fast and accurate.
2. Hot Type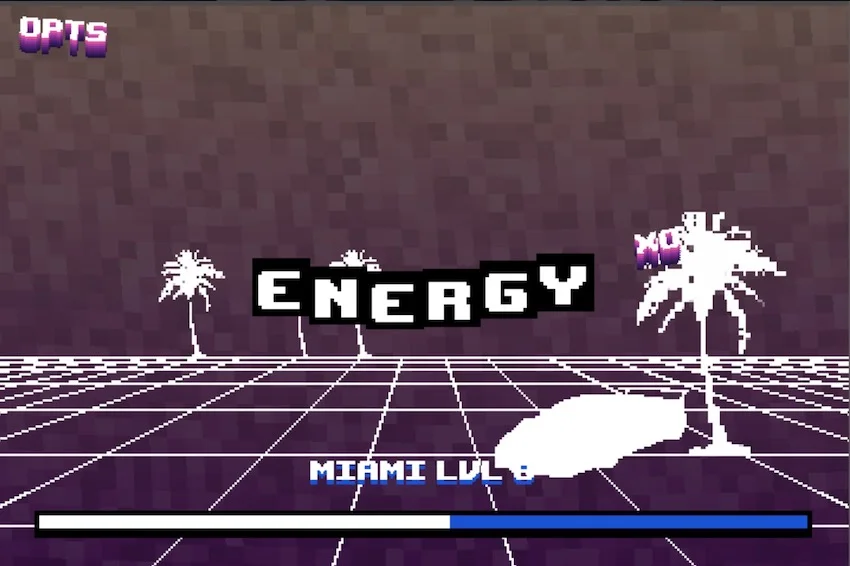 Price: Free | Available on Itch.io
Platform: Windows, Singleplayer
Hot Type merges retro city settings, synthesized beats, and a refreshing 1980s aesthetic with a timed pop-up typing window to build an intense warm-up exercise for your fingers.
Your objective is to type as many words as you can before the bar runs out. Don't judge the game by its looks: it is really hard as you get a very short amount of time to type individual words.
What's really impressive about this game is the groups of words are chosen very cleverly, spanning the keyboard in a manner that makes appropriate use of all the keys, stretching the muscles of your hands.
1. The Textorcist: The Story of Ray Bibbia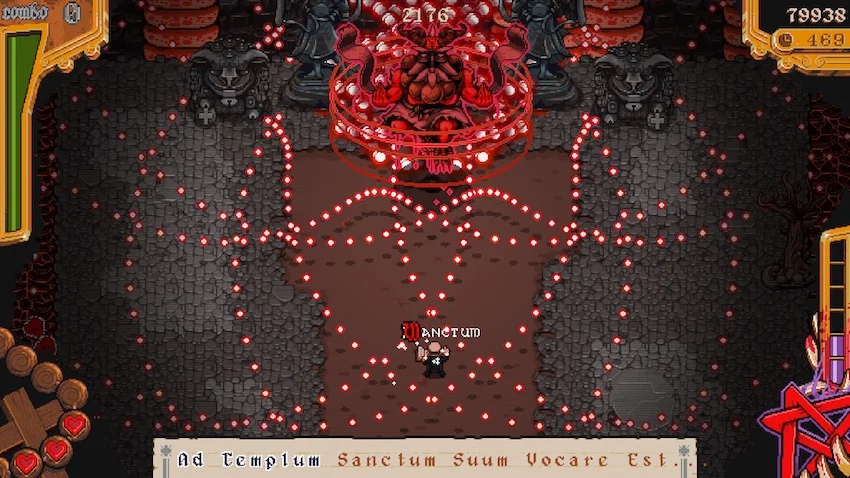 Price: $14.99 | Available on Steam
Platform: Cross-platform, Singleplayer
If you like adult humor, horror movie themes, and Bullet Hell games, then you will definitely love the Textorcist. It's an electrifying mix of the engaging combat system and typing game accompanied by great music.
You play the role of a self-styled detective/exorcist who is assigned to investigate a string of unusual possession cases. In order to defeat evil forces, you have to type your exorcisms with a joypad or keyboard while defusing bombs, dodging bullets, and dealing with barf puddles.
The Textorcist is mentally draining and physically uncomfortable, but you will find it awesome. It's more tense, exciting, and faster than almost any other conventional action game.
Read More 
16 Best Browser Games To Kill Time
16 Best Puzzle Games You Can Play Right Now