Do not open the link! You are being tracked…. Hahahaha! just kidding. Well, there was a time when we all loved uTorrent for its simplicity and speed until BitTorrent, Inc. bought it. Before the acquisition, it was lite and an open-source client, but it soon became a profitable asset and was changed to closed source with ads swarming all over it. Even though, its quality has degraded, it is still being used by many people all over the world.
But what is there for users who wants to seek alternatives? Fortunately, there are various Torrent clients available which they can choose according to their needs. Some you might feel more similar to uTorrent and some may give you a totally different experience. To help you with your quest to search the right tool, like always, we have gathered some of the best uTorrent alternatives to download your favorite torrent.
15. Final Torrent
It has never been so easy to share files and download movies, software and much more. And it is only possible because of various bitTorrent clients like FinalTorrent. Yes, it is new and perhaps not much more popular than other clients, but it guarantee you speed, and simplicity. It is free and features an inbuilt library to access your downloaded files. Its incompatibility to platforms other than Windows is one of its few drawbacks.
14. Torrent Swapper
Torrent Swapper is an open source P2P file sharing client that uses tons of features to give you a happy time downloading stuff from the internet. It provides you with new torrent recommendations so that you don't have to search all the time. It also supports global and local upload and download settings for each torrent, and much more.
13. 
JSTorrent
JSTorrent is a BitTorrent client for Google Chrome, which runs entirely on JavaScript. For Chromebook users, for whom uTorrent or other popular torrent clients are not an option JSTorrent work wonders. It can download torrents directly to your Downloads folder with ease, and can handle large files hassle free. It also runs just fine on low ARM based Chromebooks.
12. BitComet
BitComet is a free and powerful torrent download client that supports most bittorrent protocols, like Magnet Link, HTTP Seeding, DHT network, etc. BitComet is packed with awesome features including intelligent disk caching. It also solves many seeding problems using a Long-Term Seeding feature. This feature can help your torrent to find more seeds to finish your downloads in case you lose it between your downloads.
11. Vuze
With few adds here and there, your first experience with Vuze might get slightly less joyful. To enjoy its full features you have to buy its full version. Nonetheless, the application comes with all the basic and many advanced features like, notifications, RSS subscription, Bandwidth control, Remote assistance, inbuilt media player, banning specific IP addresses and much more. Recently, they released a new torrent client called Vuze Leap, which uses a lot less resources than its predecessor.
10. BitSpirit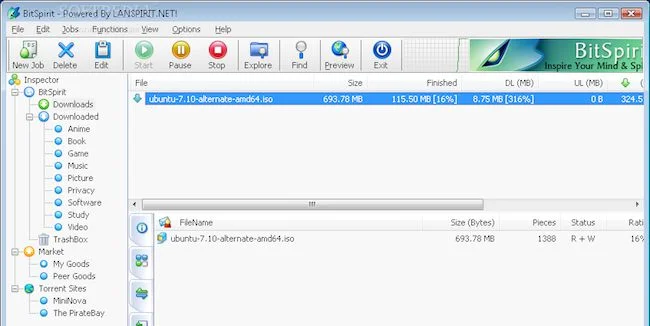 BitSpirit puts you in full power to share, seek, download and transfer anything and everything at your will. Its low CPU and memory utilization is a key, but if you want speed you can definitely change your download and transfer speed limits. It also comes with an advanced disk cache environment and trackerless support. To sum it, BitSpirit is surely an effective and solid way to do things, but still it has a long way to go.
9. 
tTorrent

tTorrent is simply one the best torrent client for your Android devices. With this you can easily download large files like free movies, software programs to your smartphone or tablet very fast. For downloading torrents on your phone you can always rely on tTorrent as is comes with several advanced features and components.
8. 
BitTorrent
If you don't have any problem with the new uTorrent client, but still open to alternatives with slight changes, then BitTorrent is a quite good option for you. Like UTorrent, BitTorrent is also a proprietary of BitTorrent, Inc, it's obvious, isn't it. There are no major differences in those two and are almost identical. The client is available for various platforms including Windows, Mac OS, Android, Linux and FreeBSD.
7. 
Tixati
Tixati catches the most attention due to its totally different interface, which is probably the best for users who wants something fresh for a change. It is free, means it comes with no adware or spyware, easy and compatible with all your windows and Linux devices. Tixati ensure its users with speed and security at the same time with features like UDP hole punching and RC4 connection encryption.
6. 
Pico

 Torrent
PicoTorrent is a user friendly BitTorrent client for Windows platform. The high performance grade and low memory usage make it a genuine alternative for many popular torrent clients. And of-course it is free, open source and also comes with a great user community. For its valuable users, Pico Torrent provides multi-lingual user interface with strong encryption and support for tunneling via I2P.
5. 
FrostWire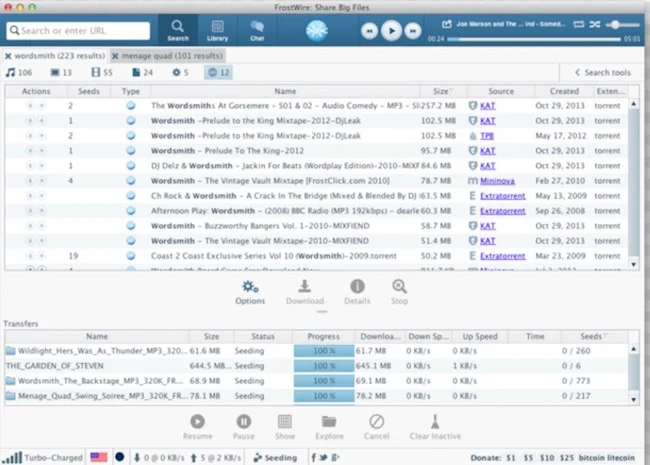 FrostWire is a free, cross platform BitTorrent client that does the heavy lifting for you. With FrostWire you easily search and download torrent files directly from BitTorrent network and cloud sources. If you ever need to preview your downloaded media files, FrostWire also provides a powerful media player. For fans, it also has strong community open for suggestions and chat.
4. 
KTorrent
At first glance, KTorrent might look complex with totally different interface, but soon you get used to it, you might fall in love with this. It is a totally free and open source torrent Downloader. It supports uTorrent's peer exchange and it is capable of creating trackless torrents. It is basically an all-round tool for normal user to advanced exploiter.
3. Transmission
Transmission is another great cross platform BiTtorrent client for your machine. It is free, powerful and at the same time easy to use. It comes in lite and lean structure, and claim to use much less CPU than most other GUI clients. The interface used is also modest. For curious programmers, who wants to check the source codes can find it here.
With Transmission you can perform basically every function that other clients has to offer. It gives you full power over your downloads from setting transfer speed, torrent's downloading area change, to quit seeding at a particular time, approaching a tracker, and much more.
2. Deluge
Deluge is a freeware and cross-platform torrent client available across Linux, Mac and Windows platforms. The client doesn't have the traditional inbuilt features rather it uses various plug-ins to provide various functions. When you add a torrent file to download, you get a choice to download a particular part and set the transmission capacity etc. The downloading process does takes a few moments to begin, but the speed is fair. To sum it up, you can totally depend on Deluge to deliver the packets.
1. 
qBittorrent
Read: 25 Free Network Monitoring and Analysis Tool for System Admin
If you are trying to migrate from uTorrent, qBittorrent should be your first option. It was initially created just to revive the old uTorrent. It is lite, open-source and completely free, just everything one user wants. The web client comes with a simple interface with nicely arranged options or tabs. One of the best part is that it is based on the same source code on which uTorrent was built. Overall, with qBittorrent you can do all the basic things like, search torrents, add filters, control bandwidth, control ports and real-time statistics.