While the development of videotelephony began in the late 19th century, the technology only became available to the public in the 1930s. The early demonstrations were shown at several world exposition and installed at post offices' booth.
With the advent of more powerful CPUs, advanced video codecs, and high-bandwidth telecommunication services in the 1990s, video phones started providing low-cost color services between users almost anywhere in the world where the Internet is available.
Today, we have smartphones touting front-facing cameras and 5G technology that allow people to communicate at minimal costs instantly. High-quality video calling is about as easy as it can possibly get these days.
There are tons of VoIP (Voice over Internet Protocol) apps available on the Appstore and Playstore that can be extremely helpful, especially if your relatives and friends live across the town and ocean. Below, we have listed the best video chat apps that provide the feel of real-life conversations. They are all free to use.
12. Kik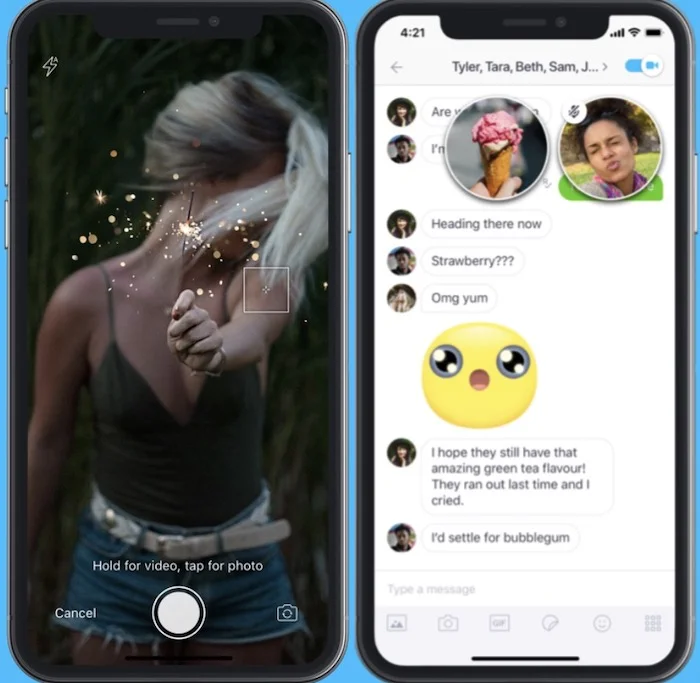 Platform: Android | iOS
Pros: Built-in web browser, self-destruct messages
Cons: No proper sensor system
Kik is a freeware instant messaging app with video chat and content sharing features. Unlike WhatsApp and Google Duo, it doesn't require a phone number to sign up.
With only a user name as an ID, you can exchange messages, sketches, stickers, emoji, videos, mobile webpages, and initiate either one-to-one video chat or a group video chat with up to six friends.
Although the app is best known for preserving anonymity, it has been criticized as unsafe for minors due to its weak parental control mechanisms and anonymity features.
11. FaceTime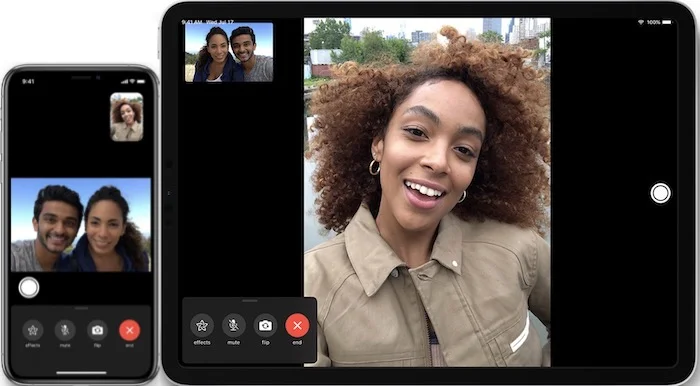 Platform: Mac | iOS
Pros: Not installation, easy to organize contacts
Cons: Available only for Apple devices
Apple users are definitely familiar with the video messaging app FaceTime, which allows them to either initiate or take part in video calls. From a business perspective, iOS and Mac users can easily collaborate with each other, have one-on-one discussions, or hold virtual group meetings.
The major advantages of FaceTime are its integration with Apple devices, its video quality, and its ability to receive calls even if it is not running. It comes with all Apple devices, so you don't need to install it manually: just enter your Apple ID, and you are ready to go.
You can make audio calls, group video calls with up to 32 people at once, use effects to become an Animoji, and place stickers for fun. All your FaceTime calls will be integrated into recent calls list in the Phone app.
10. Glide
Platform: Android | iOS
Pros: Available for Android Wear and Apple Watch
Cons: Audio quality is not very good
Glide combines the convenience of texting with the expressiveness of video chat. It lets you make quick video calls through 4G or WiFi, and live stream broadcast short video clips, in the same way as sending text messages.
You can review your video before hitting send or tap to stream live. There are plenty of unique filters to make your video messages look great.
Recipients have the freedom to view and respond to your video messages instantly or later. All messages are saved on the cloud, so they can watch them anytime. Overall, it's a decent app to share real moments as they happen.
9. IMO
Platform: Android | iOS | Mac | Windows
Pros: Send large files
Cons: Desktop version has fewer features
Imo counts among a large number of messaging apps competing for users. It allows users to make unlimited voice and video calls over 4G or WiFi, and send incredibly large videos, music, and pdf (up to 10 Gb).
The mobile version of Imo supports text messaging (with tons of stickers), HD video calling, group video calls, and fast photo and video sharing. Although the company offers native desktop clients, they do not seem to be as fully featured as their mobile counterparts. The service's approach appears to be mobile-first.
In addition to video calling, you can create your profile and decorate it with background, motto, and music widget. The app also comes with a chatroom, where you can find people from different places and make friends with them.
8. Viber
Platform: Android | iOS
Pros: Cheap calling to landline and mobile numbers
Cons: Annoying ads
Viber is one of the most popular messengers in some regions of the world, but it has always remained in the shadow of WhatsApp and Facebook Messenger.
It lets you make crystal-clear audio and video calls, and catch up with friends and coworkers by opening a group chat for up to 250 members. All your information is secured with end-to-end encryption.
There are over 35,000 stickers and endless GIFs to express your every emotion in chats. You can even start a secret chat with a self-destruct timer for every message in your conversation. Once the timer is expired, the app automatically deletes messages from your recipient's phone.
It also allows you to call landlines, mobile phones, or people who don't have an internet connection, with Viber Out's low-cost international calling service.
7. JusTalk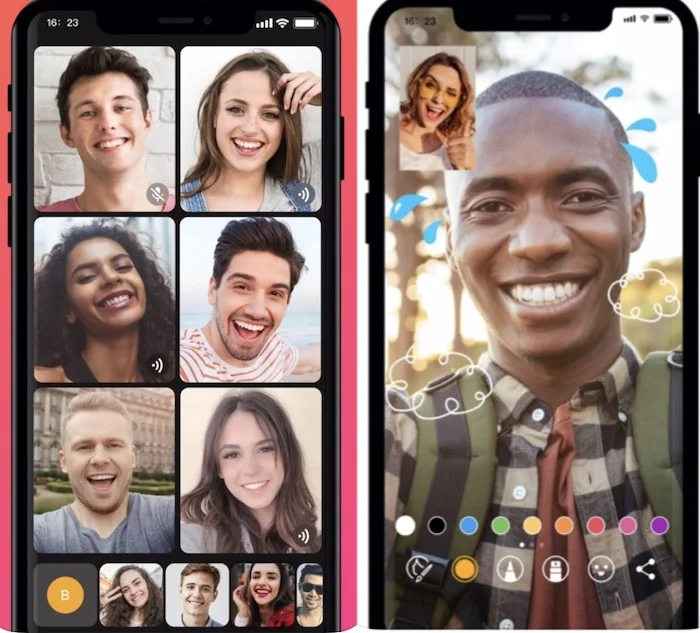 Platform: Android | iOS
Pros: Doodling and in-app gaming
Cons: Frequently hangs while logging in
JusTalk is a free high-quality video, voice, and group calling app. It has a simple interface that lets users make one-to-one calls or group calls for up to 50 members.
Group calls can be easily controlled: users can mute, block new participants, and enlarge anyone's screen, while simultaneously sending videos, images, and texts.
Although lesser-known, the app is quite reliable and packs dozens of fun features such as doodling while in a video call, send stickers, share photos, record calls, and play games.
6. Discord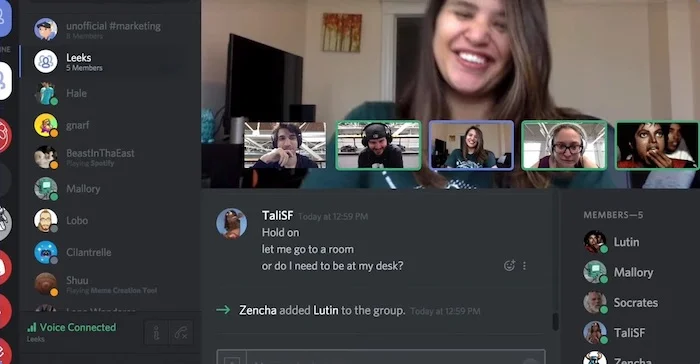 Platform: Android | iOS | Mac | Windows | Linux
Pros: Can be used in the browser, free for unlimited users
Cons: Some functions cut out and available only on the premium version
Discord is the cross-platform text, voice, and video chat app designed specifically for gamers. It combines the features of a message board, VoIP chatting, and video conferencing system into one tool that is not going to hog resources on your mobiles and desktops.
With Discord, you can start a server and communicate with like-minded people about any topic you can think of. All your private chats, group chats, video calls, and screen shares are completely secured.
Discord has managed to improve significantly since its release. Currently, it has more than 250 million users. The premium version of the app (Discord Nitro) costs $5 a month, which provides some functional perks, such as higher quality screen sharing and bigger image uploads (from 8MB to 50MB).
5. Signal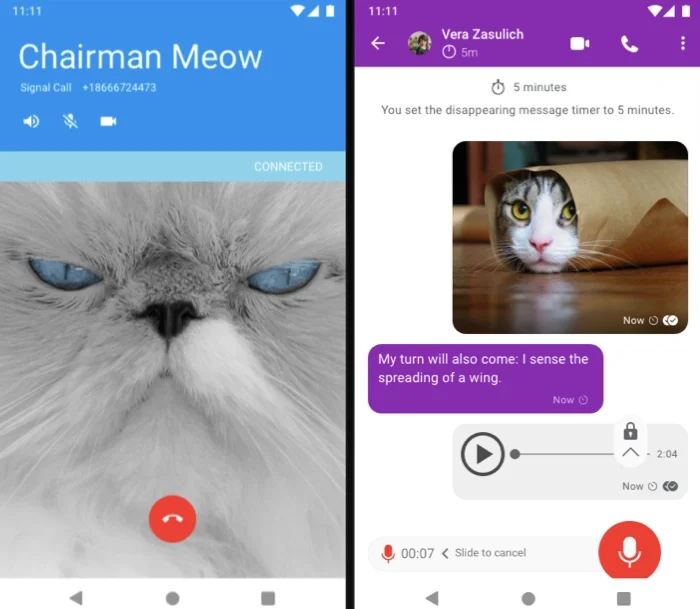 Platform: Android | iOS | Mac | Windows 
Pros: No advertisement, no trackers
Cons: Many of your friends probably aren't using this app
Signal is the best app to send and receive high-fidelity messages and participate in HD voice/video calls. Its advanced privacy-preserving technology keeps all your messages and calls secure.
The quality of audio and video is great, even on slow networks. The app is well-optimized to operate in the most constrained environment possible.
Although Signal uses state-of-the-art end-to-end encryption, it does more than just encrypting your messages. It also hides virtually entire metadata, including who sent the message. This means only receivers can see who sent messages to them. Signal has no way of peeking or intercepting the message in transit.
And since Signal is open-source software, anyone can analyze its code and verify that the app is as secure as its developers claim. No other big company would ever dream of allowing that.
4. WhatsApp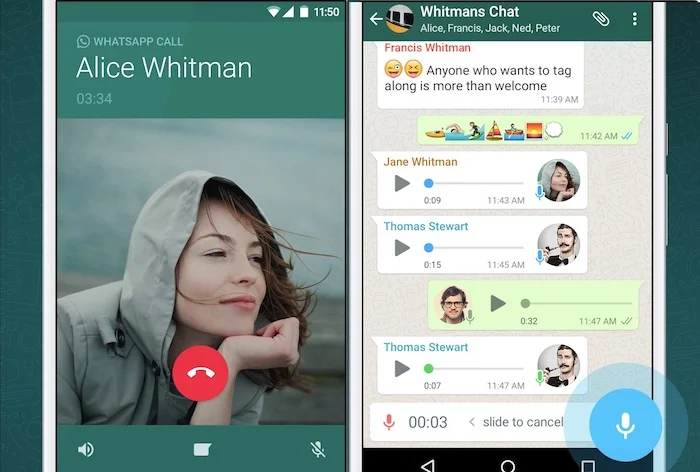 Platform: Android | iOS | Mac | Windows 
Pros: Ads free, reduce data usage for calls
Cons: No virtual assistant, missing face filters
Whatsapp connects more than two billion users around the world. They are able to communicate through texts or voice. And like other popular instant messengers, WhatsApp's video calling is robust and feature-rich.
You can initiate video calls by either jumping to a recent chat on the chat screen or to the contact list. Just tap the video calling icon to start the call. As soon it starts ringing, you can see yourself on the screen with a black overlay, along with a profile picture of the person you are calling.
The moment your call is answered, new buttons appear on the screen. You can use these buttons to mute, switch cameras between front and rear, and end call. Moreover, if you are on a voice call, you can switch to a video call by tapping a button on the call interface, without hanging up.
Read: 15 Great WhatsApp Alternatives
3. Skype
Platform: Android | iOS | Mac | Windows | Xbox
Pros: Call stability is excellent
Cons: Resource-hungry tool
Skype is specialized in providing voice calls and video chats between smartphones, laptops, Xbox One console, and smartwatches via the Internet. It is mostly used in business for several purposes, such as video consultations with clients, screen sharing, and conduct interviews.
The service uses proprietary codecs for increased clarity. The company has improved its chat experience in recent years. Many people don't know that it can be used as a messaging app. Users can send pictures, videos, files, and engage in group messaging. They can also express themselves with emoticons and Giphy or images from the web.
Skype supports video chats, conference calls, and screen sharing between 25 people at a time for free. It also uses artificial intelligence to blur the background – a useful feature for users who don't have depth-sensing webcams.
2. Facebook Messenger
Platform: Android | iOS
Pros: Ubiquitous adoption, chatbot support
Cons: Users are tied to FB ecosystem
Originally developed as Facebook Chat in 2008, the company released a standalone app for its messaging service in 2011.
Besides voice and video calling, the app lets you send texts, pictures, audio, videos, stickers, and GIFs. There are tons of 3D augmented reality effects, which you can add in your photos and videos for fun.
In a group video chat, you can see up to 6 users at a time. Once more than 6 users are on a video chat, the main user talking is displayed on-screen to everyone. Up to 50 users can join a call.
The app supports using multiple accounts and 256-bit end-to-end encryption for secure chat and calls. There is also an option to send and receive money from friends in the Messenger by adding your PayPal account or debit card.
Perhaps the best feature of Facebook Messenger is its sheer ubiquity. Unlike other apps, you won't have to poke and prod your relatives/friends to sign up.
Read: 7 Best Facebook Alternatives That Keep Your Data Private
1. Google Duo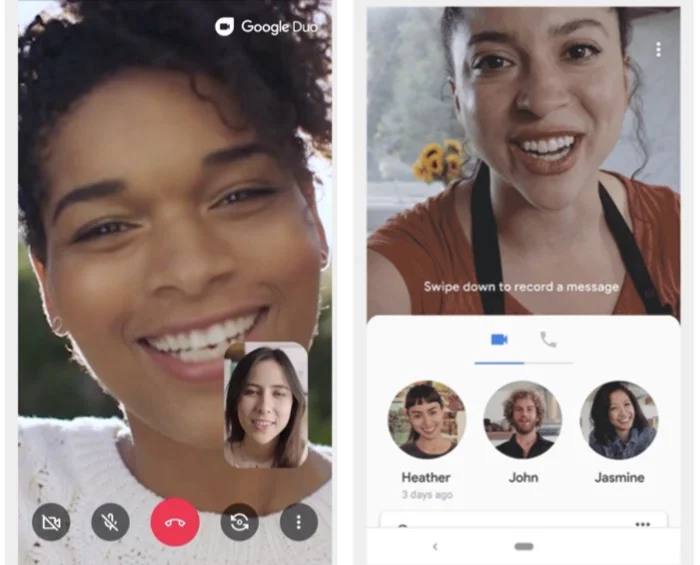 Platform: Android | iOS
Pros: HD video calling service for absolutely free
Cons: Sometimes (very occasionally) calls fail to connect
Released in 2016, Google Duo lets you make video calls in high definition (720p). It is optimized for low-bandwidth networks and uses QUIC over UDP. It automatically switches between cellular and WiFi networks, and regularly monitors the network to further optimize video quality.
This video chatting app has a unique feature called low-light mode, which automatically detects poor lighting conditions and adjusts the photo to illuminate the face in the frame. Another useful feature named 'knock knock' allows users to see a live preview of the caller before answering.
Read: 18 Best Augmented Reality (AR) Apps
The app is based on phone numbers, so you can call anyone from your contact list. Group calling supports up to 8 people, and all your calls stay private with end-to-end encryption.
Moreover, Duo has a very simple interface: no bells, no whistles, it just works and works great.