You don't require any technical expertise to make an impressive video, thanks to digital technology. There are tons of video editing tools on the Internet that will make your job easy. But you should be extra careful while choosing your weapon. It totally depends on what you are going to build, the type of computer or operating system you are using, and, of course, your budget.
Building good editing software is a complex process. Even big companies struggle while delivering quality tools, and if your requirement list is long, it's unlikely that free software will give you everything you want. However, we've tried to gather all those full-featured video editing software that will provide you complete control over how your final work sounds and looks. Whatever kind of movie you are making, these editors will have your back.
18. Nero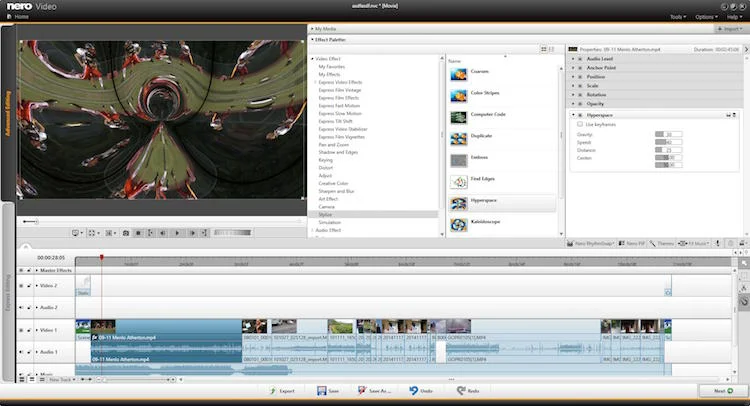 Platform: Windows
Price: $44 | Free trial available
Nero Video is a capture tool for editing videos and burning discs. It consists of a library that allows you to manage all of your multimedia files, burning options, media player, and a powerful video editor.
It comes with 2 modes – quick edit mode and advanced mode. In both cases, editing clips is effortless, and you get a variety of templates, transitions, and text effects for quality results. You can even create slideshows for playback on your PC or through connected TV.
17. PowerDirector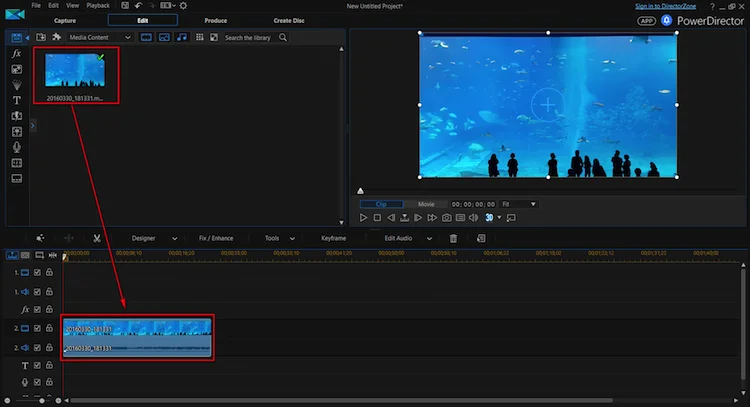 Platform: Windows
Price: $75 | 30 days trial available
If you want to create an impressive video story, complete with titles, effects, and transitions, PowerDirector might be the best premium option for you. Not only does it handle conventional joining, trimming, and overlaying video clips with great effects, but it also supports some new standards like 360-degree footage and H.265 standards. They have also published an Android application, so you can keep editing when you are away from your computer.
As far as performance is concerned, its graphic hardware acceleration and 64-bit optimization work great. Other speed optimizers include intelligent SVRT and OpenCL support that determine how video clips should be rendered to achieve the best quality output.
16. Pitivi
Platform: Linux
Price: Free
Pitivi is an open-source video editing tool with a beautiful, intuitive interface and a clean codebase. It supports almost all simple media editing capabilities like snapping, trimming, splitting, and cutting of clips. Audio mixing is visualized as line segments displayed over an audio waveform.
The tool inherits its capabilities of media import and export from the Gstreamer framework. Although it lacks some important features, for a mid-level videographer, it can satisfy almost any request they throw at it.
15. Wondershare Filmora
Platform: Mac and Windows
Price: Starts at $45 per year | Free trial available
This is simply an elegant tool designed for all users. Anyone can learn to use this, regardless of their skill level, and the final outcome sounds and looks fantastic. The full-featured mode gives you complete control over your project. You can edit video on a timeline or on a storyboard. There are a total of 8 editing tracks
One of the interesting features of Wondershare Filmora is its action cam module. It focuses on high-resolution clips captured by cameras like GoPro. Moreover, it gives you 300 stunning special effects and 50 unique transitions to make your movie more appealing.
14. Corel VideoStudio Pro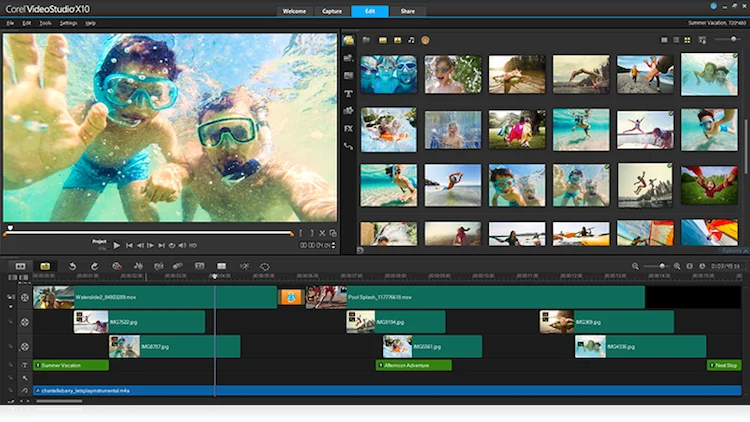 Platform: Windows
Price: $55 | Free trial available
Corel VideoStudio Pro provides a simple editing interface for all types of users. You can create 4K Ultra HD, HTML5 video page, 3D media, and motion tracking allows you to add text, effects, and objects that follow a moving element.
The tool offers more than 150 transitions in 18 groups, from basic fades and peels to 3D pushes and stretches. There are over 70 special effects that can jazz up your footage with things like mosaic, diffuse glow, water flow, and more. This also includes image correction tools like color balance, anti-shake, light enhancement, and noise reduction.
13. Magix Movie Edit Pro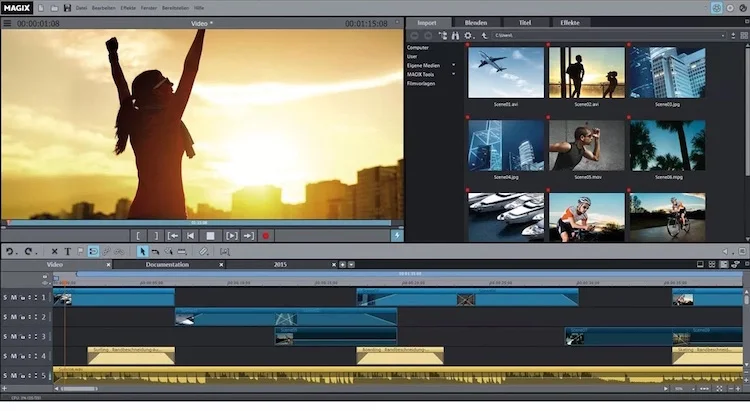 Platform: Windows
Price: $70 one time fees | 30 days free trial available
With Magix Movie Edit Pro, you can create movies exactly the way you thought. It consists of a freely adjustable user interface, one-way color correction, tons of effects and templates, and everything you need for the perfect film. It displays all the items in your projects, no matter how long they run on the timeline.
The tool also includes a "proxy editing" feature. What it does is it generates a lower resolution copy of your clip for you to work with. When you are done, the software exports from the original files. This reduces the time you spend waiting for the video to render in the editing space.
12. Sony Vegas Movie Studio
Platform: Windows
Price: $59 one time fees | 30 days free trial available
Sony Vegas Movie Studio is an easy-to-use editing tool that can perform DV batch capture, which is only found in high-end tools. The software is developed for learners who would get the simple interface, number of features along with support for high definition video stabilization, real-time effects, and transitions.
You can use predesigned audio and video effects to improve your content or make something wild and crazy. However, if you want more features, you can buy platinum edition ($89) – it has more powerful color correction tools (such as a three-wheel color corrector) and AVCHD-editing capabilities.
11. Kdenlive
Platform: FreeBSD, Windows, and Linux
Price: Free
Kdenlive is an open-source video editing software built on MLT Framework. It provides all essential features that you need in any video production workflow – custom title editing, waveform displays on clips with audio, blue screen, blurring, distortion, and rotoscoping tools.
The tool uses a separate non-blocking process for rendering, so it can be paused, stopped, and restarted. Moreover, the analysis panel contains audio meters, vectorscopes, and histograms — all of this can be rearranged as per your convenience.
10. Cinelerra
Platform: Linux
Price: Free
Along with being a video editing software, Cinelerra allows users to perform advanced compositing operations like mattes and keying. Don't judge the software by its interface – the feature list is quite impressive as it includes still picture panning, unlimited tracks support, floating-point composting, 16-bit YUV compositing, background rendering on clusters, batch capturing and rendering, realtime effects, and SMP utilization.
In addition to the above features, it also supports bidirectional and variable speed scrubbing, nested sequences, and different overlay modes, 64-bit internal audio, track routing, and headroom monitoring.
9. AVS Video Editor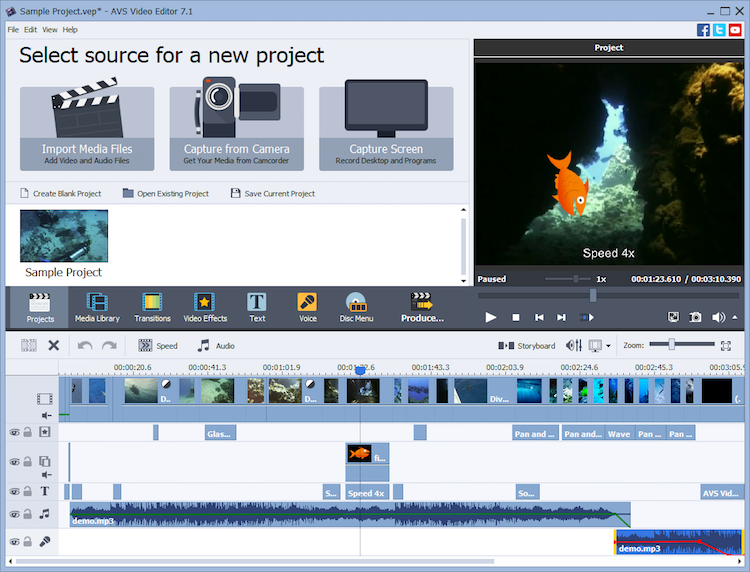 Platform: Windows
Price: Free | $59 one time fees
This is a simple yet powerful video editor that includes plenty of audio and video effects, text, and transitions. The layout has a preview panel, storyboard view, and media library collections. Once you put movie one the timeline, it can be muted, frozen, cropped, stabilized, copied, its speed can be increased or slowed down, and video color can be tweaked.
The software features an enhanced deinterlacing method, cache for processing HD files, chroma key option, highlighting objects using geometrical shapes, and supports multithread mode and Blu-ray videos.
8. Pinnacle Studio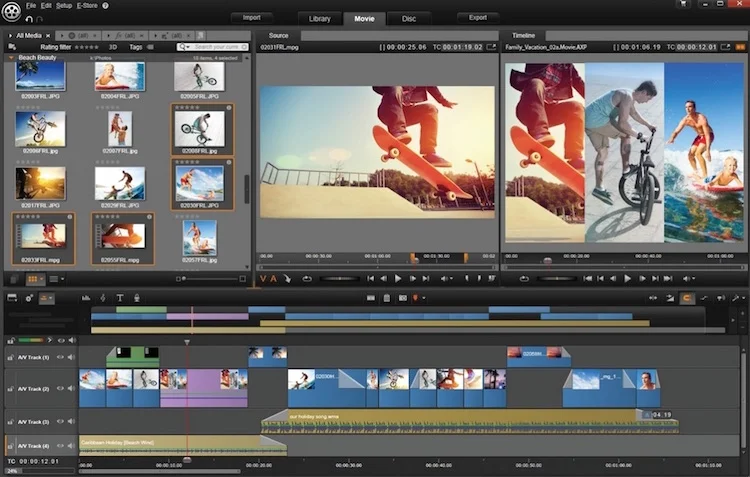 Platform: Windows
Price: Starts at $50 (one-time fee)
Pinnacle Studio combines the storyboard workflows and timeline to provide maximum usability for both advanced users and novice. It consists of all utilities that you require to convert your raw footage into a nice polished movie. Perform multitrack editing and enhanced multi-camera editing along with new stop motion animation, allows you to add exciting, unique content.
What else you get? Split-screen video, motion tracking, 360-degree video editing (in ultimate version), and a large set of effect packs (containing more than 900 effects). The best thing is it automatically splits media into chapters and supports drag-drop of all items, so editing a video couldn't be easier.
7. Shotcut
Platform: Mac, Windows, and Linux
Price: Free
Shotcut is a completely free video editor that includes support for a wide range of formats and 4K resolution. It comes with dockable as well as undockable panels, including recent files with search, playlist with thumbnail view, media properties, history view, jobs queue, and playlist. And, of course, it supports drag and drop of elements from the file manager.
Overall, if you are looking for an alternative to Windows Movie Maker, Shotcut is a good choice. It consists of all the tools and functionalities you know from Microsoft's classic video editing program, plus some extra features that make this tool unique.
6. Blender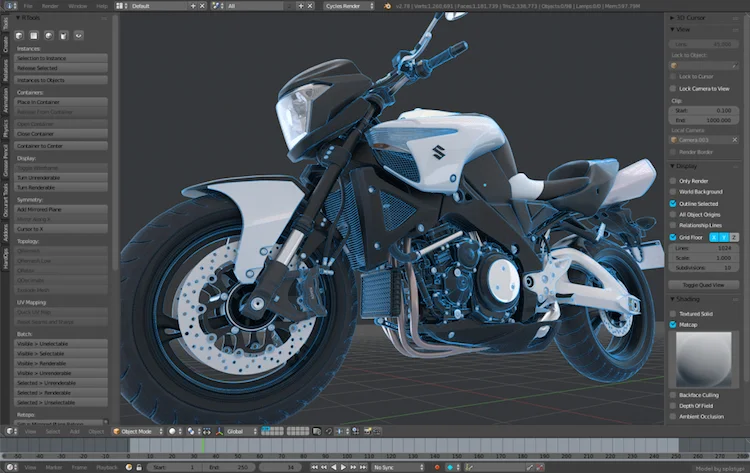 Platform: Mac, Windows, and Linux
Price: Free
Blender is a professional open-source graphics editing tool, mostly used for making animated movies, 3d print models, video games, and visual effects. IT includes dozens of advanced features that even some of the premium software are lacking – Texturing, UV unwrapping, fluid and smoke simulation, soft body simulation, rigging and skinning, raster graphics editing, and particle and collision simulation.
Since the feature list is long, it requires a certain time investment to really learn how to use all of these functionalities and get the most out of this tool. Once you get handy, you will get plenty back in return.
5. HitFilm Express
Platform: Mac and Windows
Price: Free
HitFilm Express is the free video editor that promises premium-level features, and it delivers. Even in the basic editor, you get advanced cutting tools, an amazing set of video and audio filters, 3d composition options, layers and masking, and chroma keying for making green screen effects.
The interface is similar to other movie editing tools. Still, if you will get confused anywhere, there are plenty of tutorials to help you. The best way to master HitFlim Express is to experiment with different effects, drop clips onto the timeline, and try out the composition tool.
4. LightWork
Platform: Mac, Windows, and Linux
Price: Free | Pro version starts at $25 per month
Lightworks is a professional video editing tool that is free for home use, putting incredible features within reach of beginners, hobbyists, and occasional videographers. Initially, you might find it intimidating, but once you spend some time experimenting, you'll love this tool. It is packed with advanced real-time effects such as color correction, masks and blurs, and dozens of present effects. You can even create your own effect manually.
It has been used in many Hollywood movies, including The Wolf of Wall Street, Pulp Fiction, Hugo, and Heat. Whether you need to create a video for social media or for a 4K movie project, it's all there.
3. DaVinci Resolve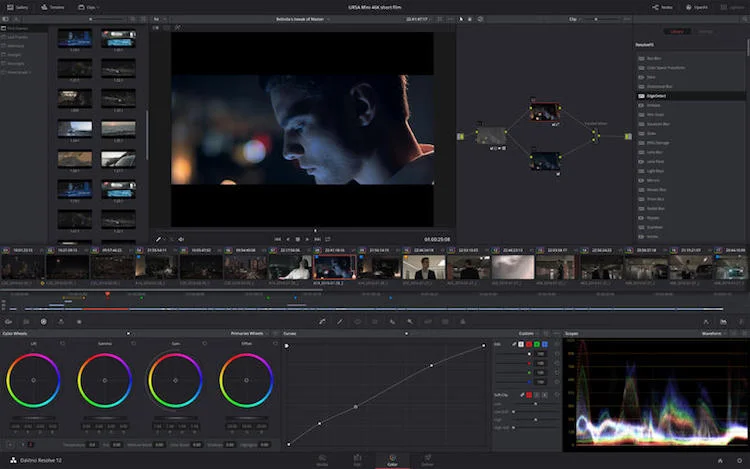 Platform: Mac, Windows, and Linux
Price: Free | Premium version costs $299
DaVinci Resolve is a combination of a video editing program and an advanced color corrector tool. It lets you add new effects, adjust colors, and deliver programs beginning to end, all in a single software. Even the free version includes 32-bit float YRGB picture processing, context-sensitive timeline trimming, multi-camera editing, speed changes and time remapping, and asymmetric and dynamic JKL trimming.
If you talk about performance, it has a new video playback engine with GPU and CPU optimization, lower latency, and faster UI refresh. Whether you are editing HD or 4K video, the tool is fully responsive and fast enough to keep up with your moves.
2. Final Cut Pro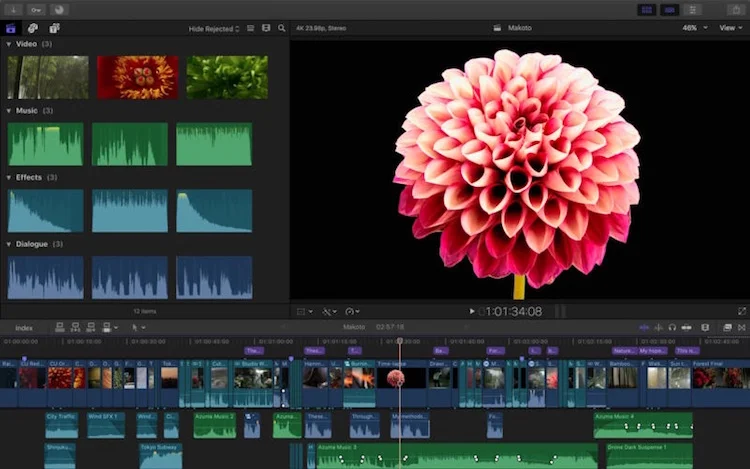 Platform: Mac
Price: $300
Developed by Apple Inc., Final Cut Pro has plenty of noticeable features like enhanced timeline index, intuitive color grading, customizable 2d and 3d titles, and much more. The interface is quite impressing – a more consistent dark gray that makes the things you are editing the most prominent element on the screen.
The software supports unlimited audio tracks, multiple camera editing, standard roll, ripple, scrub, slip, and time remapping functions. Also, there are manual 3-way color correction filters, keying tools, vocal de-pooper, and de-essers. It has been used in filming some of your favorite movies, including The Girl with the Dragon and The Social Network. So, if your budget is not tight, you should really consider this option.
Read: 8 Perfect Video Editing Software For YouTube Creators
1. Adobe Premiere Pro
Platform: Mac and Windows
Price: Start at 20 per month | Free trial available
Adobe Premiere Pro is a timeline-based video editor that features top-notch video masking, awesome transitions, and integration with Photoshop and After Effects. There is an uninterrupted player mode that allows you to apply filters and adjust video parameters while playing.
Read: 14 Tools to Instantly Convert 2d Images to 3d Ones
The tool is immensely popular among users because of its advanced functionalities like bit-depth rendering, time remapping, color correction ability, multicamera editing, Bezier keyframing, multiple sequence support, and detailed audio mixer interface. Moreover, the tool is powerful enough to handle 360-degree virtual reality video to 8K resolution, all in native format.