The term Virtual Reality (or VR) refers to the simulated experience that is either similar or completely different from the real world. In technical terms, VR is a computer-generated 3D environment that is explored and interacted with by a person.
Today, VR technology is applied to various fields, including design, engineering, training, and entertainment. The standard VR systems use either multi-projected environment or virtual reality headsets to produce realistic images, audio, and other sensations.
For instance, if you use a VR headset, you will be able to look/move around the artificial world and interact with virtual objects present in it. The effects are generated by a head-mounted display attached to the VR headset.
The best thing is you don't have to use any expensive display to create a virtual environment. Any smartphone screen would work perfectly. This means all you need is a smartphone and a VR app to simulate the physical presence in a virtual environment.
However, a few standalone VR headsets, such as Oculus, come with the inbuilt display system and have their own app store.
Below, we have listed some of the best virtual reality apps that are changing the way we and our businesses function. Most of these apps are free, so there is no harm to try them out.
14. VR Space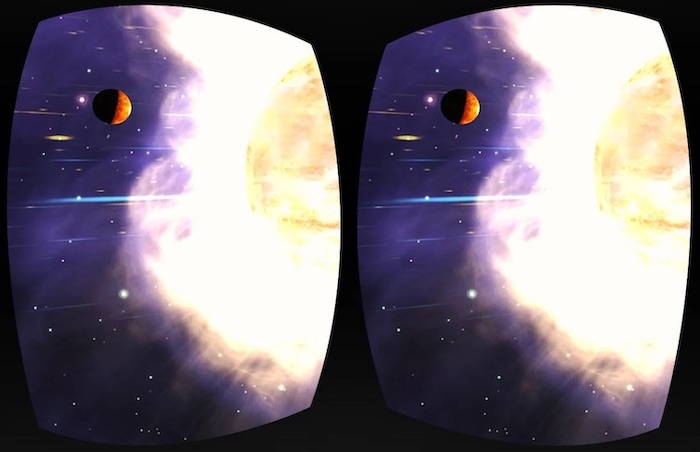 Price: Free
Platform: Android
Plus Point: No touch control or other controllers are required.
If you want an immersive virtual reality tour of planets and stars, this is it. VR Space lets you discover stars and vast galactic space while experiencing stunning views and ambient music.
The app is optimized for Cardboard headset and is currently one of the best adventure tools among VR games without controllers.
13. VR Crazy Swing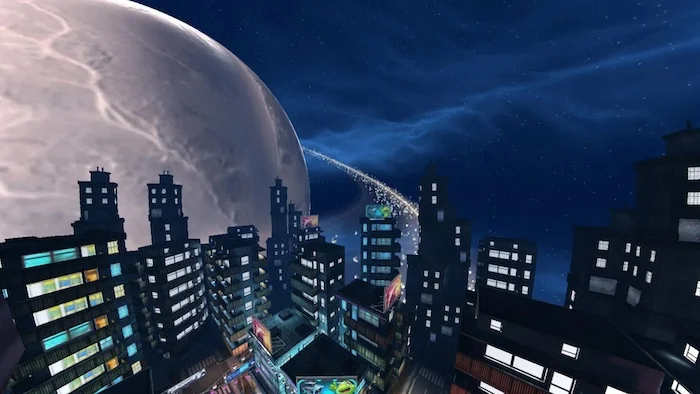 Price: Freemium system
Platform: Android
Plus Point: It takes you to an incredibly emotional adventure in virtual reality.
The app contains many VR games such as space shooters, breathtaking rides, crazy three-dimensional races, and horrors of a zombie apocalypse. All are merged with detailed graphics and intense sounds to give you the most immersive atmosphere.
It works on a freemium model: you can play absolutely free during the trial period, and if you really like to the app, you can pay to get unlimited access.
12. VR Haunted House 3D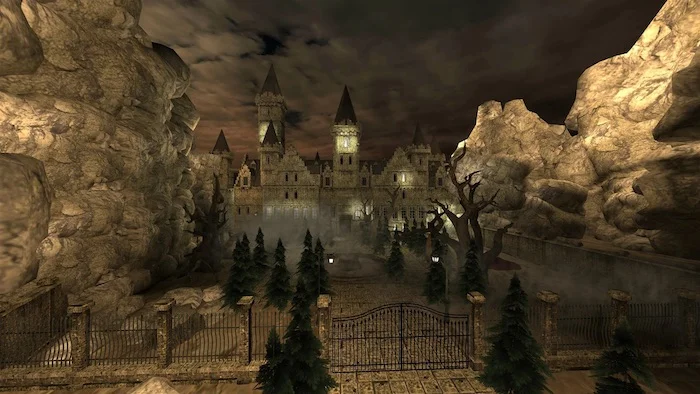 Price: Free
Platform: iOS | Android
Plus Point: Realistic haunted house and horror environment.
If you like horror stories and games, this app is designed for you. There is a house with restless guests and mysterious creatures. You need the courage to enter this house, and once you do, you will experience many unusual things on your way.
The game features different horror effects and animations, 3D realistic sound effects, and three different game levels. Get ready to be scared.
11. VeeR VR
Price: Free
Platform: iOS | Android
Plus Point: Has plenty of interactive movies, documentaries, animations, and sci-fi.
Veer VR provides thousands of videos, photos, and interactive experiences with full and split-screen viewing. You can find your favorite VR content through either personalized recommendations on the homepage or trending topics by categories.
There are several popular creators on the platform, such as Warner Bro. Studios, Bill & Melinda Gates Foundation, World Bank, etc. You can upload your own work, create new collections, and download items for offline viewing.
The app supports almost all VR platforms, including HTC Vive, Xiaomi VR, and Oculus.
10. Google Cardboard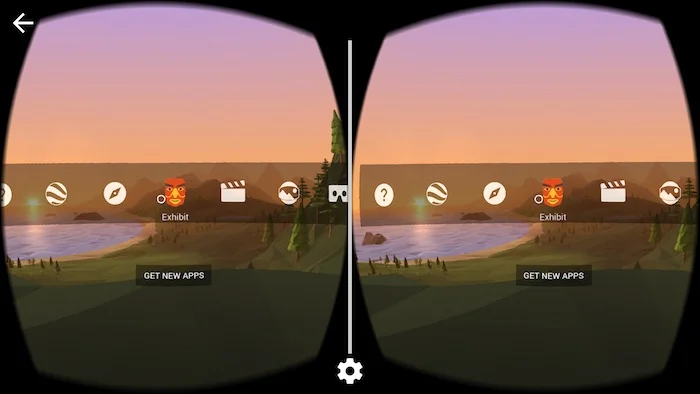 Price: Free
Platform: iOS | Android
Plus Point: Includes some exciting experiences to get you started.
The Cardboard app allows you to experience virtual reality in a simple, fun, and adorable way. It is packed with a set of demos –
Photo Sphere: Look around the photo spheres you have captured.
Exhibit: Analyze cultural artifacts from different angles.
Tour Guide: Visit Versailles with a local guide.
You can also experience your favorite artist's new music video as if you were right there on set, with 360-degree video content, and so much more.
9. VirtualSpeech – VR Courses
Price: Free
Platform: iOS | Android
Plus Point: Behavior of virtual audience makes you feel like you are at the real event.
VirtualSpeech helps you hone your public speaking skills by placing you on a virtual stage with a virtual crowd., where you can practice presenting yourself in front of an audience that imitates the sounds and mannerisms of real people.
The app offers various VR courses with additional VR scenarios and features. This includes essential public speaking, sales pitch, business networking, and storytelling. It tracks your progress and provides real-time feedback on different parameters such as eye contact, hesitation words, and pace of voice.
8. InCell VR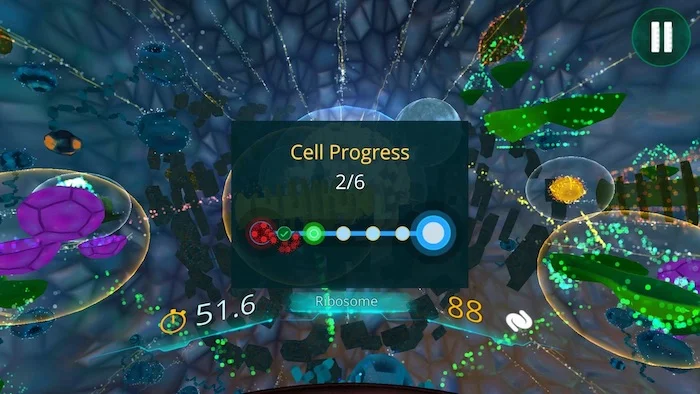 Price: Free
Platform: iOS | Android
Plus Point: A unique experimental project compatible with almost all devices.
InCell is an action/racing VR game with a bit of science and strategy thrown into the mix. It takes you to the exciting micro wold of human cells where you have to stop malicious viruses from spreading.
While the game focuses on VR, you can play just fine without a set. To switch off the VR mode, just tap and hold the screen or use the headset's trigger to open the main menu.
7. Daydream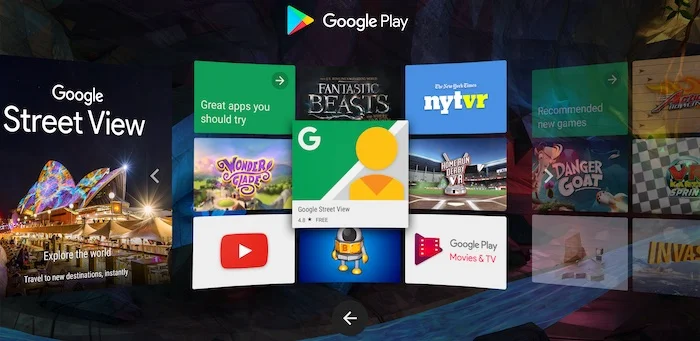 Price: Free
Platform: Android
Plus Point: Travel through space, play games, and experience much more in a whole new way.
Daydream is an official VR app developed by Google. It includes plenty of apps and games that feature high-quality virtual reality content.
With this app, you can play immersive games, explore new worlds, and kick back in your personal VR cinema. Furthermore, it brings new content in the front, so you always see something fresh when you put on the headset.
However, there is one downside: you will need a Daydream-capable smartphone and Daydream View headset to use this app.
6. Expeditions
Price: Free
Platform: iOS | Android
Plus Point: Contains hundreds of tours, each one is a curated set of VR imagery or AR objects.
Google Expedition allows you to go on virtual reality trips or explore artificial reality objects. It's a perfect teaching tool for small classroom groups.
You will see more than 800 tours, ranging from historical landmarks and museums to outer space. If you are a teacher or guide, you can use the app to explain complex phenomena or point out interesting things along the way.
5. Nature Treks VR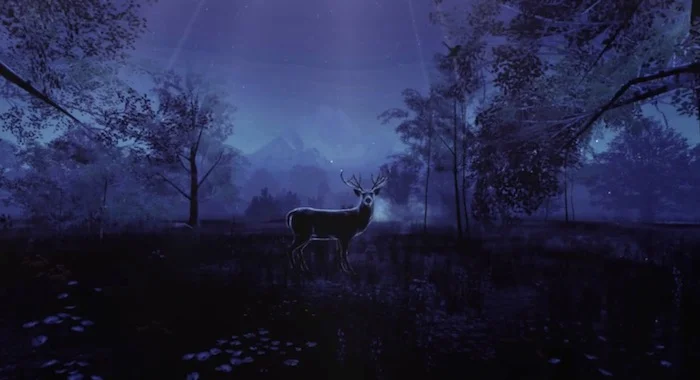 Price: $7.99
Platform: Oculus | Steam
Plus Point: Unlike other apps, it will never make you dizzy or car-sick.
With Nature Treks VR, you can explore underwater oceans, tropical beaches, and even stars in outer space. Adjust the weather, control time of day, configure your own world, and find different kinds of animals in the virtual world.
It features nine stunning color-themed environments; each has been carefully crafted to influence specific emotional states. To create a powerful and emotional effect, don't forget to activate the audio visualization.
4. Bacteria Interactive Educational VR 3D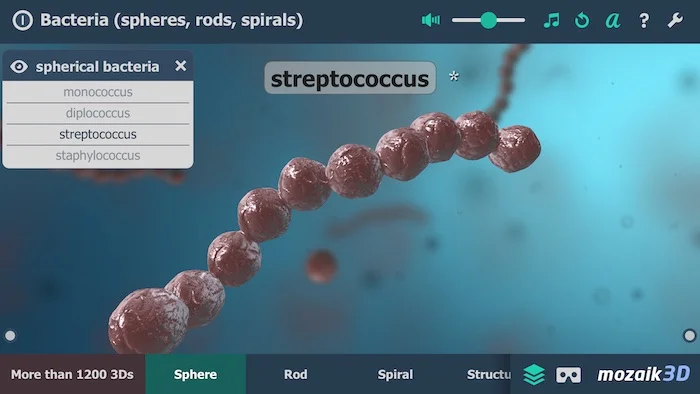 Price: Free
Platform: iOS | Android
Plus Point: Explore biology with more than 1,200 interactive scenes.
Now you can learn biology in a whole new way. This app allows you to study bacteria using interactive 3D animations. It is specifically designed for students and is available in many different languages.
You can enlarge, rotate interactive scenes the way you want. There some predefined views in the complex scenes, which can be easily navigated. While most of the 3D scenes include built-in animations and narrations, some contain a walk mode so that you can explore it yourself.
There are plenty of similar VR apps that allow you to explore the human body, the Sun, and learn about the physicists who changed the world.
Read: 18 Best Physics Game You Must Try
3. Mozaik3D
Price: Free
Platform: iOS | Android
Plus Point: Includes tons of entertaining animated quizzes and other visual elements.
Mozaik3D is an interactive educational app that teaches you geography, history, mathematics, physics, biology, chemistry, technology, visual arts. It has over 1,200 3D scenes to explore.
On the main page of the app, you will find an option to filter 3Ds by topic or use the search bar to get a specific 3D scene. To activate the VR mode, just press the VR headset icon in the bottom right corner.
2. Fulldive VR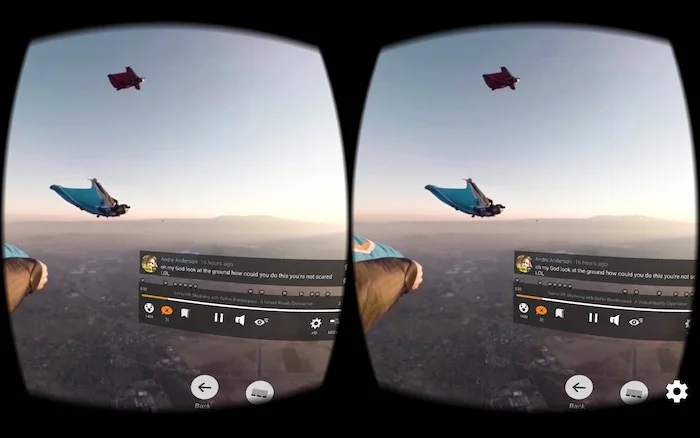 Price: Free
Platform: iOS |Android
Plus Point: A virtual reality platform for the masses, where you can explore thousands of games, 3D 360 panoramic VR movies, and apps.
Fulldive VR offers you everything from photo storage and web browsing to streaming YouTube videos. The app has its own store that contains hundreds of VR-capable apps and games.
You will be able to take pictures, browse anything on the internet, and stream 3D and 360-degree YouTube videos in VR. All content comes from trusted sources. You can also follow what your friends watch, react, comment, and share favorite videos.
1. Within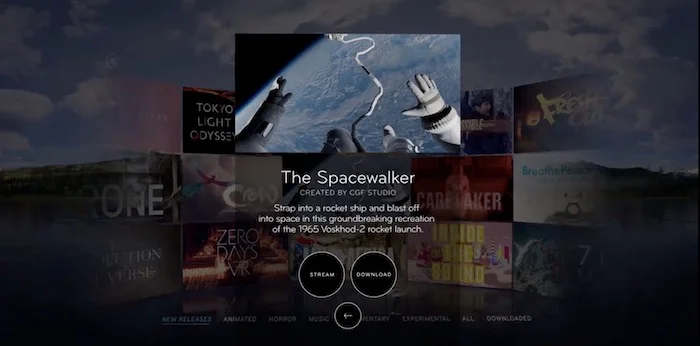 Price: Free
Platform: Oculus | iOS |Android
Plus Point: View interesting content without any ads or charges.
Within is a platform for viewing quality content from VR creators across the world, from animation and music videos to award-winning VR documentaries. It also includes content from news outlets like the New York Times, Vice Media, and NBC.
Read: 18 Best Augmented Reality (AR) Apps 
The app features only the best content from independent creators, studios, and film festivals. New experiences are added every month. However, video quality varies: it seems that animated content runs much smoother than the live-action content.