In recent years, most industries have shifted away from on-location visits towards more virtual alternatives; and real estate is no exception.
Virtual staging is becoming increasingly popular because of the benefits it offers over its traditional counterpart. It's a home staging process in which interior design is created in a graphic editor.
Virtual staging involves creating highly realistic pictures of properties (usually those that are listed in the market for sale). Not only is this process easier, faster, and cheaper, but it also allows for limitless design.
According to the National Association of REALTORS, staged homes sell 86% faster for more money than their competition. That's why virtual stating is quite popular among real estate brokers and home designers.
As of now, there are two types of virtual staging services available in the market:
Professional staging: You click the images or record videos of the property and then upload them to the company's platform. Tell them how you want to redesign the space, and they will get back to you with impressive ideas. They will edit your images by inserting furniture, decors, and accessories as per your recommendations.
DIY virtual staging: You need to do the editing yourself. Take photos and use a decent graphic editing tool to change wall colors, remove unwanted clutter, relocate furniture, add accessories, and much more. Unlike professional virtual services, DIY tools are cheaper and available on-demand. However, you have to learn the editing yourself.
Below we have listed the best virtual staging software, apps, and services that can be used to highlight the value of your home and garner the maximum asking price.
9. iStaging
Best for: creating immersive visualization of real estate and events
Price: $5 per month for digitizing properties | $95 per month for hosting virtual events and tracking clients
iStaging is a context creation platform that provides out-of-the-box augmented and virtual reality solutions. Whether you are digitizing a property, designing a showroom, or hosting a virtual event, iStaging has got the solution for you.
Use the iStaging smartphone app to capture panoramas of properties and events, and transform them into virtual reality tours. The app supports 360 cameras, and you can start right away with editing images and adding texts, floor plans, and video tags. It's fast and easy to use.
Key Features 
AI-based 3D content generation technology
Live video communication tool
Analyze potential buyers' demographics
Create effective marketing campaigns
The platform creates a URL for every virtual tour, so you can easily add your property to Google Street, embed it in a web page, or share it on social media.
It also gives options to host one-on-one video calls, a conference for 1,000 people, and a YouTube live stream. You can interact with your customers via chat or enable autoresponse.
iStaging collects customers behavior data, which you can use to create targeted marketing campaigns. Overall, it's a perfect tool to expand your network.
8. Punch! Home & Landscape Design Studio
Best for: Creating everything from scratch
Price: $130 (one-time fee)
Home & Landscape Design Studio by Punch! Software is designed for DIY users who want comprehensive tools and capabilities to develop home plans and design interior rooms.
The software combines all the necessary elements you need to design a home, including furnishings, textures, accessories, and landscaping options.
Key Features 
Easy to get started
Editable floor plans and layouts
Drag and drop materials, furnishings, and accessories
Visualize designs in 2D and 3D
It can be used to plan a home update or redesign a specific portion of the house, such as the basement, landscape, kitchen, or bathroom renovations. You can also design outdoor living spaces, pools, patios, decks, etc.
It comes with an integrated interactive help system, how-to video tutorials, and technical support to provide help when needed. All in all, it's a great platform to get fast results for serious DIY home projects.
7. roOomy
Best for: Discovering new home decor trends
Price: $69 for a virtual staging with complimentary rework
roOomy is the place to discover new home decor trends. It contains a large library of 3D furniture products and accessories. You can use AR to view those products directly in your room.
If it looks great, you can order the product from trusted retailers like Amazon, Pottery Barn, and Wayfair. roOomy regularly adds new designs (within its iOS app) from top interior designers.
Real estate agents can use this platform to save thousands of dollars and valuable listing time.
How it works 
Submit listing images.
Select styles for your listings.
roOomy's designers will customize each virtual staging as per your preferred styles.
They will submit the project to you (within three business days) for review, adjustments, and approval.
Once approved, projects are transformed into high-quality photorealistic premium renderings.
You can then upload these renderings on your listing page and embed roOomy's 3D web viewer on your site. With every order, you get dedicated customer and technical support.
6. Virtual Staging Solutions

Best for: Restyling and new construction visualization
Price: $75 per photo
Virtual Stating Solutions offers a wide range of enhancement services, from remodeling and virtual home staging to new construction visualization. The company has virtually staged more than 100,000 properties in the last 10 years. Their designs can help you inspire buyers and sell properties faster at reasonable prices.
They have a library of furniture and general styles. You can handpick every piece of furniture you want in your room, or let them decide what's best for you.
How It Works? 
Select a package that fits your needs
Select the number of photos you want
Give suggestions
Choose your furniture or style
Your project will be delivered within two days. You can easily download modified pictures.
Every photo is professionally designed and is of the highest quality. If you like to make some changes, you can order free revisions. The company also offers marketing materials to help you stand out from other agents.
5. BoxBrownie

Best for: users who want quick changes without any extra effort
Price: $24.00 per image
BoxBrownie is designed for real estate agents, photographers, developers, and online retailers who want to showcase their properties or accessories with professional images.
Based in Sunshine Coast, Australia, BoxBrownie has a large team of experts across the world. They can provide up to 8 modified images within 48 hours.
The company provides a broad range of retouching services. This includes removing unnecessary items, adding accessories, and enhancing photos to give them a professional look. The CGI rendering clearly demonstrates conceptual product ideas and stands out from the crowd.
Since every home is unique, BoxBrownie furnishes the property based on the home's character and style. For example, they can introduce warmth into the space by adding weathered woods and items with rustic finishes; or give an authentic vintage look by adding comfy couches, rugs, and recycled items.
This service is limited to adding furniture and accessories only. If you wish to make any physical changes like add landscaping or change flooring, you can choose their other product called Virtual Renovation.
Key Features
360° virtual tours
360° image enhancement
Aerial editing
Floor plan redraws
Free revisions (if requested within two months)
BoxBrownie has an intuitive interface, which makes submitting and monitoring projects very easy. It doesn't have any subscription model, so you can sign up and browse listed products for free.
The major plus point of this platform is they charge only for the service you use. Most services are not bundled. Plus, you can add brokerage branding to some materials like tours and floor plans.
4. HomeStyler
Best for: Designing your own virtual dream house
Price: Starts at $5 per month | $10 per month for unlimited 4K image rendering | Free version offers 1K rendering with HomeStyler watermark
HomeStyler is an easy-to-use design tool as well as an informative interior design database. It allows you to create 2D and 3D floor plans in accurate measurements within a few clicks.
The platform has thousands of furniture products, paints, flooring designs, which you can use to create your own models. It also offers beautiful visualization through HD photorealistic renders and panorama.
Key Features 
Cloud-based 3D floor planner
Unlimited renderings
Photorealistic 720 panorama view
100,000+ free 3D models and materials
The best thing about his tool is you don't need to learn complex 3D modeling to design your home. Just select the furniture and accessories you like, and move, rotate, and put them in the right place.
It has different design modes to meet the requirements of different users. The casual mode, for example, allows beginners to easily create impressive interiors. More experienced users can use the professional mode to replace the floor, paint the want, add accessories, remove unwanted items, or create things from scratch.
HomeStyler has plenty of in-built room templates. If you can't find the perfect one, you can upload your own images of the empty room and make a unique template yourself. You can also use the AR mode to scan the space around you and redecorate your home.
3. Cedar Architect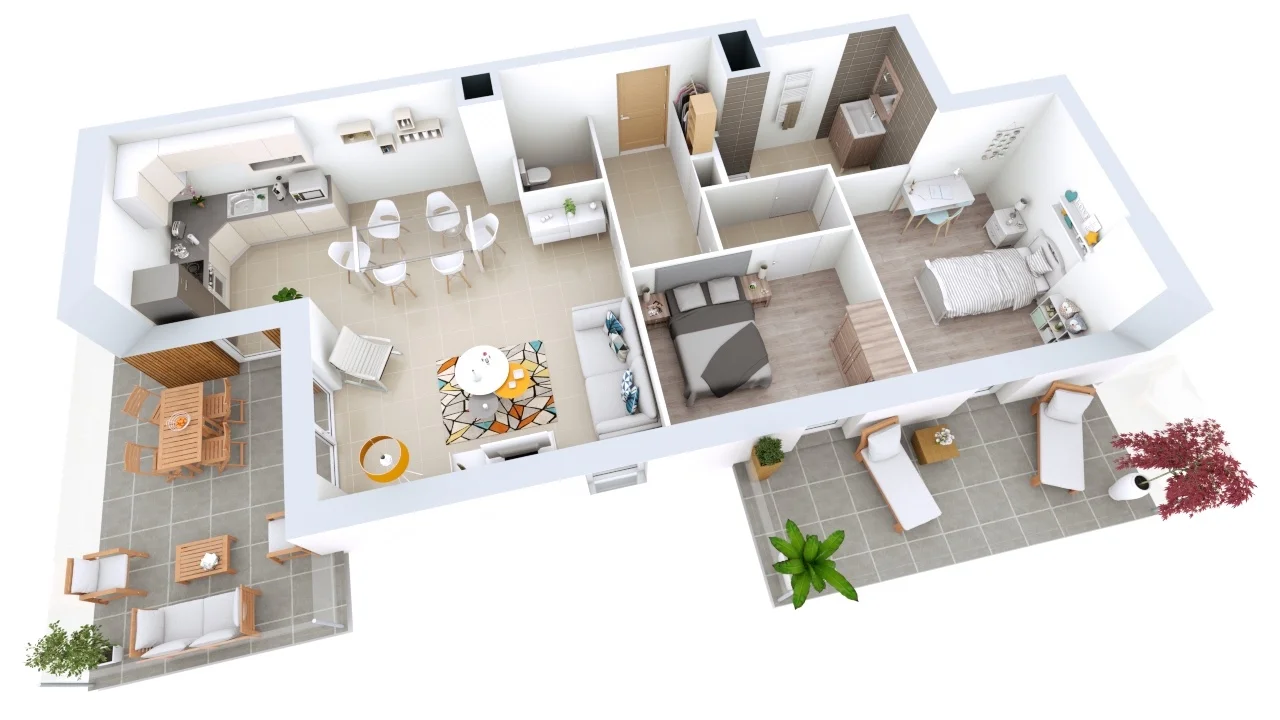 Best for: Creating a 3D design of the house
Price: $59.00 per month for 50 HD renderings | 15-day free trial available
Cedar Architect is a 3D architectural tool that allows you to redesign a house in 3D and visualize it as if you were there. You can create highly detailed renderings and take a virtual tour of your entire home or apartment with a few clicks. Walk into different rooms, pivot, zoom, and observe every tiny detail in the house from different angles.
Key Features
Professional rendering quality
No prior background in computer graphics is required
High-quality interior and exterior renderings
Virtual garden design
360° virtual tours
The tool comes with a massive library of items (such as 3D models and textures), which you can utilize to remodel and decorate your space. The library is updated regularly to fulfill users' demands.
Whether you are designing apartments, studio flats, older buildings, new constructions, or large houses, Cedar Architect gives you the complete flexibility upon reorganizing and remodeling.
2. Real Tour Vision
Best for: Creating interactive virtual tours with a few clicks
Price: Fusion software starts at $219 (one-time fee)
Real Tour Vision (RTV) offers both professional services and a DIY application. Over the last 22 years, the company has inspired thousands of professionals to assemble a successful network of real estate photographers, virtual tour providers, and aerial drone pilots.
Its virtual tour software, called Fusion, is perfect for users looking for a quick, low-cost solution. It allows you to upload high-quality images and videos, 360 panoramas, and other 3D productions. You can also insert floor plans and create full walkthrough virtual tours.
Fusion creates a separate webpage for your property. It displays images, panoramas, and full-motion videos in one interactive media player.
Key Features 
Online cloud-based system
Attractive property website templates
Weekly traffic reports
Build-in property marketing tools to enhance customers' experience
If you are looking for professional photography and aerial drone services for multiple locations, you can opt for the dedicated service. RTV has a worldwide network of highly trained professionals that can fulfill your requirements. Whether you want to stage old apartments or offices or anything else, they have got you covered.
Unlike most other platforms, RTV offers a project-based pricing structure for its professional service. There is no need to pay monthly fees.
1. Autodesk 3Ds MAX
Best for: professionals who want to create detailed, high-quality designs
Price: $215 per month | 30-days Free-trial available
3D Max is a robust platform with powerful modeling toolsets. It can handle some of the most difficult tasks with ease. Whether you are making custom renovations from floor to ceiling or adding final touches, 3D Max can help your clients visualize the final results with every detail. It gives you a rich new palette to connect with customers.
Key Features 
Simulate artificial lighting sources
Tools for mesh and surface modeling
Make real-time changes in near-final rendering quality
Import data from anywhere
The platform has advanced visualization tools to quickly explore every aspect of a design, make changes, and preview changes from multiple perspectives.
Add material finishes, test different textures, and use vibrant colors to make your scenes photorealistic. You can also add elements like water fountains, pools, kitchen fixtures, and water effects to create realistic liquid behaviors.
Overall, 3D Max is an all-in-one package for professional designers to translate their vision into reality, craft a high-end portfolio, and deliver a premium experience to customers.
Read: 13 Best Market Research Tools You Must
Other Equally Good Virtual Staging Tools
10. VisualStager
Price: $15 per image
VisualStager is a DIY virtual home staging tool that allows you to stage photos in minutes. It works inside your browser. There is no need to download or install any program.
Just click a regular picture or a 360 image and upload it to the website. The online tool makes it very easy to rearrange furniture and add or remove accessories. It has more than 5,000 items, which gives you the flexibility to test as many designs as you like.
You can try the software for free on all the sample photos provided. There is no cost or commitment. You pay only when you modify your own images.
11. Coohom
Price: Basic version is free | Pro version (with advanced design capabilities) costs $25 per month
With Coohom, you can create a floor plan from scratch. It lets you drag and drop 3D models to design your home and visualize the final result in high-quality renders or virtual reality.
This online platform has tens of thousands of prebuilt assets, from furniture and lighting to decor and flooring designs. Unlike other tools, it also has an AI decorator that automatically fills your room with beautiful items, giving you a fully-furnished starting point.
The Basic version of Coohom, which offers unlimited standard quality renderings, is completely free. The Pro version gives you access to branded 3D model library and allows you to render 300 files in 4K resolution every month.
12. Live Home 3D
Price: $49 for the Pro version | Free version has limited features
Live Home 3D is a cross-platform home design software built for both beginners and experienced users. Whether you are a homeowner planning to make small changes or a professional interior designer trying to build things from scratch, it has got you covered.
It gives you a lot of furniture products, appliances, and other items to design your home. Drag-drop furniture, windows, doors, decoration, and more from a library of 2000+ objects and easily change colors, textures, and fabrics using 2,100+ inbuilt materials.
Once you draft detailed 2D floor plans, the software automatically constructs the structure in 3D. It also renders a realistic video walkthrough of your entire house.
You can export the snapshot of the 3D views in PNG, BMP, TIFF, JPEG, and 360° Panorama JPEG format, or record a 3D video walkthrough of the project.
Read: 16 Tools to Instantly Convert 2D Images to 3D Ones
Frequently Asked Questions?
What are the benefits of virtual staging?
Compared to traditional home staging, its virtual counterpart requires less effort, time, and money. Plus, it gives you countless options when it comes to staging and styling. All you need is a catalog of furnishings and accessories to create a wide range of styles, from vintage and contemporary to futuristic.
Furthermore, virtual staging helps buyers visualize the property as their future home. They can get a better idea of how extra rooms can be utilized, what should be the furniture layout, and what interior color palette suits their personality.
How much does virtual staging cost?
The price of virtual staging depends on the size and complexity of your project. The more space (or rooms) you are looking to cover in less time, the more it will cost. It also varies from service to service or the type of graphic software you've opted for.
While most DIY virtual stating tools are based on a monthly subscription model ($20-$150/month), professional staging services usually cost between $40 and $100 per image. Some contractors charge considerably more for their services (they go as high as $300 per image).
Can realtors get in trouble for virtual stating?
Yes and No. Virtual staging can be extremely helpful when a home — if it is done right. Otherwise, it may lead to real estate legal issues. To avoid any trouble:
Disclose all virtual staging

: Clearly label all the modified images.

Share before and after images

: The best way to give buyers a sense of the interior space and its possibilities is to display current and edited images side by side.

Do not add too many filters

: The edited images should look realistic

Do not hide flaws

: You can easily remove the water stain on the wall, crack on the window, or other defects, but this could result in claims of misrepresentation.
Read: 13 Best Flatbed Trucking Companies In The World
What are the best home staging companies?
Seattle Staged To Sell, The Staging House, Meridith Baer Home, Stuccco, and Showhomes are some of the most reputable home staging companies in the United States.