According to both the US Federal Aviation Administration (FAA) and the European Aviation Safety Agency (EASA), a large aircraft is an aircraft with a maximum take-off weight or mass of more than 5,700 kg. A multi-engine helicopter can also be defined as large aircraft.
However, weight, length, and a few other specifications are also vitally important to measure the size of an aircraft. Taking all of these crucial parameters into account, we've compiled a list of 13 of the biggest airplanes in the world.
13. Tupolev Tu-160
Tupolev Tu-160 | Image Courtesy: Vitaly V. Kuzmin
First Flight: 18 December 1981
Wingspan: 55.7 m
Length: 54.10 m
Number Built: 36
Tupolev Tu-160 is a Soviet-era supersonic strategic bomber aircraft that remains the fastest and heaviest aircraft of its type ever made. Tu-160 has a distinct variable-sweep wing design, which allows the aircraft to change its shape in flight and carry more weight without compromising on speed.
Tu-160 is powered by four Kuznetsov NK-32 turbofan engines, each producing 245 KN of thrust (with afterburner). Its overall length (54.10 m) is only a couple of meters smaller than that of the North American XB-70 Valkyrie.
There are only 16 Tu-160 operational today, all under Russian Aerospace forces.
12. McDonnell Douglas KC-10 Extender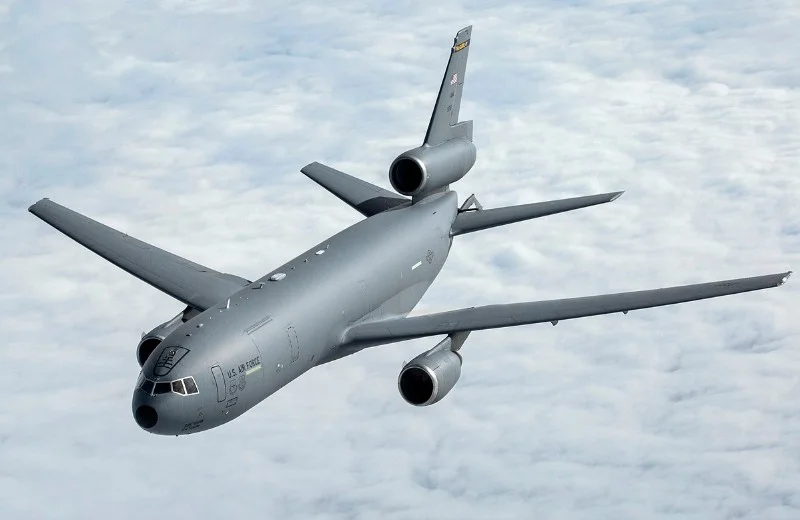 A U.S Air Force KC-10 Extender over the Atlantic Ocean | Image Courtesy: Master Sgt. Mark Olsen
First Flight: 12 July 1980
Wingspan: 50.41 m
Length: 55.35 m
Number Built: 60
McDonnell Douglas KC-10 Extender is one of the largest aerial refueling tanker aircraft in service today. Its design is based on McDonnell Douglas DC-10 wide-body airliner with only a few specific modifications.
Additional fuel tanks located below the main deck in the baggage compartment increases the KC-10's total fuel capacity to 161,480 kg, which is nearly double the capacity of its counterpart, KC-135 stratotanker. The plane has both a rigid centerline fuel boom and a flexible drogue-and-hose system located near its rear fuselage. It also has cargo transport capability.
While most of the KC-10 tankers are in military service (USAF and Royal Netherlands Air Force), few are operated by civilian contractors.
11. Antonov An-22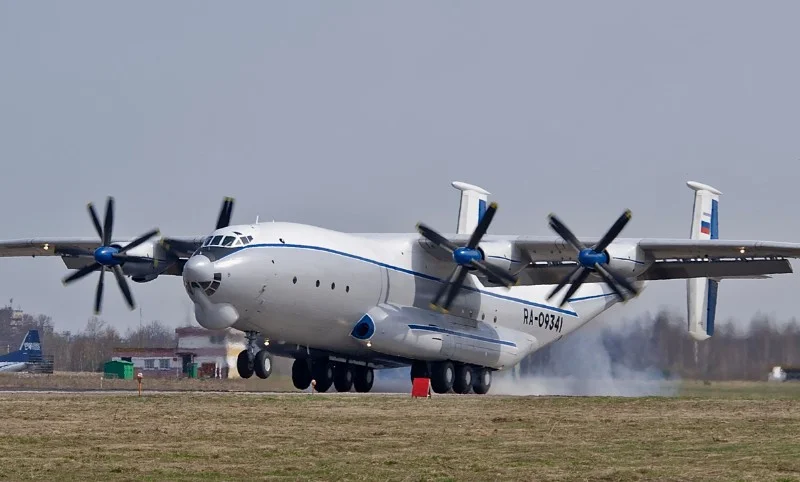 Antonov An-22 of the Russian Air force | Image Courtesy: Aleksandr Markin
First Flight: 27 February 1965
Wingspan: 64.40 m
Length: 57.9 m
Number Built: 68
Antonov An-22 is the world's largest turboprop-powered aircraft. The An-22, in strategic airlifter role, has been extensively used in many military and relief missions during the Soviet era. Today, however, only six are operational.
The aircraft is powered by four turboprop engines featuring contra-rotating propellers, which enables the plane to operate from short, unpaved runways. It was designed specifically to transport Soviet Paratroopers (Airborne troops) and can carry 290 passengers at a time. An-22 can also accommodate as much as four BMD-1 infantry fighting vehicle.
A civilian version of Antonov An-22 aircraft, capable of carrying 724 passengers, was proposed but was never materialized.
10. Boeing 747-8
British Airways World Cargo Boeing 747-8F | Image Courtesy: Airliners.net/Piotr Pasula
First Flight: 2010-2011
Wingspan: 68.4 m
Length: 76.3 m
Number Built: 130
Boeing 747-8 is the largest airliner in the 747 family, one of the most popular commercial jets in the world. As compared to the original 747, the 747-8 has a lengthened fuselage, redesigned wings, and fitted with new, more powerful engines.
With a total length of more than 76 meters and a maximum take-off weight of 472,000 kg, the Boeing 747-8 is perhaps the largest and heaviest commercial airliner designed in the United States. It is the world's longest aircraft in operation. The 747-8 F, freighter variant of the aircraft has a total capacity of 137,700 kg.
Many popular passenger and cargo airlines, including Lufthansa, Korean Air, British Air, etc., have a sizable amount of 747-8 in their fleet.
9. Aero Spacelines Super Guppy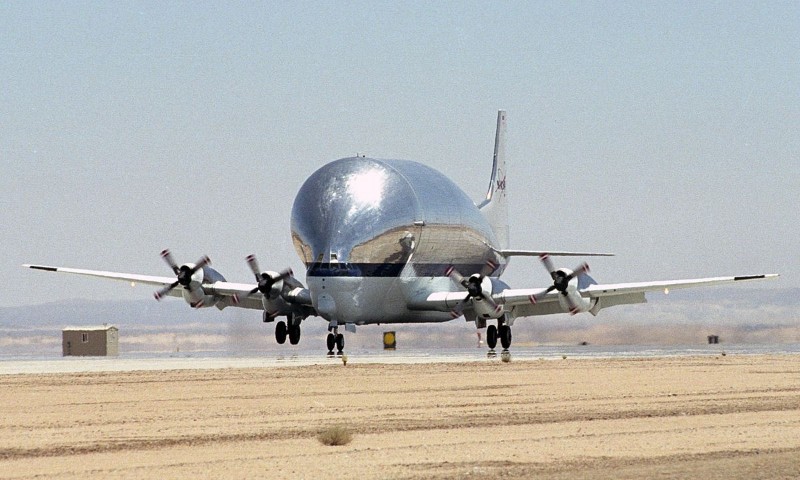 NASA's B377SGT Super Guppy at Edwards Air Force Base, California. | Image Courtesy: NASA
First Flight: 1965
Wingspan: 47.62 m
Length: 43.84 m
Number Built: 5
Aero Spacelines, now defunct, was known for manufacturing unique airplanes with the inflated fuselage, which were suitable for transporting over-sized cargo. One of its creations, the Super Guppy, is a true monster and is still in active operation.
Two separate versions of Super Guppy was developed. To construct the first, engineers used the fuselage of an already bulky C-97J Turbo Stratocruiser and stretched it out to the point where the length of the cargo hold reached 28.8 m. However, the floor measurements remained the same.
The second version of Super Guppy was made from scratch. This allowed designers to facilitate more cargo space along with improved and more powerful engines making the airplane more efficient.
8. Boeing C-17 Globemaster III
The Royal Canadian Air Force C-17 Globemaster III at 2017 Royal International Air Tattoo, England
First Flight: 15 September 1995
Wingspan: 51.75 m
Length: 53 m
Number Built: 279
Boeing's C-17 Globemaster III is perhaps one of the largest tactical/strategic airlifted, which is currently serving some of the most powerful air forces in the world. The aircraft was initially developed by McDonnell Douglas in the early 1990s, but after its merger in 1997, Boeing took control over the entire C-17 project.
The aircraft is designed to operate from relatively smaller runways (3,500 ft.) and even from the unpaved ones. The payload capacity of a C-17 Globemaster III is about 77,520 kg, while the maximum takeoff weight is close to 265,350 kg.
The C-17 can accommodate super-heavy military machineries such as M1 Abrams main battle tank, armored vehicles, and artillery. It has enough space to carry more than 130 troops (sidewall seats) or 102 paratroopers at a time.
7. Airbus Beluga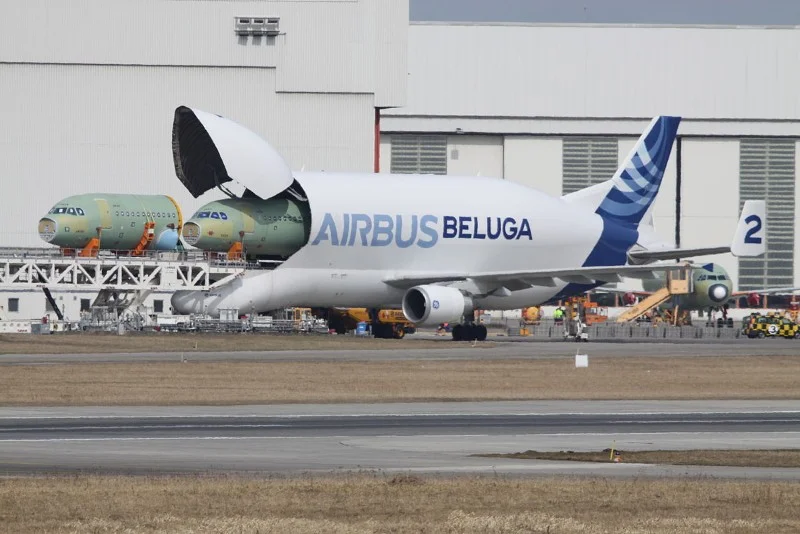 Airbus A300-600ST "Beluga" at Hamburg Airport | Image Courtesy: Aeroprints.com
First Flight: 13 September 1994
Wingspan: 44.84 m
Length: 56.15 m
Number Built: 5
Airbus A300-600ST, also known as Beluga, is a highly modified version of the wide-body A300-600 aircraft, which is specially designed to carry large components of other aircraft and other unconventional cargo. The Airbus Beluga can easily be recognized by its unique fuselage closely resembling the shape of a beluga whale, hence the name.
The total volume of its cargo deck is, in fact, greater than that of Antonov An-124 and Lockheed C-5 Galaxy. However, its payload capacity is restricted to just 47 tonnes, which is significantly less than both of the aircraft mentioned above. All five units of Beluga are operated by Airbus Transport International (a subsidiary of Airbus Corporation).
Since their introduction in 1995, the Airbus Beluga have transported several remarkable cargoes, including a delicate and large painting, satellite, unmanned ATV's, helicopters (intact), and a module for the International Space Station.
Beluga XL, a successor to the Airbus Beluga, was announced in 2016 and is currently in a trial phase.
6. Boeing 747 Dreamlifter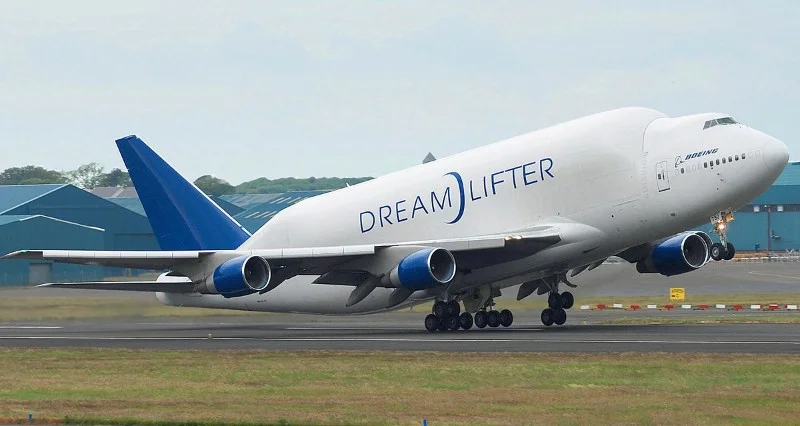 Boeing 747-400 (LCF) Dreamlifter at Glasgow Prestwick Airport 
First Flight: 9 September 2006
Wingspan: 64.4 m
Length: 71.68 m
Number Built: 4
In the late 1990s, Boeing felt the need for a mid-sized aircraft that is both fuel-efficient and suitable for long hauls. The resulted product was Boeing 787 Dreamliner, which is currently used by many popular airliners all around the world.
Anyway, instead of the conventional manufacturing process, Boeing opted to import large components of the aircraft from subcontracted assemblies and/or suppliers around the world and do the final assembly at their factory in Everett, Washington. In order to speed up the delivery process, the company redesigned four Boeing 747-400 and transformed them into 787 Dreamlifter.
With a maximum payload capacity of 113,400 kg and cargo hold volume of 1,840 cubic meters, the Dreamlifter currently has the second biggest cargo compartment (only after Beluga XL) of all aircraft.
Read: The First-Ever Silent, Lightweight Aircraft With No Moving Parts
5. Lockheed C-5 Galaxy
A C-5 Galaxy at Quebec International Airshow in 2010
First Flight: 30 June 1968
Wingspan: 67.89 m
Length: 75.31 m
Number Built: 131
With a maximum payload capacity of 143 tons, Lockheed's C-5 Galaxy is truly a monster aircraft. A single C-5 unit has enough cargo space to accommodate as much as six AH-64 Apache attack helicopters or five medium-sized armored vehicles at a time. It plays an integral role in the U.S Air Force's strategic operations.
In the late 1990s, the U.S Air Force, specifically Air Mobility Command (AMC), initiated a large-scale modernization program for active C-5's which included a new autopilot system, avionics, and outer frame.
Then in 2006, under the Reliability Enhancement and Re-engining Program (RERP), several Lockheed C-5 Galaxy was upgraded and fitted with new General Electric CF6-80C2 engines. All modernized C-5s are officially designated C-5M Super Galaxy.
Above the cargo area, the aircraft has an upper deck featuring the cockpit and seating area that can accommodate more than 70 passengers.
4. Antonov An-124 Ruslan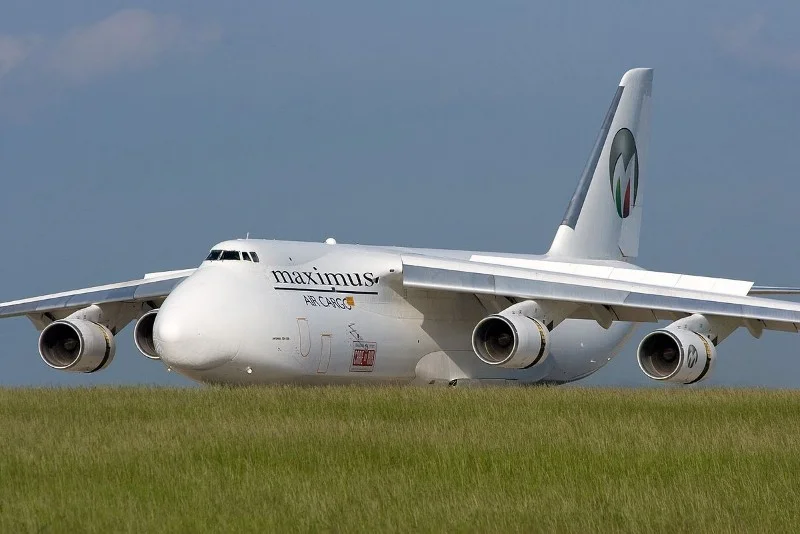 Antonov An-124-100 at Brno Airport, Czech Republic | Image Courtesy: Marek Vanzura
First Flight: 24 December 1982
Wingspan: 73.3 m
Length: 68.96 m
Number Built: 55
Antonov An-124 is a super-heavy transport aircraft designed by Antonov State Company (formerly Antonov Design Bureau) in the late 1970s. The An-124 remained the heaviest cargo aircraft in operation for almost three decades after its introduction in 1984. It is currently the largest military transport aircraft in active service.
Modernized variants of the Antonov An-124 have a payload capacity of 150 tonnes, and it can also accommodate close to 90 passengers in the upper deck. The cargo space of An-124 is about 20% larger than that of the Lockheed C-5 Galaxy.
3. Airbus A380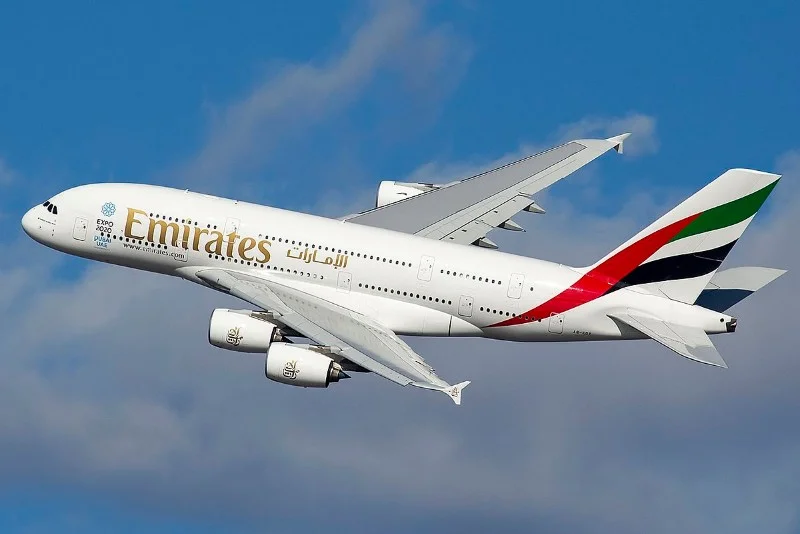 Inflight Airbus A380 
First Flight: 27 April 2005
Wingspan: 79.75 m
Length: 72.72 m
Number Built: 235
Airbus launched an ambitious multi-billion dollar project (designated A3XX) in 1994 to directly compete with Boeing's 747 airliner, which was dominating the aircraft market at that time. It was renamed A380 a few years later.
In 2005, when the project was finished, Airbus ended up with a gigantic, double-decker aircraft that can carry as much as 525 passengers at a time. It also became the largest passenger airliner in the world, a record that it holds to this date.
2. Antonov An-225 Mriya
An-225 at Arlanda airport, Stockholm
First Flight: 1988
Wingspan: 88.4 m
Length: 84 m
Number Built: 1
Antonov An-225 is perhaps the world's largest aircraft ever to have made a successful take-off. This gigantic six-engine airplane was developed by the Ukraine-based Antonov Design Bureau (during the Soviet era) specifically to airlift Buran-class space orbiters for the Soviet space mission.
Based on An-124 Ruslan, the first and only An-225 was manufactured in 1988, and it's currently operated by Antonov Airlines to carry out-sized payloads. In 2004, the An-225 became the first-ever plane to carry a commercial payload of 247,000 kg or 247 tonnes. It still holds the world record for airlifting a single item weighing over 189,980 kilograms.
This gigantic aircraft has been used extensively for transporting extremely large cargo over long distances. Back in 2010, the An-225 delivered a pair of 42.1 m long test wind turbine blades to Denmark all the way from China.
Read: Search experimental 15 Most Secret and Experimental Military Aircraft
1. Stratolaunch
Stratolaunch aircraft during a test in 2018
Wingspan: 117 m
Length: 73 m
Max. takeoff weight: 589,670 kg
Stratolaunch aircraft, designed by Scaled Composites to launch space rockets from mid-air, is currently in its trial phase. If successfully launched, Stratolaunch would become the world's largest airplane by wingspan in service. It's been developed for Paul Allen's Stratolaunch Systems.
The aircraft is powered by a total of six engines and has twelve main landing gear along with two front/nose gears. The 117m long wingspan of the Stratolaunch, which now exceeds that of Hughes H-4 Hercules, is only made possible by its twin-fuselage design.
It would carry rockets up to 35,000 ft altitude (stratosphere) and then launch them into space.
Beriev Be-2500
Top view (above) and front view of Beriev Be-2500 | Image Courtesy: beriev.com
Length: 123 m
Wingspan: 156 m
Max takeoff weight: 2,500,000 kg
Inspired by the Bartini Beriev VVA-14, an experimental ground effect vehicle developed in the 1970s, Beriev announced an amphibious transport jet named Beriev Be-2500, which could be used both as a conventional aircraft and as a wing-in-ground-effect aircraft operating on intercontinental sea routes.
Read: A Radically New Type Of Airplane Wing That Changes Shape While Flying
After its completion, Beriev Be-2500 would become the largest airplane in the world. The current design of the aircraft includes six turbofan engines (172 KN thrust each). According to an estimation in 2007, the entire project would cost about $10-15 billion.