BMW has been working on a self-riding motorcycle prototype for more than 2 years. 

It can go from one stop to another, lean into turns and apply breaks all by itself. 

It will still take years before we see these bikes on open roads. 
The risk of an accident in a motorcycle is 35 times greater than a passenger car. According to the UK Department for Transport, motorcycles have 16 times the rate of fatal crashes compared to four-wheelers. In 2006, the U.S National Highly Traffic Safety Administration mentioned that 72.34 motorcycle riders out of 100,000 ended up with serious injuries or death.
In the past few years, we've witnessed an enormous growth in autonomous cars and trucks. However, there has been little innovation in the motorcycle industry. Introducing driver assistance technology in two-wheeler has its own unique challenges, but the application looks more possible than ever.
Recently, BMW Motorrad unveiled a self-riding motorcycle prototype on which they have been working for over 2 years, and the effort shows. The bike can go from one stop to another with no driver, lean into turns and apply breaks all by itself.
What's The Plan Exactly?
BMW is not looking to sell a fully autonomous bike, though. They want to integrate some of the self-driving technology into the bike to provide more stability in extreme riding conditions. Much like how modern cars change lane and trucks apply emergency brakes, BMW wants to begin by reducing the number of accidents that could be easily avoided.
Of course, it would be quite challenging to integrate such features to a bike. A car can be programmed to apply emergency brakes, but the same rule doesn't apply to a motorcycle: if you allow software to slam on the brakes of a bike, the rider would go flying off the vehicle. Similarly, you can't allow the bike to change lanes aggressively or take sharp turns.
Since the riders have less control/balance over their bike compared to cars, even a small automated change could create dangerous situations.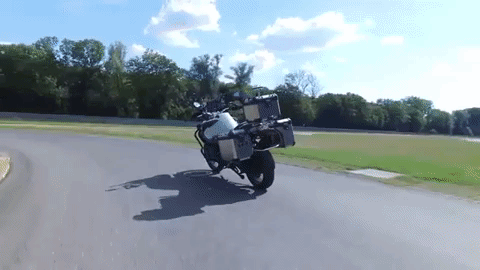 Source: BMW Motorrad/YouTube
For more than two years, the researchers have spent hundreds of hours in testing on the track. In the coming days, they will utilize the details of underlying dynamic models to cope with real riding dynamics, and optimize the prototype to such an extent that one or more advanced safety support may soon be installed in a commercial motorcycle.
Competitors
BMW is not the only one working on self-riding bikes. Earlier this year, Yamaha revealed MOTOROiD at the Consumer Electronics Show in Las Vegas. It features AI-trained active mass center control system that shifts the center of gravity in real-time.
Bosch, the major auto parts supplier, is developing a rider-assistance system similar to adaptive cruise control in cars, which gently accelerates and decelerates the vehicle to avoid accidents.
Last year, a Canadian startup named Damon X Labs revealed its plan of developing a similar motorcycle system. Furthermore, Ride Vision, the Israel-based startup is working on rider safety features, and they've raised $2.5 million in the first round of funding.
Read: Depth Sensors In Self-Driving Car Are Now 1000 Times Better
The prototypes of self-riding bikes are here, and big automakers and startups are busy putting them to test, however it might take some years before we see these vehicles on the open road.