Boeing is the largest manufacturer of commercial jets and a leading producer of helicopters, military aircraft, missiles, and space vehicles. In terms of dollar value, it is the largest exporter in the US and the third-largest defense contractor in the world.
The company was founded in 1916 by American lumber industrialist William Edward Boeing. It now employs more than 141,000 people across the US and over 65 nations.
Boeing majorly focuses on advanced design and manufacturing systems, technology and development-program execution, engineering and program management, information technology, and finance and productivity improvement.
The global aerospace and defense industry is so big that hundreds of companies can thrive in related sectors. Below, we have mentioned the top Boeing competitors that manufacture commercial aircraft, space vehicles, and defense and security systems on massive scales.
10. GE Aerospace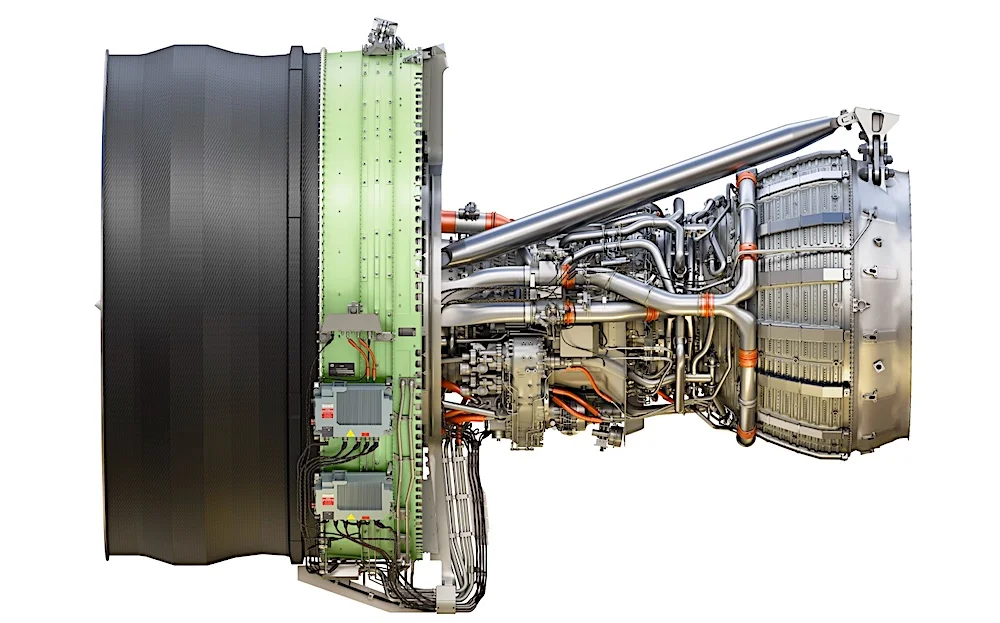 GE9X engine built by GE Aerospace 
Founded in 1917
Headquarters: Ohio, United States
Total Assets: 38.3 billion+
Number of Employees: 48,000+
GE Aerospace is one of the leading manufacturers of jet and turboprop engines, as well as integrated systems for military jets and commercial aircraft.
GE Aerospace and its partner firms have built hundreds of thousands of engines, of which 65,000+ are in service. Their latest commercial engines include the GEnx and GE9X families, the GE Honda HF120 jet engine, the CFM LEAP family, and the Catalyst turboprop.
Their military division is working on advanced turboshaft engines and next-generation fighter jet engines that offer unprecedented speed and fuel efficiency. The Adaptive Cycle Engine and T901 turboshaft engine, for example, are setting propulsion performance records for upcoming aviation systems.
The company invests more than $1.6 billion every year in R&D and has 80+ facilities across the world. Their near-term goal is to improve fuel efficiency and decrease carbon dioxide emissions by 20% compared to the existing most efficient engines.
9. Safran
Founded in 2005
Headquarters: Paris, France
Total Assets: 49.35 billion+
Number of Employees: 76,800+
Safran was formed by a merger between "Safran Aircraft Engines" and "Company of General Applications of Electricity and Mechanics." Its goal is to develop safer, more efficient, and more sustainable air transport systems.
In 2018, Safran acquired a large French aerospace company, Zodiac Aerospace, to strengthen its aeronautical activities. At the time of acquisition, Zodiac had over 35,000 employees and 100+ facilities worldwide. And it was generating $5.65 billion in annual revenue.
Today, Safran has four core businesses:
Aircraft propulsion
Aircraft equipment
Aircraft interiors
Defense systems
Their advanced propulsion systems focus on improving fuel efficiency and reducing maintenance costs. One of their most successful products is the LEAP turbofan engine, which powers single-aisle commercial planes like COMAC C919 and Airbus A320neo.
Besides aircraft engines and missiles, the company also develops equipment and systems for civil and military airplanes. Their products include engine control units, cooling and filtration tools, and mechanical power transmission systems.
8. United Aircraft Corporation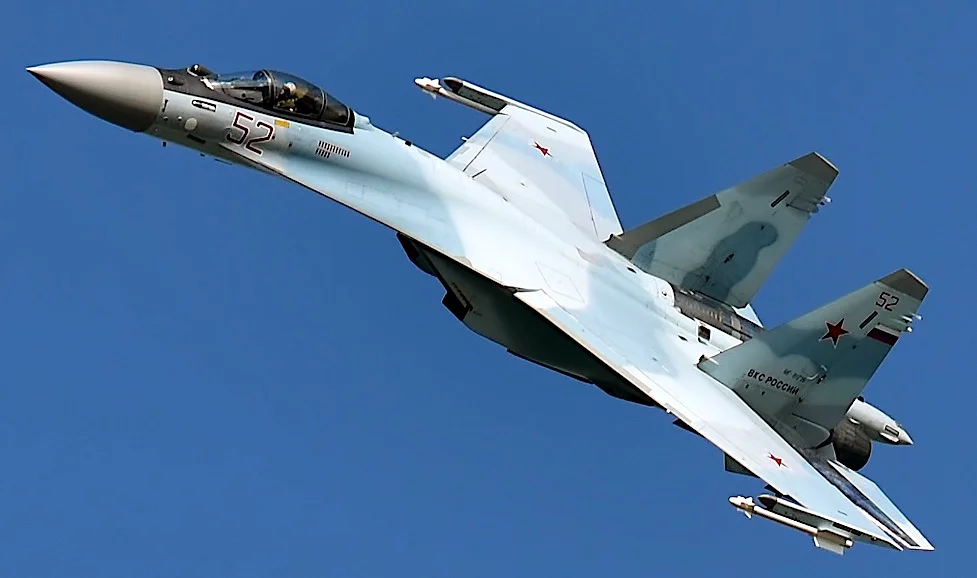 Su-35 air-defense fighter 
Founded in 2006
Headquarters: Moscow, Russia
Total Assets: 15.73 billion+
Number of Employees: 100,000+
United Aircraft is an aerospace and defense corporation owned by the Russian government. It designs and manufactures civil and military aircraft on a large scale.
More specifically, the company builds short-haul civil airplanes, long-range strategic airplanes, naval jets, front-line jets, and combat trainer jets. The portfolio also includes special-purpose products such as wildfire-fighting jets and supersonic bombers for war.
Besides manufacturing advanced jets, United Aircraft also sells, maintains, and repairs aircraft parts. And unlike most other aerospace corporations, it offers consultation and personal training services. Their operations are limited to Europe and Asia.
7. General Dynamics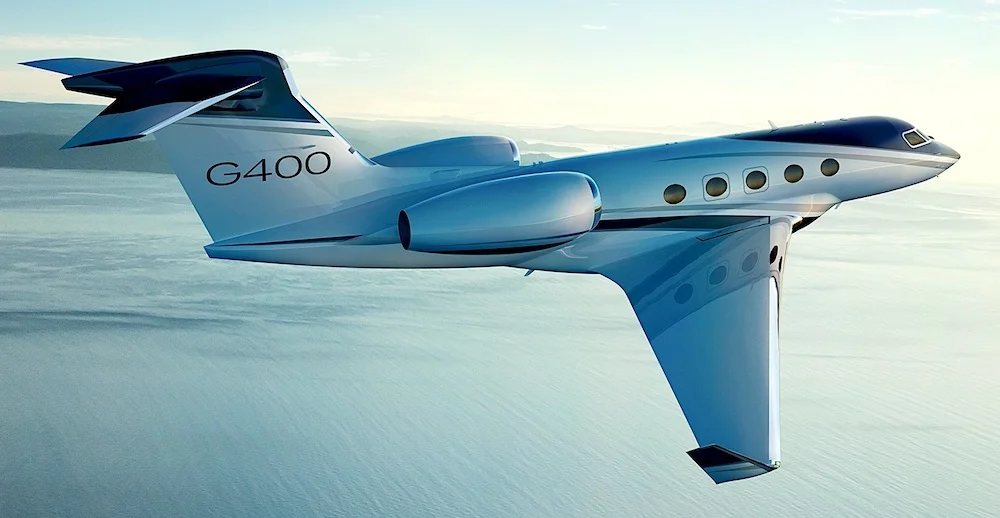 Gulfstream G400
Founded in 1952
Headquarters: Virginia, United States
Total Assets: 51.11 billion+
Number of Employees: 103,100+
General Dynamics is an aerospace and defense company that offers a wide range of products, from business jets and communication systems to combat vehicles and nuclear-powered submarines.
The company is well-organized into four business categories:
Aerospace
Marine systems
Combat systems
Technologies that combine modern electronic hardware with specialized software
They have a balance business model in which each category is responsible for the execution of its action plan and operational performance. The model is designed to focus on what matters the most — continuous product improvement, customer satisfaction, and better return on investment.
The aerospace category, for instance, offers reliable aircraft, advanced flight deck and cabin systems, and industry-leading aircraft management services. The technology category, on the other hand, covers a full spectrum of services, including command-and-control and cyber mission systems, mobile communication, and surveillance and reconnaissance solutions.
6. Northrop Grumman
B-21 Raider
Founded in 1994
Headquarters: Virginia, United States
Total Assets: 42.73 billion+
Number of Employees: 90,000+
Northrop Grumman aims to solve tough problems in aeronautics, space, defense, and cyberspace to fulfill the ever-evolving requirements of customers across the world. They have designed and developed some of the most advanced machines, including the X-47B unmanned combat aerial vehicle, B-2 Spirit stealth bomber, and AQS-24B minehunting system.
The company also provides critical logistics, powerful airborne sensors, and modernization services (including the emergency services needed to combat machines on the battlefield).
Northrop Grumman and its associate firms have been awarded the Collier Trophy eight times. It's an annual aviation award organized by the United States National Aeronautic Association. It is given to those who have achieved significant milestones in the field of astronautics and aeronautics. In 2019, they won this award for developing the unmanned combat aerial vehicle X-47B.
The company also actively participates in the Air Force's Ground Based Strategic Deterrent program and NASA's Space Launch System program.
They have 550+ facilities in all 50 states. Now they are focusing on strengthening their partnerships in global markets, especially in the UK, Australia, South Korea, and Japan.
5. BAE Systems
Eurofighter Typhoon
Founded in 1999
Headquarters: London, UK
Total Assets: 37.31 billion+
Number of Employees: 90,500+
BAE Systems designs and manufactures military aircraft, avionics, reconnaissance (C4ISR) systems, submarines, surface ships, space systems, radars, and advanced electronic systems. It serves both commercial customers and government agencies.
While most of its operations are in the UK and USA, the corporation also focuses on Saudi Arabia, Australia, Canada, Japan, Sweden, Qatar, and Turkey. Saudi Arabia and Australia are regularly among its top four sources of revenue.
One of its famous products is Eurofighter Typhoon. It is equipped with the latest weapons technologies, advanced sensors, and high-speed data links. It is the backbone of combat air defense for the United Kingdom.
The Typhoon program employs about 5,000 people in Lancashire and creates 20,800+ jobs in the UK. Moreover, the export sales of Typhoon jets ($27 billion+) have already contributed a lot to the UK economy.
BAE Systems also heavily invests in emerging technologies to maintain its leadership in aerospace, military, and security capabilities. They have partnered with various academic and industrial leaders to develop next-generation aircraft that are expected to drive significant growth within the business.
4. Aviation Industry Corporation of China
Z-9WE military helicopter 
Founded in 2008
Headquarters: Beijing, China
Total Assets: 161.21 billion+
Number of Employees: 407,300+
The Aviation Industry Corporation of China (AVIC) is an aerospace and defense conglomerate owned by the Chinese government. It was formed in 2008 through the restructuring and merger of two previous Chinese aircraft manufacturers: AVIC I and AVIC II.
It is now part of the Fortune Global 500 with more than 100 subsidiaries and 27 listed companies.
Although AVIC is centered on aviation and defense systems, it also offers services in multiple sectors — from financing and manufacturing to research and development. Its business model covers
Commercial and transport aircraft (Y-9E, MA700, MA60)
Helicopters (AC352, AC312E, AC313)
Autonomous systems (WL-I/WL-II, SW1, Nighthawk)
Avionics (interiors and aerostructure)
Flight testing
Trade and logistics
Engineering and construction
Finance services and asset management
The company is also involved in the development of electromechanical parts (like environmental protection equipment, gas turbine, and new energy instruments) and civil engineering projects (like the cement factory design, airport and power plant construction, and vocational education).
3. Raytheon Technologies

Founded in 2020
Headquarters: Virginia, United States
Total Assets: $161.40 billion+
Number of Employees: 174,000+
In 2020, United Technologies merged with the Raytheon Company to form the world's second-largest aerospace and defense corporation by sales (after Boeing). The spinoff took the name Raytheon Technologies and was valued at more than $100 billion.
Today, the company's portfolio consists of commercial aviation, military jets, engine control systems, flight systems, and power generation management and distribution systems. It also offers advanced space solutions, hypersonics, warfare, communications and navigation, and cybersecurity services.
Raytheon Technologies generates revenue through four business units:
Pratt & Whitney

: Develops gas turbines and airplane engines

Collins Aerospace

: Builds and supplies aerospace systems for corporate, commercial, and military aircraft.

Raytheon Missiles and Defense

: Develops advanced technologies like command and control systems, missile defense systems, and radars.

Raytheon Intelligence and Space

: Specializes in information-based solutions, satellite technologies, Data and network security, machine learning, and quantum computing.
Raytheon Technologies Research Center employs more than 61,000 engineers and scientists to develop innovative products and solve the toughest problems in areas like advanced propulsion, cybersecurity, artificial intelligence, electrification, power and thermal management, and advanced materials and manufacturing. They have obtained over 46,000 patents to date.
The Research Center invests about $7.5 billion annually in R&D.
2. Lockheed Martin
Lockheed C-130 military transport aircraft
Founded in 1995
Headquarters: Maryland, United States
Total Assets: $50.87 billion+
Number of Employees: 114,000+
Lockheed Martin provides various products and advanced technology systems for civil, defense, and commercial applications. This includes rotary-wing aircraft, fighter jets, helicopters, ground vehicles, guided missiles,  autonomic logistics information systems, unmanned systems, naval systems, sensors, radars, and
next-generation infrared sensing systems.
All operating units are categorized into four business areas:
Aeronautics

: It covers tactical aircraft and aeronautical research and development. About 40% of total sales come from this segment.

Rotary and Mission Systems

: It includes helicopters, ground vehicles, undersea systems, radar systems, sensors, and combat simulation and training. This segment accounts for approximately 22% of the annual sales.

Space

: This segment includes the development of government and commercial satellites, equipment for deep space exploration, strategic missiles, and mission solutions.

Missiles and Fire Control

: It includes high-profile programs like PAC-3 Missiles and the Terminal High Altitude Area Defense System.
Lockheed Martin has more than 370 facilities and 13,600 active suppliers in over 50 nations.
It serves both commercial customers and government agencies. More than 50% of its annual sales come from the United States Department of Defense. It is also the contractor for NASA and the US Department for Energy.
The corporation has won the Collier Trophy six times for developing advanced technologies like the Automatic Ground Collision Avoidance System and LiftFan Propulsion System for multirole combat aircraft.
1. Airbus

Founded in 1970
Headquarters: Leiden, Netherlands
Total Assets: $122.21 billion+
Number of Employees: 130,000+
Airbus is a direct competitor of Boeing. It designs, manufactures, and delivers aerospace products, services, and solutions on a global scale. It is the largest aeronautics and space corporation in Europe, accounting for almost half of all commercial airline orders.
The company's portfolio includes a range of passenger airliners, civil and parabolic helicopters, military aircraft, and corporate jets. They also develop special mission aircraft for specialized military and security tasks.
With over 180 facilities and 12,000+ direct suppliers, Airbus has achieved a sixfold order book increase in the last 20 years. The company is now slowly shifting into the Industry 4.0 era — they are inventing efficient manned and unmanned vehicles for urban mobility and hybrid and electric propulsion systems for cleaner aviation.
Airbus is also making a significant contribution to space innovations. It manufactures satellites, crewed spacecraft, commercial launchers, telecommunications relay platforms, and various electronic components. Whether exploring our planet Earth or mapping billions of stars in the galaxy, Airbus has been helping space agencies answer big questions for more than five decades.
In 2022, the company completed its first future wing prototype called Wing of Tomorrow, demonstrating an all-new industrial assembly system that integrates more than 100 different components and manufacturing technologies. This could help the company reduce the amount of work during the assembly phase by more than 50 percent.
Other Big Competitors of Boeing
10. Bombardier Inc
Founded in 1942
Headquarters: Quebec, Canada
Total Assets: $16 billion+
Number of Employees: 13,800+
Bombardier Inc. builds aircraft, motorized consumer products, and rail transportation systems. Its aerospace business unit, in particular, focuses on the design, development, sale, and service of business jets and regional airliners. It covers the manufacturing of airframe components and the provision of defense systems and services.
Bombardier's airplanes are known for their design, cutting-edge technology, performance, and reliability. The company manufactures aircraft for various missions, ranging from border surveillance and infrastructure validation to head-of-state transport and urgent humanitarian assistance.
In 2021, the company unveiled the Challenger 3500 aircraft, featuring the industry's first voice-controlled cabin and a new seat architecture. In 2022, they launched a flagship Global 8000 aircraft that offers an industry-leading range of 8,000 nautical miles and a top speed of Mach 0.94.
Bombardier is currently present in 12+ countries and supports a global fleet of over 5,000+ airplanes in service.
11. Dassault Aviation
Founded in 1929
Headquarters: Paris, France
Total Assets: $19.7 billion+
Number of Employees: 12,400+
Dassault Aviation shapes the future by developing military aircraft and business jets. It also manufactures space transportation systems and micro launchers.
The company market military aircraft through Rafale and Mirage, business airplanes through Falcon, and drones through nEUROn brand names. While its assembly and production plants are in France and the USA, the service facilities are available worldwide.
They have also developed experimental space vehicles, such as
Intermediate eXperimental Vehicle

, which performed a controlled re-entry by decelerating from Mach 22 to Mach 2

Airborne Micro Launcher

, which is designed to put 150-kilogram microsatellites into an 800-kilometer sun-synchronous orbit, and

VEHRA Vehicle Family

, which consists of a subsonic carrier aircraft and an airborne reusable hypersonic vehicle. They are designed to launch lightweight and heavy payloads into low Earth orbit.
Since its inception, Dassault Aviation has developed more than 100 prototypes and delivered more than 10,000 aircraft to 90+ countries. As of today, 2,100 Falcon jets and 1,000 military aircraft are in service.
13. Embraer
Founded in 1969
Headquarters: São Paulo, Brazil
Total Assets: $9.9 billion+
Number of Employees: 15,400+
Embraer builds and markets commercial and executive jets, defense and security systems, and agriculture aircraft. And like all other Boeing-like corporations, it offers after-sales services and support to customers across the world.
Their product portfolio is quite wide. It includes the Embraer E-Jet family of commercial jets, Embraer Praetor 600 mid-size jet, JAS 39 Gripen E/F multirole fighter, Embraer EMB 314 Super Tucano light attack aircraft, and Embraer EMB 202 Ipanema crop-duster.
A significant portion of revenue comes from sales of structural components, mechanical and hydraulic parts, and customer training. The company has a dedicated platform (FlyEmbraer and MyTechCare) to provide customers with quick access to tools, publications, and contacts.
Frequently Asked Questions?
What is Boeing's biggest and smallest airplane?
Boeing 747-8 is the world's longest operational passenger airplane, followed by the Airbus A340-600. It is also the heaviest airplane, military or commercial, built in the United States.
Boeing 717, on the other hand, is the smallest passenger airplane powered by two Rolls-Royce BR715 turbofan engines. It can accommodate 134 passengers and has a range of 3,820 kilometers. It is designed for shorter, regional routes.
Read: 13 Biggest Airplanes in The World
How is the Boeing Company organized, and how much revenue does it generate per annum?
Boeing has four business units:
Commercial Airplanes
Defense, Space, and Security
Global Services
Boeing Capital
In 2022, Boeing generated $66.6 billion in annual revenue and $3.53 billion in annual gross profit, a 6.9% and 15.7% increase year-over-year, respectively.
Who is Boeing's largest customer?
Boeing's biggest customer is the United States government. The US Department of Defense, in particular, purchases military aircraft, satellite systems, and advanced equipment for mobility, strike, and surveillance.
As for units purchased, Ryanair airline is the largest customer of Boeing. This low-cost airline has ordered more than 750 aircraft since 1998.
In terms of list price, Emirates placed the single largest airplane order in 2013. On 17th November, the airline announced an order for 150 units of Boeing 777X, valued at $76 billion.
The market size of aerospace parts and the defense industry
According to the Grand View Research report, the global aerospace components manufacturing market size will exceed $1.23 trillion by 2030, growing at a CAGR of 4% from 2023 to 2030.
The defense market is expected to reach $718.12 billion by 2027, growing at a CAGR of 5.6% from 2023 to 2027. This includes air, sea, and land-based defense equipment, as well as their maintenance and repair services.
Why you can trust us?
We thoroughly analyzed 25 multinational corporations that design and manufacture airplanes, rockets, satellites, missiles, and defense systems. It took more than 20 hours to do the comprehensive research. Finally, we decided to shortlist the 13 large companies that can be considered as top Boeing alternatives.
We are not associated with any of these companies. Our shortlisting is purely based on product range, sales, total assets, and supplier networks. Moreover, we have two separate editors who have no influence over our listing criteria or recommendations.
Read More
12 Fastest Aircraft  Of All Time
13 Best Robotic Companies In the World