Honkai Star Rail is a turn-based JRPG (Japanese role-playing game) developed by miHoYo, the makers of the popular action RPG Genshin Impact. It is the fourth and newest installment in the Honkai series.
Set in a science-fantasy universe, the game features elements of dungeon exploration, along with gacha mechanics, similar to Genshin Impact. Honkai Star Rail focuses on team building more than anything.
Players are required to select a team from a pool of different characters and battle it out with the enemies in turn-based combat.
Each playable character has a specific type assigned to them. There are a total of seven element types in the game: Physical, Fire, Ice, Wind, Lightning, Imaginary, and Quantum, each with unique effects on opponents.
But instead of the Elemental Reaction system in Genshin Impact, the game features a Toughness and Weakness Break system, which allows players more flexibility in team building.
Below is a tier list of Honkai Star Rail characters.
Note: The list only includes characters up to tier A.
Tier S+
Blade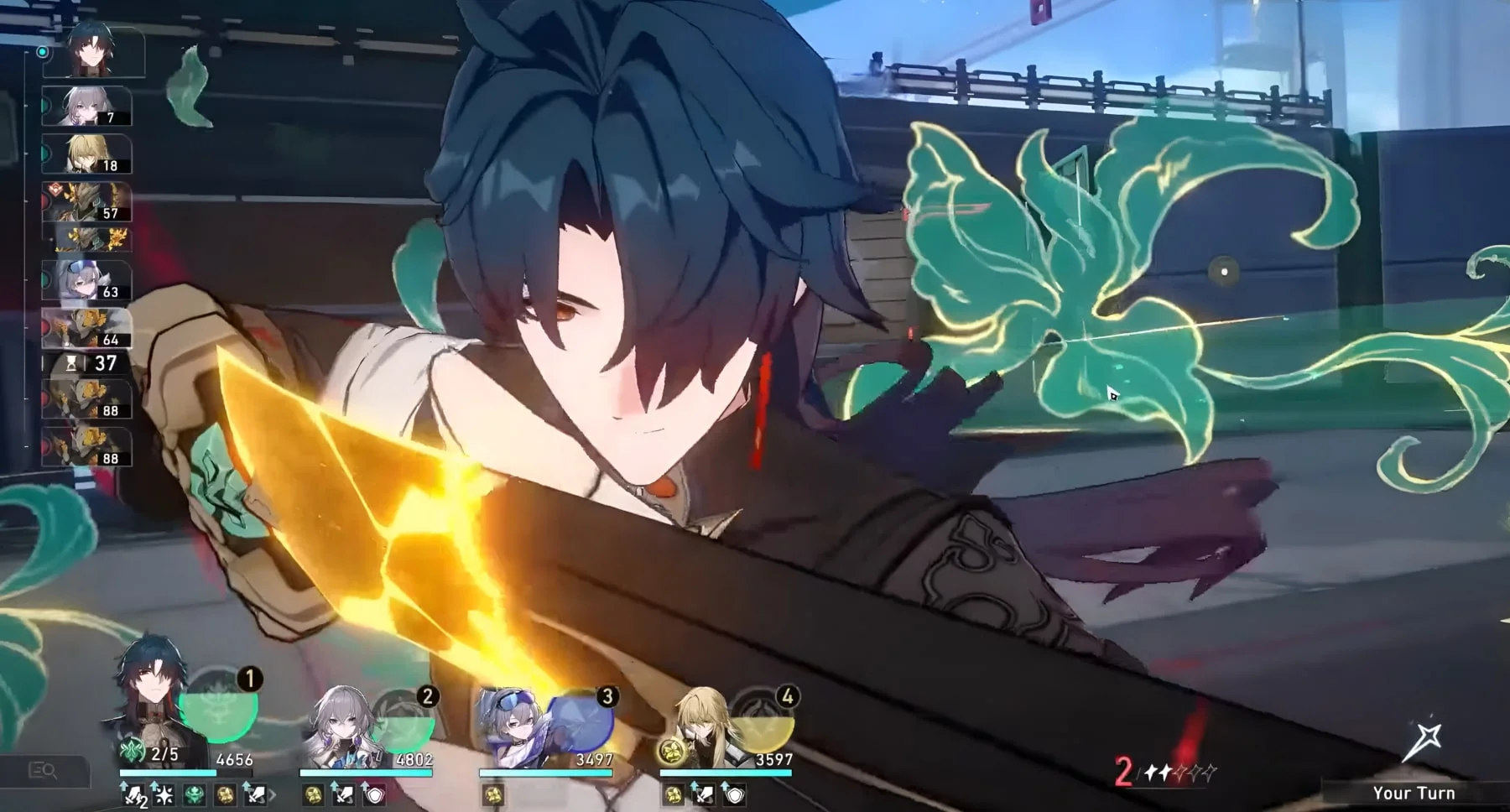 Role: DPS
Combat Type: Wind
Blade is a formidable DPS who is known for his exceptional damage-dealing abilities against both single targets and AOE.
Perhaps the most important aspect of Blade's gameplay is his HP scaling considering the fact that he utilizes his own HP to deal massive damage to foes. So, it is crucial to focus on his HP when you're building him. It not only enhances his attack but also his survivability.
Blade's Skill consumes 30% of his HP to enhance his basic ATK for 3+1 turns. It deals in both single target and AOE damage.
But the source of Blade's powers is his Talent. Every time he consumes HP for an attack or sustains damage, he gains 1 charge stack. After accumulating a maximum of 5 charge stacks, he deals damage to all enemies and recovers 25% of his max HP.
Blade becomes nearly unstoppable when paired with a support like Bronya and a competent healer. Of course, it is recommended to pull his signature LC.
Blade Best Team
Blade – DPS
Bronya – Support (Offensive)
Silver Wolf – Debuffer
Loucha – Healer
Bronya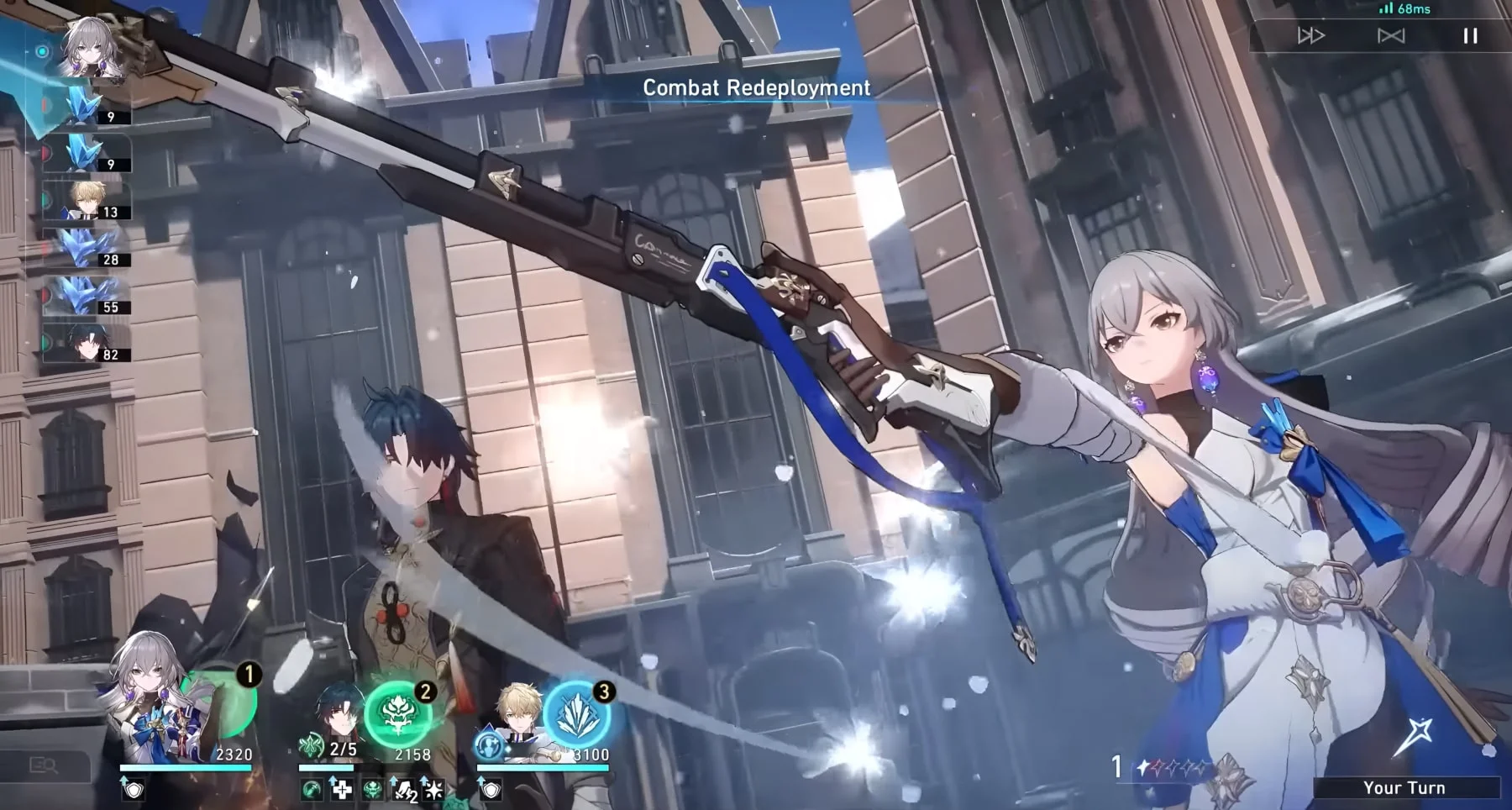 Role: Support (Offensive)
Combat Type: Wind
Bronya is commander of the Silvermane Guards and heir to the Supreme Guardian to Belobag. She is one of the most powerful support units in Honkai Star Rail.
Bronya can significantly enhance the capabilities of other units, given that you have the right team comp.
Her Skill allows a single ally to take their turn instantly and also increases their damage by 66% for one turn. It also cleanses a debuff on the ally. This action gives you the flexibility to affect your team's turn order.
Bronya's Ultimate, on the other hand, boosts ATK and Crit damage of all allies for 2 turns, making her ideal support for hypercarry teams.
Tip: If you're wondering whether you should level up Bronya first or a DPS, you should always prioritize investing in your DPS.
Bronya Best Team (Hypercarry)
Bronya – Support
Tingyuan – Support
Bialu – Healer
Seele – DPS
Bailu
Role: Healer
Combat Type: Lightning
Bailu, nicknamed the 'Healer Lady,' is one of the most powerful healers in the game. With her insane heals, she can be a formidable support, especially at the start of the game.
Bailu is often compared with Natasha, another great healer, due to their similar performance and impact on the gameplay. Both are powerful healers, but they have their own advantages and disadvantages.
Whether you should build Bailu or not depends on your style of play and team comp.
So, what are her powers? Let's start with her Ultimate – when activated, it heals all team members by 13.5% of her max HP and also triggers Invigoration. While Invigorated, if an ally is hit, it will gain 5.4% of Bailu's total HP plus 144. That's her Talent.
Bailu's Skill heals a single target ally and then heals two more random allies, but its effectiveness is reduced by 15% after each heal.
Overall, Bailu is a great healer unit that can be a great asset to your team, especially if you have a hypercarry build. She is extremely potent in the early stages of the game.
Best Bailu Team
Dan Heng – Main DPS
Welt – Sub DPS
Asta – Support
Bailu – Healer
Dan Heng * Imbibitor Lunae
Role: DPS
Combat Type: Imaginary
It is the true form of Dan Heng that allows him to channel the power left behind by his past incarnation of the Imbibitor Lunae. Dan Heng Imbibitor Lunae is highly versatile and possesses some of the most powerful destruction abilities, making him unstoppable and one of the strongest DPS in the game.
Imbibitor Lunae has the best damage multipliers and can deal high-toughness damage. He also has CRIT and DMG buffs as well.
What makes him an incredible damage dealer is his Skill that enhances his basic ATK up to three times.
Enhanced once – strike a single enemy 3 times, and deal damage 260% of Dan Heng IL's ATK.
Enhanced twice – strike an enemy 5-times and deal 190% to a single target.
Enhanced thrice – hits 7 times and deals 250% damage.
Dan Heng Imbibitor Lunae is undoubtedly one of the most powerful DPS in the game. But as an SP-hungry unit, you must be able to manage SP to be able to unleash his full potential.
Dan Heng IL Best Team
Dan Heng Imbibitor Lunae – DPS
Yukong – Support
Silver Wolf – Support
Loucha – Healer
Fu Xuan
Character Card | The Xianzhou Luofu | Fu Xuan
The head of the Xianzhou Luofu's Divination Commission. A confident and blunt sage.
Using her third eye and the Matrix of Prescience, Fu Xuan calculates the Xianzhou's route and predicts the fortune of future events. She firmly… pic.twitter.com/e0a88B9ap0

— Honkai: Star Rail (@honkaistarrail) July 5, 2023
Role: Support (Defensive)
Combat Type: Quantum
Fu Xuan is a formidable tank and easily one of the best supports in the game. With the highest base HP, Fu Xuan provides a damage reduction buff for the entire team and is ideal for solo sustain teams.
Fu Xuan's Skill allow another team member to deflect 65% of the damage received to herself for 3 turns. At the same time, it also increases their max HP by 6% and CRIT rate by 12%. As long as she is standing, the entire team will take 18% less damage.
While in battle, if her current HP falls below 50% of the max, she will gain 90% of the HP. It will only occur twice in a battle. Moreover, she also protects allies from crowd control debuffs applied by the enemy.
If you're currently building Fu Xuan, it is important that you focus on her HP% and DEF%. Also, her speed is the key to her performance.
Fu Xuan Best Team
As one of the best tanks in the game, you can put Fu Xuan in any team comp.
Seele – Main DPS
Bailu – Healer
Tingyan – Support
Fu Xuan – Support
Gepard
Role: Support (Defensive)
Combat Type: Ice
From being called the "worst unit in the game," Gepard has quickly become one of the fan favorites for obvious reasons.
Gepard is simply one of the best defensive support units you can get in the game. As a tank, he can take a lot of damage and provide powerful shields for the entire team.
Gepard's Ultimate, which applies a shield to all his teammates, is perhaps the most impressive attack in his arsenal, as it lasts for 3-turns and only costs 100 energy. His Ultimate is practically easier to get often compared to other unit's Ultimates. Another great aspect of his shield is that it works without consuming SP, which always comes in handy.
Because of his cheap but highly effective shield, Gepard can negate the need for a healer in most team builds.
Gepard's Skill deals ice damage to a single target of up to 200% of his ATK, and has a 65% base chance to freeze the enemy for 1 turn. Moreover, the target will take additional damage equal to 60% of Gepard's ATK.
His insane damage-taking ability and powerful shield make sure that he is not easily defeated. But when he does, instead of going down, Gepard will instantly gain 50% of his total XP and self-revive. However, it only works once in a battle.
Gepard Best Team
Gepard does well with most team compositions, except Clara-based teams. Don't pair him with Clara.
Gepard – Tank
Pela – Support
Silver Wolf/Tingyun – Support
Qingque/Seele – Main DPS
Kafka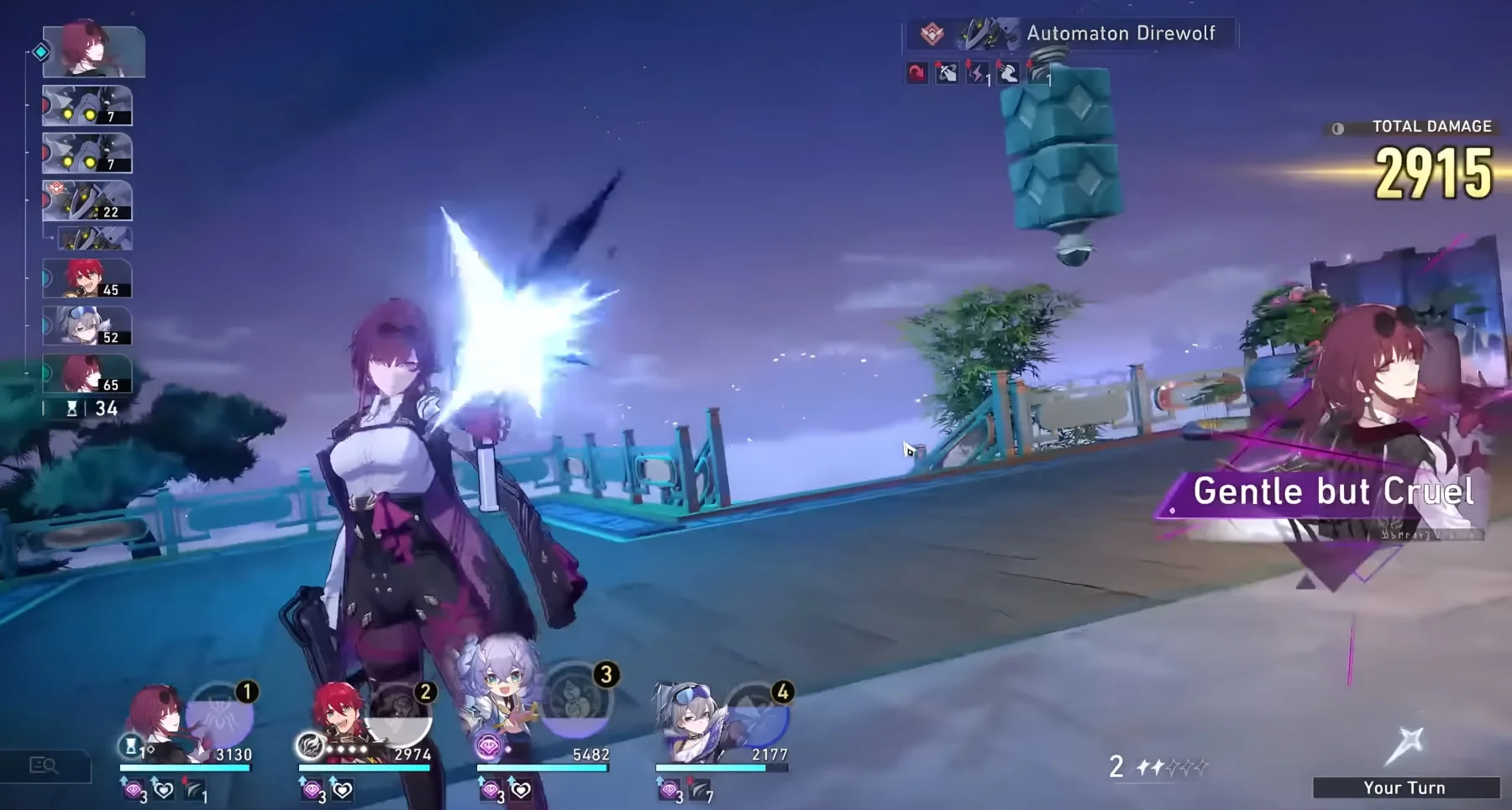 Role: Damage Over Time (DoT)
Combat Type: Lightning
Kafka is a versatile Nihility character focusing on damage over time (DoT). She is an insanely powerful damage dealer who excels in delivering devastating blows to her enemies.
Unlike traditional DoT characters, who deal damage to their enemies only after they move, Kafka is able to trigger massive DoT damage on her own turn and take them out.
Unlike traditional DoT characters, who can only deal damage to their enemies after they move, Kafka is able to trigger massive DoT damage on her own turn and take them out in one go. Since Kafka's gameplay is all about damage over time, you have to focus on her ATK% rather than CRIT damage.
Kafka's Skill deals damage to a target enemy as a Blast AoE, hitting adjacent foes as well. If the enemy you targeted has DoT debuffs on them, they will all immediately deal up to 75% of their original damage.
Best Kafka Team
Kafka – DPS
Sampo – Sub DPS
Bronya – Support
Loucha – Healer
Seele
Role: DPS
Combat Type: Quantum
Seele is a hard-hitting damage dealer who can overwhelm even the most resilient enemy with her attacks. She has the highest single-target damage potential in Honkai Star Rail.
Her Skill increases her speed by 25% for 2-turns and deals Quantum damage to a single target. Though Seele is already a fast unit, this speed boost makes her much faster.
Seele's Ultimate puts her into a Buffed state to deal massive damage to the enemy. Her Talent, basically, amplifies her other attacks. It allows her to enter the Buffed state after defeating an enemy with 1 extra turn. While in that state, her attack damage increases by 80% (for 1 turn).
While Seele is a powerful DPS unit, whether you should build her depends on your play style. As the only Quantum Hunt DPS unit in the game, she is relatively easier to build.
Seele Best F2P Team
Seele F2P team focuses on buffing Seele and keeping her alive.
Seele – Main DPS
Asta – Support
Trailblazer (Fire) – Tank
Natasha – Healer
Silver Wolf
Role: Support (Offensive)
Combat Type: Quantum
Silver Wolf is one of the most efficient support characters in the game. She has the ability to punish and dramatically weaken her opponents by inflicting (with a relatively high base chance) bug debuffs.
There are three types of bugs used by Silver Wolf, each effectively reducing a single enemy stat – ATK (attack), DEF (defense), and SPD (speed) for 3 turns. There is also a chance that you can inflict a single enemy with all three bugs at the same time.
That's not all. Silver Wolf can even inflict a single enemy target with one weakness of an on-field teammate type with a high base chance. That means you can create a new weakness for your enemies. The attack also reduces the targeted enemy's DMG RES to that weakness by 20 percent for 2 turns.
But what makes Silver Wolf a truly powerful debuff is her Ultimate, which can reduce the enemy's DEF by 36 to 47 percent for 3 turns with a 100 percent base chance.
Silver Wolf is a high-value unit (despite weak damage output) and worth the time and investment. She gets only better with more resources and the right team composition, even at the late-stage game.
Silver Wolf Best Team
Silver Wolf – Support
Natasha – Healer
Sushang – DPS
Clara – DPS
Tingyun

Role: Support
Combat Type: Lightning
Tingyun is a potent support unit that can be a great asset to any team if used right. She is an enabler specialized in providing buffs to other teammates while also dealing a small amount of damage on her own.
Tingyun is ideal hyper-carry support as her buff has more impact on your main DPS attacks than any ordinary partywide buff. And the fact that she is skill points natural means that you can manage your SP expenditure more freely.
Her Skill increases the ATK of a single ally by 50% of their base ATK. When that ally attacks, it deals an additional lightning damage of up to 40%. It lasts for 3 turns.
Tingyun's Ultimate works in a similar manner by increasing an ally's damage dealing by up to 50% for 2 turns. But it also replenishes 50 energy of the ally. She is the only unit in the game that can grant upfront energy to a friendly unit.
Best Tingyuan Team (Hypercarry)
Tingyuan – Support
Bronya – Support
Seele – Main DPS
Bailu – Healer
Tier S
Jing Yuan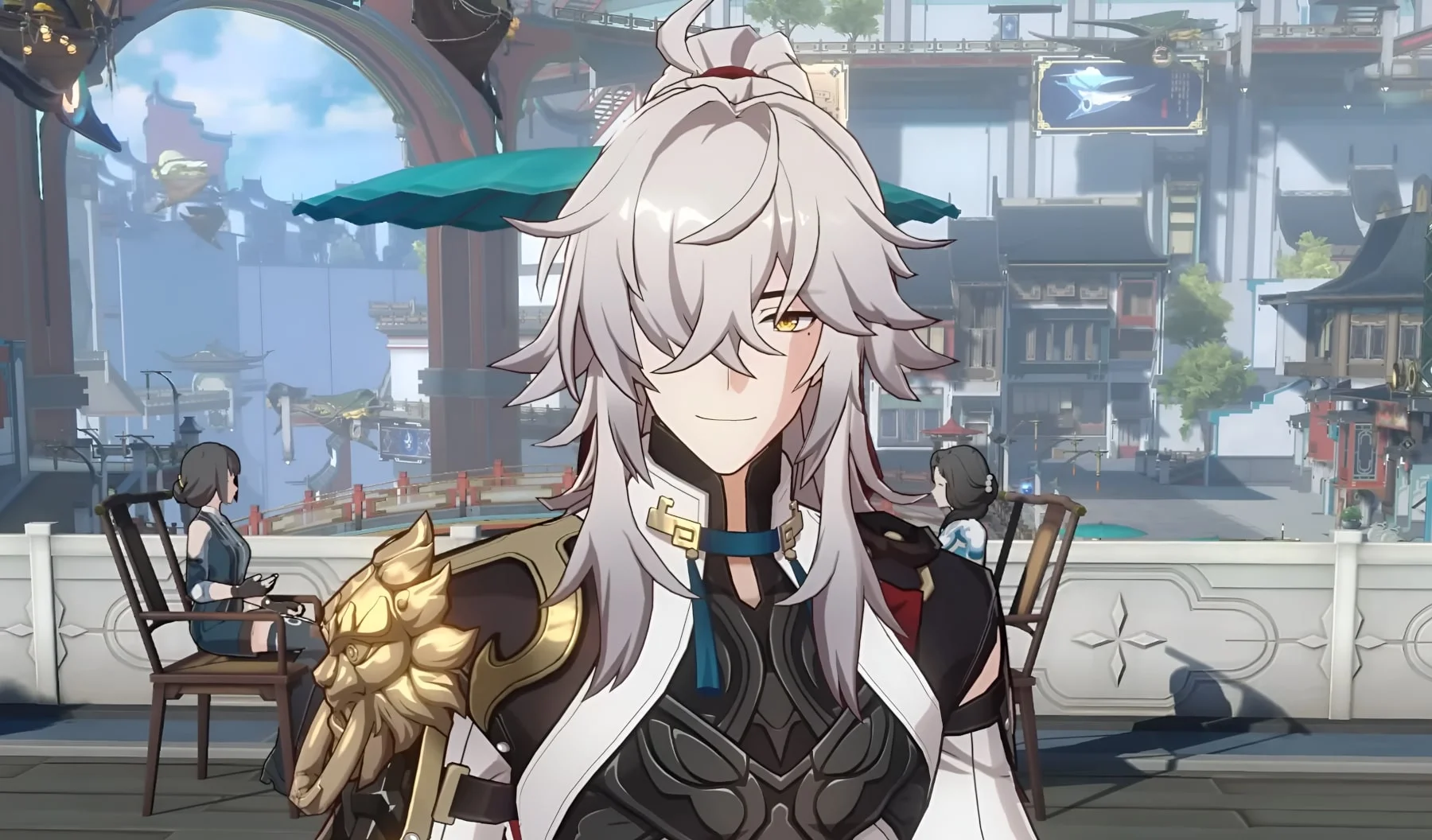 Role: DPS
Combat Type: Lightning
Jing Yuan is one of the most interesting characters lore-wise in Honkai Star Rail. He is also a powerful DPS who deals impressive single damage and AOE damage to his opponents.
Jing Yuan is an interesting character, at least lore-wise, as he is always accompanied by an entity – the Lightning Lord. The entity attacks enemies independently of Jing Yuan, but if the latter dies, he dies.
We'll start with Jing Yuan's Skill. It deals lightning damage up to 100% of his total ATK to all the opponents and increases Lightning Lord's attack count by 2 for one turn.
His Ultimate is also an AOE attack, inflicting damage to all enemies up to 200% ATK and then increasing Lightning Lord's hit by 3. However, it costs 130 energy, a slightly higher amount than you would usually prefer.
As you can see, Jing Yuan's Ult and Skill attacks deal only moderate damage to foes, but his real power comes from the Lightning Lord. The shadow entity is responsible for about 75% of Jing Yuan's total damage to single targets.
Jing Yuan Best Team
Jing Yuan
Bronya/Tingyun
Bailu
Blade
Lynx
Role: Support (Healer)
Combat Type: Quantum
Lynx is a highly capable support healer who focuses on healing, debuff cleansing, and aggro manipulation.
We'll start with her basic ATK that deals Quantum damage and scales with max HP.
Lynx's Skill increases a single target ally HP by 7.5% plus 200 of Lynx's max HP. More importantly, if the target ally follows either the Path of Destruction or Preservation, their chances of getting hit increase significantly. It is basically telling an enemy to attack a particular ally.
Her Ultimate Cleanse 1 debuff from the team and restore their HP by 13.5% of her max HP plus 360. It is a very powerful tool against enemies with AOE debuffs. One should keep in mind that it cleanses all debuffs, which can be an issue if you remove the wrong debuff.
Her Talent offers consistent healing to allies, who either benefit from her Skill or Ultimate for 2 turns.
Lynx Best Team
Lynx has the best synergy with Blade (HP scaling) and Clara (increased damage taking), so it's ideal that you pair her with either of these two.
Lynx – Healer
Blade – DPS
Bronya – Support
Silver Wolf – Support
Pela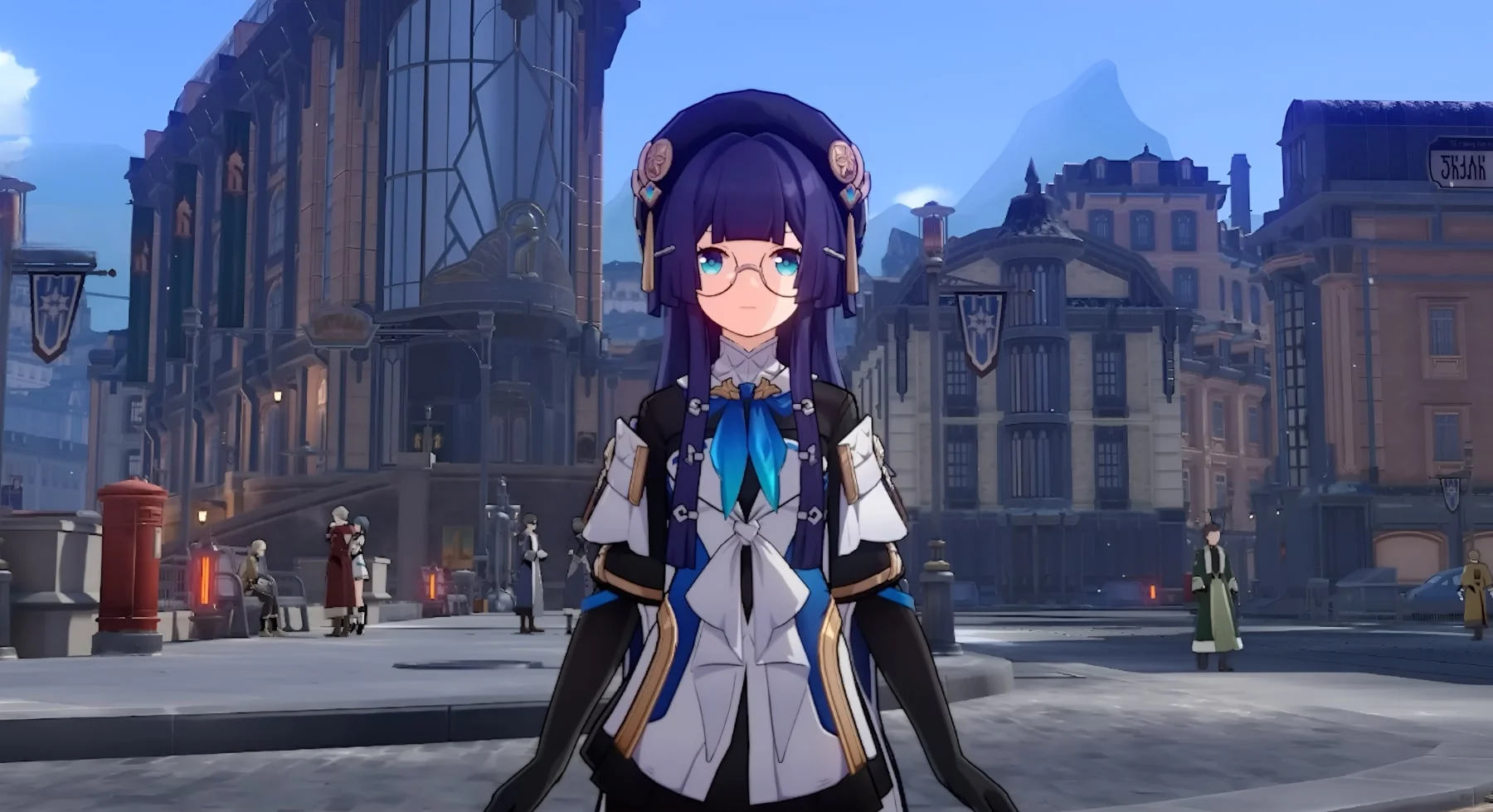 Role: Support (debuffer)
Combat Type: Ice
Pela is a powerful defense shredder who focuses on debuffing enemies. With the right build, she can be a nearly unstoppable support unit and can be used against anything.
As a debuffer, Pela is designed to be used as a support for DPS units rather than being a DPS herself. Though she deals direct damage to single targets, it's not powerful enough to have any real effect. So, if you're building Pela, focus on her energy regen and effective hit rate.
Her Skill deals in ice damage up to 210% of her ATK and has a guaranteed debuff action removing 1 buff from a single target enemy. This is highly effective against pesky opponents with self-buffs.
Pela's Talent allows her to gain a fixed amount of energy after debuffing a target enemy. However, her main weapon is her Ultimate. It deals ice damage to all enemies with a 100% chance to trigger Exposed status, thus reducing their defense by a maximum of 40% for 2 turns.
Since her Ultimate is basically a massive debuff with a high base chance, Pela gets substantial energy boosts (once per attack), which in turn helps her launch more Ultimates in the long run.
Pela Best Team (F2P)
Pela – Support
Natasha – Healer
Serval – DPS
Dan Heng – DPS
Welt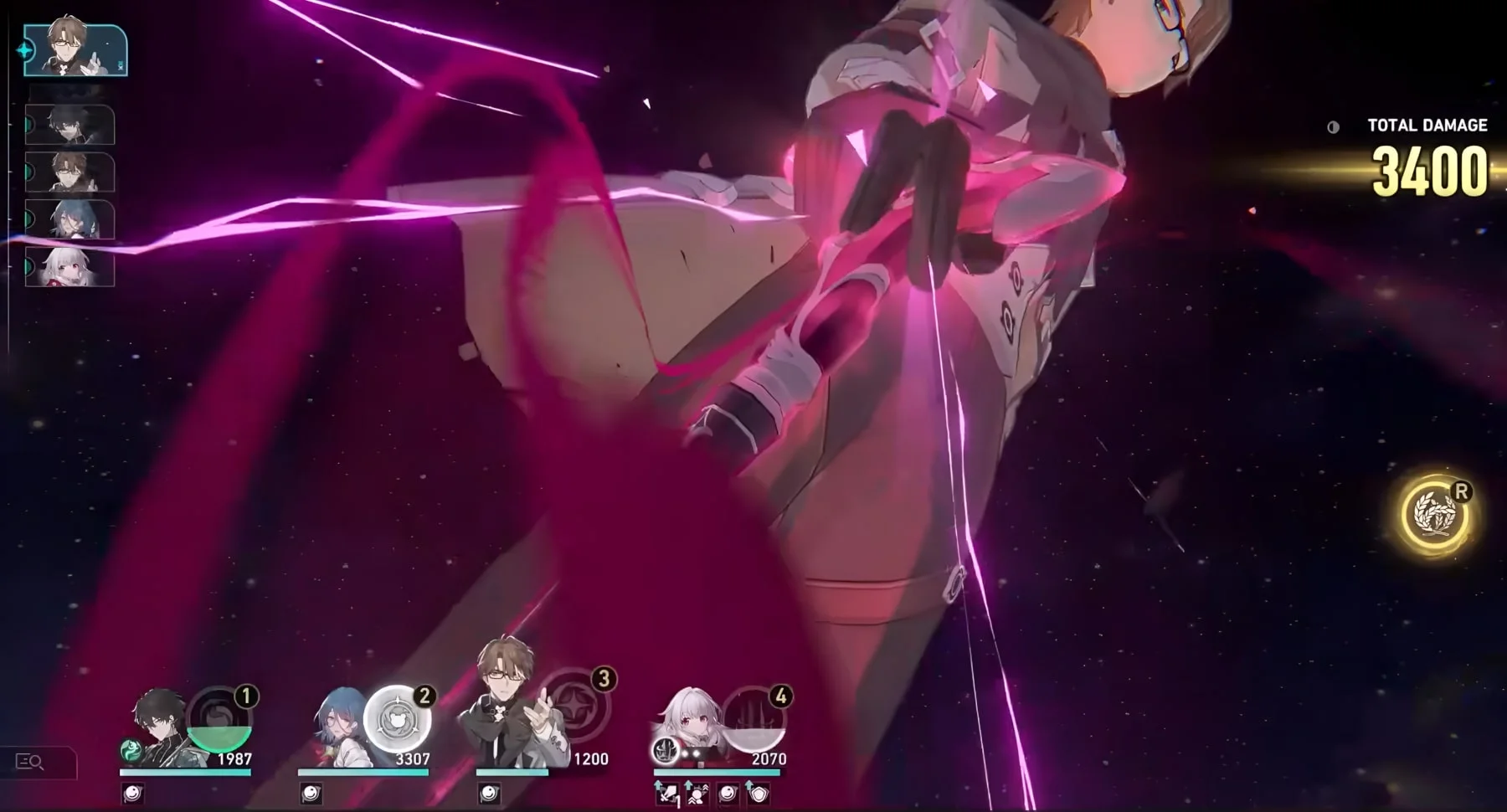 Role: Support (Debuffer)
Combat Type: Imaginary
Welt is a master when it comes to slowing down enemies and delaying their turns to give you better control over the battlefield. He can also inflict bonus damage to slow down the target, thus making him an effective secondary damage dealer.
Welt's Skill deals Imaginary damage 3 times, the first to a single target and the other two against random targets. After being hit, there is a 75% base chance that the enemy would lose SPD by 10%.
This damage is further magnified by his Talent that deals additional damage to the slowed-down enemies. Welt's talent makes him flexible, more like a hybrid debuffer/DPS.
However, the main source of his power is his Ultimate, which deals damage to foes with a 100% base chance to inflict 'Imprisonment' status, effectively slowing them down.
Tip: If you use Welt's Ult between the actions of elite enemies, they won't be able to perform their second action.
Best Welt Team (F2P)
Deng Heng – Main DPS
Welt – Support/Sub DPS
Natasha – Healer
Trailblazer (Fire) – Tank
Tier A
Asta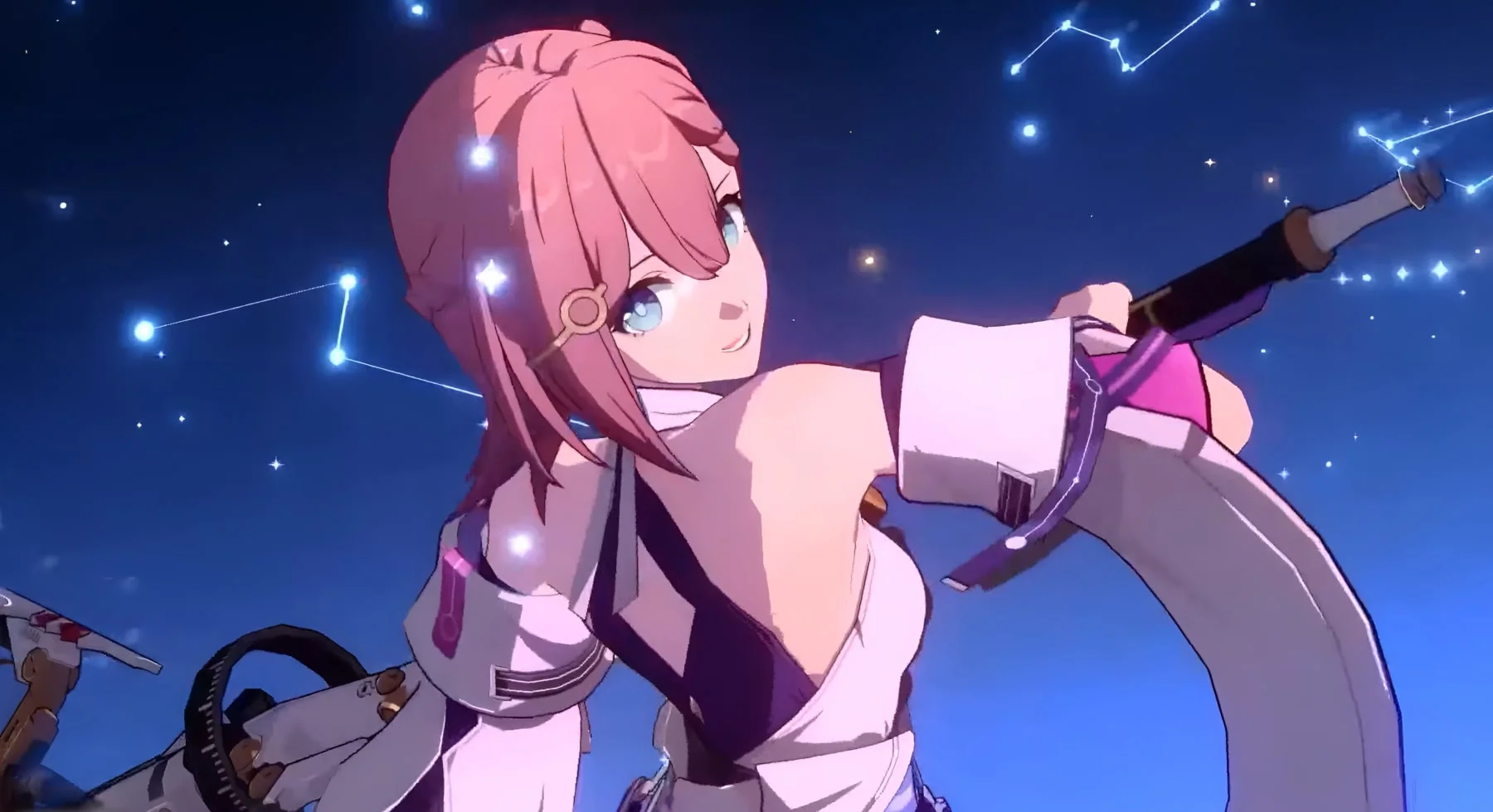 Role: Support
Combat Type: Fire
Asta is a very potent support unit with impressive skills. But she is more of a niche character and cannot be used in just any team composition.
Asta can wreak havoc against enemies with fire weakness, especially when teamed with a fire hyper carry. However, she requires resources and eidolons to be more effective. She needs at least E4 to offer a reliable buff to the team.
Her Skill deals fire damage equal to 50% of her ATK to a single enemy target.
Asta's Talent, which is a very unique buff, allows her to gain 1 Charging stack every time an enemy is hit by her attack. She gets one bonus stack if the enemy is fire-weak.
Each Charging stack increases the ATK of all allies by 14%. It lasts up to 5 times. From her second turn, she will start losing 3 stacks.
Asta's Ultimate is also impressive, as it increases the speed of all allies by a flat 50 for 2 turns. However, the trade-off is that it requires a slightly higher energy cost.
Asta Best Team
You can also pair Dan Heng with Asta for skipping enemy turns.
Asta – Support
Silver Wolf – Support
Trailblazer (Fire) – Tank
Himeko – DPS
Luka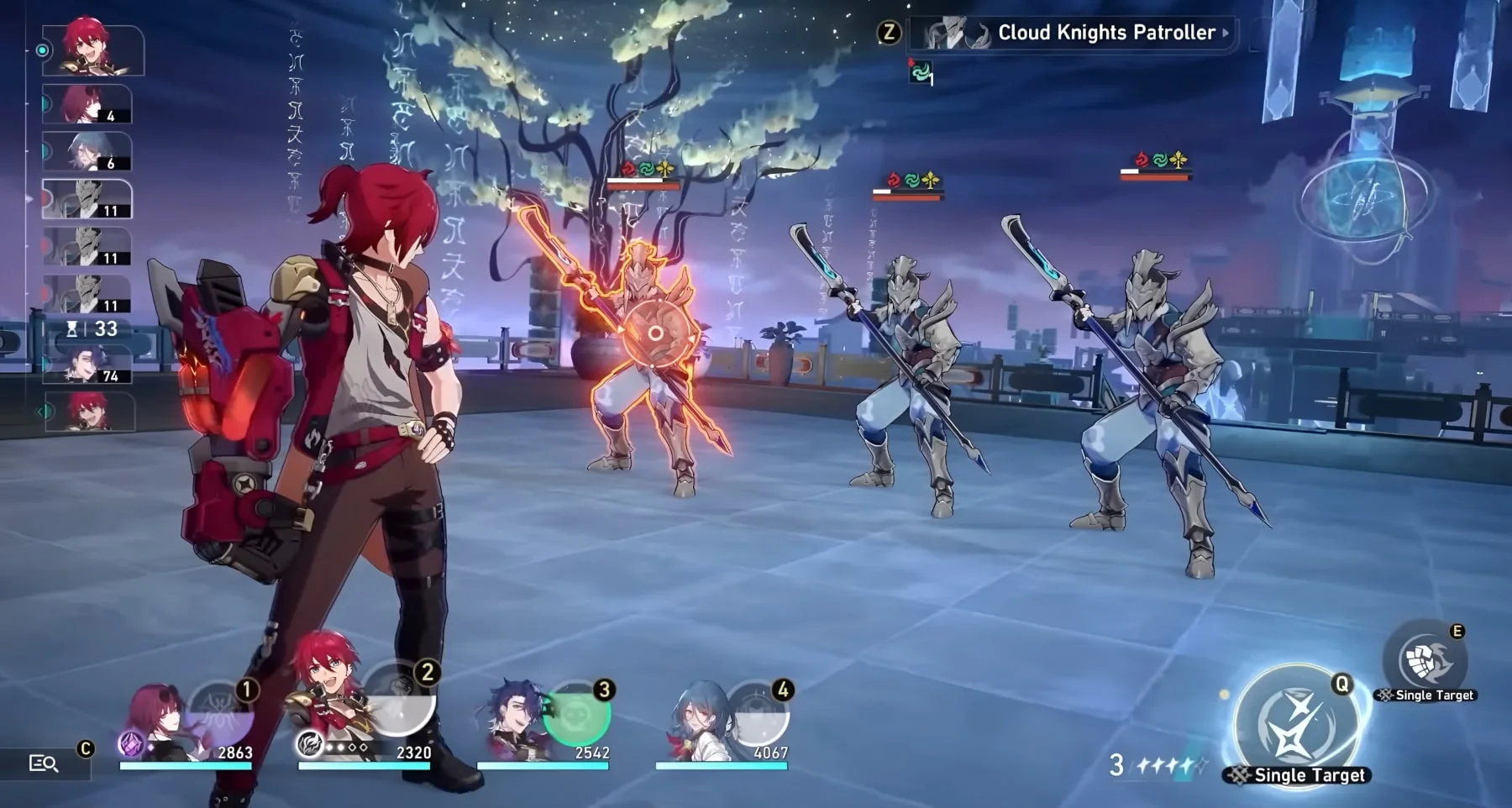 Role: Support (Debuffer)
Combat Type: Physical
Luka is a physical-type DPS/Sub DPS, who specializes in damage over time or DoT attacks. He uses his abilities to inflict bleeding and vulnerability to single-target enemies.
The most critical aspect of Luka's attack is his Skill. It deals physical damage up to 120% of Luka's ATK to a single target with a 100% base chance to inflict them with Bleed for 3 turns. Bleeding enemies will take physical DoT for three turns.
Luka is the best character to choose if you're going for a DoT-style gameplay. While he is an easy character to build since you don't have to bother with CRIT stat, he does require lots of resources (trace/relics) to be really effective.
Here is an infographic guide on Luka if you're interested.
Best Luka Team
Luka – Support
Kafka – DPS
Silver Wolf – Debuffer
Bronya – Support
#Because of his unique playstyle, Luka doesn't fit in many teams. He is usually paired with Kafka to get the best out of him.
Yukong
Role: Support
Combat Type: Imaginary
Yukong is an Imaginary character who is known for her extremely powerful buffs. But compared to other formidable support units, Yukong is hard to work with due to her expensive build.
She requires more effort and resources than other Harmony characters like Bronya and Ting Yuan. But if you still decide to invest in her, she can be a reliable support.
Yukong's primary source of providing buffs is through her Skill, which increases the ATK of all allies by 80% at max trace level. This buff can be further amplified with her Ultimate.
If Yukong's Ult is used while her Skill is still active, it increases the CRIT rate of all allies by 28%, CRIT damage by 65%, and deals Imaginary damage to a single target.
Best Yukong Team
Yukong – Support
Clara – DPS
Luocha – Healer
Silver Wolf – Debuffer
Read More
7 Of Hero Wars Best Team Combos You Should Go With
11 Most Powerful Female Demon Slayer Characters