As a Chrome user, I can say that as much as I like Chrome OS's interface, I miss a certain amount of freedom that I can get from other open-source Operating Systems.
Of course, you can always install Ubuntu on your Chromebook, but if you are looking for a Chrome OS alternative that can not only give you the full power but also lets you do more with android apps, then you have come to the right place. You can select any of the listed OS that suits your needs the best and let us know your experience.
7. Bliss OS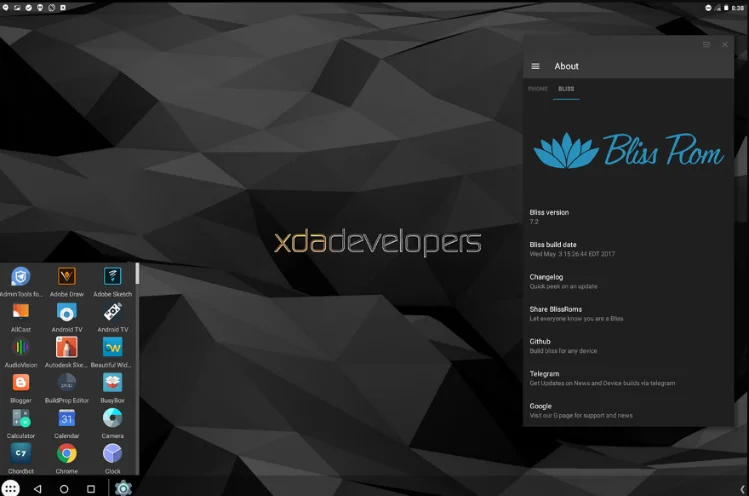 Bliss OS is a relatively new Android-based open-source operating system for smartphones, tablets, and PCs. It comes with a pretty good range of customization options and functions.
Pros 
Open-source
Seamless user experience
Default/pre-installed Google apps
Easily customizable
Cons
Not for power users
Limited hardware support
According to their official website, Bliss OS's main focus is to provide an open-source operating system that can work as a driver for easy synchronization of your apps, settings, and customization across any platform. Right now, Bliss is compatible with x86 AMD and Intel processors.
6. Solus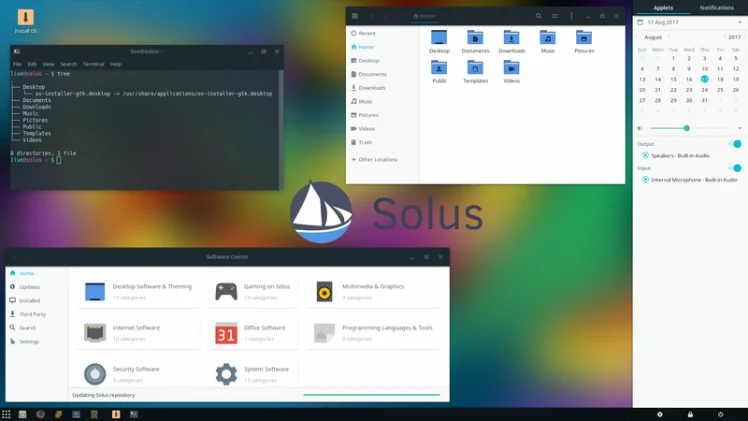 Solus, formally Evolve OS, is a Unix-like operating system for x86-64 systems. It is currently offered under the semi-rolling release model. It comes pre-preinstalled with open-source applications such as Thunderbird, Transmission, Firefox, and GNOME MPlayer.
DistroWatch, which records the daily frequency of clicks on listed Linux distributions on its website, named Solus 11th in the 12-month page hit ranking, and 17th in 3-month page hit ranking.
Pros 
Beginner-friendly
Smooth User Interface
No terminal is required for downloading additional software
Curated rolling release model
Cons
Does not support GRUB on UEFI system mode
Solus is available in four different editions; Solus Budgie for modern users with up-to-date devices, MATE for users with older hardware, GNOME for a complete modern PC experience, and KDE Plasma edition for advanced users.
5. Lubuntu
Lubuntu is one of the most popular Ubuntu distributions that uses LXDE/LXQt desktop environment instead of Unity Shell and GNOME desktop. It is a fast and lightweight operating system with a clean interface.
Due to its low hardware requirements and better energy efficiency, Lubuntu is a perfect Chrome OS alternative, especially if you have an older system. However, it can be just a powerful as any other Linux distribution on a high-end system.
Pros 
Open-source and lightweight
Clean and easy-to-use interface
Support for more KDE and Qt-based applications
Cons
LXQt DE requires slightly more resources than older LXDE (gtk2)
Lubuntu initially used LXDE desktop environment; however, due to its losing support and slow development, LXDE was dropped in favor of LXQt (a combination of LXDE and Razor-qt project).
The LXQt desktop environment for Lubuntu was first launched in October 2018. Newer versions of the operating system allow users to access Ubuntu software repositories through KDE's Discover Software Center.
4. Nayu OS
If you want to replace the existing Chrome OS on your system with a similar but open-source and more customizable operating system, then NayuOS is what you're looking for. NayuOS is a custom operating system based on Chromium OS specifically for use in Chromebooks. It is currently under development at Nexedi.
NayuOS takes advantage of the developer-friendly nature of Chromium OS to add/remove elements to address usability and privacy-related issues. For instance, it supports Google login and comes with a default guest mode. It also includes re6st connectivity, an in-house developed ipv6 network that ensures connectedness.
Pros 
Preinstalled Git and npm (package manager)
ipv6 support
Google login is not required
Cons
Reflashing is required for installing an upgrade or a new version
No support for Chrome web apps
No Adobe Flash support
Keep in mind that this operating system is primarily created for developers and advanced users, but that shouldn't stop you from giving it a try. NayuOS is available only on selected Chromebooks, though you can try its generic version in case your system is not supported.
3. Sentio Desktop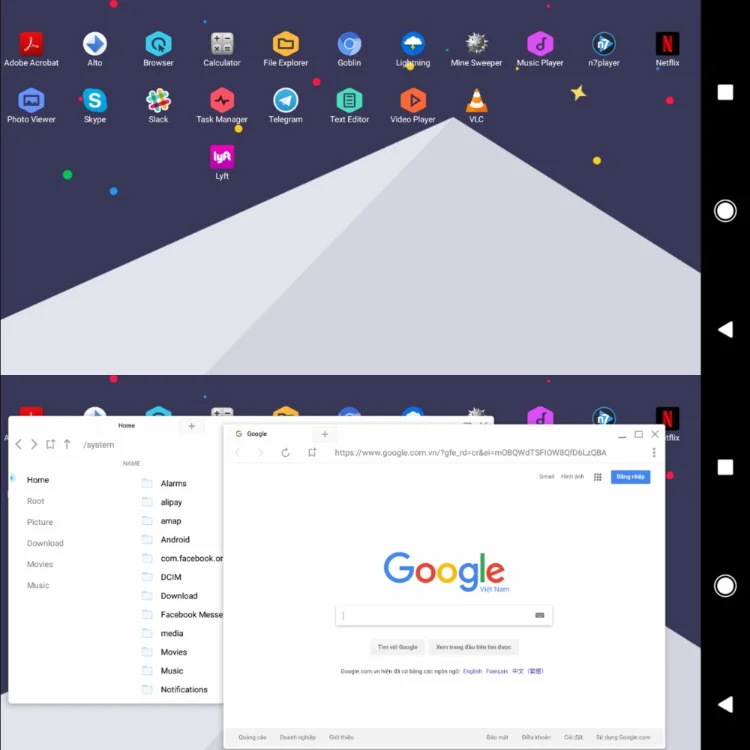 Rather than an operating system, Sentio (formerly Andromium OS) is actually an app for Android devices that lets you project your smartphone to any large monitor so that you run it like a desktop platform. It is quite similar to Microsoft Continuum.
The app uses its own UI with features like a customized home launcher, app chooser, right-click menu, and a proper file manager to provide users with an enhanced Android experience on larger screens.
Pros
Easy to use
Full keyboard and mouse support
Cons
Sentio app was originally intended to be launched alongside the 'Superbook,' as a cheap desktop alternative. However, the idea was later dropped after the company ran into financial trouble.
2. Void Linux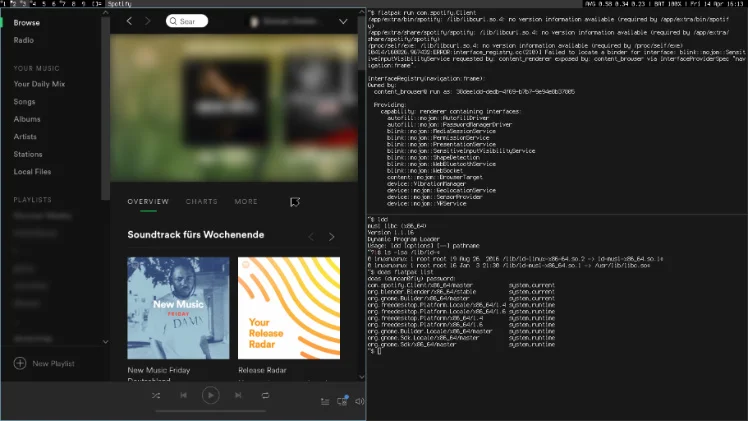 Void Linux is a powerful and independent Linux distribution created using an exclusive package manager and built system. It provides users with an extreme level of freedom. For instance, if you don't want third-party dependency, Void allows you to natively build packages from the source.
Unlike more popular distros such as Ubuntu, Debian, and Arch Linux, Void uses runit as its initialization process (init). It also supports two separate C Standard library implementations; GNU C and must.
Pros 
Minimalistic
Fast boot
Rolling release nature
Support to multiple C standard libraries
Cons
Not for beginners
Compatibility issues
Void is ranked the seventh most popular Linux distribution by DistroWatch, with an average rating of 8.99. The OS is believed to be more secure due to its huge community of pro-active developers.
Read: 18 Best Linux Games Of 2021 | Premium and Open Source
1. Gallium OS
GalliumOS is a perfect Chrome OS alternative that you can get for your Chromebook or any Chrome OS-powered system. Based on Xubuntu, GalliumOS provides users with a lightweight, efficient, and stable Linux system at their disposal. It is also compatible with the vast Ubuntu software repository.
The operating system comes with an alternate kernel scheduler (BFS) that has shown better benchmark (Apache) performance on single cores and slightly less average CPU usage compared to CFS, the default kernel scheduler.
Pros 
Lightweight and fast
Chrome OS touchpad experience
Better boot time
Optimized battery life
Cons
Not supported on all Chromebooks
Tricky installation, especially for beginners
The system performance is further improved by removing unnecessary kernel features. A smaller kernel significantly reduced boot times. Moreover, GalliumOS has an integrated mouse driver that offers a similar touchpad experience to that of Chrome OS.
Frequently Asked Questions
Can You Put A Different Operating system in Chromebook?
Yes, you can install other operating systems in your Chromebook but with a little workaround. Chromebooks don't officially support either Windows or other popular Linux-based distros, such as Ubuntu. However, there are other ways to install them.
To use Windows on your Chromebook, you first need to change its default BIOS with UEFI firmware. On most systems, you can do this by removing the write protection feature on their motherboard. The next step is to enable developer mode before installing the new firmware. You can now install Windows on your system, but keep in mind that you need a USB keyboard and mouse to work on the installer. Here is an installation helper that can guide you through the entire process.
Installing Linux distros, such as Ubuntu and Debian, on Chromebook is rather simple. After enabling the developer mode, you need to install crouton through the shell command. Once executed, it will start downloading and executing software packages one by one. The entire installation takes some time.
Read: Linus Torvalds: The Man Who Created Linux Kernel
What are the Differences Between Chrome OS and Chromium OS?
Although Chrome OS shares the same code base as Chromium OS, there are many differences between these two operating systems. While Chrome OS is developed and supported by Google, Chromium OS is supported by the open-source community.
Chrome OS has additional proprietary firmware features.
Chrome OS receives auto-updates to provide the latest features and bug fixes. There is no auto-update on Chromium OS by default to preserve your preferences and code changes.
Read: 12 Best Linux Distros You Should Try In 2021
Is Linux Safer Than Chrome OS?
To an average user, Chrome OS generally offers better security than most Linux distributions on default settings. It is important to note that every operating system, including Chrome OS, has vulnerabilities that can be exploited.
Anyway, Chrome OS is a Gentoo Linux-based operating system that allows minimal services in a locked-down environment. Default features like isolating daemon processes, restriction on directly executing downloaded files, and not granting elevated privileges to the user makes the OS more secure.
However, make no mistake that all these security measures can be established on any powerful Linux distribution but require effort and know-how. In short, the secureness of an OS depends on how it's configured. An optimally configured distro can be more secure than Chrome OS.